Even if you don't love to bake, we guess that somewhere hidden in your kitchen cabinets is a bottle of vanilla extract. There are several different forms of vanilla flavoring, and not many people know how a vanilla bean vs vanilla extract compares.
What is the difference between vanilla and vanilla bean, and is one better than the other? You don't have to have actual vanilla beans on hand to create something tasty. Still, people want to know how these two get used in the kitchen.
When you go to the grocery store, you most likely don't pick up whole bean pods. Some home cooks prefer them, but it's usually more accessible to buy the stuff you find in the baking aisle.
This article explains all the differences between a real vanilla pod and extract, as well as a substitute for vanilla bean paste.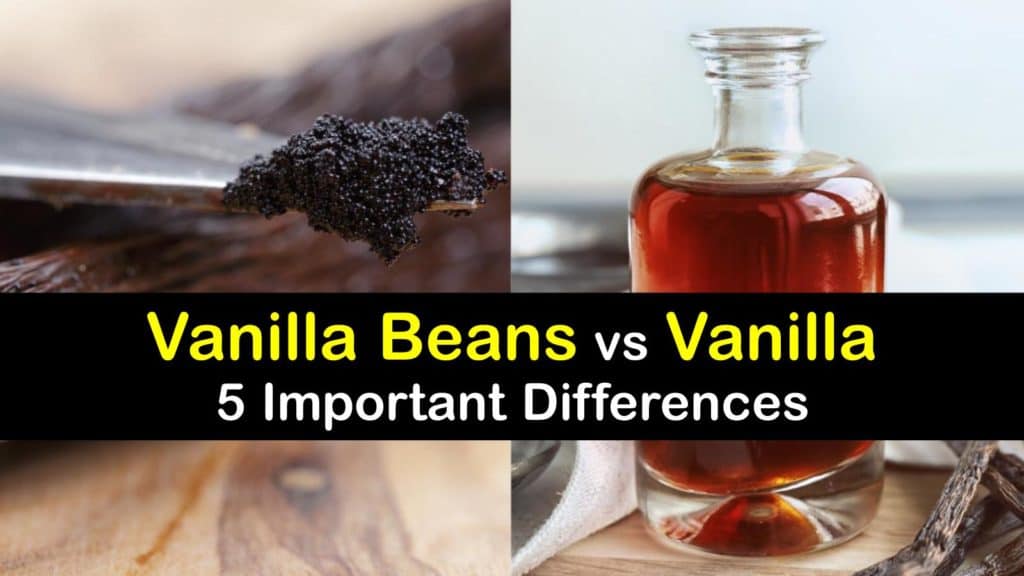 About Plain Vanilla
Vanilla comes from long brown pods that grow on the vining plant called vanilla orchids. Growing vanilla is popular in Mexico, Tahiti, Indonesia, and Madagascar. The most common types are from Tahiti and Madagascar.
Tahitian beans are more fruity and floral, and Madagascar beans are usually creamy and sweet.
These origins often make people ask, what about French vanilla? Vanilla is not grown in France. French vanilla usually refers to a vanilla custard or vanilla bean ice cream made with egg yolks, vanilla flavoring, and cream.
Whole vanilla beans contain many tiny vanilla seeds. They get their unforgettable taste from an organic compound called vanillin. The seeds often leave behind the small brown specks in your vanilla ice cream or other sweet treats.
The Difference between Vanilla and Vanilla Bean
Comparing vanilla bean vs vanilla is a little complicated. While they both come from the same plant species, they aren't the same thing and are used in slightly different ways.
Most people use the extract as a substitute for vanilla bean paste. Let's take an in-depth look at the most significant differences between the two.
The Biggest Vanilla Bean vs Vanilla Difference
Comparing these two items is fairly straightforward when you think about their given names. A vanilla bean is exactly what its name says. Natural vanilla comes from a bean pod.
However, the seeds are used for the vanilla flavor and leave tiny flecks of color behind. They also sell vanilla sugar that mixes the inside of the pod with regular sugar for baking.
What about Vanilla Extract?
Pure vanilla extract is different from whole vanilla beans because it goes through a percolating process, which involves filtering a water and ethanol solution through a porous material with vanilla beans.
Pure vanilla extract is the most popular type of vanilla flavoring, and it is used in cupcakes, brownies, chocolate chip cookies, cakes, custards, and puddings.
Grab a sharp knife and slit the vanilla pod to expose the beans. If the beans are too long to fit inside your jar, cut them to make them short enough. Set the split beans into the glass jar and use the funnel to fill it with vodka.
Submerge the vanilla beans, seal the container and shake it a few times. Keep the vanilla stored at room temperature in a dark place and shake it once every week.
After eight weeks, the vanilla extract is ready to use. The flavor is even better after six months. Refill the vodka each time if you prefer.
Texture Differences
One comparison you might notice between these two products is that natural vanilla is a bunch of small seeds, while the extract is a liquid.
This texture difference is because, with vanilla extract, you use the liquid that has been soaked and the seeds filtered out instead of using the seeds themselves.
A Substitute for Vanilla Bean Paste
What is vanilla bean paste? This paste essentially refers to the scraped-out seeds of a bean pod. They are small and stick together, so it resembles a sweet paste.
Can you substitute vanilla extract for vanilla bean? Of course! A good vanilla bean paste substitution is about one teaspoon of vanilla extract for every two-inch piece of vanilla bean. One whole bean usually equals about three teaspoons of extract.
Cooking with Vanilla Beans vs Vanilla Extract
There isn't much of a flavor difference when you use vanilla in the kitchen. Either way, you're left with the sweet, creamy flavor of the vanillin. Visually, however, the natural vanilla leaves dark specks in your baked goods while the extract isn't visible.
Vanilla is also a signature ingredient in many different ice cream flavors, but we often prefer to stick to the basics. This homemade vanilla ice cream recipe is simple and delicious if you're looking for a quick, creamy dessert.
Combine the whipping cream, half-and-half, sugar, and vanilla extract into a large bowl and stir everything until all the sugar dissolves. Fill an ice cream maker about two-thirds full and run the machine according to the manufacturer's directions.
Refrigerate any leftover mixture until ready to turn it into ice cream. Remove the homemade vanilla ice cream from the ice cream maker and serve immediately or store it in the freezer.
Most of our favorite sweets wouldn't taste the same without a little bit of vanilla flavor. Between pancakes, cakes, cookies, puddings, and brownies, vanilla is a comforting flavor that makes our baked goods taste scrumptious.
It's confusing when you don't know how these two things differ, but once you understand the vanilla basics, you will know how these two products can taste the same but be distinctive in several ways.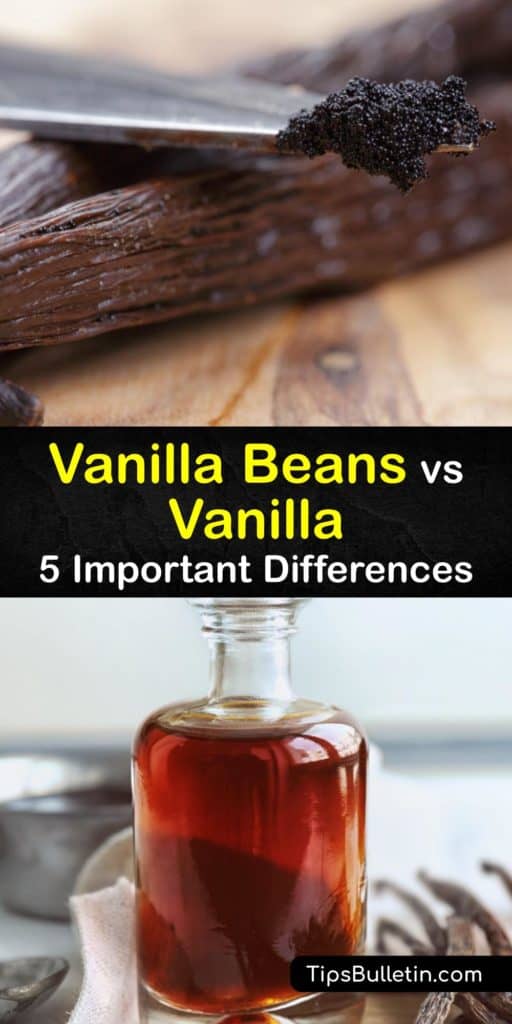 If comparing vanilla bean vs vanilla extract has helped you utilize them in different ways while baking, share this guide about the difference between vanilla and vanilla bean on Facebook and Pinterest.