For those who grew up eating peanut butter and jelly sandwiches, peanut butter has turned into delectable comfort food. What are peanuts, and where do peanuts come from?
You've probably noticed over the past few years that the price of peanut products has skyrocketed. Rising prices primarily come from people no longer wanting to eat unhealthy foods riddled with preservatives.
Today, home gardeners are attempting to grow peanuts, cashews, pecans, and other legume plants in their own beds to make homemade products.
What is a peanut? A peanut plant isn't always easy to recognize because the peanut seeds grow underground. The more research you do on peanuts, the more you realize that raw peanuts have many different categories, and some peanuts grow better in your region than others.
These groundnuts are a good crop for gardeners. Once you know more about them, you'll start to understand some of their basic needs to thrive where you live.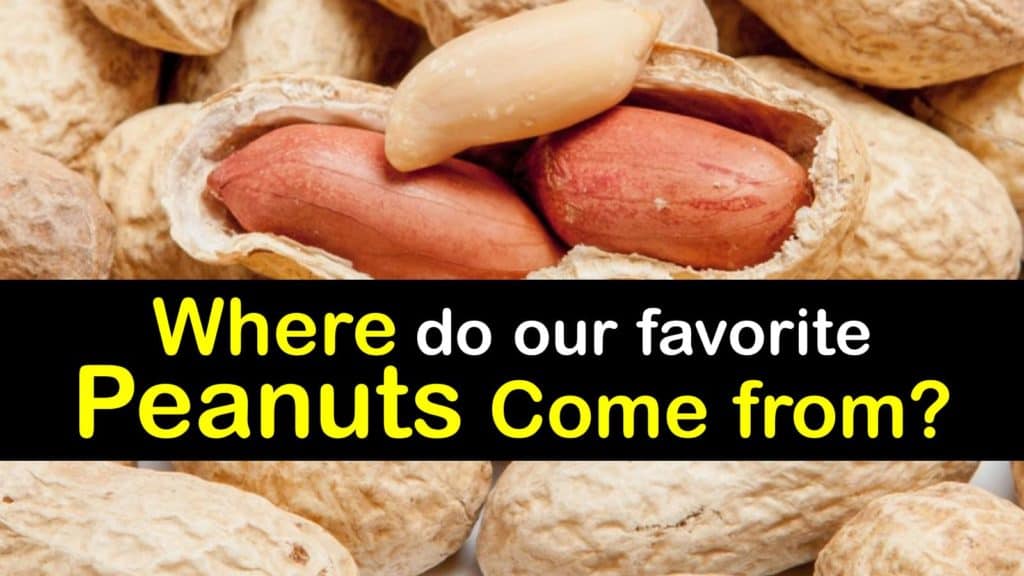 What is a Peanut?
What are peanuts? Peanuts have the technical name Arachis hypogaea. Even though many people believe that George Washington Carver was the first to discover and create peanut butter, that isn't true.
Raw peanuts come from South America, with Peru and Brazil recognized for their prevalence today. They were naturally growing as far north as Mexico until Spanish explorers began venturing into the new world. Eventually, traders spread them to Asia and many African countries like Nigeria.
Peanut seeds, also called kernels, grow below an oval-leafed plant that develops delicate yellow flowers. These flowers pollinate themselves and lose their petals once an ovary is fertilized.
The ovary enlarges and grows down and away from the plant that extends into the soil. The peanut embryo is located at the tip of the peg that penetrates the soil. This embryo turns horizontal and starts maturing to form a peanut.
Peanut plants are slow growers at first. However, they produce at least 40 mature pods over time, and the entire growing cycle takes up to five months, depending on the variety.
Because they are nitrogen-fixing plants, the roots form modules that absorb nitrogen from the air and enrich the plant.
What are Peanuts and Their Nutritional Value?
There is a lot of false peanut information going around lately. Are peanuts bad for you? Not really, but that depends on your definition of bad. Peanuts are high in fat and calories.
Peanut oil and nuts are mainly made up of good fats. Three ounces of peanuts have over 500 calories and 25 grams of protein. They are classified as oilseeds, and the fat content is anywhere from 44 to 56 percent.
Peanuts are also incredibly nutritious, with a high amount of copper, folate, manganese, phosphorus, and vitamin E.
Some of the most significant dietary benefits of eating peanuts are that they assist in weight loss, heart health, and gallstone prevention. Some of their most abundant proteins, however, cause severe allergic reactions.
Where do Peanuts Come from?
One of the biggest questions about this crop that people have is, where do peanuts come from? Peanuts are not all the same.
Peanuts mainly grow in areas with abundant warm air like Asia, Australia, Africa, India, and China. Four different types grow mainly in North America.
Runner Peanuts
Runner peanuts are a type that mainly grows in Georgia, Florida, and Alabama. Georgia produces 40 percent of the United States peanut crop.
These are also the types that are primarily used to create peanut butter. Common varieties include Florunner, Southern Runner, Georgia Runner, and Sunrunner.
Virginia Peanuts – Best for Natural Butter
Virginia peanuts are another type you'll find in the U.S. They are most common in areas like Virginia, North Carolina, and South Carolina.
These nuts are better for gourmet cooking and all-natural types of peanut butter. Common cultivars are Titan, Bailey, Champs, Florida Fancy, Perry, and Sugg peanuts.
Spanish Peanuts
Spanish peanuts account for about four percent of the peanut crops in America. They are primarily found in Oklahoma and Texas. These are the peanuts you see with red skins that are shelled for candies or salted snacks. Common Spanish peanut types are Olin, Georgia-045, Spanco, and Pronto.
Valencia Peanuts – From the Southwest
New Mexico is the place to be if you want to grow Valencia peanuts. They are the sweetest of the four categories and great for making boiled peanuts. The most common Valencia peanut cultivar is Tennessee Red nuts.
How to Grow Peanuts
Try growing peanuts in your garden even if you've never done it before. Whether eaten raw, roasted, or boiled, these legumes are nutritious snacks that are great to have on hand.
They are crops that are better suited for a warmer growing season. Thankfully, some grow as far north as some of the southern regions of Canada.
Peanuts have a long growing season and need 100 to 130 frost-free days. Wait a few weeks until after the last frost date of spring, or anytime up to the first week of September.
If you are raising them in the north, plant nuts on a south-facing slope. For a head start on the season, sow seeds indoors five to eight weeks before you plan on transplanting them.
Choose sites where the soil surface receives full sun. Use plastic row covers if you have to protect the plants from light frosts. Start only with raw, uncooked peanuts that are still in their shells.
Place the seeds two inches deep and keep the spacing about eight inches apart. They enjoy sandy soil mixed with compost to loosen it.
The soil must be rich in calcium, and soil temperature must be a minimum of 65°F. Hill around the plants with two inches of straw or grass clippings.
Harvesting Peanuts
Plants are mature when they start to yellow. Once the conditions are right, farmers use a digger to lift the peanuts from under the soil. This machine isn't necessary, though.
Loosen the dirt around the plants with a garden fork or spade. Pull the plants from the ground and shake off the excess soil from the roots. Leave the pods attached and check the ground to ensure you didn't miss any pods.
Peanuts have to dry for about four weeks before shelling or storing them. Hang your peanut plants in warm, dry locations where they are protected from direct sunlight.
After about two weeks of drying, brush away any remaining soil and remove the pods from the plant. Lay the pods out in a single layer on a flat surface before allowing them to dry for an additional two weeks. Too much moisture in the room where they are drying could cause mold.
Storing Harvested Peanuts
Raw peanuts should always be stored in mesh bags and well-ventilated areas. They keep for several months when they are appropriately dried. If you prefer, make some roasted peanuts and store them in an airtight container for about 12 months.
Heat your oven to 350°F and place raw peanuts in a single layer on a baking sheet. Bake the shelled peanuts for 15 to 20 minutes or until the skins start to loosen and the nuts are a light gold color.
If you prefer, bake unshelled peanuts inside the shells for 20 to 25 minutes. The peanuts will continue to cook once you remove them from the oven. Wait ten minutes for them to cool before sprinkling them with salt and digging in.
Cooking with Peanuts
People love to make desserts such as peanut brittle and candied nuts during the holidays. However, you are missing out if you haven't made homemade peanut butter.
We think this is better tasting than the stuff you buy at the grocery store, and it's a lot healthier for you as well. You'll be surprised at how many nuts a plant gives you, and there are many different ways to preserve them.
Place the raw peanuts on a baking sheet and bake at 350°F on the middle oven rack for about ten minutes. Put the freshly roasted nuts into a food processor and process for two or three minutes, scraping the sides of the processing bowl occasionally.
Once the nuts look smooth, blend in the salt, honey, and oil and process for another one or two minutes. Transfer the fresh peanut butter into a storage container or use it immediately.
What is a peanut, and why don't we know more about them? Peanuts aren't native to the United States, but they are definitely a staple that many parents feel they couldn't live without.
Though there are fewer healthy peanut snacks in stores, growing your own peanuts at home gives you the freedom to turn these highly nutritious foods into all sorts of snacks. Take a chance and try growing these incredible crops in your own garden beds.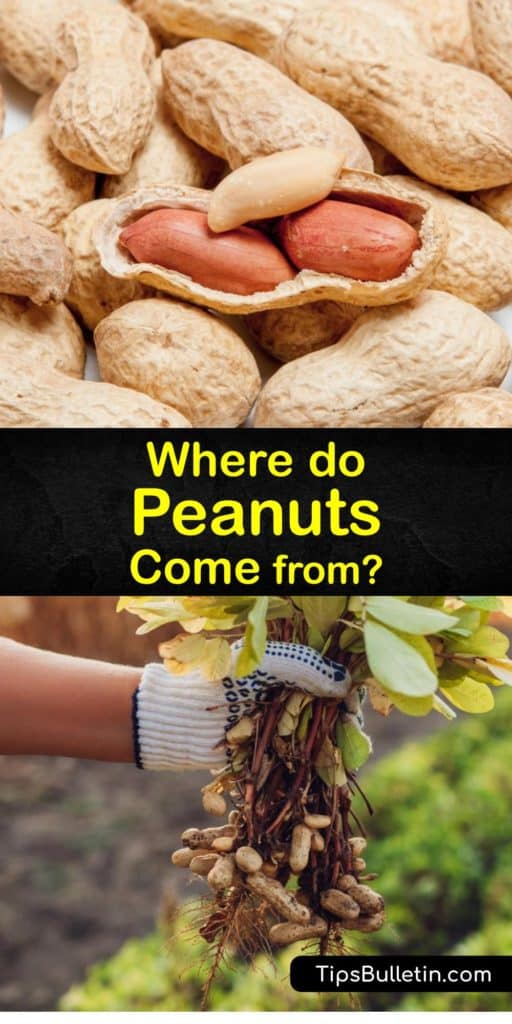 If you finally found the answer to your question, where do peanuts come from, share this guide describing everything there is to know about peanut plants on Facebook and Pinterest.