Do you avoid socializing in the backyard because of mosquito bites? Are you sick of hiding inside the house during the warm summer nights because you are afraid of West Nile? It's time to take back control of your yard with these amazing mosquito repelling plants.
With so many varieties of mosquitoes, there is no one size fits all in terms of what plants and methods work in repelling them. Sometimes it seems that no matter what precautions you take, such as eliminating all standing water, placing mosquito dunks in fountains, or spraying your yard with pesticides, the mosquitoes are out of control.
Getting rid of all standing water reduces the sheer number of mosquitoes as it takes away their breeding grounds, but it won't eliminate them all. Adding mosquito-repelling plants aids in keeping these flying pests at bay, plus adds beauty to your landscape.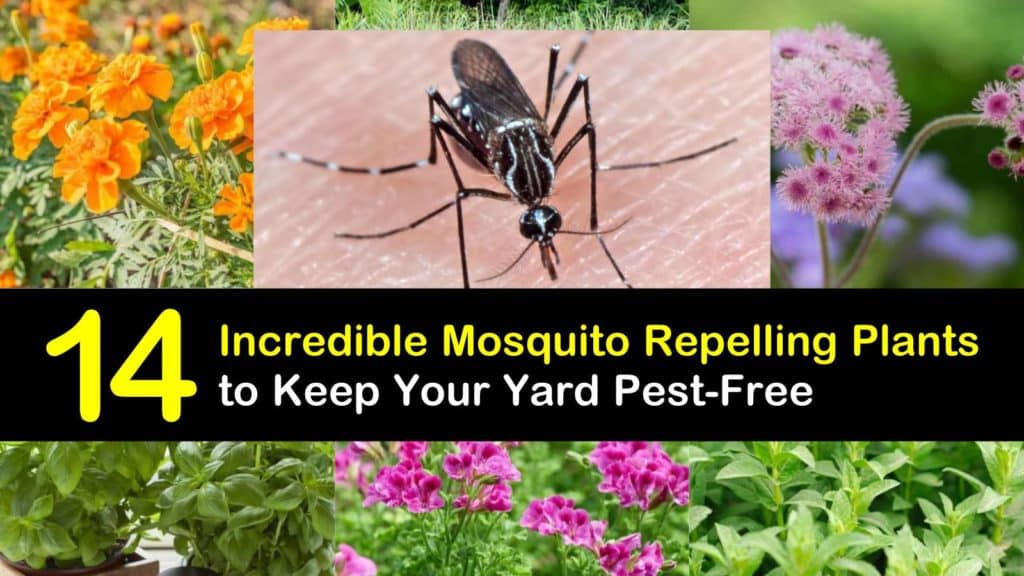 Benefits of using Mosquito Repelling Plants
When planting these amazing mosquito repelling plants, opt for a large variety, as their repelling ability varies based on the type of mosquito.
The most significant benefit of using plants to keep mosquitoes away naturally is that you are not exposing yourself, your family, or friends to harsh and sometimes toxic chemicals. Something else to think about when using plants is that you get the added benefit of a beautifully landscaped yard designed to help keep the bugs away.
Planting herbs in containers or throughout your flower beds provides you with fresh ingredients for cooking while keeping mosquitoes and other pests away. Plants are not 100% effective, but when combined with other natural methods, they are quite useful.
Tips for using Mosquito Repellent Plants
Mosquito repelling plants spruce up your landscape, but just planting them is not enough to deter mosquitoes. Adding them along walkways, borders, or in containers sitting on your patio helps in some cases but is not the most effective.
Mosquito repellent is most potent when used directly on your skin. With this in mind, for your beautiful plants to be useful, you must harvest and crush the leaves. Breaking the leaves releases oils that are effective at repelling these pests.
Rub the crushed leaves along your exposed skin to keep from being bitten by mosquitoes. Another way to use these plants is to burn their branches — the smoke produced by burning the fresh branches helps keep them away from the immediate area.
The benefit of smoking out the mosquitoes is there is a low risk of an allergic reaction, which is possible when applying the leaves directly to your skin.
Amazing Mosquito Repelling Plants for Your Landscape
DEET, which is found in commercial bug sprays, is an effective mosquito repellant, but some of us prefer using natural ways to keep those pesky bugs away.
These include using essential oils to create a DIY natural mosquito repellent or adding specific plants to your landscape to keep bugs away.
Amazing Mosquito Repellent Plant – Citronella Grass (Cymbopogon citrates)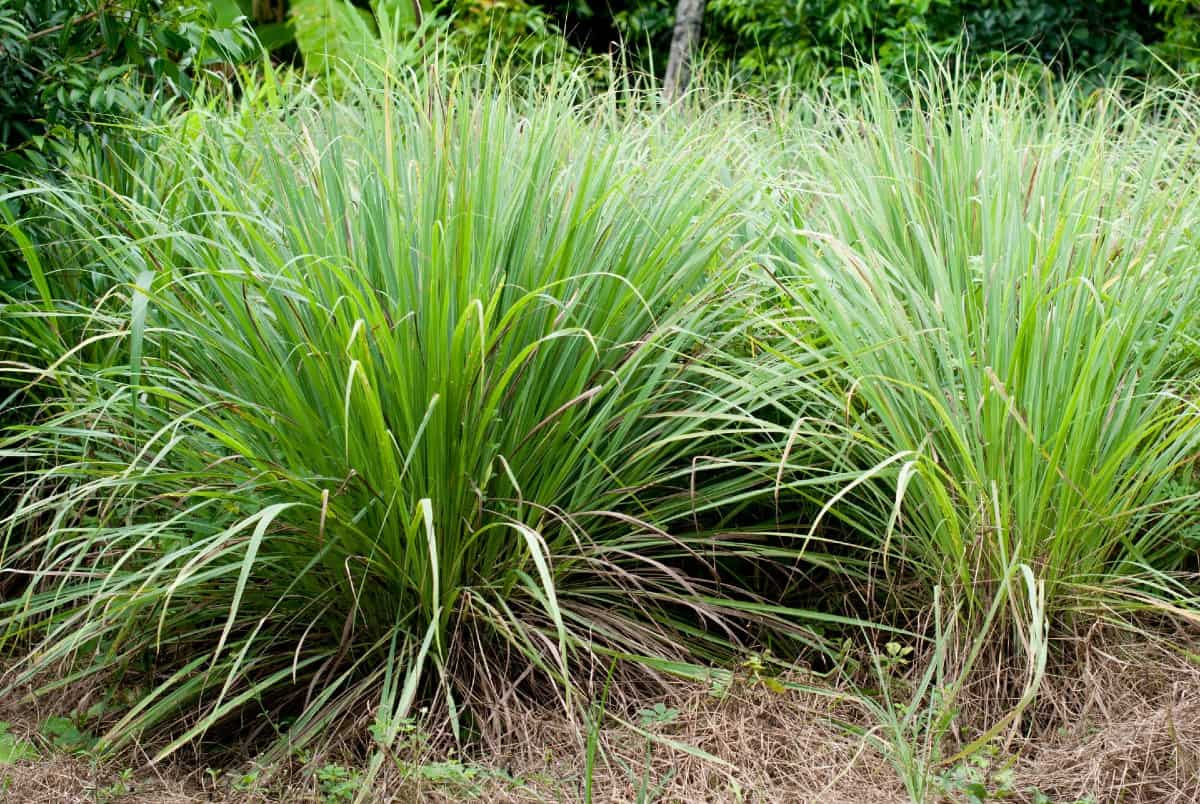 Another common name for citronella grass is lemongrass. The grass is the source of the citronella oil found in different insect repellent sprays, bracelets, and candles. Does citronella repel gnats as well as mosquitoes? It sure does.
Citronella grass requires very little maintenance and is easy to grow. In colder areas, growing in pots, you can move them indoors during bad weather. To ensure your citronella plant thrives, select planting locations that offer full sun and well-draining soil.
Provide the grass with steady water supply; don't let the roots dry out. If growing indoors, place in a south-facing window. Crush the leaves to release oils to deter pests.
Mosquito Plant (Pelargonium Citrosum)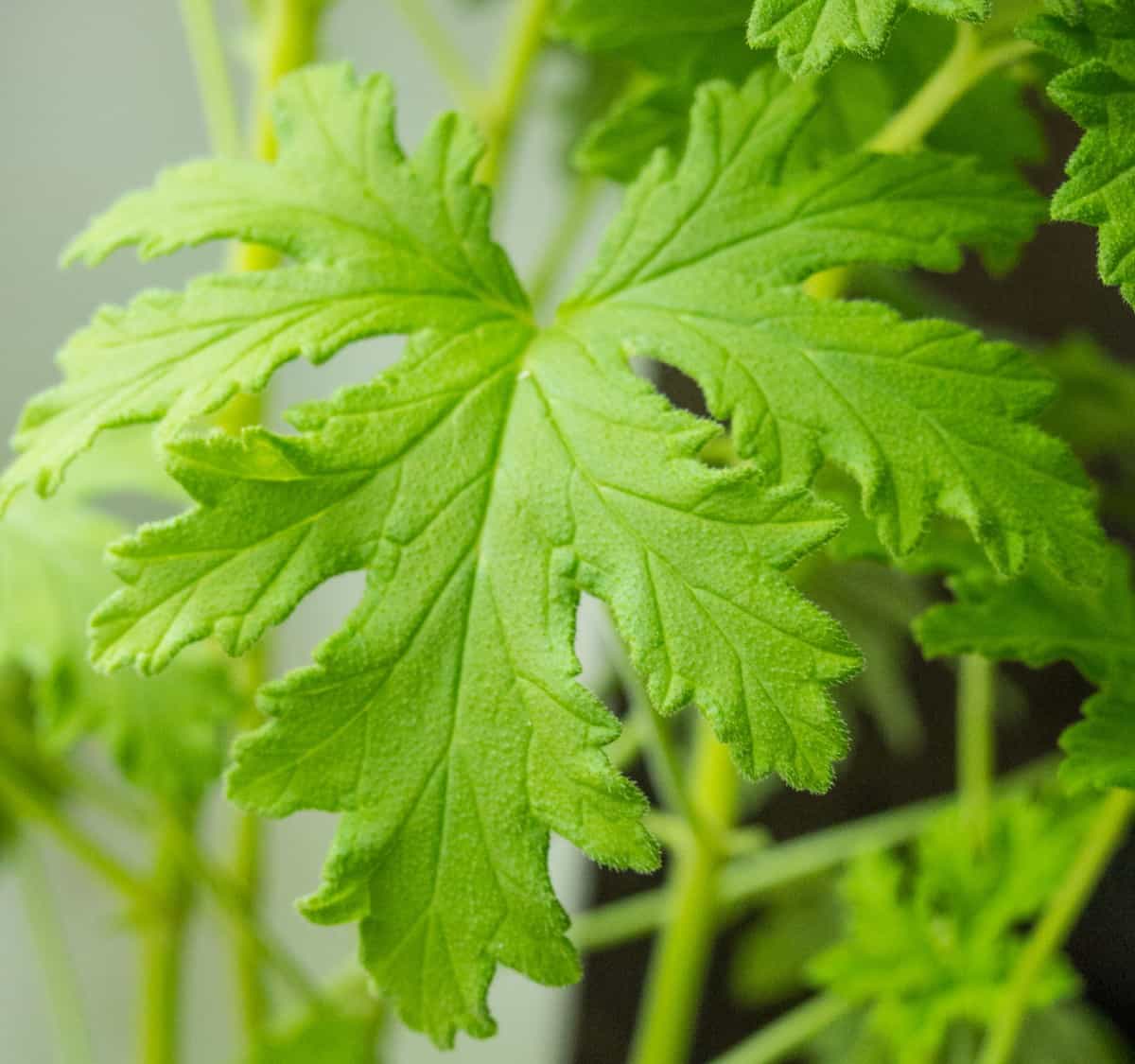 The Mosquito Plant is also referred to as a citronella scented geranium or a citrosa plant. Many local nurseries and home gardeners recommend it for mosquito control, as it was designed to emit a mosquito repelling scent specifically.
The plant itself doesn't work to repel mosquitoes; it's the crushed leaves rubbed on the skin. This perennial shrub is hardy to zones 10 and 11. It features lacy leaves with a medium green color.
The plant reaches up to three feet in height and works wonderfully as a border plant in summer gardens. Others use it for a contrasting texture in mixed containers.
Pyrethrum Daisy (Chrysanthemum cinerariifolium) – Repels Mosquitoes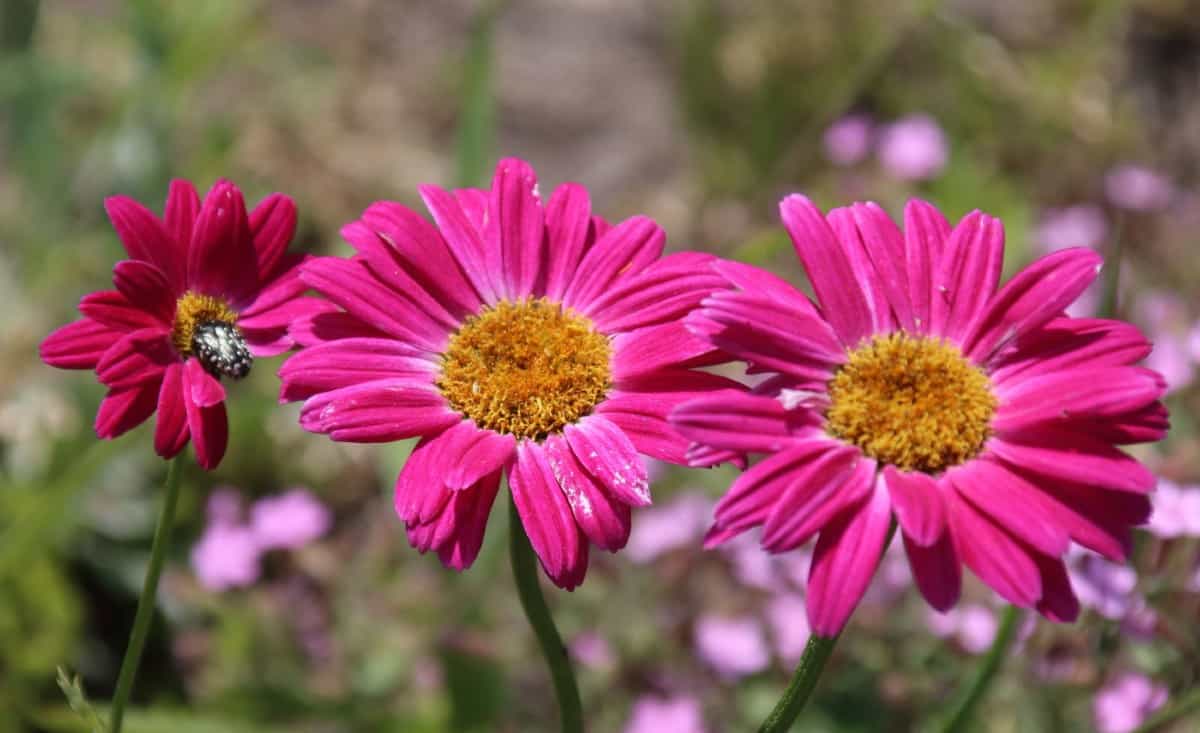 This herbaceous perennial is also called a Painted daisy. The flower features fernlike foliage with daisy-like flowers. Bloom colors of this plant include pink, purple, white, and red in various shades.
The colorful blossoms appear from early to mid-summer on upright stalks. The Pyrethrum daisy requires well-draining soil and lots of direct sunlight.
These plants are hardy enough to grow in zones three to seven and are very easy to care for. Mature plants reach up to two and a half feet tall and two feet wide.
Floss Flower (Ageratum houstonianum)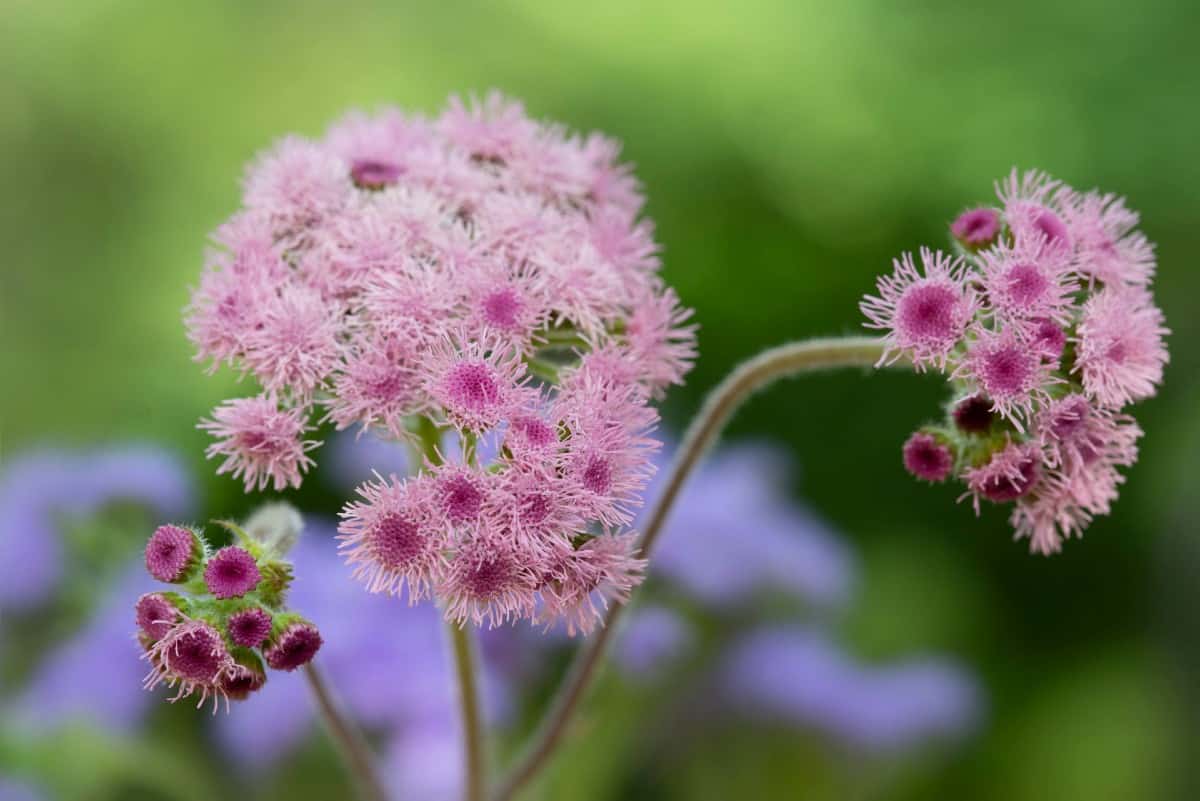 The Floss Flower is rare in the gardening world and is known for its flowers that resemble pompoms. Most flowers occur in shades of blue, consequently its other name of Blue Mink, but different colors include red, pink, lavender, and white.
Plants range from a few inches to up to three feet tall, depending on the variety purchased. Most gardeners grow Floss Flower as an annual, but in zones 10 and 11, it's a perennial.
Choose a planting location that provides partial shade to full sun. The more sunlight received, the better they bloom. In hotter areas, give the plant shade during the afternoon.
Lemon Balm (Melissa officinalis)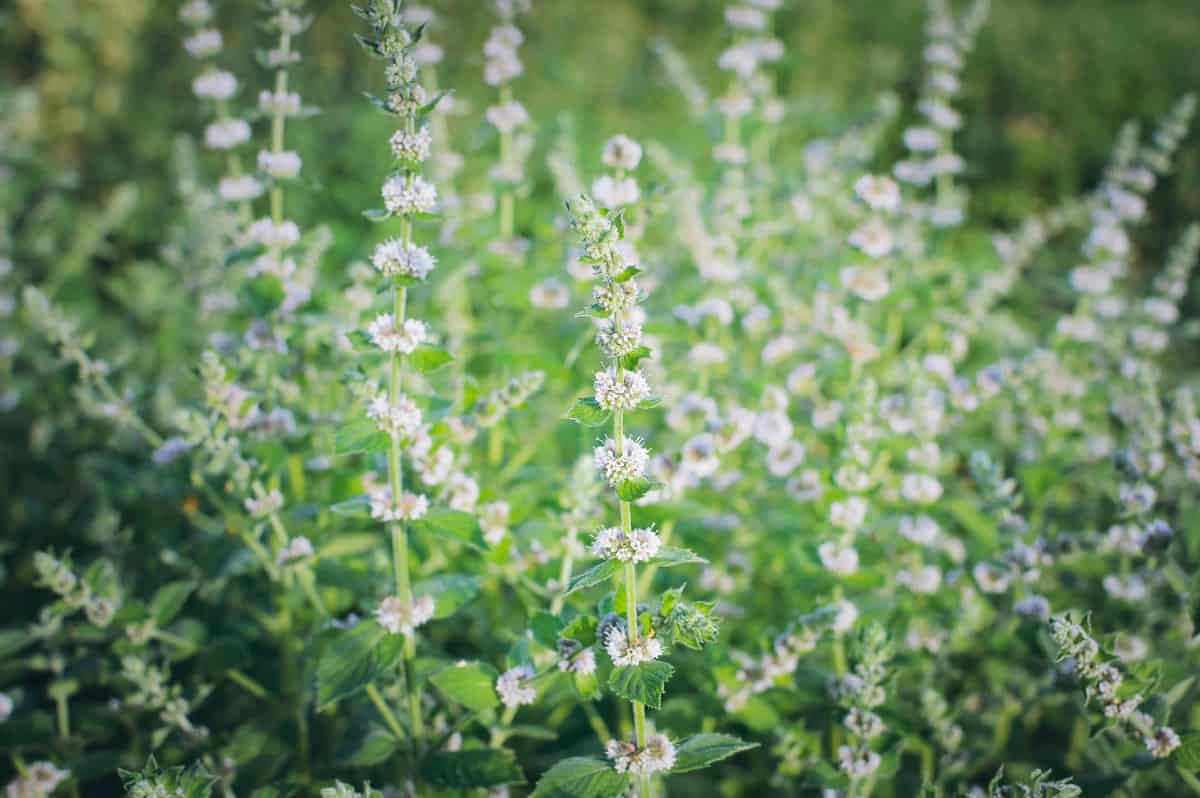 Lemon Balm is excellent at aiding you in getting rid of fruit flies but also repels mosquitoes. It is an outstanding choice to enhance the flavor in drinks and food, as it belongs to the mint family.
The leaves emit a nice lemon-scent. Lemon Balm are plants that deter mosquitoes and other pests and provide a pleasant scent throughout your yard. Bear in mind Lemon Balm does best in colder climates.
When planted in climates with freezing temperatures, it dies back in the winter and reappears in the spring. This plant thrives in full sun but tolerates partial shade. If growing in a container, keep the soil slightly moist and store in a protected area during the winter.
Catnip (Nepeta cataria) Repels Mosquitoes
Catnip contains nepetalactone oils, which is the attractant for cats and other animals. Interesting to note is the same chemical that makes cats go crazy works to repel mosquitoes and flies. It also works as a mild sedative in humans.
Catnip is a member of the mint family, and when planted outside in your garden, requires protection from cats and other animals attracted to it. As a perennial, Catnip dies back during the cold winter months but always appears the following spring.
Marigolds (Tagetes)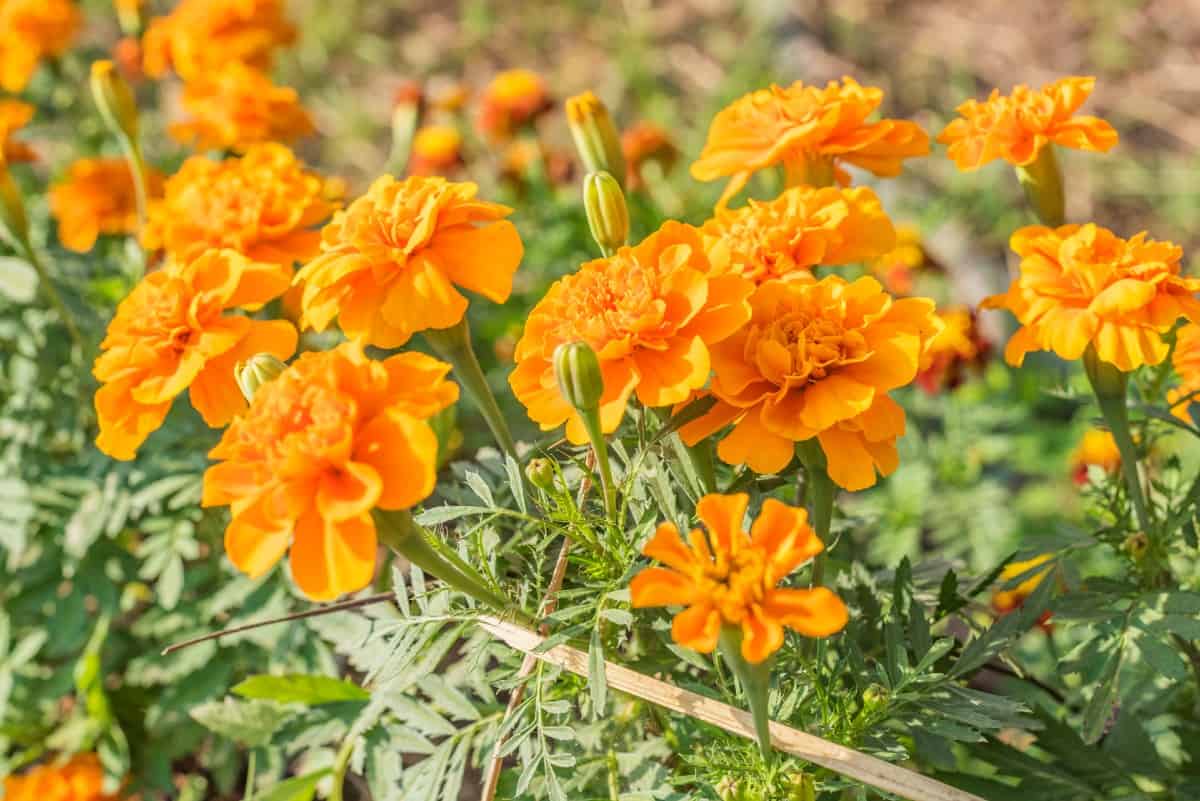 Marigolds are not only one of the natural ways to keep mosquitoes away but are some of the best plants to deter flies. They also aid in keeping rabbits out of your vegetable garden. Marigolds are an annual that is easy to grow. They work well along borders of flower beds, along walkways, or inside various containers.
When planting your Marigold seeds outdoors, select a location with moderately fertile soil and plenty of sunlight. These plants require well-draining soil. Let the earth dry between waterings and increase watering during extreme temperatures. Deadhead the plants for more blooms.
Lavender (Lavandula) – Mosquito Repellent Plant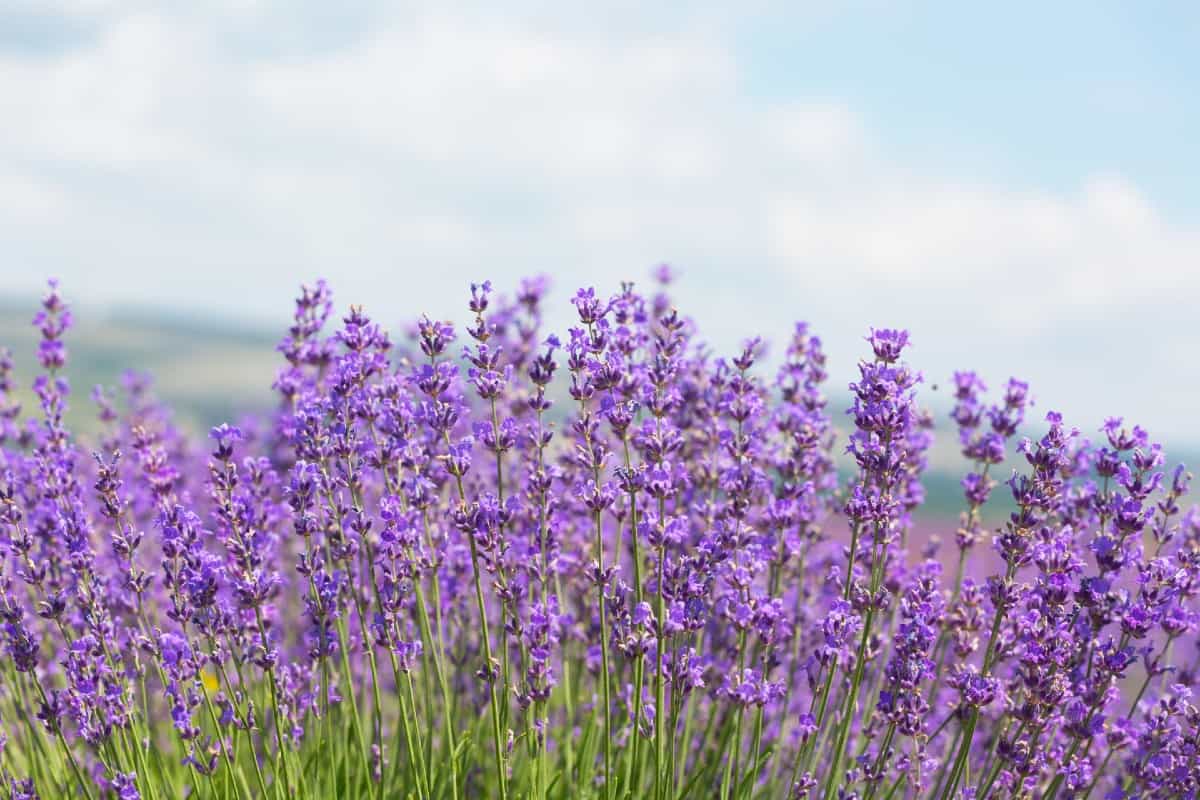 As flowering herb perennial plants that repel bugs, Lavender emits a sweet scent people find relaxing but drives mosquitoes away. Lavender, like many other herbs, is low maintenance and easy to grow.
To keep pests far away, put the drought-tolerant plant Lavender near doorways, windows, and along walkways. Plants grown indoors require more care than those grown outdoors.
Lavender requires around six hours of sunlight, so choose a sunny location. Avoid acidic soil, as Lavender prefers alkaline conditions.
If the acidic level is too high, add lime to lower the levels. Use well-draining soil, as Lavender prefers it dry. Prune back at least once a year to encourage new blooms.
Basil (Ocimum basilicum)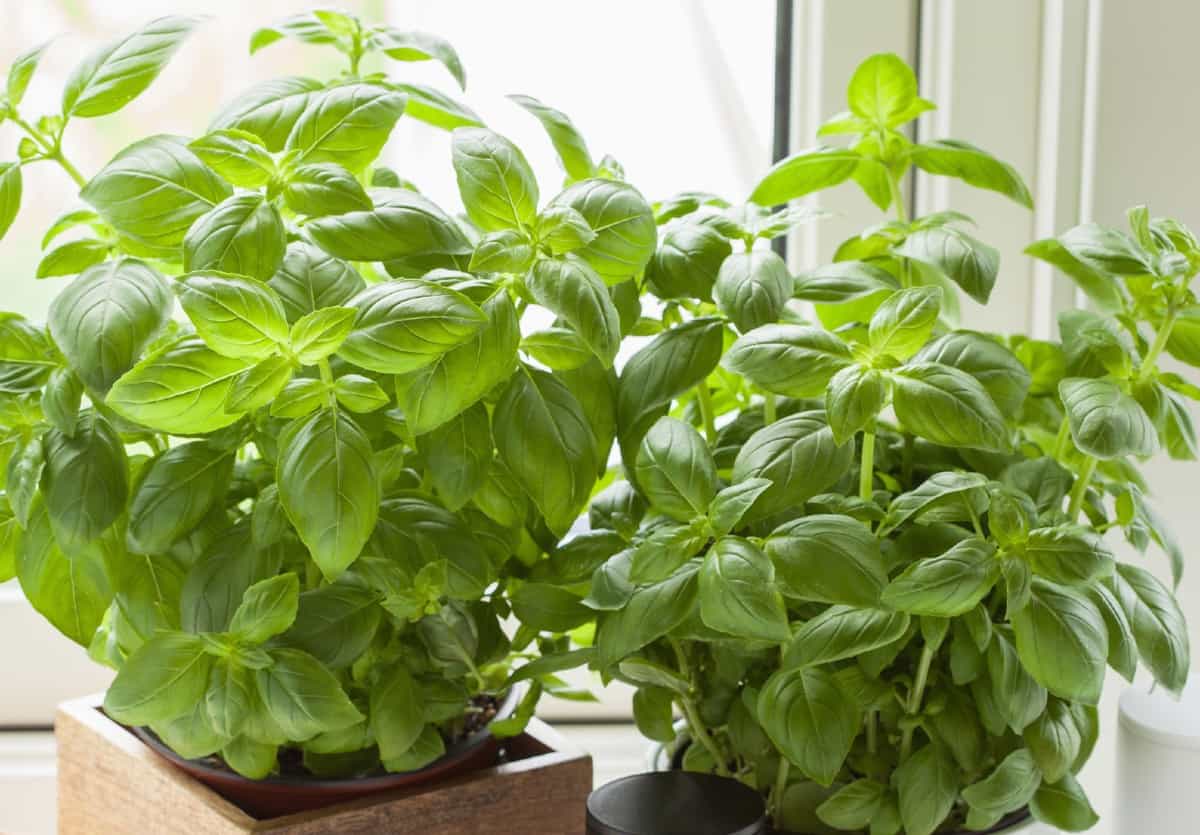 Basil is useful in repelling a variety of pests, including mosquitoes and spiders. Growing some in pots located by the doors of your home helps ward off pests and prevents them from coming inside.
The closer the herbal plant is to your kitchen, the easier it is to pick the herb when cooking. Fresh herbs bring so much more flavor to a recipe.
All Basil plants require full sun, so place pots or plants accordingly. Opt for slightly acidic or neutral soil with excellent drainage.
The most common type of Basil used in repelling mosquitoes is Sweet Basil, but other varieties work, too. If you plant Basil outside, do so after the last frost.
Amazing Mosquito Repelling Plants – Peppermint (Mentha)
Peppermint, along with spearmint and other mint plants, is great at repelling mosquitoes and other flying pests. Mint plants are invasive, so observe them as they spread quickly.
Peppermint requires very little maintenance and is grown successfully indoors and outdoors. When looking for planting locations for Peppermint, opt for one that offers partial shade. Peppermint does well in full sun but requires more water in sunnier areas.
The plant prefers moist soil. If planting in colder climates, move Peppermint indoors during the winter or provide it with another method of protection.
Pennyroyal (Mentha pulegium)
As the smallest member of the mint family, Pennyroyal is powerful enough to repel a variety of insects as well as cats. Once you take care of planting summer herbs like Pennyroyal, you will notice it is more potent and stronger than other plants in the same family.
These plants, with their strong scent, make excellent border plants, plus they create new plants wherever they touch the ground. Opt for a planting location with full sun. In hotter climates, select a site that provides partial shade in the afternoons to protect from the harsh sun's harsh rays.
Garlic (Allium sativum)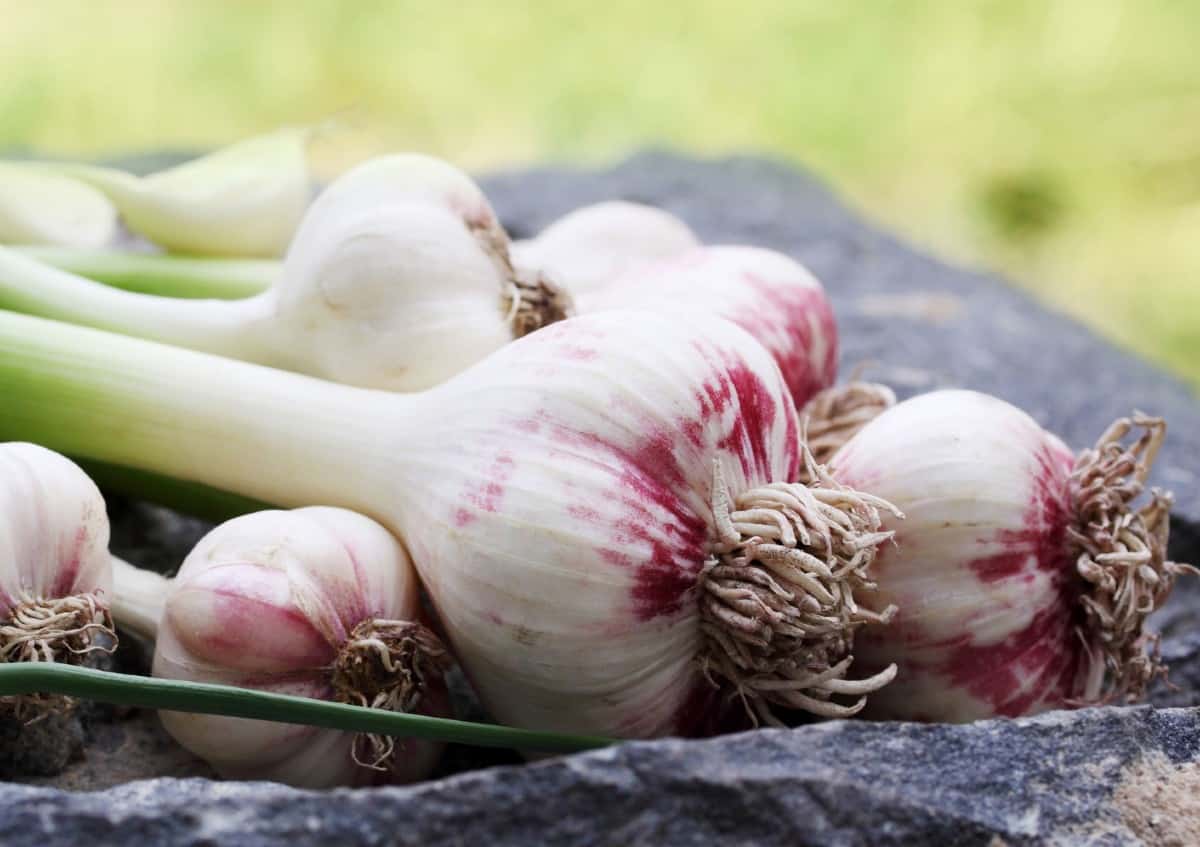 Planting garlic in your flower beds repels mosquitoes due to its natural sulfur component. It has the bonus of being what plants deter cats, too, if you have an issue with neighborhood strays.
Use the garlic you plant to create a natural bug repellent spray in the form of garlic water, as the juice from garlic keeps mosquitoes at bay until the odor is no longer detectable.
When planting garlic, select a location with well-draining soil and plenty of sun. Never plant garlic cloves purchased at the grocery store; buy them from a local nursery or seed company. When growing in northern areas, cover garlic with straw or other mulch over winter.
Geraniums (Pelargonium) – Mosquito Repelling Plants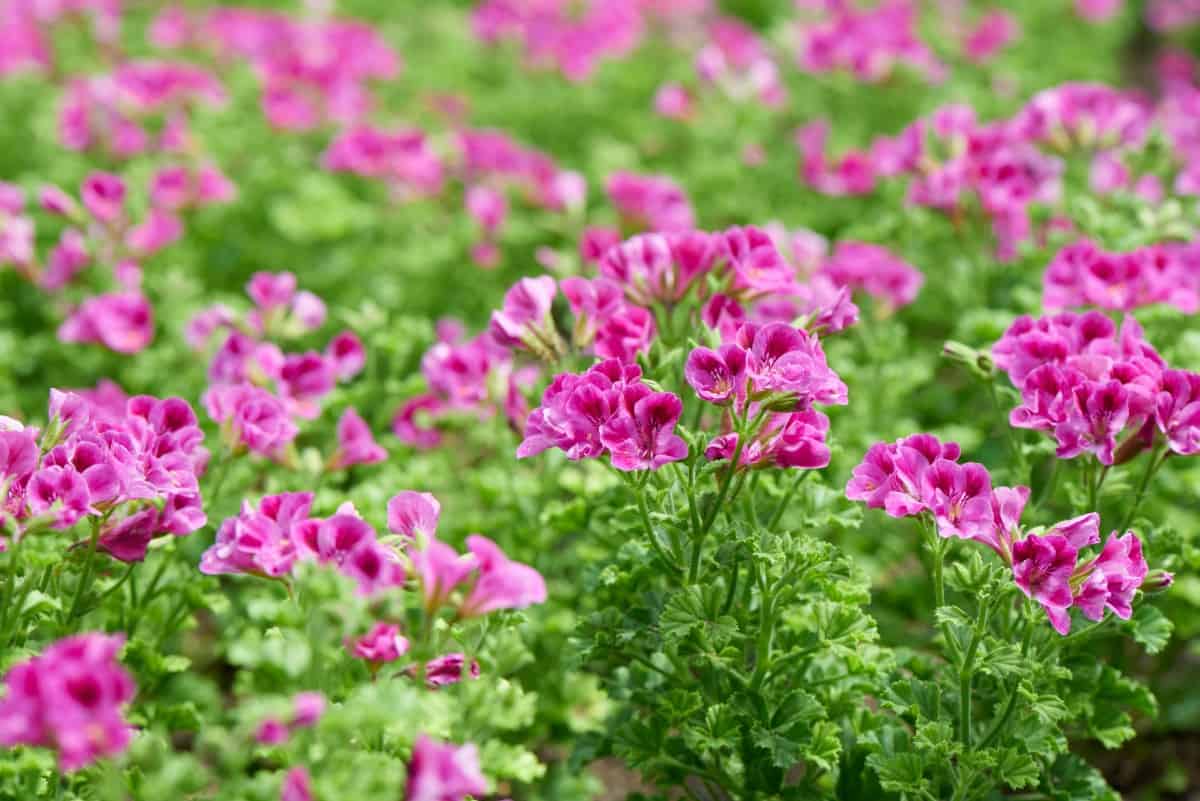 Geraniums provide your flower beds with a burst of color, while also working to keep mosquitoes away. These colorful flowers thrive in warm weather but require protection from colder temperatures.
These sun-loving plants require at least four hours of sunlight a day, but the more light they receive, the better. Geraniums like both containers and flower beds.
If using containers, ensure there are plenty of drainage holes, as these beauties are prone to root rot if left in soggy soil. Add some geraniums as hanging plants that repel mosquitoes around your front porch or back deck so you won't be bothered by the pests when you are outside.
Geraniums require very little care to thrive, as long as you plant them in well-draining soil. Avoid heavy soils or clay-like soil.
Rosemary (Rosmarinus officinalis)
Rosemary works to deter mosquitoes and spiders and is ideal for pots placed along your back patio. Planting in containers is perfect for colder climates as it allows you to move them indoors during the winter, as Rosemary doesn't do well in the cold.
In USDA Hardiness Zones north of Zone 7, plant along a south-facing wall for added warmth and protection from high winds. Look for planting locations that provide full sunlight and well-draining soil.
Add compost to the top layer of dirt to improve soil quality. Rosemary prefers slightly moist soil, so allow it to dry out between waterings.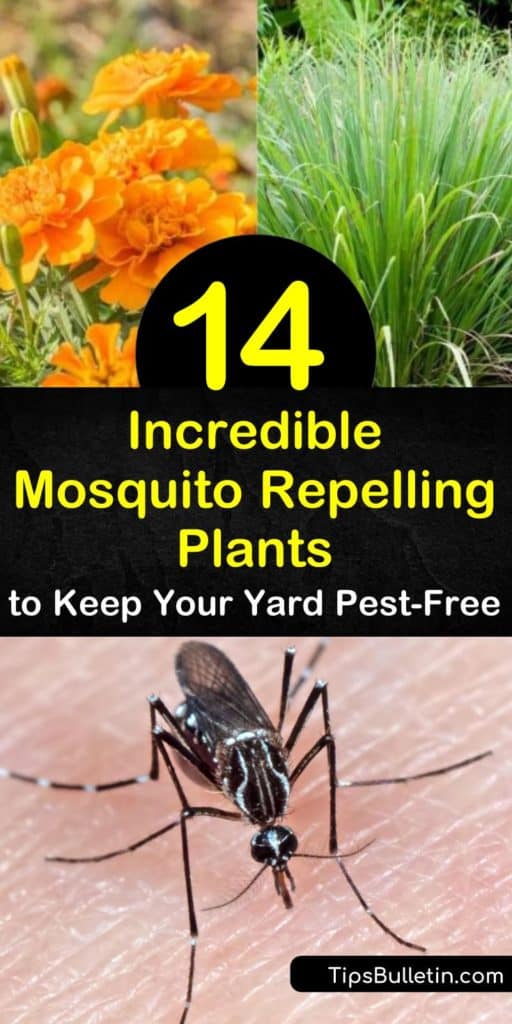 Thank you for reading about our mosquito repelling plants. If you found any of our suggestions on the best mosquito repellent plants useful, please share these amazing mosquito repelling plants with others on Facebook and Pinterest.