A shady yard offers you a cool area to relax outdoors during the hot summer days and lowers your home's cooling costs. However, growing trees and plants in these conditions has its challenges. Fortunately, there are many amazing trees for shade that flourish in low light areas.
We often think of trees as shade providers, but many trees enjoy a bit of sun protection themselves, especially if you live in a hot and arid climate. They are often content growing in the shadow of large shade trees, as long as they receive some canopy light throughout the day. Most plants crave sunlight for photosynthesis, and growing them in shady spots makes them very unhappy.
They require sunlight to synthesize food from water and carbon dioxide. Some trees have adapted to grow in areas with low amounts of sunshine and are an excellent choice for your yard if it lacks full sun.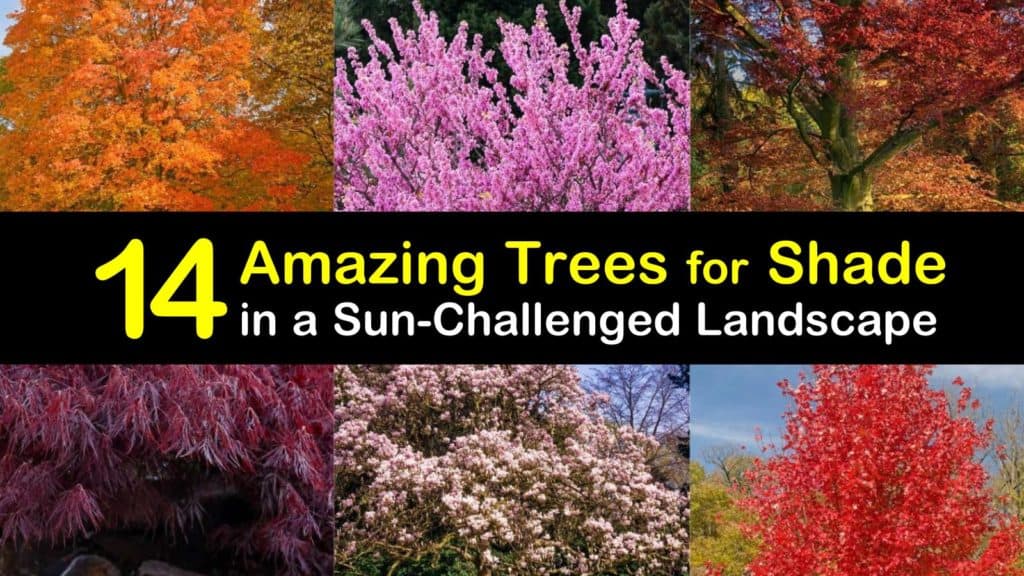 Amazing Trees for a Shady Yard
Even if your yard has more shade than sun, there are vegetables that grow in shade, as well as trees, shrubs, and vines.
Many ornamental trees are tolerant of low-light and stand out proudly beneath the canopy of large trees. While they often have a slower growth rate and often don't reach their mature height and spread, they are still content and the ideal plants for shaded areas.
What Should I Look for when Considering Trees for Shade?
The first thing to check when trying to find green shrubs that will add shade to your patio is the USDA hardiness zone. Make sure to choose plants that match your area to ensure they tolerate your climate.
Look for key phrases in the tree's description, such as full shade, part shade, or low light, and avoid them if they state full sun as a requirement.
Do Some Trees Handle Shade More than Others?
Some trees endure very shady areas, while others desire dapples of sunlight throughout the day. The Japanese maple, pawpaw, and sugar maple crave full shade while the weeping willow, flowering dogwood, Northern catalpa, and magnolia tree prefer light shade.
Therefore, it's essential to check the plant care tag for sunlight specifications before deciding on a plant.
Should I Grow Deciduous or Evergreen Trees?
The answer depends on your hardiness zone and whether you crave year-round greenery. Deciduous trees have summer-time interest and striking fall color but lose their foliage at the end of the growing season.
Evergreens keep their leaves throughout the entire year and are a great option for privacy and winter contrast. Some of them even have stunning flowers in the spring and summer.
Where is the Best Place to Grow Shade-Loving Trees?
Once you determine the right hardiness zone for your plant and area, it's vital to pick a growing site based on the tree's mature size. Choose an area of the yard suited to the tree's needs, taking sunlight and space into consideration.
As a rule of thumb, plant new shady trees approximately 20-feet away from structures such as your house and garage. Always check for power lines and underground pipes before planting.
Red Maple (Acer rubrum)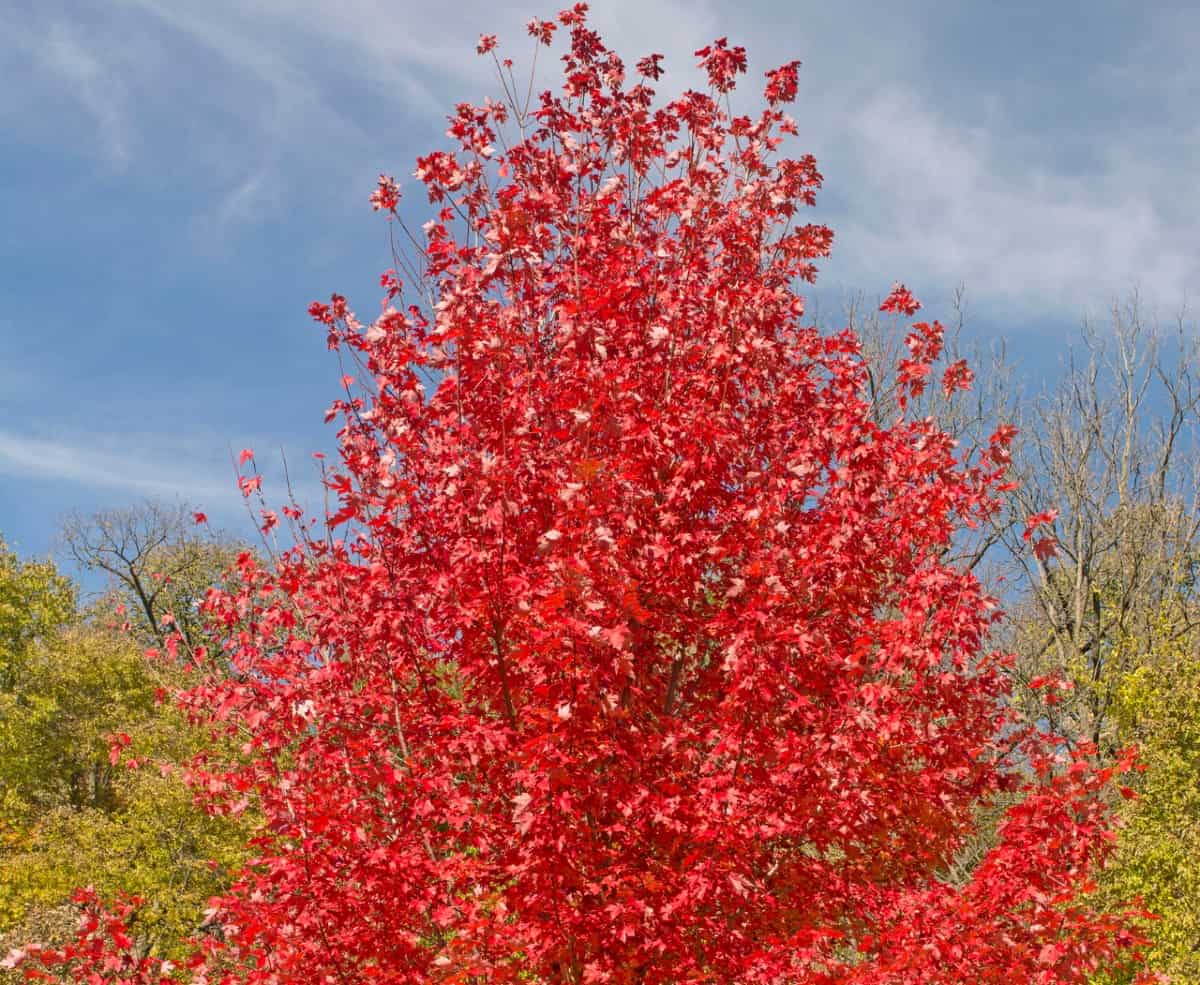 These fast growing shade trees are deciduous and famous for their stunning fall color. They begin their growing season in the spring with tiny red flowers that give way to red fruit, followed by dark green leaves in the summer that turn red or yellow in the autumn.
The red maple tree loves growing in part shade and is hardy in zones 3 through 9. It is low maintenance and grows 40 to 70 feet tall with a crown spread of 30 to 50 feet wide. It is an excellent choice for specimen planting and tolerates a wide range of soils.
Flowering Dogwood (Cornus florida) – Amazing Trees for Shade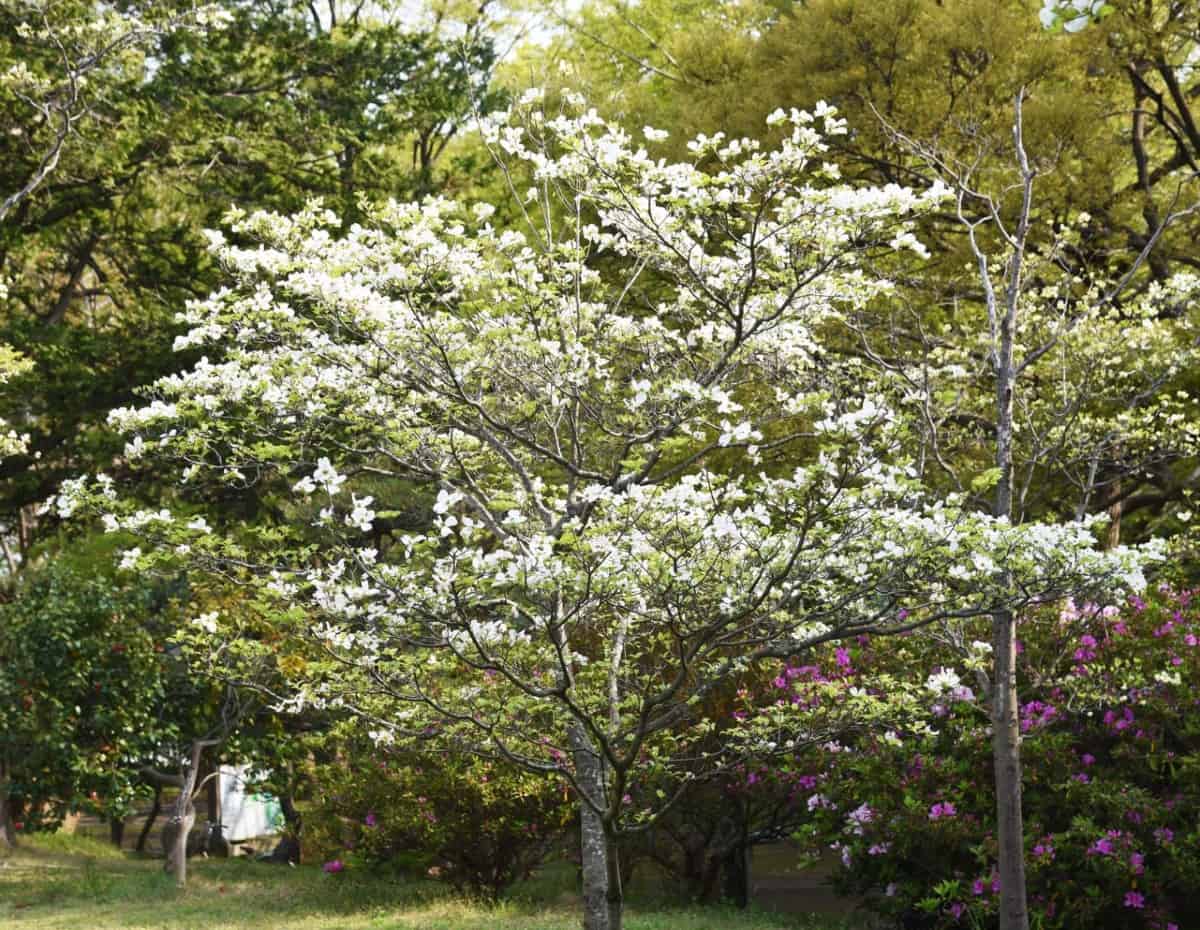 This small deciduous tree has a flat-topped or rounded canopy with elegant branches. It grows a profusion of star-like spring blossoms of white and green, orange-red fruit, and mid-green oval leaves that turn bright red in the fall.
Flowering dogwood performs well in part shade and grows 15 to 30 feet tall and wide. It thrives in USDA hardiness zones 5 through 9, is deer resistant, and generally pest-free. This tree requires no routine pruning for healthy growth.
Weeping Willow (Salix babylonica)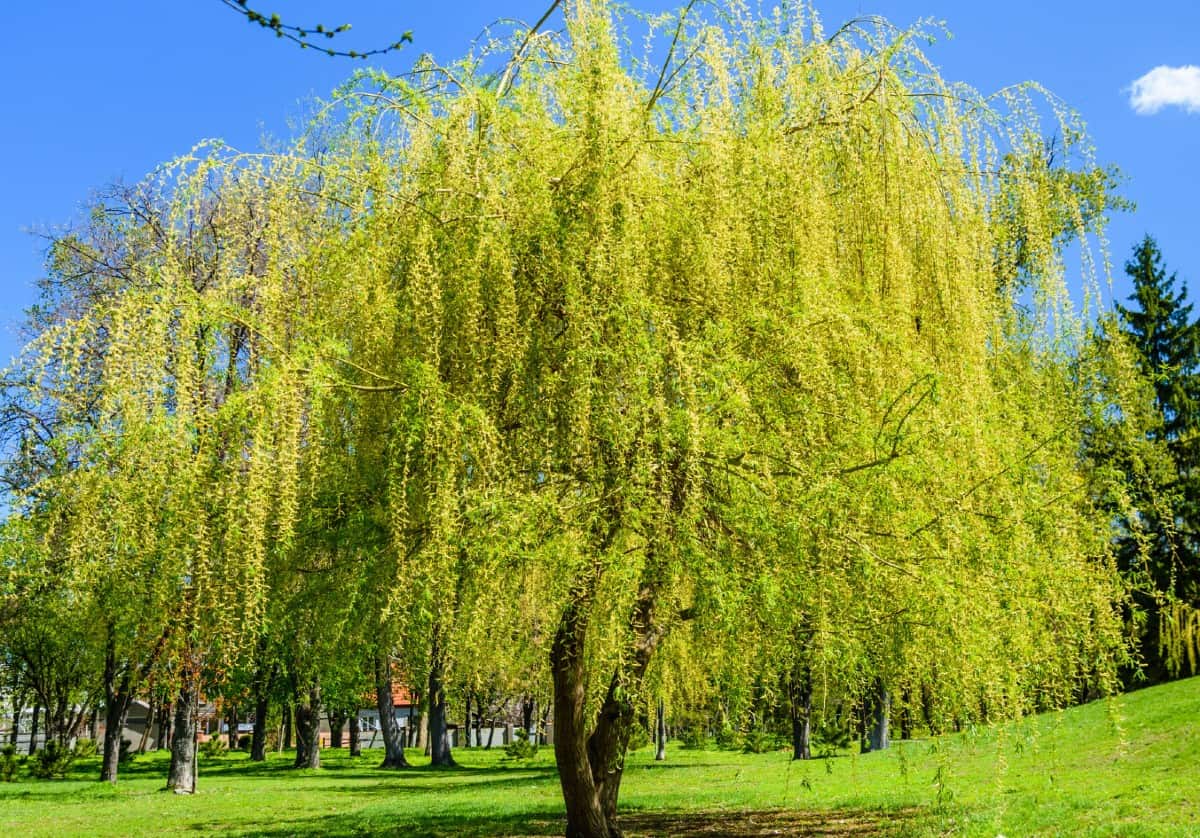 Weeping willows have a stout trunk and a graceful open crown of branches that arch downward with small, light green leaves. During the fall, their leaves turn greenish-yellow before shedding, leaving behind attractive dropping branches.
This popular lawn tree desires wet conditions and is suited for partial shade. These willows grow 30 to 50 feet tall with an equally spreading crown and are hardy in zones 6 through 8. They are easy to grow, deer resistant, and grow best near sources of water.
Red Oak (Quercus rubra) – Part Shade Tolerant Tree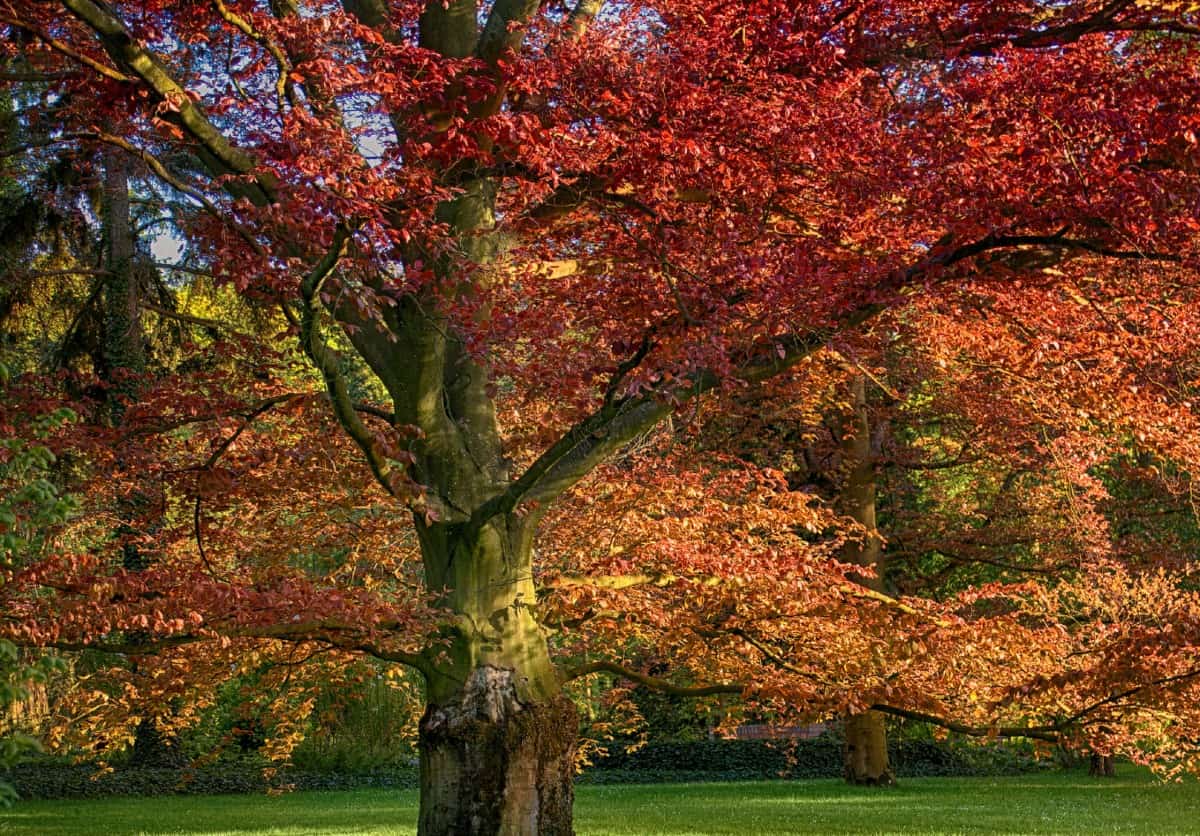 Red oaks are fast growing trees with a broad spreading or open and rounded crown of lustrous, dark green leaves with toothed lobes. Their foliage is a brilliant sight to see in the fall, with dusty bronze-red shades and critter-loving acorns.
This deciduous tree is tolerant of mildly shady areas and hardy in zones 5 through 9. The red oak grows 50 to 70 feet tall and wide and is ideal as a specimen plant. It adapts to many soil types but desires well-drained, acidic soil.
Magnolia (Magnolia grandiflora)
The magnolia tree is the herald of spring with its lovely pink, white, purple, or yellow blooms that usually appear before the leaves. The thick petaled flowers are fragrant and followed by blue/green foliage, some with fuzzy undersides.
These ornamental trees are hardy in zones 5 through 9 and grow 20 feet or more. Magnolias are evergreen trees that grow in shade that are ideal for year-round interest. They are happy growing in part sun and grow well on slopes.
Tulip Tree (Liriodendron) – Shade Tolerant Tree with Exotic Flowers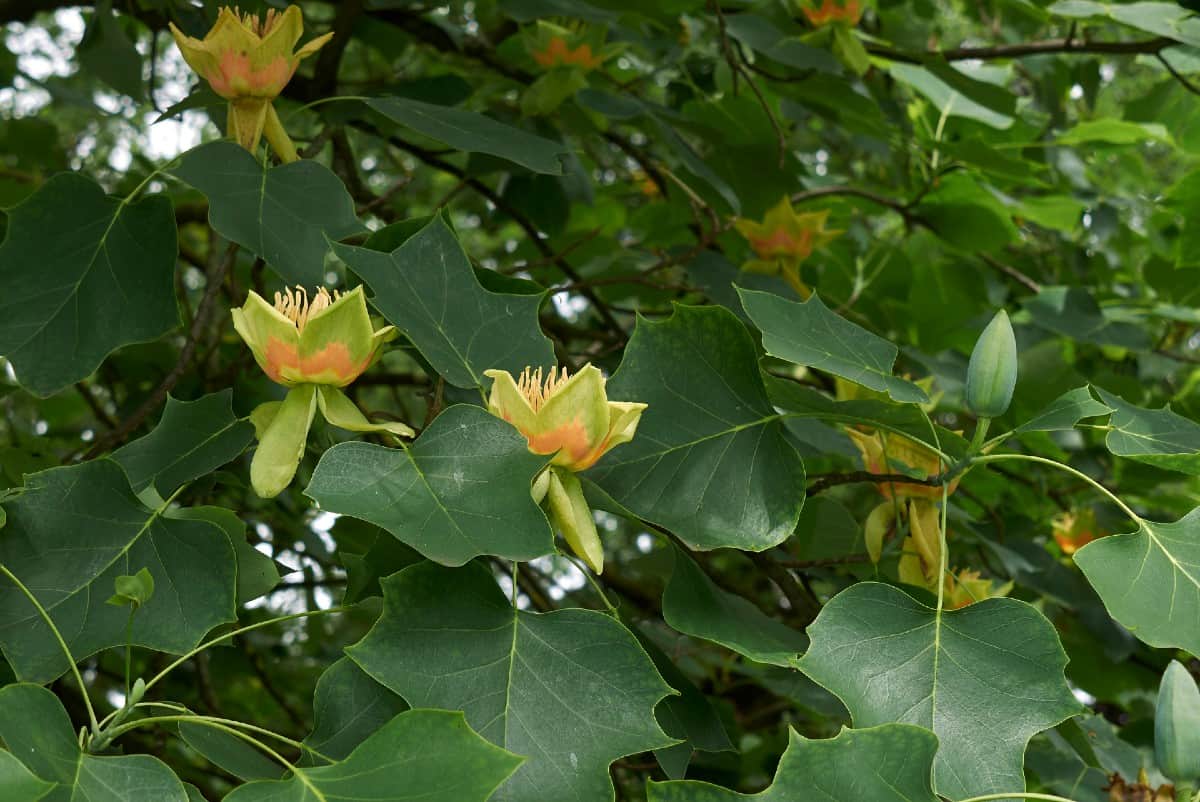 This tall and magnificent tree is deciduous with a young pyramidal shape that matures to oval-round with age. It has large, yellowish-green, and tubular-shaped flowers in late spring or early summer and glossy, bright green leaves that turn gold-yellow in the fall.
The tulip tree tolerates part sun and grows in hardiness zones 4 through 9. It is a low-maintenance tree that is deer and rabbit resistant and has a mature size of up to 80 feet tall with a spreading crown of 30 to 40 feet.
Pin Oak (Quercus palustris)
This oak tree is one of the easiest to grow. It has a dense, pyramidal crown of deeply cut, dark green leaves with pointed lobes that turn bright crimson in the fall. The distinct branching of this tree is attractive even after the leaves fall for the season.
This deciduous tree has gray-brown bark with ridges and produces acorns as a food source for wildlife. The pin oak is hardy in zones 5 through 8 and has a mature size of up to 70 feet tall and 40 to 60 feet wide.
Silver Maple (Acer saccharinum) – Deciduous Tree with Fascinating Leaves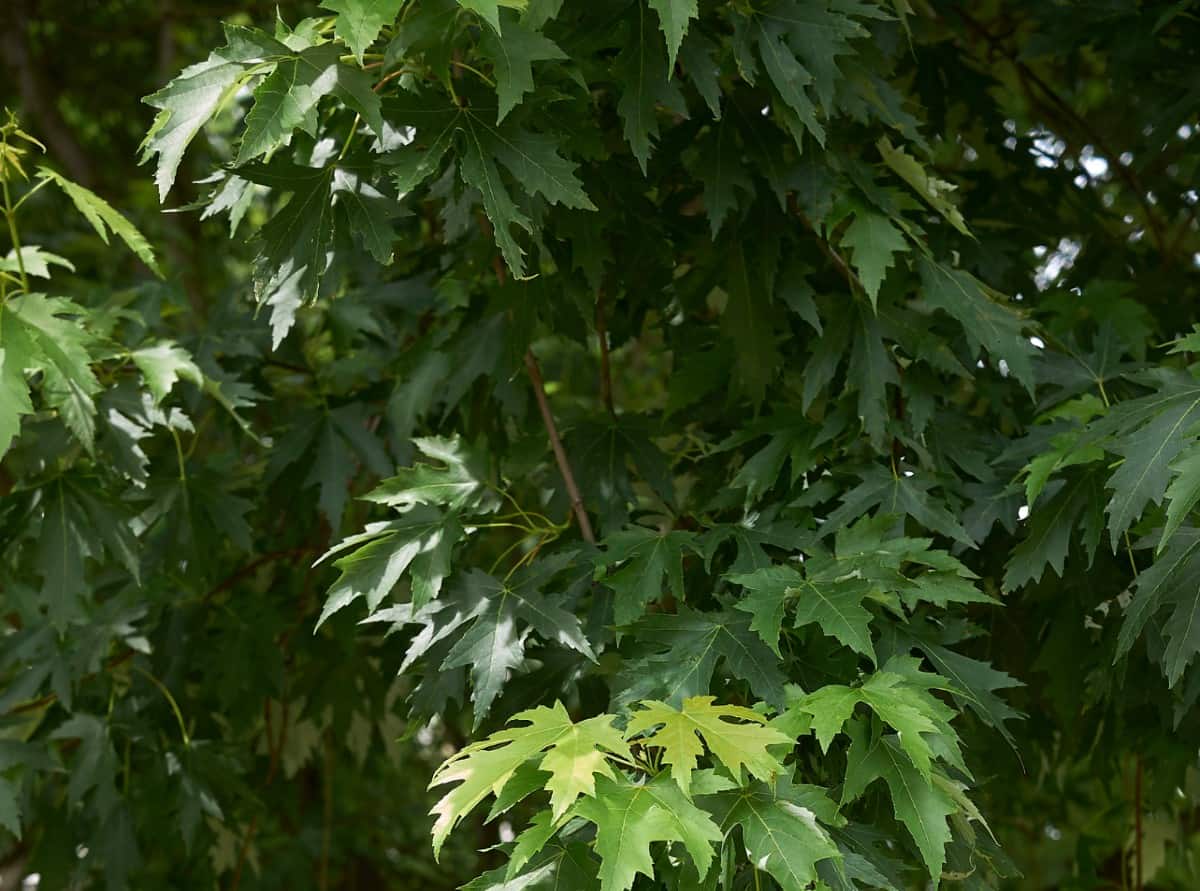 These maples are fast growing trees with a vigorous root system. The dark green leaves' undersides have a silver-tone, and a gentle breeze creates a visual spectacle. These trees grow in a v-shape, and the leaves turn pale yellow in autumn.
These deciduous trees have a mature size of 50 to 80 feet tall with a crown spread of up to 50 feet and grow as much as two feet per year. They enjoy growing in filtered sunlight and are hardy in zones 3 through 9.
California Sycamore (Platanus racemosa)
The California sycamore is a fast grower with a massive barrel-shaped trunk and an open crown of thick, twisted branches. This tree often forks into multiple trunks and has large, light green leaves that turn golden yellow or orange in the fall.
Unlike the American species, the California sycamore handles growing in part shade. It grows ideally in moist soils and has a mature size of 30 to 80 feet tall. This deciduous tree has aggressive roots and is hardy in zones 7 through 10.
Sugar Maple (Acer saccharum) – Large Shade Tree with Sweet Sap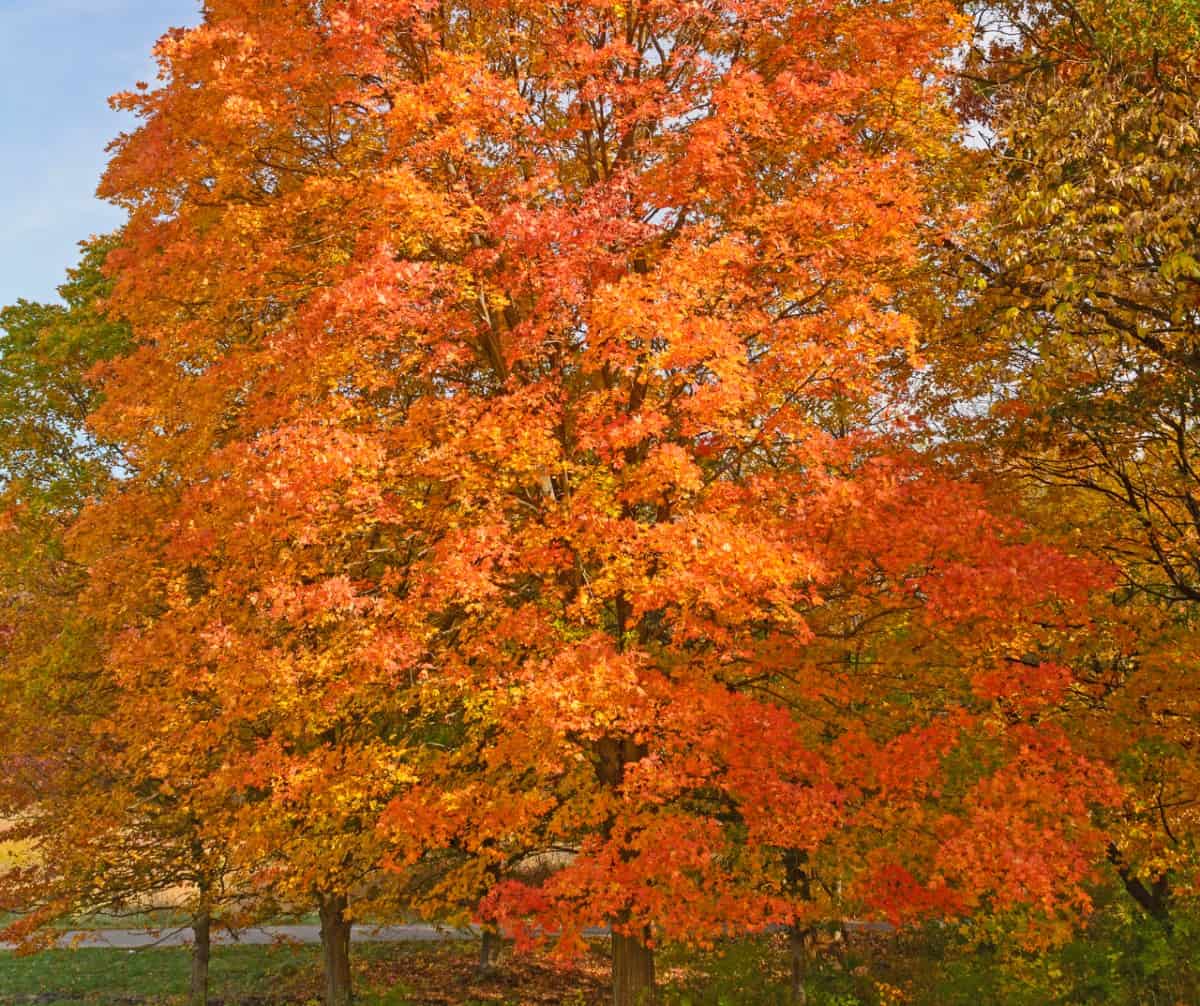 The sugar maple is a long-lived and slow growing tree and prized for its sweet sap. It has five-lobed leaves of medium and dark green in an oval to rounded crown. The foliage changes to brilliant red, orange, and yellow in the fall.
This deciduous tree grows 40 to 80 feet in height with a crown spread of up to 60 feet wide and thrives in part shade. It is low maintenance, needs little pruning, and is hardy in zones 3 through 8.
Eastern Redbud (Cercis canadensis)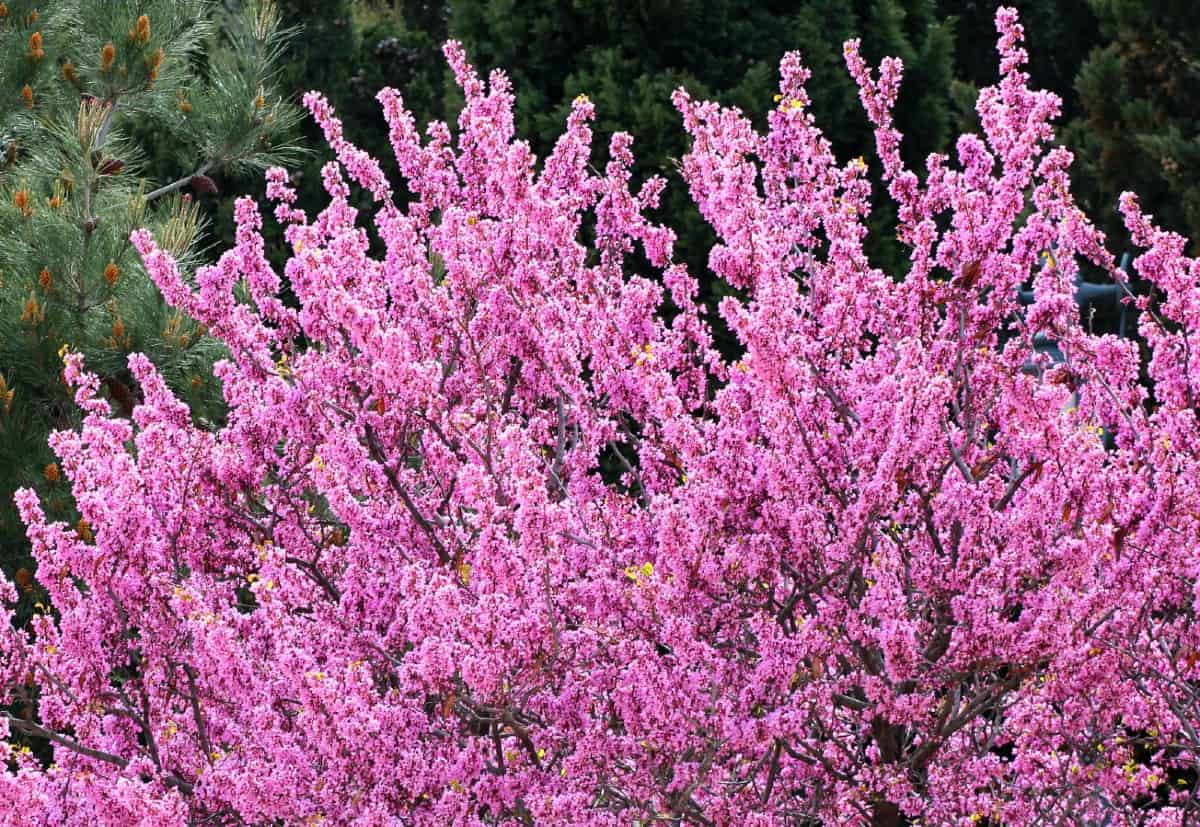 This multi-trunked tree has a rounded and graceful crown of delicate and horizontal branches. It produces clusters of rosy pink flowers in early spring before the foliage emerges, followed by brown seed pods and heart-shaped leaves.
Eastern buds grow in hardiness zones 4 through 9 and grow up to 30 feet tall and 35 feet wide. They grow easily in well-drained soil and part shade and look stunning as a shrub border or specimen plant.
Japanese Maple (Acer palmatum) – Small and Graceful Shade-Loving Trees
These small trees have elegantly cut leaves and grow with a graceful habit. They are renowned for their shape and foliage, with lobed leaves that grow in green or red shades that turn golden or bronze before falling to the ground in autumn.
Japanese maple trees range in height, depending on the type, and reach a mature size of 15 to 25 feet tall and wide. They enjoy growing in part sun or filtered shade and are hardy in zones 5 through 9.
Black Alder (Alnus glutinosa)
Black alders are highly adaptable trees with a pyramidal shape. They have smooth gray bark that stands out during the bleak winter months and glossy green leaves during the summer.
This tree is a fast grower, reaching a mature height of up to 60 feet tall. The black alder is deciduous and hardy in zones 3 through 7. It loves water but also handles dry conditions.
Pawpaw (Asimina triloba) – Flowering Trees with Edible Fruit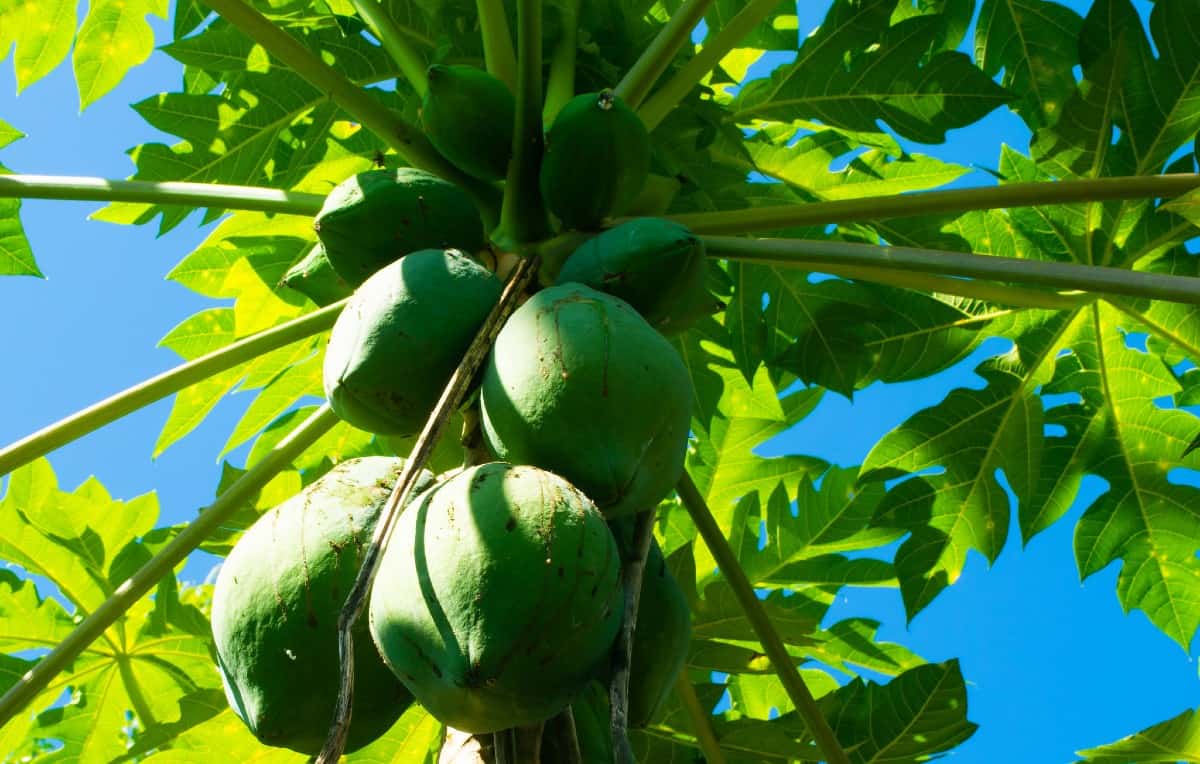 This unique tree has rich green oval leaves that droop slightly and turn bright yellow in the fall. Purple, cup-shaped flowers emerge in the spring before the edible, egg-shaped fruits appear.
Pawpaw trees are generally pest and disease free, and grow up to 30 feet tall and wide. They perform well in part shade but need long and hot summers to produce fruit.
They are native to the southeastern part of the United States and are hardy in zones 5 through 9.
Taking a trip to the garden center to pick the best trees for your yard is a daunting task, especially if the area around your home is shady.
While the challenge is real, choosing the right tree is not impossible. Many plants not only tolerate low light but thrive in it and are perfect for growing in difficult conditions.
Creating a landscape of spring flowers and fall color is easy by planting amazing trees for shade, so why not share our shade-loving tree guide with your circle of friends and family on Facebook and Pinterest?