You don't have to walk down the cleaning aisle of your local grocery store to find the best products for cleaning your home; open up your pantry. Unfortunately, many of the commonly used cleaning products on the market today contain harsh chemicals that can create or exacerbate a variety of illnesses and medical conditions.
Plus, many of these products are incredibly harmful to the environment. Fortunately, two environmentally friendly cleaning products are probably already in your pantry, baking soda, and vinegar.
You can use these two powerful, natural cleaning solutions separately, together, or mixed with other natural ingredients. Baking soda and vinegar are a healthier, less toxic method for cleaning the house. Sodium bicarbonate, or baking soda, is a mild alkaline and gentle abrasive that cleans and deodorizes your home.
White vinegar is an acetic acid that is a non-toxic alternative to many popular household cleaners, including bleach. Not only can vinegar deodorize, but you can also use it to remove stains, rust, and mold.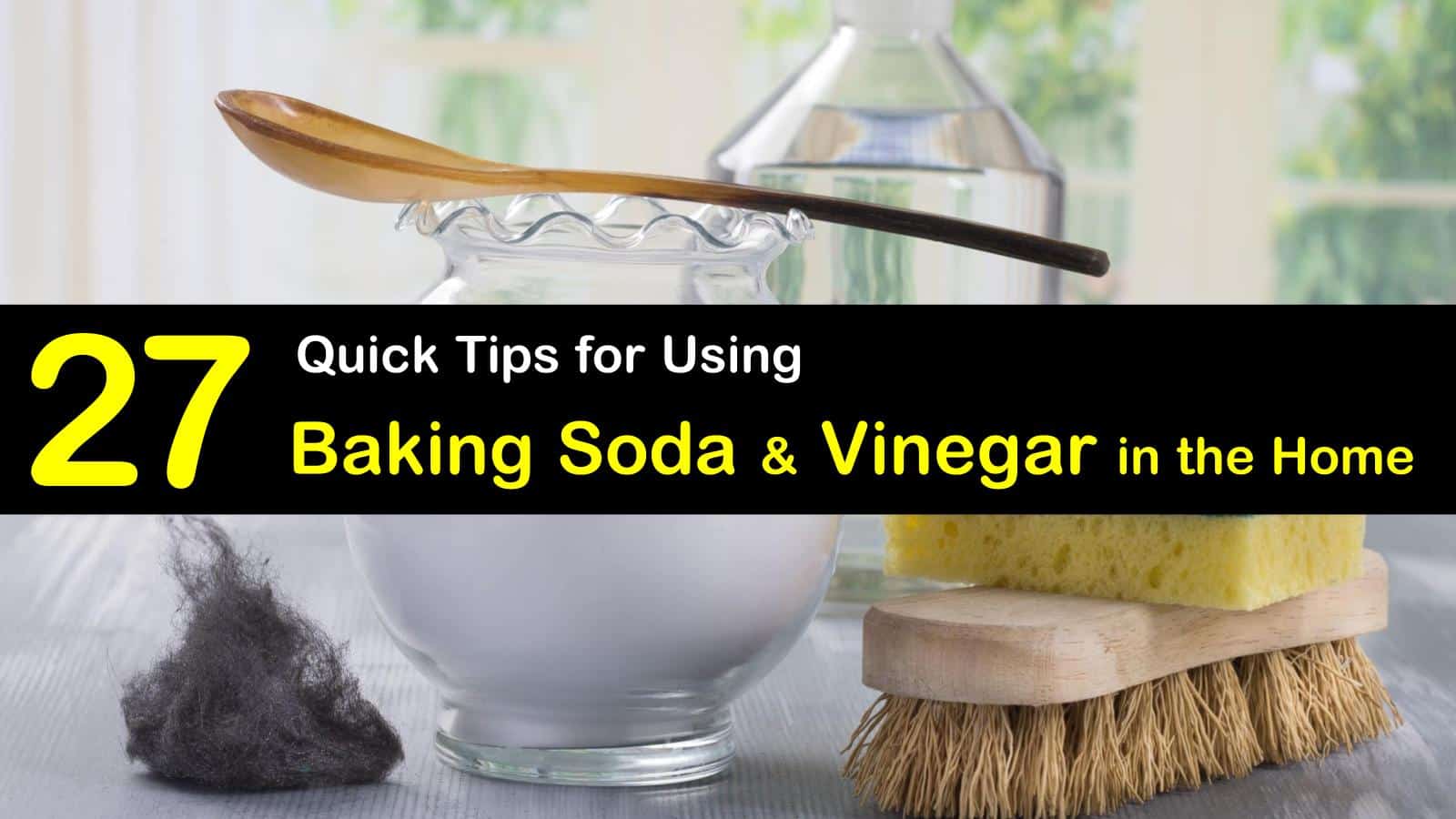 What Happens When You Mix Vinegar and Baking Soda?
Mixing vinegar and baking soda creates a chemical reaction reminiscent of a papier-mache volcano that explodes. What happens when you mix baking soda and vinegar is that a carbon dioxide gas is released.
The carbonic acid that is released during the process rapidly decomposes into carbon dioxide and water, which turns out to be a fantastic cleaning combination that is efficient and inexpensive.
Does Vinegar Expire?
Vinegar is an incredibly versatile product, and if you have a bottle of vinegar sitting in your pantry, you may be wondering, does vinegar expire?
You might have noticed that your vinegar has a "best before date" stamped on the side of the bottle, which might be confusing because vinegar has an indefinite shelf-life. However, once the expiration date passes, the level of acidity starts to decrease.
Baking Soda Uses for the Home
There are a plethora of uses for baking soda around your home. You may think that baking soda is only used in baking or something that keeps your refrigerator free of odors. This fantastic product can help you clean your entire home.
If you haven't used baking soda to clean your home yet, here are some ways baking soda to clean your house.
Awesome Ways to Use Baking Soda and Vinegar at Home
Make Your Silver Gleam
Baking soda makes an effective silver polish that can make your tarnished and dull looking silver sparkle again. To polish silver, make a paste of three parts baking soda to one part warm water.
Add some of the paste to a clean cloth and rub it onto the silver. Rinse thoroughly with water and dry.
If your silver is extremely tarnished, you can create a baking soda bath. Just line your sink with aluminum foil and add your silver. Pour in one cup of baking soda, a dash of salt, and enough boiling water to cover all the silver. Soak the silver for a few minutes, then rinse with warm water and dry with a soft, clean cloth.
Boost Your Laundry Detergent
Make your liquid laundry detergent work better by adding a ½ cup of baking soda to a load of laundry. Adding baking soda to the wash gives the detergent an added boost by balancing the pH of the water. When you restore the pH of the water, you end up with cleaner, brighter, and fresher clothes.
Clean Your Bathroom
Baking soda is a non-toxic and effective way to get your bathtub, sink, and tile clean. You can also use baking soda to clean rust stains from your fiberglass tub. All you have to do is place a light layer of baking soda onto a clean, damp sponge and scrub away.
Rinse the bathtub with hot water and use a clean towel to wipe it dry. If you want some added cleaning power, you can make a baking soda paste for a deep clean.
Mix the ingredients in a medium-sized bowl. Apply a thin coating of the cleaning paste to the area that needs cleaning and let it stand for ten minutes. Use a clean sponge to scour the area and thoroughly rinse with warm water.
Clean Your Pots and Pans
Baking soda is an incredibly useful product for cutting through grease and removing food that is stuck on pots and pans. To clean enamel cookware or pans with baking soda, add one tablespoon to a sink of warm water, along with some liquid dish soap.
Use a clean sponge or cloth to scrub the items, then thoroughly rinse with water. This is an important step to take before greasing your baking pan to add cake batter. Clean pans equal a food-safe surface for cooking.
If your pans have baked-on food, soak them in the baking soda water for at least ten minutes. Pour some baking soda on a clean sponge or cloth and use it to scour the pan. The best part about utilizing baking soda to clean your pots and pans is that it doesn't leave scratches.
Add Baking Soda to the Dishwasher
Use baking soda in the dishwasher to eliminate unwanted grease and remove baked-on food from your pans and dishes. Add some baking soda to the dishwasher's regular cycle. The baking soda reacts with the water during the cycle to remove grime and grease that has a tendency to buildup on your dishes and pans.
Baking soda can also serve as a drain cleaner for dishwasher. This dishwasher component accumulates all kinds of food debris and grease and can get clogged and smell if not cleaned regularly. Sprinkle baking soda on the bottom of the dishwasher when running a cycle to keep the drain flowing smoothly.
Deodorize a Garbage Disposal
With all the leftover food that you put down the garbage disposal, it can start to smell pretty bad in there. Deodorize your garbage disposal with baking soda and keep food odors from lingering and making an unwanted comeback.
To deodorize the garbage disposal, run warm water down the drain, then pour in some baking soda. The baking soda neutralizes basic acid and odors and will leave your garbage disposal smelling fresh.
Clean Your Mattress
Your mattress can get incredibly dirty if you don't take the time to clean it regularly. Over the years it collects enough dust mites and dead skin cells to double its weight.
Merely running the vacuum over it every once in a while isn't enough to thoroughly clean your mattress. However, with a little bit of baking soda and some hydrogen peroxide, you can take care of the dust mites and start to sleep better at night.
Pour the hydrogen peroxide, baking soda, and essential oils in a spray bottle. Spray the cleaning solution on the mattress and allow it to sit for an hour. Use a clean towel and rub the surface of the bed. Allow the mattress to completely dry.
When the mattress is dry, vacuum to clean up the residue. Follow the same procedure to clean a sofa with baking soda and vinegar, too. Eliminate odors and stains at the same time.
Clean an Oven
Baking soda has the power to clean an oven. It does a surprisingly good job getting rid of the baked-on food, grease, and other substances, plus it costs a lot less than commercial oven cleaners at the store. There's also no need to worry about touching toxic chemicals or breathing in harsh fumes.
Start cleaning your oven by creating a thick layer of baking soda in the bottom of your oven. Fill a spray bottle with water and spray the baking soda until it is damp. Every couple of hours spray down the baking soda again to keep it moist.
Continue spraying the baking soda with the water when it starts to dry. After several hours, scrape the baking soda out of the oven. Place a garbage can lined with a garbage bag next to the stove. Use a sponge or clean rag to scrape the baking soda out, depositing it into the garbage can.
As you scrape out the baking soda, you'll also scrape out any food residue from the bottom of the oven. After you've removed all of the baking soda, use a clean bucket filled with water and a clean sponge to remove the remaining residue from the oven. You may need to change the water often to rinse thoroughly.
Freshen Your Sponges
After a while, kitchen and bathroom sponges smell like mildew. Eliminate the stale odors from your overused sponges with baking soda. All you need is four tablespoons of baking soda and a quart of warm water.
Combine the two ingredients in a large bowl and allow your sponges to soak in the solution for several hours. Remove the sponges and rinse thoroughly with warm water.
While you are cleaning your kitchen sponges, address the sweat, dirt, and other debris in your makeup sponges. Baking soda and water with a little dish soap is an effective makeup sponge cleaner. Combine the ingredients and use your fingers to work the solution into your sponge. Squeeze under warm water to get rid of the residue and air dry.
Clean Your Coffee Pot
If your coffee pot or teapot has developed a brown stain over the years, get it sparkling clean with the help of baking soda. Add a ¼ cup of baking soda to one quart of warm water and wash your coffee pot and mugs in the solution. Not only will this baking soda solution remove stains, but it also helps to eliminate the bitter taste that is often left by dried coffee residue.
Vinegar Uses for the Home
Vinegar is another natural ingredient that you can use around the house. It is a cheap alternative to commercial cleaners, non-toxic, and biodegradable household cleaner, disinfectant, and deodorizer.
Using undiluted white vinegar is effective against a range of pathogens, including E-coli and Salmonella. Whether you use distilled white vinegar or apple cider vinegar, acetic acid is what makes it effective against so many germs.
Clean and Deodorize Your Refrigerator
You can effectively use vinegar to clean both the inside and outside of your refrigerator. Mix equal parts vinegar and water. Spray inside your refrigerator with the vinegar water cleaner and scrub all surfaces with a sponge, including bins and door gaskets. If you need to battle mildew, use undiluted vinegar instead. This also helps combat the accumulation of grime on the outside of the refrigerator.
Clean the Microwave
No matter how much you strive to keep your microwave clean, sauce and other food explosions can quickly make it look filthy. Clean the inside of the microwave easily with a little help from some vinegar.
Place a bowl of water and two tablespoons vinegar in the microwave and heat it on high for five minutes. Let it sit untouched for two minutes so that the steam loosens any caked on splatters of food. Carefully remove the bowl and the turntable plate for washing, and use a sponge to wipe the inside.
Clean the Showerhead and Faucets
If your showerhead sprays unevenly, the holes are likely plugged with mineral deposits from hard water. De-clog them and get your showerhead functioning properly again by soaking it in vinegar.
If you aren't able to remove the showerhead, fill a plastic bag with vinegar, and secure it around the showerhead with an elastic band. Let sit for several hours before removing. Turn on the water to eliminate the loosened debris.
Clean Your Stainless Steel Appliances
It can be challenging to know how to clean stainless steel appliances to keep them looking beautiful. Rather than spending money on expensive stainless steel cleaning products, use vinegar to bring back their shine.
Add the ingredients to a spray bottle using a funnel. Add the lid and vigorously shake to combine. Spray the solution on stainless steel appliances and fixtures and wipe clean with a clean, microfiber cloth or paper towels.
Brighten and Soften Your Fabrics
Brighten and soften all your fabrics by adding some vinegar to the wash. It is both useful and safe. The mild acetic acid properties dissolve any residue left by detergents and fabric softeners. Adding vinegar to laundry boosts the color in your fabrics, but it also makes them feel softer and smell fresher. Add a ½ cup of white vinegar to the rinse cycle to get brighter and softer clothes.
Clean a Dishwasher
Vinegar removes food and soap residue from your dishwasher. Put a cup of vinegar in the top rack of your empty dishwasher and let it run through a full cycle. The acidic properties of the vinegar work to remove unwanted residue from your dishwasher while disinfecting and deodorizing it.
Do this every month to keep your dishwasher clean and free of hard-water buildup. There are additional recipes available to help you learn how to clean a dishwasher with vinegar and baking soda, too, that are quite effective.
Disinfect Your Cutting Boards
After you've used your cutting boards, you want to make sure that you kill the bacteria that could be lurking on them. Effectively disinfect them with vinegar. Start by washing the front and back of the cutting boards with hot soapy water, then thoroughly rinse them.
Add the ingredients to a small bowl, and stir to combine. Dip a sponge or cloth into the solution and wipe down the cutting board.
Let the cutting board sit for five minutes, then turn it over and clean the other side. These natural ingredients make this a powerful cleaning solution that is more potent and safer than bleach.
Clean a Washing Machine
The washing machine collects a lot of dirt, grime, and other bits of debris as it cleans your clothes. It can also end up with a lot of gunk and soap scum from the detergent and fabric softeners you use. Wash and deodorize your washing machine quickly with a couple of cups of vinegar. It's the perfect cleaner for washer and costs just pennies!
To start cleaning and disinfecting your machine, set the cycle to "hot" or "whites." If you have a top loading washer, add four cups of vinegar to the tub. For front-loaders, you only need to add two cups of vinegar.
Let the machine fill with water and run long enough to allow the solution to splash around and then pause the machine. Let the vinegar and water soak for thirty minutes, and then start it back up again and let it complete the cycle. Once complete, your washing machine will no longer smell like mildew.
Clean the Toilet
Vinegar does a great job of cleaning the toilet and dissolving hard water stains. Pour a cup of distilled vinegar into the toilet bowl and let it sit overnight. In the morning, scrub the toilet with a brush before you flush. You can also mix the vinegar with essential oils and Borax for an even stronger cleaning solution.
Combine the ingredients in a small container. Swish water around the inside of the toilet bowl with a toilet brush to wet the inside of the bowl. Pour the cleaner into the toilet and let the solution sit for several hours. Use a toilet brush to scrub the inside of the bowl and flush to rinse.
Clean Tile Floors
Vinegar is a handy natural tile cleaner and will keep all your tile floors looking bright, as well as making the perfect DIY grout cleaning solution. It kills any mold or mildew that might be growing and easily cuts through dirt and grime.
Mix equal parts warm water and white vinegar and pour into a spray bottle. Spray the mixture on your tile floors and let stand for several minutes. Use a soft-bristled brush and scrub the floor, then wipe it dry with a clean towel.
For especially dingy or dirty grout, take care of grout cleaning with vinegar and baking soda solution. Scrub it into the grout with a toothbrush and rinse clean. It couldn't be any easier to have spotless grout.
Eliminate Fungus in the Garden
If you are having trouble with fungus and mold growing on your garden plants, spraying vinegar on plants can help. White distilled vinegar is often used to kill mold in the home and is also incredibly effective at killing mold on your plants in the garden. Vinegar works great as a fungicide and can quickly eliminate fungus from your yard.
Brew the chamomile tea in a pot and then add the vinegar. Pour the solution in a spray bottle and spray the plants in your garden that have mold or fungus growing on them. Not only will this kill the mildew and mold, but it is entirely organic and safe to use.
Clean Glass and Windows
Vinegar makes a capable, eco-friendly glass cleaner that can clean all the glass in your home. To make vinegar glass cleaner, mix one cup of white vinegar with one cup of water and pour it in a spray bottle. Put the lid back on the bottle and gently shake to combine.
Spray the solution on a soft, lint-free cloth and rub off smudges, dust, and stuck-on dirt from all the glass surfaces in your home. Respray the cloth as needed. Avoid using paper towels because they will leave lint behind.
Cleaning with Vinegar and Baking Soda
Vinegar and baking soda are both incredibly powerful cleaners that can keep your home clean and fresh. However, mixing vinegar with baking soda can take your cleaning power to a whole new level. Not only will you save a lot of cash by ditching the chemical-laden commercial cleaners, but your house will look great.
Unclog a Sink
Using vinegar and baking soda to unclog a sink is one of the more popular ways to combine these ingredients. If your sink drain is clogged, run hot water down the drain. Add ½ a cup of baking soda, one cup boiling water, and one cup white vinegar.
Your sink drain will be reminiscent of middle-grade science experiments, as the chemical reaction causes your sink drain to bubble and fizz. After the fizzing subsides, run hot water down the drain for several minutes. This effective drain cleaner will also work to unclog a shower drain.
Clean Concrete
This DIY concrete cleaner uses the power of baking soda and vinegar to cut through grease and grime. If your driveway has grease and oil stains, use a vinegar and baking soda cleaner to dig deep down into the pavement to lift out the stains.
Apply some baking soda directly to the concrete stain and let it sit undisturbed for a few minutes. Pour the vinegar over the baking soda and let the baking soda and vinegar reaction do its thing. Next, apply some laundry detergent to the area and use a stiff brush to scrub the stain vigorously.
Use this solution for polishing concrete floors and removing unsightly stains, too. Use a fully powered garden hose or a mop with a bucket of water to rinse the area thoroughly. Repeat the process if needed for stubborn stains.
Freshen Up Your Towels
After a while, towels lose their freshness and become stiff from laundry detergent and fabric softener buildup. The next time you're doing a load of towels, swap the laundry detergent with ½ a cup of baking soda, and your fabric softener with vinegar during the rinse cycle.
Dry the towels normally. When you remove your towels from the dryer, you'll notice they've become just as soft as the day you bought them and will have a lovely fresh scent.
Clean Grout
The grout in your home can be challenging to keep clean. However, the next time you need to clean it, skip the professional cleaning service and grab some vinegar and baking soda instead. Spread some baking soda over your grout. Then spray some vinegar over the baking soda.
Allow the chemical reaction to take place before you start to clean the grout. When the baking soda stops fizzing, take an old toothbrush and scrub the grout. Dip the toothbrush into a container of water frequently to rinse. After you've finished scrubbing, take a clean rag and wipe up the dirt.
Remove Stains from Your Mugs
Mix baking soda and vinegar to gently get tea stains off a mug or remove coffee stains from your porcelain and ceramic mugs and cups. The baking soda works to get the vinegar into the tiny cracks and crevices where stains like to hide. To remove coffee and tea stains, cover the bottom of your cup with baking soda, then add a bit of vinegar.
Let the solution stand for 30 minutes and then wipe it out with a sponge or cloth. Follow up by washing as usual.
If you're tired of spending your money on expensive commercial cleaners, or want to rid your home of harsh and toxic chemicals, the answer may be in your pantry. Use vinegar and baking soda in a variety of ways to clean your home with these 27 quick tips for cleaning with vinegar and baking soda to get your house sparkling clean.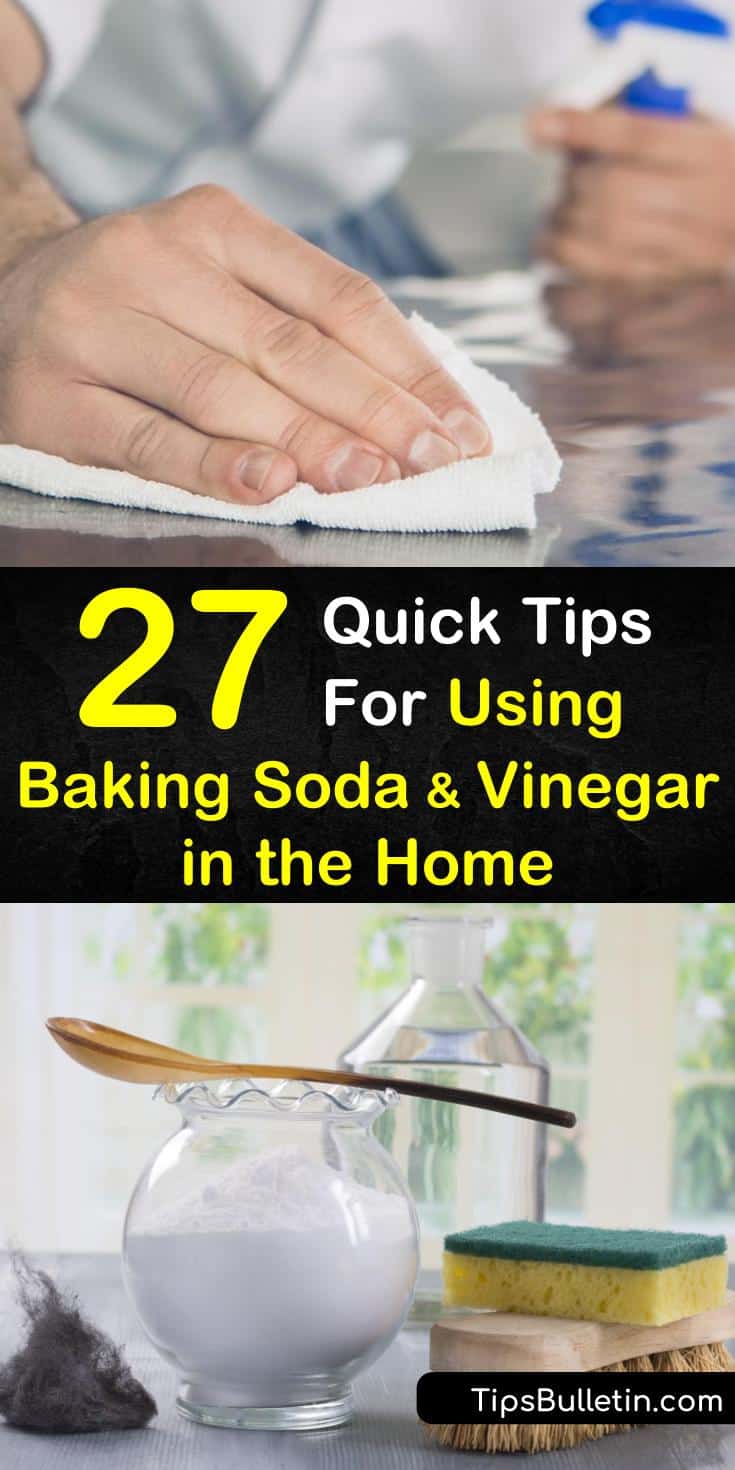 We hope you enjoyed learning about these quick tips and tricks for using vinegar and baking soda. If you found the information on vinegar and baking soda cleaning useful, please feel free to share with your family and friends.