Despite cleaning your floors, shower walls, and countertops often, the grout between the tiles will inevitably get dirty. The dirt and stains that accumulate between the tiles can quickly ruin the impact of an otherwise clean bathroom and kitchen.
While there are plenty of commercial grout cleaners on the market that can efficiently clean your grout, they are often loaded with toxic chemicals that can be harmful to your family.
To get your floors sparkling clean, without resorting to commercial grout cleaners, you can make a homemade grout cleaner out of everyday household items that you probably already have under your kitchen sink.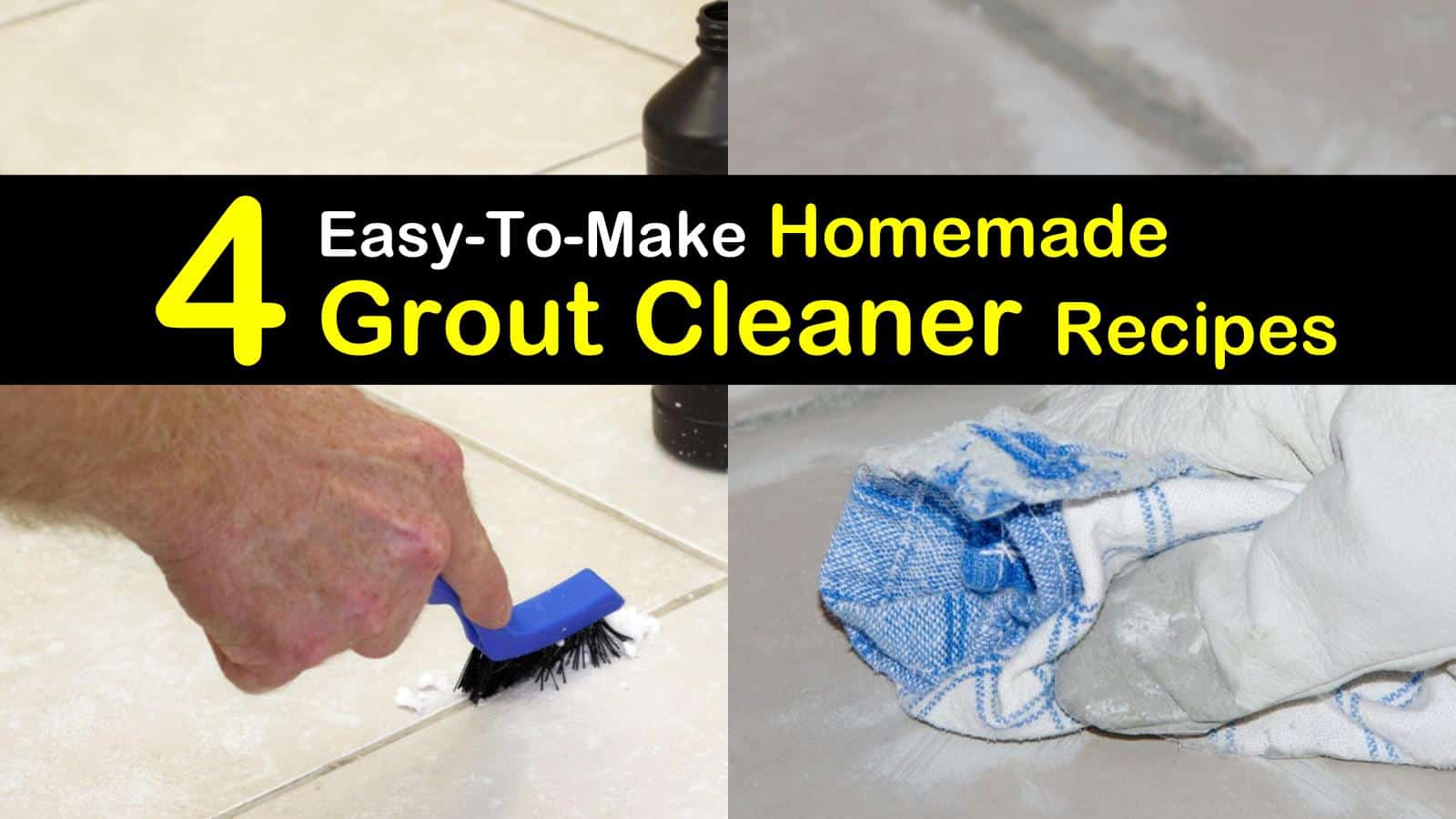 Homemade Grout Cleaners
Before you spend a fortune on cleaning products, you can make your own homemade grout cleaner that is less expensive and less toxic using a variety of standard household ingredients that you can purchase at your local supermarket.
No matter how often you clean your floor and counters in your bathroom and kitchen, they will always look dingy and dirty if the grout is stained.
You can make your own natural grout cleaner using simple ingredients that you probably already have under your kitchen sink. These recipes take less than ten minutes to make and will get your tile and grout looking cleaner than any store-bought cleaner you can buy.
The best part of making a homemade grout cleaner is that you won't be leaving behind the toxic residue that can be harmful to your family and the environment. If you have a lot of grout to clean, it may be worth the time to learn how to use a steam cleaner for grout cleaning. Steam is highly effective at cleaning many different surfaces, and grout is no exception.
Best Homemade Grout Cleaner
Trying to get your dirty grout clean can be frustrating. It often seems that no matter how hard you scrub, you simply can't remove the dirt and stains that have accumulated between your tiles over the years.
This recipe uses three simple ingredients and will help to make all the grout in your home look brand-new. As a bonus, this solution also works well as a DIY soap scum remover for the tub and shower.
When working with this tile and grout cleaner, it's a good idea to wear protective gloves. While the hydrogen peroxide that you use in this cleanser isn't dangerous, it can sting if it comes in contact with any open cuts. If you get any of this cleaner in your eyes, be sure to rinse them immediately.
Pour the baking soda into a small, squeeze-top container. Add the hydrogen peroxide to the baking soda. Add the liquid dish soap to the bottle; replace the lid and shake well to mix the ingredients thoroughly.
Apply the mixture to the grout line and let sit for at least five minutes. Using a sponge or paper towel, wipe the mixture off. Rinse with water to remove any residue. This natural cleaner is also perfect to kill any mold or mildew buildup on the grout.
While you're cleaning the grout, it's always a good idea to take care of the tile at the same time. Use this solution for cleaning ceramic tiles or other types of tile in the bathroom or kitchen for a sparkling clean.
Heavy-Duty Homemade Tile Grout Cleaner Recipe
Having dirty tile grout can quickly make even the cleanest areas of your kitchen or bathroom look dirty. This homemade tile grout cleaner, part of our homemade bathroom cleaner series, will make cleaning your grout easy and get your tiles and grout looking like new again.
The baking soda will help to dissolve tough grime and stains, while the ammonia will leave a streak-free shine on your tiles. It is vital that you don't use this solution near any chlorine bleach, as the ammonia and bleach will make chlorine gas, which can be fatal if inhaled.
In a gallon container, mix the soda, water, ammonia, and vinegar. Stir to combine the ingredients. Using a funnel, add the solution to a spray bottle. Spray the cleaner on the grout line and allow it to sit for several minutes.
You can also spritz the tiles at the same time. Clean porcelain tile by spraying and wiping with a sponge or soft cloth.
Using a scrub brush, lightly scrub the grout to lift stubborn dirt and stains. Wipe the grout clean with a sponge or damp cloth or rinse the tiles and the grout at the same time with clean water.
>> You might find this interesting: How to Clean and Unclog a Drain or Shower in Your Bathroom
DIY Lemon Juice Grout Cleaner
Due to its acidity, lemon juice is excellent for removing soap scum and stains from various surfaces, including tile grout. It won't damage or etch most surfaces because the acidity is mild.
The baking soda in this all natural recipe provides an abrasive substance that helps to scrub away the scum and dirt that the lemon juice loosens, leaving clean grout throughout your house.
Form a paste by combining the lemon juice and the baking soda in a small bowl. Using your finger or an old toothbrush, apply a thin layer of the paste to your grout. Allow it to stand for at least five minutes.
Rub the paste into the grout using a soft scrubbing brush or rag. Rinse the area with warm water. If necessary, repeat the steps to remove any remaining soap scum or dirt from the grout.
DIY Grout Cleaner with Essential Oils
Making your own grout cleaner is easy to make using common ingredients you can find around your home. The essential oils used in this recipe, tea tree oil, lemon oil, and lavender oil, are perfect because of their antibacterial properties and pleasant scents.
Put the baking soda in a small, 12 oz glass jar with a lid. Add the essential oils. Pour in the Castile soap. Mix the ingredients well, until it is a thin paste. Be sure to get down into the corners of the jar as the soda tends to remain dry.
Use a scraper if needed to get all of the ingredients thoroughly mixed. This recipe is a variation of a regular homemade shower cleaner recipe we have used many times. With a scrub brush or old toothbrush, apply the paste to the grout.
Allow it to sit for several minutes. Using the brush again, scrub along the grout. Go back a second time using a wet brush. When the mixture gets wet, it will begin to foam, bringing up dirt with it. Finally, using a damp rag, wipe the grout and rinse with water.
If your grout still has some stubborn stains after trying these easy homemade recipes, and the grout is old and cracking, it may be time to remove mortar from a tile. You can learn how to remove grout and replace it yourself without hiring a pro.
There are several ways to tackle the job but be sure to set aside a little time to complete the task, as it takes a little while to do the job correctly. You'll be a DIY pro when you're finished!
Whether you are looking to save some money on cleaning supplies, or are trying to avoid using cleaners with toxic chemicals, making a homemade grout cleaner is an easy way to accomplish either goal.
Using everyday, inexpensive household products, you can make a grout cleaner that will clean your grout without leaving a toxic residue, keeping your family and the environment safe.
Recipe for Homemade Grout Cleaner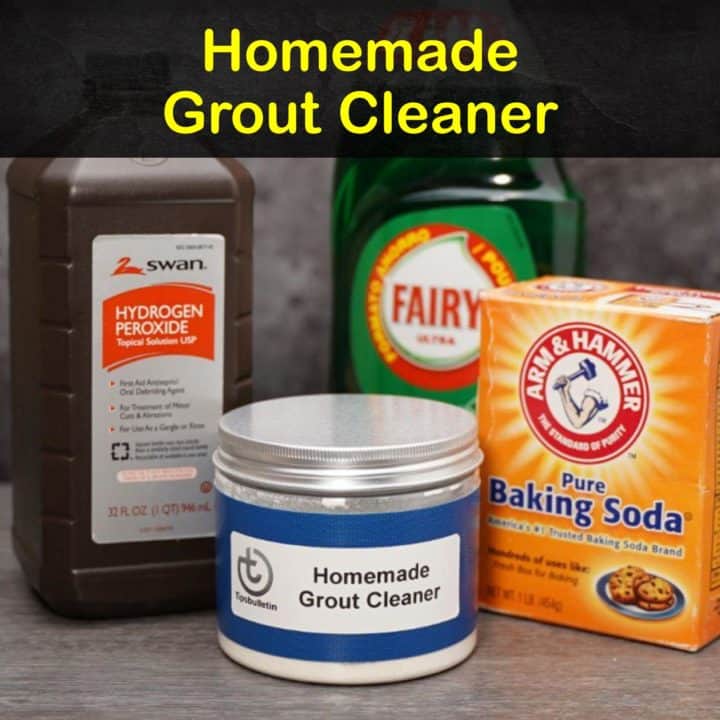 Homemade Grout Cleaner
Clean grout naturally without harsh chemicals.
Materials
2 ounces of hydrogen peroxide
4 ounces baking soda
1 tsp dishwashing liquid
Tools
Teaspoon
Gloves
Measuring spoon
Pint jar
Microfiber cloth
Instructions
Pour the dish soap, baking soda, and peroxide into the jar.
Stir with the spoon.
Put on the gloves to protect your hands.
Use the microfiber cloth to apply the cleaning mixture to grout lines.
Let the paste sit for 5-10 minutes.
Rinse the cloth and wipe the grout clean.
Pour fresh water over the grout to completely get rid of residue.
Notes
Double or triple the recipe if needed.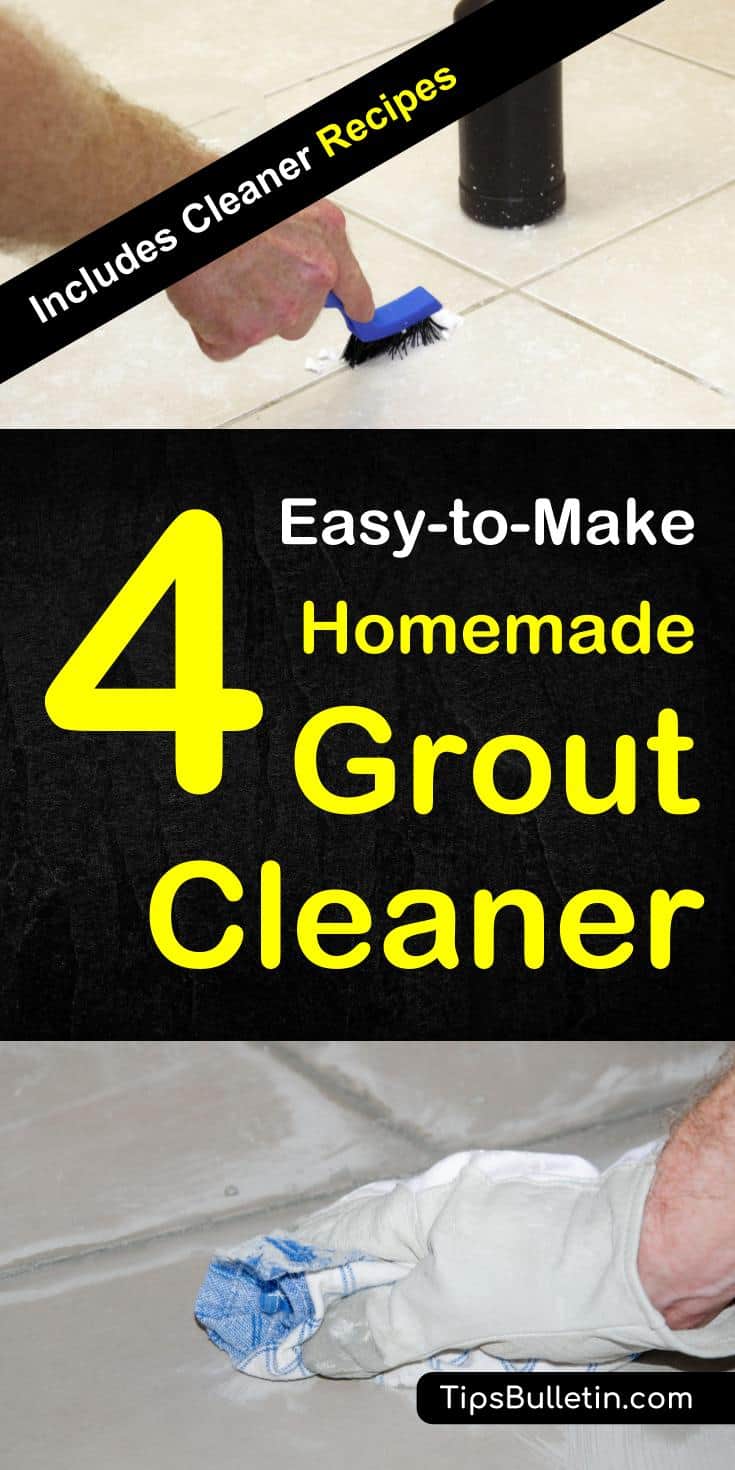 We hope you enjoyed the information about making a homemade grout cleaner in this article and we would love for you to share our grout cleaning strategies with your friends and family on Pinterest and Facebook.