Supermarkets carry all types of deli meat, and salami is one of our favorites. Hard salami is perfect for a charcuterie board, while sliced salami makes the best sandwiches, and cacciatore salami is divine in pasta dishes. But, can you freeze salami, and how long does it last?
If you love your luncheon meat, browsing through the section of cold cuts at your local delicatessen is like being a kid in a candy store, especially if there is a meat sale.
There are so many choices, from roast beef, chicken, and turkey to ham, Prosciutto, and paprika salami. For this reason, it's easy to purchase more lunch meat than is possible to eat before spoilage.
While dry salami lasts longer than other cold cuts due to the salting and drying process, slicing it allows in bacteria and shortens the shelf life. Therefore, it's vital to use the right storage methods to keep it fresh.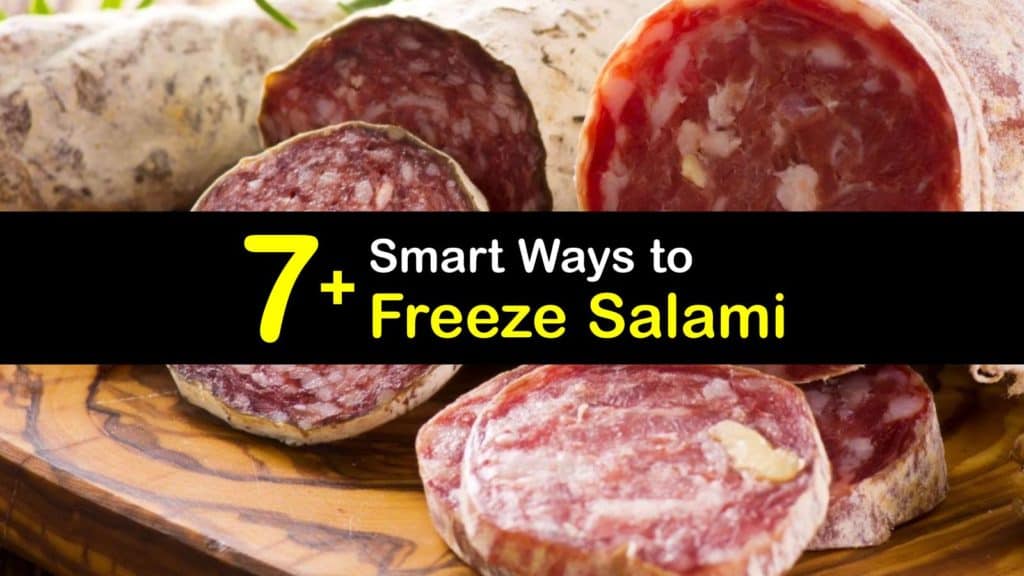 Ways to Store, Freeze, and Prepare Salami
While salami lasts longer than other cold cuts, such as sliced roast beef, this packaged deli meat spoils over time, especially if you do not store it properly after slicing.
The freezer is perfect for preserving many kinds of foods for later eating. Can you freeze chicken salad? What about eggs? You can freeze almost anything, but it's important to do it correctly.
What is salami, and what's an ideal way to store it? How does it fare in the freezer and fridge?
Can You Freeze Salami?
Buying deli meats in bulk saves money and trips to the grocery store, but it only lasts so long in the refrigerator.
Unless you have a house full of ravenous teenagers, sliced meat spoils after five days, depending on the type. Can I freeze salami, and if so, how long can I freeze it?
Some grocery store lunch meats contain preservatives, and the simplest way to tell when they expire is to check the best by date.
However, salami is shelf-stable and is safe to keep at room temperature in a cool, dark area if it's unopened. It lasts up to six weeks. Even though this meat does not need to be refrigerated, it does dry out over time.
To refrigerate salami and prevent dryness, wrap it in wax paper and store it on the fridge shelf. If it is sliced meat, wrap it in cling wrap or put it in a plastic bag.
Refrigerated whole salami lasts up to six months, while sliced salami lasts up to three weeks. If you don't plan on eating the salami anytime soon, consider freezing it since frozen salami lasts three months.
Things to Know before Freezing Salami
Before you start freezing salami, there are several things you should know. Understanding the different types of salami and how they are prepared helps you choose ways to store it short and long term for the freshest flavor.
There are three popular types of salami, Genoa, Soppressata, and hard salami. They are prepared with seasonings, salt, and ground meat and then stuffed into a casing where they are left to ferment and dry.
Hard salami is made with pork or pork and beef and is smoked after being cured. It has a mild taste and a dry, firm texture.
Genoa salami is made with pork, but sometimes veal or beef. It has a red wine and garlic flavor that is brightly acidic with a soft texture.
Finally, Soppressata is an all pork salami with a heavy taste of black peppercorns or spicy chile peppers and has a slightly chewy, firm texture.
How to Freeze Salami Whole
While whole salami lasts quite a long time in the pantry or refrigerator, it's important to transfer it to the freezer if you cannot eat it before it expires to prevent food poisoning. Here is how to freeze salami that is unsliced and unopened.
The best way to freeze salami whole is to leave it in its original packaging to prevent freezer burn. Rip off a large sheet of heavy-duty aluminum foil and place the roll of salami in the center.
Wrap it in the foil, making sure to cover all sections, and set it on the freezer shelf.
If the packaging is ripped or damaged, remove the salami, wrap it tightly in foil, or place it in an airtight plastic bag. Don't forget to use a pen to mark the date on the outside before storing it.
Freezing Salami Slices for Portion Sizes
If you have a half-eaten roll of salami sitting in the fridge that you do not plan on finishing soon, it's time to stick it in the freezer to stop it from spoiling. Freezing salami slices is the way to go if you desire portion sizes for quick and convenient thawing.
Place the sliced salami or pepperoni individually between parchment freezer paper pieces and then slide the entire portion into a freezer bag.
Use your hands to press out excess air and seal the bag shut. Write the date on the top of the bag with a permanent marker and set it on the freezer shelf.
Ways to Thaw Frozen Salami
Your freezer is well stocked with whole and individual slices of salami for future recipes and sandwiches. Now that you know how to freeze salami, you're probably wondering how to thaw frozen salami for good texture and flavor.
Thawing Salami
Remove the frozen salami from the freezer and place it in the refrigerator overnight. If you do not have much time to wait for the meat to defrost, fill the kitchen sink or a large container with cold water and submerge the frozen lunch meat in the water.
Ensure that the salami is in a sealed plastic bag before soaking it and use it right away after defrosting.
How to Tell if Salami is Bad
Does salami go bad? Unfortunately, yes. However, some foods, such as fruits and veggies, are simple to tell when they are bad, but others are a little trickier. Here are a few tips to help you determine if your stored salami is still good and tasty or rotten.
Bad Salami
Using your sense of smell is a bit tricky since salami's natural molds give it an ammonia scent, and Genoa salami sometimes smells of rotten eggs.
So, the best way to determine if the salami is still good is by inspecting its appearance. Check the salami for its color, which is well known for being red. If the color changes to brown or gray, it's time to toss it in the trash.
Making Salami Chips with Leftover Salami
If you have some leftover hard salami and don't think it's quite enough to go through the trouble of freezing, consider using them up in a recipe. These salami chips are easy to make and a great way to use up leftover lunch meat.
Move the oven racks into the upper and lower thirds of the oven and preheat it to 325°F. Line two bake sheets with parchment paper and spread the salami slices in a single layer on each sheet.
Put the baking pans into the hot oven and bake them for five minutes. Switch the position of the pans from top to bottom and bake the slices for another five minutes. Remove them from the oven and let them cool into crispy and delicious chips.
Using Frozen Salami to Make Penne Salami Bake
You probably intend on using your frozen lunch meats for future sandwiches, but there are other ways to use frozen salami. Penne salami bake is our favorite recipe with frozen salami, and it's not only simple to prepare but absolutely delicious.
Saute the garlic and onion in oil in a large skillet until tender, and then add the tomato paste, tomatoes, peppers, olives, salami, and salt and pepper to taste. Simmer the sauce for five minutes, remove the pan from the heat and stir in the cooked pasta.
Scoop half of the mixture into a two-quart baking dish and sprinkle half of the cheese over the top.
Repeat with the remaining sauce and cheese and set the dish into an oven preheated to 350°F for 15 minutes. Eat the penne salami bake right away or store it in an airtight container in the fridge or freezer.
A trip to the deli counter leaves your arms full of cold cuts packages, especially if you're shopping on an empty stomach.
Unfortunately, some lunch meats have a short shelf life, and it's essential to store them properly to avoid food poisoning. Luckily, it's easy to freeze deli meat, both whole and sliced.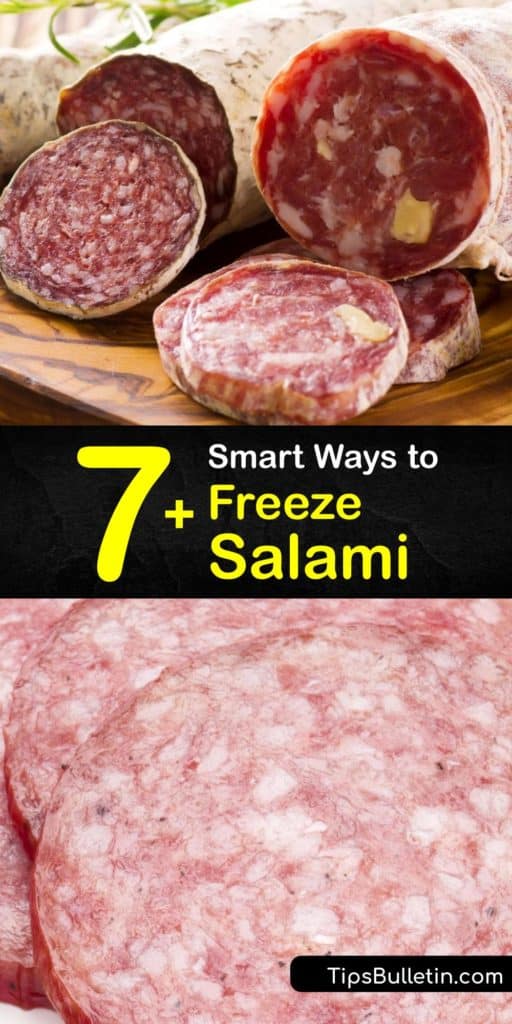 Can you freeze salami is a common question, and knowing the answer means that you get the pleasure of enjoying cold cuts well into the future, so why not share our salami freezing tips with the meat-lovers in your life on Facebook and Pinterest?