If you can grow a lemon tree, it's important to know about canning lemons. Learning how to can lemons is one of the few ways to preserve them and prevent pounds of these citrus fruits from going to waste.
The entire process of making preserved lemons is simple and only requires a few tools. Aside from a pressure canner and a few Mason jars, there is no reason why you can't can your favorite Meyer lemon for future use.
Canned lemons have the same high acidity and citrus flavors that they always have. The difference is that you get to use every part of the lemon, including the lemon peels, in new and tasty ways that you may not have considered before.
Between canning whole lemons, pickling lemon slices, and lemon marmalade, we are sure that you can find a new favorite canned lemon recipe after you finish reading this article on food preservation.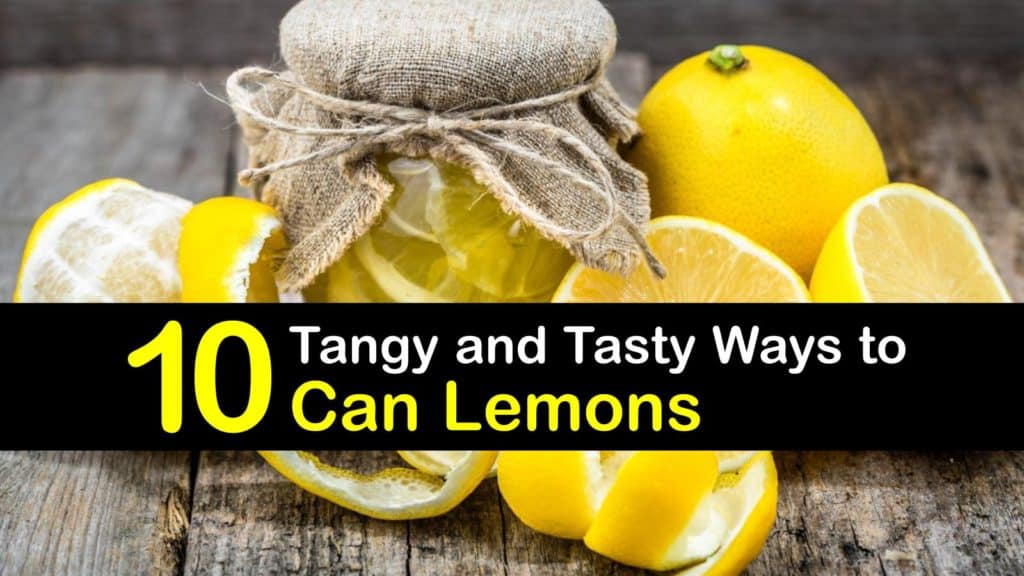 Ways to Use Canned Lemons
Home canning first started in 1810. While it may sound like a long time ago, this isn't too far in the past in terms of food preservation. There are hundreds, if not thousands, of canning recipes that work on various fruits and veggies.
Canned lemon isn't something that most people think about when planning to preserve food. We are used to tomatoes and cucumbers being the stars of the show.
However, canning lemons works the same, and they are even more flavorful and nutritious because of how much vitamin C they contain. If you love lemon flavor, at least one of these recipes is calling your name.
Of course, it's easy to store and keep lemons in the fridge, just as it is lemon juice, but they only last so long before spoiling. Find out how to preserve lemons and juice here.
How to Can Lemons
While you can freeze whole lemons or slices, water bath canning lemons is one of the most common ways to preserve lemon slices. A water bath canner doesn't require any special equipment because all you need is a large pot of boiling water that fits your canning jars inside.
Wash your canning jars and rings with hot, soapy water, whether you can apples in jars, lemons, or some other fruit or vegetable. Once you sterilize all jars and lids, wash your lemons thoroughly on the outside with clean, running water and slice them into rings.
Place a layer of your lemon slices into each jar before topping with a bit of sugar. Continue to layer the lemons and sugar until the jars are almost full. Press down on the lemons as you continue to work.
Place the lids onto the jars and refrigerate them overnight to allow the sugar to turn into a syrup. Take the jars out of the fridge and bring them to room temperature. Boil a very large stockpot of water.
Start water bath canning lemons by carefully placing the lemon jars into the boiling hot water bath. Allow the containers of lemon to process for at least five minutes before using a jar lifter to remove them.
Set the containers on the counter without disturbing them. After 24 hours, remove the lids and ensure that the seals are adequately closed before storing them in a cool, dark place.
Pressure Canning Lemons
Pressure canning lemons is another option as long as you have a pressure canner at home. The method is the same as water bath canning, except they go into a pressure canner instead of boiling water.
This technique is perfect for canning whole lemons as well. If using half-pint jars, pressure can them for five minutes. For larger jars, can them for ten minutes.
Canning Lemon Juice
Lemon juice is something that most of us cook with, and we often try to keep a small bottle in the house if we don't have regular access to fresh lemon. Instead of using the preserved juice, try making your own at home.
Start to make your canned lemon juice by washing your lemons and juicing them into one large container. Sanitize your canning supplies before using them.
Run your lemon juice through a sieve or fine strainer to remove pulp, rind, or seeds. Pour the freshly squeezed lemon juice into a big pot and warm it until it just starts to boil.
Place the funnel over a canning jar and ladle the hot, strained lemon juice into the sanitized canning jars while leaving a quarter-inch of headspace at the top.
Place the seals and lids onto your jars and set them into a boiling water bath for five minutes for pint jars and ten minutes for gallon jars.
After cooling, store fresh lemon juice that you can in the pantry. It lasts quite a while.
Making Lemon Marmalade
Many people prefer to make a jam recipe or marmalade recipe out of their citrus fruits. These marmalade recipes work well with orange or grapefruit too.
Wash your lemons and use a veggie peeler to remove the lemon rind and pith. Roughly chop the lemons and try to remove any seeds. Finely chop the lemon peels. Add the lemon flesh and peels to a pot with the water and bring it to a rolling boil.
Cook the lemon for 45 minutes. Add the pectin to the hot lemon solution and return it to a rolling boil. Use a candy thermometer and allow the mixture to reach 220°F before removing it from the heat.
Fill each jar with your marmalade mixture and use a paper towel to wipe the rim of each container. Replace the seals and lids before processing them in a boiling water bath for ten minutes. Use the marmalade as a condiment.
Fermenting Lemons
Fermentation is another tasty option for your lemons. All you have to do is put a few lemons into a sterile jar with lemon juice, salt, and apple cider vinegar.
Set the glass jar in a room for two weeks between 60°F and 70°F. Remove the lid every day during the fermentation process to release the excess pressure in the jar.
Pickling Lemons
It is possible to pickle lemon peels in the same ways that we pickle cucumbers or carrots. However, salt is the only ingredient necessary instead of vinegar.
Wash the outside of the lemons and peel the rind. Be careful that you only cut the outer skin because the white pith is bitter. Place the strips of skin into a jar and squeeze the juice over the peels.
Add three teaspoons of salt to each jar that you use and keep them in the refrigerator for two or three days. When ready, use the pickled lemon peels on salads, sandwiches, or meats.
Lemon Curd
Instead of making jam or jelly, you might consider making lemon curd. Lemon curd is a decadent dessert topping or spread. It has a surprisingly buttery and tart flavor profile, almost like a creamier version of jam.
Fill the bottom layer of a double boiler with two inches of water and place it on high heat. Once boiling, reduce the stove's heat to low and allow it to simmer. Place the eggs, sugar, zest, juice, and salt in the upper part of the double boiler and whisk it until blended.
Continue to whisk the curd for ten minutes as it cooks and becomes thick. Remove the hot pan from the burner and slowly whisk in the butter until it melts. Pour the curd into canning jars to preserve them or a bowl if you plan to use it right away.
Making Dinner with Preserved Lemons
Preserved lemons are a popular food ingredient in Moroccan cooking. Marinate some beef or chicken with your favorite spices and some preserved lemons and cook it in a tagine for a tasty dinner for the whole family.
DIY Lemon Salt
While you may not be using a canner for this preservation method, it is a great way to use the rind that often gets thrown out. Make some homemade lemon salt by mixing salt with fresh lemon zest. Make it in a small batch and use it to season your favorite dishes.
Homemade Limoncello
If you're somebody who enjoys an adventure, you might try to create your own limoncello at home. Simply put, limoncello is created from infusing lemon zest with a neutral spirit such as vodka.
After a few weeks of infusing, filter out the lemon zest and enjoy a tangy, sweet liquor with friends and family.
Learning how to can lemons is something that anybody can do, especially if you have a deep appreciation for how versatile these fruits are. There are hundreds of different canned lemon recipes that allow you to experiment with your own combination of flavors.
Whether you have a lemon tree at home or couldn't pass up a good deal at the farmers market, we're sure that at least one of these recipes will become a go-to in the near future.
If these recipes for canning lemons have helped you use up an ample supply of citrus fruits, share this article explaining everything to know about canned lemons on Facebook and Pinterest.