Sauerkraut is a traditional German dish, that means "sour cabbage." Aptly named, this tangy-flavored fare is the perfect stepping stone for beginners who are curious about making fermented foods.
Using a process that requires minimal ingredients, the simplicity of these fermentation instructions is something even timid novices can appreciate. Canning sauerkraut usually follows this process and is an excellent way to keep this delicious food stocked in your pantry all year.
A favorite dish served during Oktoberfest, eating sauerkraut on New Year's is also thought to bring good luck. With spectacular health benefits geared toward boosting immune systems, it is easy to see how this tradition started. What better way to start the year than by eating something as healthy as homemade sauerkraut?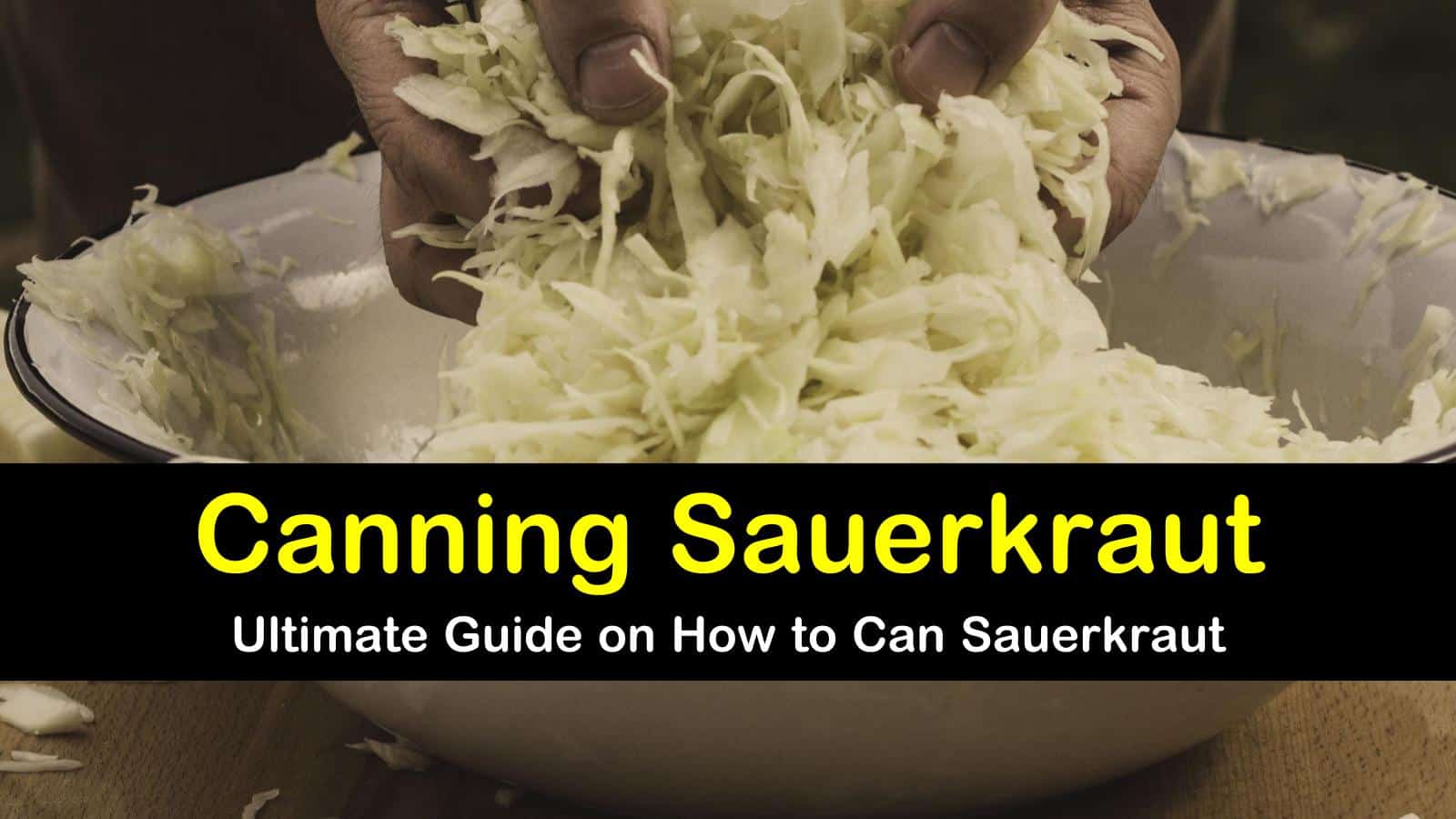 What You Need to Know to Can Sauerkraut
Canning sauerkraut is not only a healthy option to add to your canning repertoire, but it is also a little different than canning other produce. Is canned sauerkraut or are canned beets good for you? The answer is definitely yes.
Fruits and vegetables that you can yourself are not only delicious, but you know exactly what goes into preparing them. Can beans or pears or even tomatoes to make your own tomato juice. The possibilities are almost endless and there are no surprise ingredients. You know everything that goes into your canned produce.
Are Fermenting Sauerkraut and Canning Sauerkraut the Same Thing?
Fermenting sauerkraut is necessary before canning it. So while these two processes often go hand-in-hand, they offer entirely different benefits. Fermented foods like sauerkraut contain beneficial bacteria caused by lactic acid that exist in small quantities in most foods. For sauerkraut, these quantities are higher, making them powerful immuno-boosters.
The bacteria also act as probiotics to improve digestive functions. These perks, however, are only present in fermented sauerkraut, since the canning process kills the "good" bacteria.
Home canning allows you to store your jars of sauerkraut even longer, adding time to its shelf life by years. It also acts as an emergency food source during power outages caused by severe weather.
What are the Benefits to Canning Homemade Sauerkraut versus Buying It in the Store?
Buying sauerkraut in stores is convenient when traveling, or when you don't have the time to make your own. Commercial products, though, lack the health benefits of fermented sauerkraut and limit your flexibility to save half for now and can half for later. Canning homemade sauerkraut also provides the freedom to tailor the flavor of your own sauerkraut to your unique tastes.
Preparations for How to Can Sauerkraut
Having the proper equipment for canning sauerkraut is just as important as the ingredients. No heavy equipment or fancy tools are necessary to make this culinary creation. Some of the items on the equipment list are purely a suggestion and can easily be substituted by other more commonplace household items.
If you plan on storing your sauerkraut in quart jars, having additional pint-sized containers is not needed. Many people prefer the smaller sizes for conserving storage space. Our recipes are based on quart measures to make the process easier to manage.
Begin the Fermentation Process for Sauerkraut
Prepare the Cabbage by Shredding into Finely Cut Strips
Not much is required to get the first half of this process rolling. This recipe makes a small batch, approximately two quarts of canned sauerkraut. Double the quantities for larger amounts.
Clean the cabbage and tear away any wilting leaves. For five pounds, you will use about 2-3 heads of cabbage. Remove cores from the cabbage heads, then slice into fine, tiny shreds.
Using a cutting tool like mandolins or a food processor will speed up this step. If you do not have either of those in your kitchen, shredding the cabbage with a knife will suffice.
Add Salt to Activate the Fermentation Process
Grab a large bowl, then add the cabbage and three tablespoons of salt. Pickling salt or sea salt works best. Whichever salt you choose, stay away from iodized salts, especially if you intend on saving any of these jars for fermented sauerkraut.
The iodine is another component that kills good bacteria. Blend the two ingredients and let them sit for several minutes until the shredded cabbage begins to soften.
Pack the Canning Jars Tightly with Sauerkraut
Fill each glass Mason jar with sauerkraut, leaving an inch headspace from the top of the container. Canning jars do not have to be glass. However, if you choose a plastic container to can sauerkraut, select a food-grade plastic.
Regular plastics react poorly to highly acidic foods which can cause harmful dyes and chemicals inside them to seep out into your food. A glass jar is safest.
Make a Brine to Add to Cabbages with Less Juice
The cabbage should produce enough juice to fill the jar on its own. If it doesn't, create a brine that will help the fermentation process along without dissolving beneficial bacteria.
Combine the salt and water in a pot on the stovetop. Do not add brine to the sauerkraut without boiling the water first. Doing this will reduce the amount of chlorine from entering the sauerkraut.
Let the mixture cool before adding it to the jars. Cover the cabbage completely but leave a 1/2-inch headspace between the brine and the top.
The cabbage should remain wholly submerged at all times. Placing a heavy, uncut piece of the outer leaves, or a small lid, on top of it will prevent the cabbage from floating to the top.
Wait for the Sauerkraut to Ferment
After you have sealed your canning jar, store it in a cool place from 3 to 6 weeks. Starting at 2 weeks, begin tasting the sauerkraut to test the flavor. The mixture should be checked daily from the start, in any case.
Examine the sauerkraut by making sure it is staying submerged in the juices and swipe away any moldy films that float to the top of the jar. This residue is an entirely normal part of the fermentation process, by the way, and will not harm your sauerkraut.
Simple Methods for How to Can Sauerkraut
Canning sauerkraut is one method for using excess cabbage but know that you can store cabbage in other ways, too. For example, you can freeze cabbage to make sauerkraut later if you do not have the time to spend immediately.
Boil Fermented Sauerkraut in Water Bath
Once the fermentation process is over you can store any fermented sauerkraut you wish to keep in the fridge. The rest will go toward canning. Canning sauerkraut can be as simple as adding heat and letting it boil in a hot water bath.
Heat the jars and rings in a water bath canner. Remove the water canner from the heat and let cool for 5 minutes. Carefully remove the hot jars from the water bath and set them an inch apart from one another. After allowing your jars time to cool down to room temperature, you will be able to remove the sealing rings and store them in your pantry.
If you do not have access to a boiling water canner, remove the sauerkraut from the Mason jars, boil, and replace in small pint glass jars. These unopened jars last for a couple of years.
Once opened, however, freezing works great if you are not planning on using your sauerkraut for a while. Add the sauerkraut to freezer bags or an airtight plastic container. Store these plastic bags in the freezer for use later.
Use Vinegar When Canning Homemade Sauerkraut
One of the best ways to store cabbage is by canning sauerkraut with vinegar. It is another excellent way to increase food preservation with a little variety and zip.
Instead of going through the whole fermentation process and adding a step, you can add the following vinegar recipe to prepare it for canning at the same time.
For canning cabbage with vinegar, bring a pot of water to boiling. For two quart-sized jars, add one teaspoon of each listed ingredient to each raw pack of cabbage.
Afterward, add just enough water to crest the top of the cabbage. Use a wooden spoon to press the pieces down. Remove any air bubbles, cover, and set the hot pack in a cool area for approximately two weeks.
Just as with the fermenting process, check the sauerkraut periodically for smell, taste, and to be sure it remains submerged in the water. You'll be happy with the delicious results.
Delicious Ruben Rounds Recipe with Canned Sauerkraut
You are probably already a fan of sauerkraut. The question is: how much do you love Reubens? The perfect companion to the Reuben sandwich, your canned homemade sauerkraut will add a delicious tang to these bite-sized Rueben snacks.
Preheat your oven to 400°F. Spread out the puff pastry and add layers of cheese, corned beef, and sauerkraut evenly across the dough. Take the edges of one side of the pastry and roll it into one long roll.
Slice 16 different rounds. Lay the Rueben rounds flat on a baking sheet. Pepper the tops with caraway seeds. Bake for 18-20 minutes, or until golden brown. Use Thousand Island dressing as a yummy dipping sauce for your Rueben Rounds!
Food Preservation
Canning and storing your own food has numerous benefits. You always know exactly what goes into the food preservation process, so you know that it is safe and delicious. It is also helpful if you have a family member with some food allergies, as you can avoid adding these to your canned goods.
There are so many different recipes available for using your stored foods. Enjoy a spaghetti sauce recipe for canning or use your canned peaches for homemade cobbler. The possibilities are virtually endless!
Thinking about canning any food for the first time can seem like a huge undertaking. Add the need to run foods through a fermentation process, and the stakes are even higher. Whether canning or fermenting foods for the first time, sauerkraut is a simple way to ease you into the process.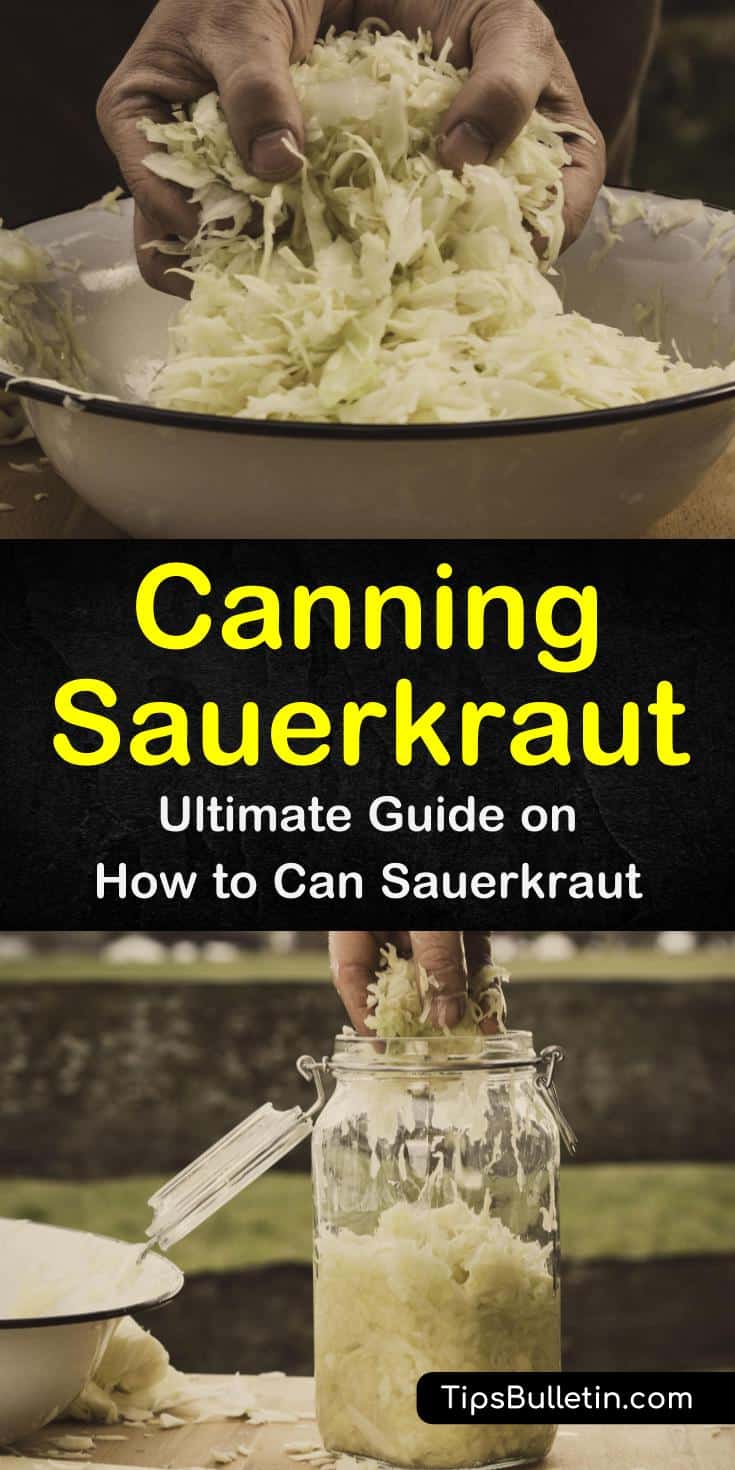 We hope you enjoyed these easy fermenting and canning sauerkraut instructions. If so, be sure to share our sauerkraut tips and recipes on Facebook and Pinterest!