Can you can strawberries? Although fruits aren't usually what we think of when we can things, canning strawberries is safe to do and delicious to consume. Most of us don't grow up learning how to can strawberries whole.
When we think of canned strawberries, our minds probably wander to visions of strawberry jam for spreading on a fresh-baked biscuit. This standard recipe idea is the most popular and sweet way to can fruits, but fresh strawberries are good for so much more.
Whether you're pressure canning strawberries or water bath canning strawberries, both are safe and equally effective in preserving the fresh berries.
It's your decision if you want to blanch the fruits before canning whole strawberries. If you do decide to blanch them, bring some water to a rolling boil.
Dunk the raw strawberries in the boiling water for under 30 seconds and immediately submerge them in an ice water bath that stops the heat from turning them to mush. Dry the berries on paper towels, and you're ready to put them in canning jars.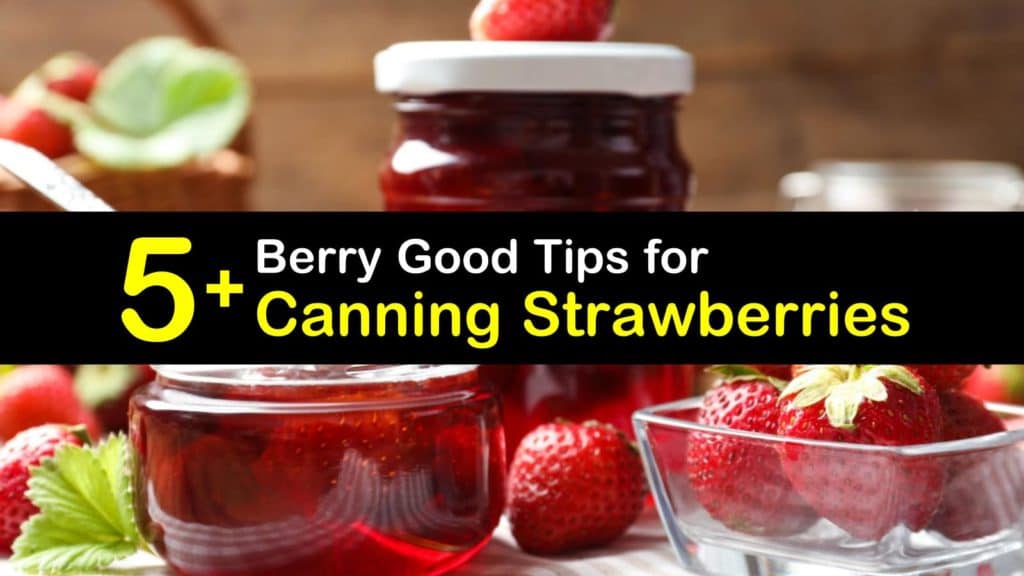 About Canned Strawberries
The strawberries we have come to know and love are a cross between two wild strawberry species. Strawberries today are bright red and juicy. They are packed with vitamin C and potassium and are rich in antioxidants.
Strawberries come from Europe and contain over 90 percent water. They have fewer than 30 calories for a cup and are great for overall heart health. How long fresh strawberries last depends on the condition you buy them.
Before canning, make sure you purchase berries that are firm to the touch, bright in color, and free from mold spores and mushy spots. The same rules apply for those purchasing raspberry or blackberry cartons to make mixed berry recipes.
Before Canning Strawberries
If you're not ready to can right after bringing the fresh berries home, keeping them in optimal condition for a few days is easy. Avoid keeping strawberries at room temperature, or they spoil far too quickly.
A refrigerator is an ideal place to keep berries until you're ready to use them. Avoid getting the berries wet if you want to keep them fresh.
Do you know how long strawberries last in the fridge? Moisture encourages mold growth, and keeping them dry helps them last for up to two weeks. Try adding a paper towel to their carton and storing them in the crisper drawer.
It's okay to freeze fresh strawberries, so long as you plan to can them later because the texture turns mushy. Eating thawed berries isn't as tasty as it seems, and they do much better when turned into a jam or jelly.
How to Can Strawberries
Once you're ready to make canned strawberries, a little time and work spent in the kitchen are all that stands between you and well-preserved berries for you to use throughout the rest of the year. Canning strawberries whole is one of our favorite ways to start canning berries and taking care of easy strawberries storage.
Canning Whole Berries
Canning strawberries whole is like preserving them in a sweet sauce. This berry sauce goes well on top of any dessert like ice cream or is easy to throw in a bubbly summer beverage.
Put the washed and hulled berries into a large pot and sprinkle the sugar over them. Use a large spoon to mix the sugar and berries so that they get evenly coated.
Allow the berries to marinate, covered, for about six hours. When the berries are almost done marinating, prepare for water bath canning. Set up a water bath canner by bringing a large pot to a boil over high heat.
Keep the water pot at a rolling boil and sterilize the jars, seals, and rings you plan to use. Bring the pot with the strawberries to a simmer and add the citric acid.
Allow the strawberries cook for one minute and then ladle the berries into the canning jars, making sure to leave a one-inch headspace at the top. Remove air bubbles from the can and put on the seals and rings.
Process the canning jars in a boiling water canner for 15 minutes. Remove the hot jars with a jar lifter and let sit on the counter for 24 hours before making sure the seals closed. This recipe also works for pressure canning pears and other similar fruits.
Canning Strawberry Jam
Strawberry jam is one of the most popular ways to can strawberries. To make strawberry jam, boil five cups of mashed berries, four tablespoons of lemon juice, seven cups of sugar, and 1.7 ounces of powdered fruit pectin.
Once boiling, begin pouring the berries into sterilized Mason jars and canning them in a pressure canner or water bath canner.
Canning Strawberry Syrup
When home canning, it's okay to get a little creative with your recipes. Instead of using the traditional canning recipes, try turning your berries into a canned syrup. This syrup is perfect for turning into strawberry milk or ladling on top of cheesecake.
Add two tablespoons of water and cornstarch to a small bowl and mix them thoroughly. In a saucepan, bring a cup of water, strawberries, and the sugar to a boil and let simmer for ten minutes.
Add the cornstarch and water mixture to the berries and allow it to thicken. Remove the berries from the heat and pour them into half pint canning jars. Process them in the hot water of a water canner for ten minutes.
How to Make Strawberry Pickles
Although this recipe may seem strange, pickled strawberries are both sweet and tangy. These pickles make an excellent addition to salads and cocktails and, because they're pickled, don't require a pressure or water canner.
Heat the sugar, salt, vinegar, and water on medium heat until the salt and sugar dissolve. Decide if you want to quarter, half, or keep the berries whole. Fill a large Mason jar with the berries and pour the pickling liquid until they're covered.
Allow the jar and its contents to cool to room temperature before placing the lid on tight and storing it in the fridge. Let the berries pickle for 24 hours before eating them.
Try a variation of these pickled canning recipes for apples, pears, and other fruits for a delicious yet unexpected take on fruit storage.
Add Spicy to the Sweet
One of the most unexpected recipes to try when learning how to can strawberries is turning it into a salsa. This recipe is spicy, sweet, and savory and makes a surprising appetizer that people won't get enough of.
Bring the sugar, vinegar, and agave to a boil, and then add the onion, peppers, herbs, spices, and lime juice. Once boiling, remove the pot from the stove's heat and add the berries.
Mix until evenly combined and fill the canning jars with the salsa. Place the seals and rings on and process them in a hot water bath for 20 minutes.
Canned strawberries don't have to be limited to a select few recipes. The traditional canning recipes may taste tremendous but mixing up flavors and trying new things is what makes you appreciate these berries for their unknown versatility.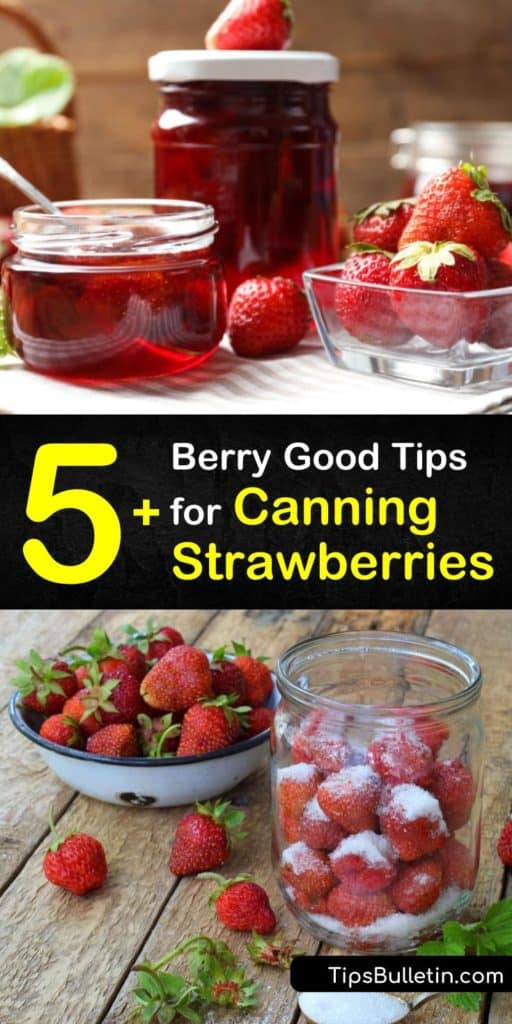 If you found this article on canning strawberries helpful, share these canned strawberry recipes on Facebook and Pinterest.