If you've been waking up covered in small itchy spots, blisters, or red rashes, it is a strong sign that you have bed bugs. These itty bitty biting insects can quickly infest everything in your home, from the seams of your mattress encasements, box spring, bed frame, and headboard. Learn how you can use diatomaceous earth for bed bugs and get rid of them for good.
Bed bugs are extremely difficult to detect, which makes them hard to get rid of, but if not treated, they can quickly multiply, causing a bed bug infestation in your home. It is essential to kill bed bugs as soon as possible to prevent them from infecting other areas of your home.
You can eliminate the biting insect from your home without having to spend money on an expensive exterminator or using chemical laden pest control products.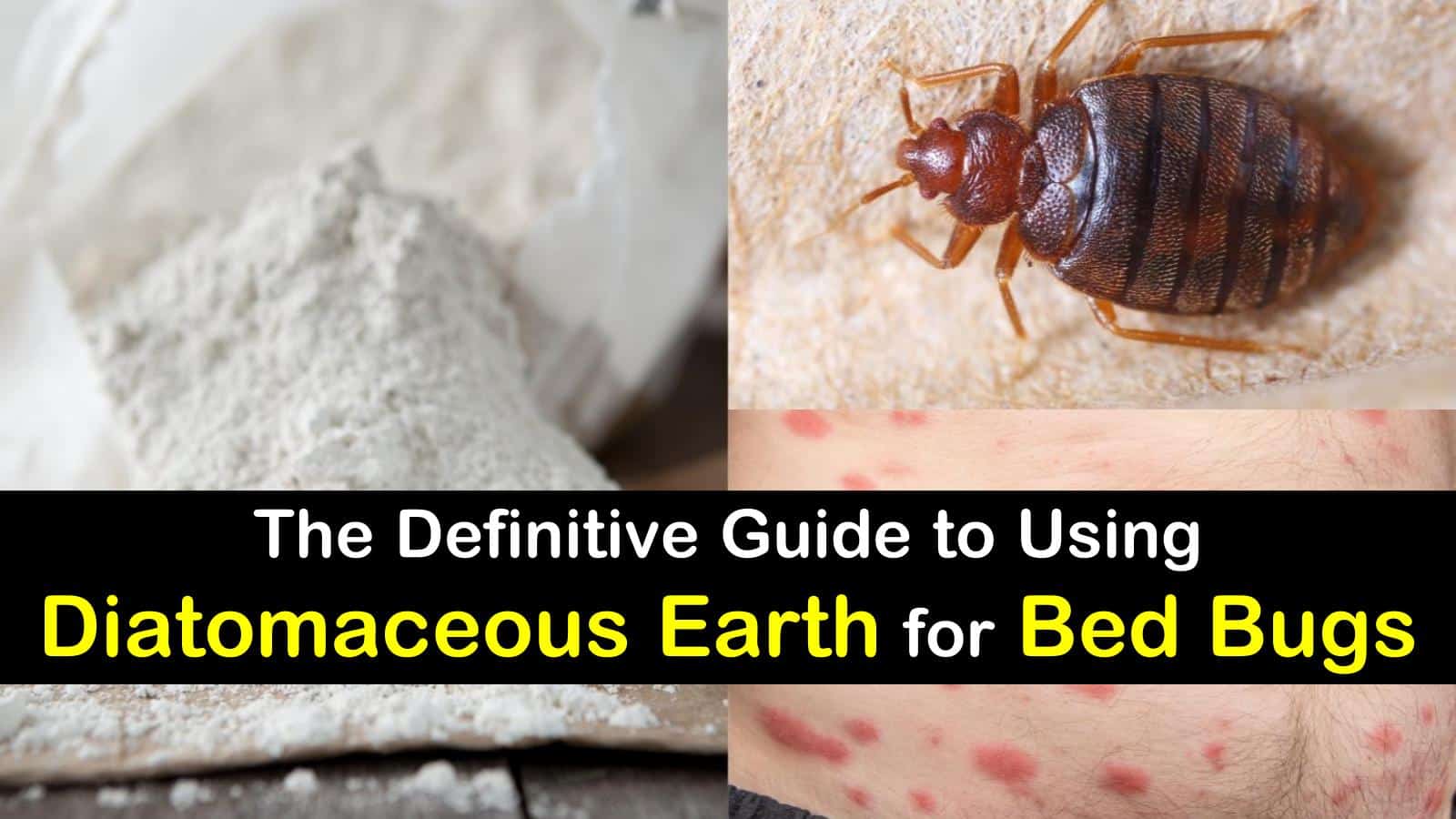 Bed bugs like to make their homes in warm locations, including in clothes, bedding, furniture, mattress, and carpets. Fortunately, there are several home remedies to kill bed bugs, which are easy to use and easy on the wallet.
How long do bed bugs live? It all depends on their living situation. Bedbugs can't survive extreme cold or hot temperatures, so, you can usually get rid of bed bugs through steam cleaning, hot washes, and drying the infested items on high heat.
However, for larger areas, like bed frames and your mattress, you'll have to resort to treating bed bugs with diatomaceous earth.
Use Diatomaceous Earth to Get Rid of Bed Bugs
The application instructions included with diatomaceous earth are relatively straightforward, there are several tips that you should follow to ensure that you eliminate all the bed bugs and their eggs.
While this natural pesticide is considered safe, you should take the proper precautions to prevent inhaling the powder or coming in contact with it because it can irritate if it comes in contact with skin, eyes, or if you inhale it. When working with the food-grade diatomaceous earth, be sure to wear gloves, goggles and a mask.
When using diatomaceous earth on bed bugs, you want to apply it in the areas where bed bugs hide and where they are forced to crawl. It is also essential that you don't use large mounds of powder because the bed bugs will walk around them.
Where to Apply Diatomaceous Earth
The secret to using diatomaceous earth on bed bug infestations is to apply it to the areas in your house where bed bugs hide or where they are forced to crawl. The most important thing to do when using food grade diatomaceous earth to kill bed bugs is to ensure all the places where bed bugs love to hide.
This also applies to a variety of other unwanted insects that may find their way into the house. Use DE for getting rid of house centipedes, ants, and other creepy crawlies.
Not every bed bug will be hiding in your mattress or the bed frames. Recently-impregnated females tend to be more reclusive and will retreat to safer areas in the home, like under the baseboards. When applying diatomaceous earth for bed bug elimination, don't leave any area of your home untreated.
For treating clothes for bed bugs, wash in the washing machine with your regular detergent on the hottest water cycle the clothes can handle. Dry on high heat in the dryer.
How Much Diatomaceous Earth Should I Apply?
There are many recommendations regarding the exact amount of DE that you should use. The general rule of thumb is to liberally apply a dusting of the diatomaceous earth around the borders of the room, at the base of your furniture, and along the inside spaces of your furniture and chairs, as well as along the entire box spring of your mattress. While it isn't possible to use too much DE, you also don't want to waste any.
Since diatomaceous earth mechanical, rather than chemical, bugs don't know that they should avoid it, and will walk right through the dusting. The dust will then cling to their bodies, which will, in turn, start to dehydrate them.
The idea behind the amount of diatomaceous earth to use is to use enough of it so that every bug in the house will come into contact with the powder at some point during its journey. You want to make sure that if the dust under the electric cover doesn't get it, that the powder at the baseboards will.
Do I Need to Reapply Diatomaceous Earth?
Since diatomaceous earth isn't an organic material, there is no chance that it will spoil. That being said, you may want to vacuum up the DE every couple of days and reapply; however, this isn't a requirement. A general rule of thumb with food grade DE is to leave it for three to five days before vacuuming up and applying a second coat.
The reason you want to vacuum up the DE every several days is, one to vacuum up the dead bed bugs, and two, to get the bed bugs and new eggs that may be hiding in the carpet. Vacuuming the affected area is one of the best ways to deal with a bed bug infestation.
As long as you experience bed bug bites and other symptoms or see physical evidence of the parasites, continue to apply diatomaceous earth to the areas around your home.
Even after you think that you've killed them all, put one final application of diatomaceous earth down to get any stragglers before they can re-infest your house again. Bed bug infestations aren't something that you want to take lightly.
Should the Area I Apply Diatomaceous Earth be Well Ventilated?
When it comes to air circulation, in general, you want to keep it at a minimum to prevent the DE from being blown away. While you may be able to run a ceiling fan and keep the DE from becoming disturbed, pointing a box fan directly at the area where it was applied will render the product ineffective. Until you have effectively eliminated the bed bugs, you may want to keep the air flow at a minimum.
How to Apply Diatomaceous Earth to a Mattress
Diatomaceous earth, in general, is used as a way to eliminate bed bugs as they crawl along the floor. However, it can also be beneficial on the mattress itself. To keep the DE powder from being disturbed as you get in and out of bed, you can use a bed bug mattress cover to contain the dust until you've eliminated the problem.
Bed bug mattress covers seal up the mattress so the bugs in your mattress can't escape and eventually starve to death. The covers also make it difficult for bed bugs to find a place to hide because of the smooth nature of the material, effectively eliminating their favorite hiding places in the crevices of the mattress.
Before encasing your mattress in a sealed cover, sprinkle some diatomaceous earth throughout the entire mattress. You'll want to keep the mattress sealed in the cover for at least a month to ensure that all the living bed bugs and their eggs are entirely eradicated.
The Problems Caused by Bed Bugs
The size of a small apple seed, adult bed bugs feed on the blood of humans, as well as pets. While they aren't able to spread disease and aren't known to cause infections, bed bug bites do cause a bit of discomfort.
When bed bugs are introduced into the environment, you can quickly end up with an infestation because they are difficult to find and kill because they tend to hide in dark cracks and crevices.
According to the National Pest Management Association (NPMA), the problem with bed bug control and killing bed bugs is growing every year. Bed bug infestations are a nuisance, and it should be your top priority to exterminate the tiny, biting insect.
There will also be some signs around your bed that indicate that you have an infestation of bed bugs. You may discover tiny bugs around the edge and in the seams of your mattress or the bed joints of the box spring.
With bed bugs, there will also be dark or red spots on your mattress and bedding. This is blood from a killed bed bug and their dried feces.
Does Diatomaceous Earth Kill Bed Bugs?
Commonly referred to as DE, diatomaceous earth is a dust-like powder. The substance is naturally occurring and consists of diatoms, or the fossilized remains of sea creatures, which primarily consist of silicon dioxide. Commonly used as a natural pesticide, DE can kill everything from bed bugs to ants to fleas.
In comparison to other insecticides on the market, DE is relatively inexpensive. The particles of this active bed bug powder consist of microscopic razor-sharp edges, which lacerate the exoskeleton of the bed bug when it contacts the substance. Once the exoskeleton becomes damaged, the DE absorbs the bodily fluids, leaving them to die of dehydration.
The great thing about using food grade diatomaceous earth for bed bugs is that the bed bugs can't become resistant to the powder. As DE is non-toxic and chemical-free, it works unremittingly without losing its power to kill bed bugs.
How Long Will It Take to Kill Bed Bugs?
Diatomaceous earth doesn't kill bed bugs immediately because it works by turning the bug's body against itself. Also, the DE only works after the insect has come in contact with it, so it may take a few days before all the bugs come in contact with the powder.
For these reasons, it can take anywhere from seven to 17 days for the diatomaceous earth powder to kill all the bed bugs. If the infestation is bad, it can take as long as a month to deal with the problem. While DE is a slow acting insect killer, the results are long-lasting and extremely useful.
What Kind of Diatomaceous Earth Should I Use?
When you are shopping for diatomaceous earth, you'll probably come across two main kinds of DE, food-grade, and pool-grade. It is essential that you purchase the correct type of DE product for bed bugs to avoid the powder leaving behind toxic residue after you've applied it to the area.
Food-grade diatomaceous earth is the type you will want to use in your garden and when trying to eradicate bed bugs from your home, while pool-grade DE often found in pool filters. When buying diatomaceous earth for bed bugs, you want to purchase food-grade DE because it is safer to use around kids, pets, and plants.
Is Diatomaceous Earth Safe?
Since diatomaceous earth mainly consists of silica, which is needed by mammals in small quantities for optimal health, it is safe to use. If your family pets lick it off their paws, they won't be affected, and neither will your kids if they happen to find it on the floor.
However, if you inhale large quantities of DE, it can irritate your respiratory system. Due to this risk, you should always take precautions when using diatomaceous earth in your home. Make sure that you always wear a mask and clothing that covers as much skin as possible.
Where Can I Buy Diatomaceous Earth?
You can purchase diatomaceous earth at your local hardware store or big box hardware stores like Lowes or Home Depot. You can also purchase food grade diatomaceous earth online at places like Amazon.
What Do Reviews Say?
When you are considering purchasing DE for your bed bug problem, you should always check the diatomaceous earth bed bugs review beforehand. For the most part, people have nothing but praise for the powder when it comes to eradicating bed bugs from their homes.
Not only does the product eliminate bed bugs, but it is also inexpensive and safer to use around kids and pets than the other pest control products that contain harsh chemicals.
However, the main complaint that many people have about using diatomaceous earth for bed bugs is that it takes time for it to work. They don't like that it can take several weeks before the bed bug infestation is eliminated. Many also dislike how dusty the DE made their clothes and other belongings.
Can I Use Diatomaceous Earth on Other Insects?
You don't have to relegate diatomaceous earth to only deal with a bed bug infestation. DE is also extremely effective at killing most other crawling insects. It will kill centipedes and cockroaches just as well as bed bugs. It's cost effective and not harmful to people.
If you are having trouble with any crawling insect, use DE to kill it. To use, apply food grade diatomaceous earth in the cracks and crevices around your house, as well as any other area that you suspect they may be hiding.
Spritz a homemade earwig killer spray where earwigs and other insects lurk to get rid of them, or sprinkle DE in strategic locations for getting rid of earwigs and other unwanted bugs.
Leave the DE down for up to a week and monitor the infestation and make a note of the effectiveness. You want to be cautious when spreading the diatomaceous earth in areas where beneficial insects are because it can be harmful to them as well.
Using diatomaceous earth alone isn't be enough to treat your bed bug infestation. While DE is excellent at preventing bed bugs from moving through the walls to other parts of your home and for creating a safe zone, it is best to use diatomaceous earth alongside heat treatments.
If you have a serious problem with bedbugs, you want to be sure to launder all your bedding, clothes, and linen in hot water. If you can, add some chlorine bleach to the laundry detergent. Set your dryer on the hottest setting and thoroughly dry your items.
You can also utilize a steam cleaner to steam the things in your home that you can't throw in the washing machine, like your box spring, mattress, cushions, and other parts of your furniture. Make sure to seal bedding and clothing items that you aren't using and keep them away from the areas of your home that are infested. Next, apply the DE to the areas mentioned previously.
Now that you know how to use diatomaceous earth for bed bugs, you can make an educated decision on whether you want to use diatomaceous earth or not for your bed bug problem. While the product will eventually kill any bed bugs it comes in contact with, you have to be patient as it isn't instantaneous. Combining the diatomaceous earth with other effective extermination techniques like steam cleaning, you can be sure that your current bed bug infestation will be a thing of the past.
We hope you enjoyed learning about how to use diatomaceous earth for bed bugs. If you found this bed bug information useful, please feel free to share it with your friends and family.