Dishwashers make our lives much more comfortable and take a lot of drudgery out of our days. It's terrific to have an appliance that cleans your dishes, glasses, and silverware right up until the machine begins to smell. When your dishwasher smells bad, it's essential to have tried-and-true cleaning methods.
Knowing how to clean a dishwasher that smells ensures that you and your family can enjoy a clean and fresh-smelling kitchen throughout the year. This article looks at the best way to clean smelly dishwasher components and remove any lingering odors from your kitchen.
We show you the top methods you can use when your dishwasher smells bad thanks to physical causes, and you'll also get some dynamite cleaning recipes that will remove unpleasant odors for good. Your kitchen will smell sweet and clean after you finish reading our article.
How to Clean Smelly Dishwasher Parts
When your dishwasher smells bad, and you want to resolve the issue as quickly as you can, you might not need to reach for a cleanser right off the bat. Many problems that can result in your having to clean smelly dishwasher components don't have to get that far. You can resolve plenty of smelly dishwasher issues by tracking down and eliminating a physical cause.
Dishwasher Smells Bad – Physical Remedies
This section covers different approaches to take before you start breaking out the cleaners. You'll find the primary causes of smelly dishwashers and discover how to address them.
When you clean your dishwasher without resolving the underlying problem, you open yourself up to repeated cleanings with no end in sight. With our assistance, you'll be able to identify and rectify physical issues with your dishwasher and eliminate odors for good.
Empty and Wipe Down All Filters and Gaskets
Your dishwasher is a delicate and complex machine that needs regular maintenance if you want it to last for the long haul. You wouldn't use a car for years without frequent oil and filter changes, and you should plan on giving your dishwasher the same sort of attention.
When you add dishwasher maintenance to your weekly cleaning tasks, you remove many of the potential issues that might result in a smelly dishwasher.
Combine the water and dish soap in a container, and don the gloves. Remove and clean out your water filters, which can clog and fill with debris. You'll need to perform this check more often to keep the filters from clogging if you have hard water and don't use a water softener.
Get a cloth wet in the soapy water, and wipe down the dishwasher's door gasket. Make sure to wipe out any food that gets caught in the gasket's folds. Always clean out the dishwasher's food filter when you perform maintenance. Kenmore, Samsung, and other name-brand dishwashers that have energy saving features often include food filters that are effective at keeping your drain pipes clog-free.
These dishwasher filters can fill with organic debris and gunk that will rot and produce foul odors if not emptied regularly, though. To remove any lingering smells, you can soak the drain filter in a mixture of one teaspoon chlorine bleach to one gallon of hot water.
You'll also need to clean out the air gap, which is a cylinder made of chrome that you'll find in the back of your sink. Remove any food particles from the air gap to ensure that it keeps backed-up water from getting into your dishwasher.
Inspect and Repair Your Garbage Disposal
Along with the dishwasher, the garbage disposal is one of the more useful and labor-saving tools we have in our homes. Garbage disposals work by grinding down food into food particles that wash through the drain. When they work, they're miracles and save us lots of time and effort.
However, when you add inappropriate items such as tough peels or fibers, you can create a backup in the disposal, resulting in foul odors in your dishwasher. To get rid of garbage disposal smell, turn off the power to your disposal and open it up to give it a proper inspection and once-over about once a week.
If you encounter tough foods or objects that the disposal can't handle, remove the build-up and throw it in the compost or trash. Your dishwasher and disposal will start smelling better at once.
Your disposal will get tired and less efficient over time, too. If you discover food in your disposal that it should be able to grind down, you might need to consult a plumber to find out whether it's time to repair or replace your disposal.
Inspect the Drain Hose
Many issues that can result in your having to clean smelly dishwasher parts can stem from drainage problems. When your dishwasher smells bad, and you discover standing water inside, give your drain hose a look-see and find out whether the water drains properly.
A kink or bend in the hose can impede water flow and result in bad smells and dirty dishes. When you unclog a dishwasher hose, be sure to check your drain pipe first if you encounter standing water. Turn off the dishwasher's power before you begin your inspection as a safety measure.
Pull your dishwasher from the wall to expose the drain hose, if possible. If the dishwasher's drain hose connects to your kitchen sink drain, disconnect the hose at whichever end is more convenient so you can inspect it for obstructions. These simple steps are a fantastic way to avoid expensive dishwasher repair bills caused by neglected maintenance.
How to Clean a Dishwasher that Smells Bad
Even the most conscientious homemaker will sometimes run across dishwasher odors that don't stem from blocked hoses or clogged filters. There are lots of ways that your dishwasher can get dirty and put out unpleasant odors, and you'll need a reliable cleaner to get it clean again. It's crucial to have a few cleaning recipes handy, so you're never at a loss as to how to clean a dishwasher that smells.
Cleaning Recipes
This section examines different cleaning recipes that you can use to make your dishwasher smell sweet again. With these recipes, you'll be able to scrub away even the worst odors and leave your kitchen smelling like a million bucks. They're just what you need to keep your dishwasher humming along odor-free and happy.
Use Vinegar to Clean Away Scents
Vinegar is one of the most useful cleaning products in your pantry, and it's perfect for getting your smelly dishwasher back to showroom condition. Because it contains acetic acid, vinegar eats away at organic crud, gunk, and mildew.
If you need to clean out some old food and remove nasty odors, give vinegar a shot. It's ideal when you want to clean a stainless steel dishwasher.
To clean your dishwasher with white vinegar, begin by adding a cup of vinegar to your dishwasher's rinse section, and run a full wash cycle. If the odors remain, scrub the inside of the dishwasher itself.
Put on the gloves, and dip a scrub brush in vinegar. Scrub every inch of the walls as well as the top rack, bottom rack, filter in the bottom, dishwashing arm, and dishwasher door, as the odor-causing agents might not be visible. Rinse with clean water.
Follow this exact recipe to take care of a smelly washer, too. Even though both dishwashers and washing machines clean the items we put in them, they are not immune to developing odors themselves. Periodic cleaning ensures that your dishes and clothes come out fresh and clean.
Get Your Dishwasher Smelling Great with Baking Soda
When you need to clean the dishwasher thoroughly and remove persistent odors, you can't go wrong with baking soda. Baking soda is famous for absorbing odors in your refrigerator and pantry, and it will knock out any bad scents in your dishwasher.
Use baking soda to take care of especially tough odors that maintenance can't remove. It's a great DIY odor remover for your washing machine, too.
Slip on the gloves, and sprinkle a cup of baking soda on the bottom of your dishwasher. Let the sprinkled baking soda sit for at least an hour, and then use a scrub brush to clean the dishwasher's floor and walls.
Rinse with cold water, and then sprinkle a second cup of baking soda on the bottom of the dishwasher. Run your dishwasher through a hot cycle to dissolve and distribute the baking soda.
Make Your Dishwasher Smell Sweet with Essential Oils
You might think of essential oils as nothing more than add-ons for recipes to provide some lovely scents, but they do a lot more than that. You can use essential oils to clean wood, metal, and dishes, and it'll make your dishwasher clean and odor-free.
Combined with vinegar, it can make almost anything smell better. Try our essential oil recipe as a natural dishwasher soap, too.
Combine the liquid ingredients in a bowl, and don the gloves. Dip a scrub brush or old toothbrush in the mixture and scrub at the walls and floor of the dishwasher until you've cleaned every inch of the dishwasher interior.
Rinse with cold water, and then run the dishwasher through a wash cycle. Repeat as needed to control odors. Use this option to clean your ice maker periodically, as well.
Deodorize Your Dishwasher with Liquid Dish Soap
Liquid dish soap has many more uses than you might think. It's perfect for breaking up grease in any circumstances and is just what you need to clean away any oil or grime in your dishwasher. Dishwasher smells can result from rancid oils, so it's never a bad idea to clean out your dishwasher with a liquid dish soap solution.
Combine the hot water and soap, and put on your gloves. Dip a scrub brush in the soapy water, and begin scrubbing the dishwasher interior.
When you've scoured every bit of the dishwasher, use a clean wet cloth to wipe away the soap residue. Too much dish soap in the dishwasher can result in overflowing bubbles, so make sure to wipe off the soap scum thoroughly.
We hope you had a blast reviewing our tips on how to clean a dishwasher that smells. Our dishwashers are miracles of modern design, but they can fill with food smells and leave our kitchens full of foul odors. Our guide shows you how to clean smelly dishwasher parts so that your home stays clean and smelling great.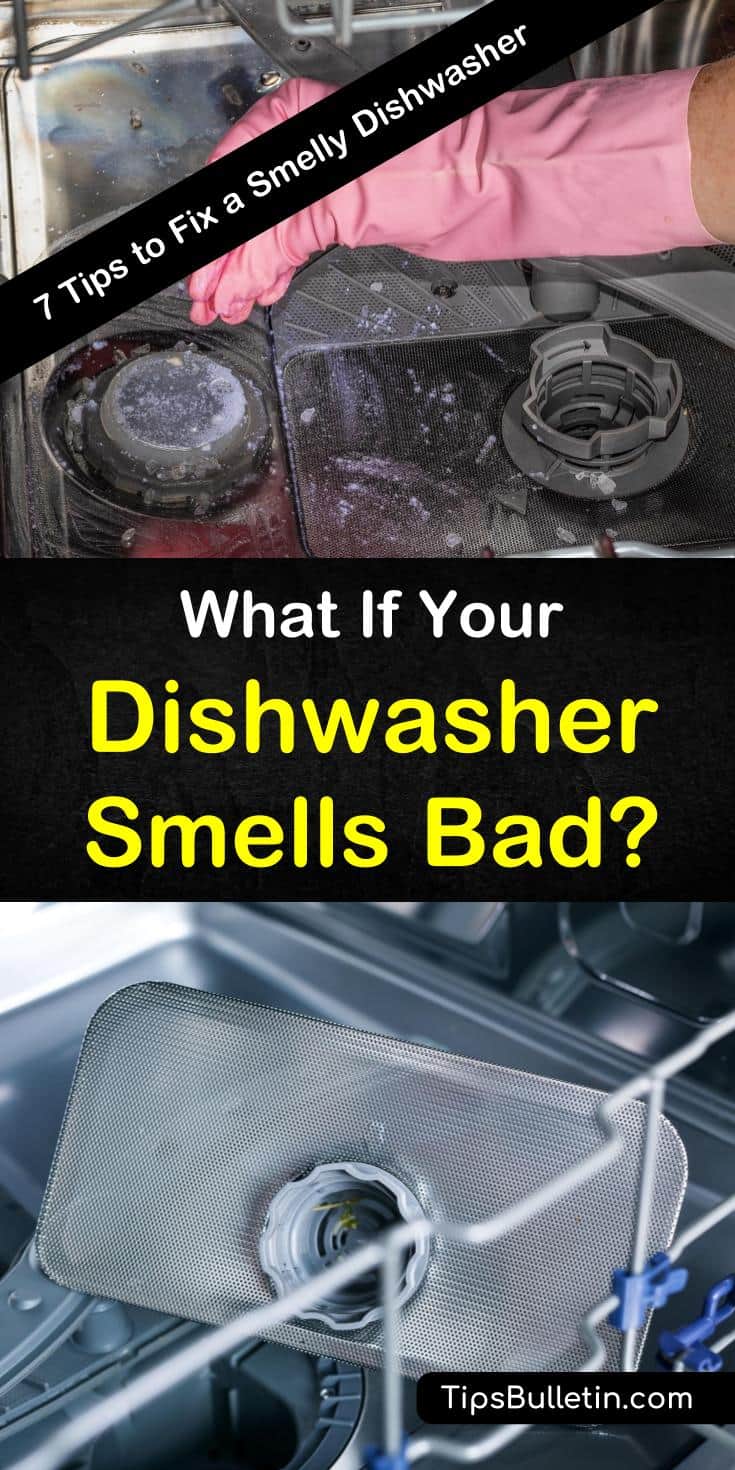 Thanks for reading our odor removal recommendations. If you found our suggestions for cleaning options for when your dishwasher smells bad helpful, we'd appreciate it if you'd help us out by sharing our pro tips on how to clean a dishwasher that smells on Pinterest and Facebook.