Contrary to superstitious belief, earwigs won't crawl into your ears at night when you sleep. However, they do crawl into your homes and gardens, destroying healthy plants when in large numbers, which is just as terrifying at times. Having a consistent and effective earwig control protocol in place to handle these garden pests not only provides the peace of mind you deserve, but it also keeps plants safe.
On occasion, earwig control indoors is necessary due to these creatures looking for a cool, moist area to call home. Locations like basements and bathrooms are prime habitats for the frightening-looking pests, so treating these areas first is a top priority.
The most common place to spot these relatively harmless pests, however, is outside on plants. As a result, having a few strategies for earwig control in garden areas also increases your chances of ridding your home of them for good. For the best tips and techniques to use, follow the steps in the article below.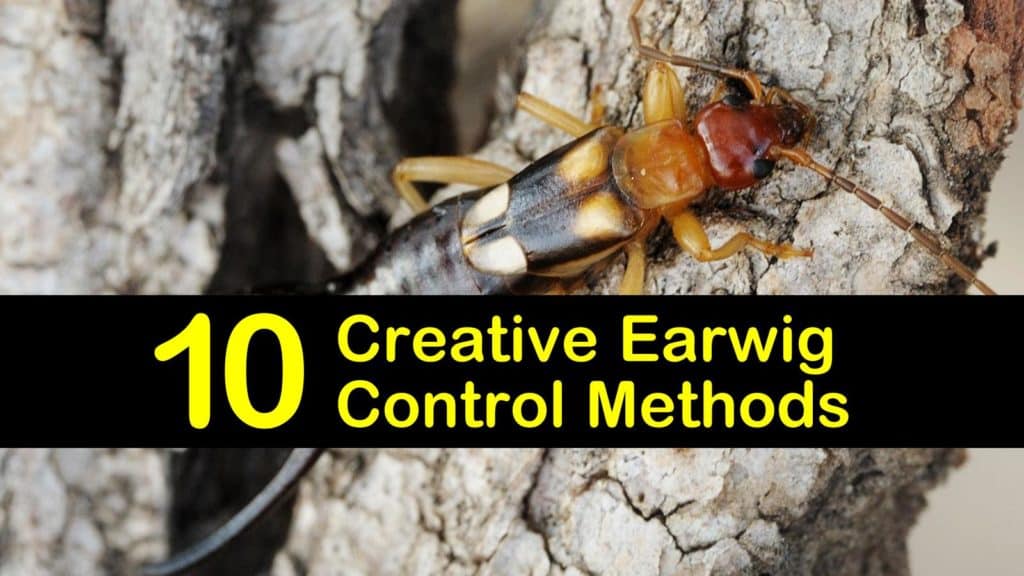 Tips for Earwig Control Indoors and Outdoors
Across the globe, there are over 1,000 different species of earwigs, with approximately 22 of those residing here in the United States.
These reddish-brown bugs come from the order of Dermaptera and are easily recognizable by the tiny pincher on their tail ends and their long antennae. While generally regarded as beneficial insects in the garden, an earwig infestation could lead to significant damage to plants.
Identify Common Hiding Places Indoors
Getting rid of earwigs in your house starts with identifying exactly where do earwigs come from in the first place. These nocturnal creatures prefer damp areas with low foot traffic to set up their areas of harborage and lay eggs.
As a result, the best hiding places for earwigs are generally cellars, crawl spaces, basements, and even bathrooms. What kills centipedes in the house, as well as earwigs and other creepy crawlies? One way to prevent the bugs from becoming a problem is by removing moisture from these damp areas of the home.
The main pull for earwigs and many insects is moisture, so fixing issues like leaky faucets goes a long way in terms of pest control. Using a dehumidifier in basements prone to developing moisture also helps prevent these creatures from setting up shop in all areas of your home.
Seal Cracks for Better Earwig Control
The next step in the earwig removal process is to keep as many of these creatures from entering your home by sealing up popular entry points. These pests may enter through tiny cracks in windowsills, doorways, or other crevices in the home's foundation.
The best way to prevent this intrusion is by sealing those entryways with silicone-based caulk. Look for any small holes in baseboards, and open cracks around windows or doors.
Ensure vents and attic spaces are also adequately sealed. Sealing cracks also prevents other unwanted critters from coming in your house, too. It's ideal for eliminating spiders, cockroaches, and even mice.
How to Control Earwigs Naturally
The most common species of earwig in North America is Forficula auricularia, also known as the European Earwig. In most cases, using a simple bucket of soapy water to counteract the presence of these pests is all that's required.
To make this DIY insect spray for plants and areas of your home that may harbor earwigs, spray the soapy water along baseboards and areas you believe earwigs might be hiding.
If you see an earwig, spraying it with the soapy water typically kills it on contact. To get rid of earwigs in the garden, use this mixture around your vegetables and favorite flowers for an organic pesticide that's safe to use around plants. Aphids don't like it either.
You can also grow plants that attract beneficial insects that like to munch on earwigs and other pests.
Earwig Control Indoors
Another variation on a homemade earwig spray is to add cayenne pepper and garlic. This mixture offers a slightly more robust solution while also incorporating scents earwigs and other insects can't stand.
Repel house centipedes and earwigs by mixing the ingredients well and straining out larger particles. Spritz areas indoors where the bugs have become a problem.
To use outside, test the spray on plants by applying it to small areas first and letting it soak for approximately 48 hours. If the ingredients seem to be working without damaging the plant itself, spray daily until the earwigs are under control.
Control Earwigs with Oil Pits
Additional ways to prevent earwig damage are by setting up traps made of various oils. Mixing these oils in a small container with water attracts the insect to the smell. There are numerous types of alluring oils to use, many of which are listed here.
To make these simple earwig traps, use a plastic container with a lid and punch holes in the top that are big enough for the earwigs to fall through.
Mix equal parts of two oils, add several drops of soy sauce, and pour them in the container to attract the insects. If placing the tub outside, partially bury it in the soil with the top exposed for easier access.
You can also make up a spray to target earwigs directly. Using neem oil on plants in a spray mixed with water often does the trick nicely, and it doesn't harm other beneficial insects.
How to Get Rid of Earwigs Outdoors
Indoor hiding places are not the only locations earwigs like to call home. There are plenty of places for earwigs to collect outdoors that you also manage on your own. The biggest attraction for these pests pertains to any large collection of organic matter.
Picking up all leaf litter or piles of wood after raking the yard is especially important. Other key locations to look for earwigs are in the garden itself, buried under piles of mulch, stone, or debris. These areas provide shade and moisture to the insect while also giving it easy access to a food source.
A more unlikely setting you might not think to look is in rain gutters. These often collect organic matter like leaves and make a tidy little home for many insects. Cleaning this out regularly prevents bugs like earwigs from sticking around.
Create a Homemade Earwig Trap
A variation on the trap method for earwigs is using other natural processes to stop their growth. Beyond using oils to attract them to the site, using organic materials in a flower pot also does the trick. Types of items to place in the bowl include newspapers, straw, or leaves.
Place a filled flower pot upside down in a nice shaded and moist area. Leave enough time for the earwigs to take shelter in the plant during a hot day. Afterward, place a black plastic bag over the pot and seal it up. Doing this traps the earwigs and kills them.
Earwig Control in Garden Areas
One natural solution for getting rid of earwigs is by introducing some of their natural predators. Among the most critical participants in this role are birds, who love to pluck these plump little morsels off of bushes and plants.
It's also immensely entertaining for anyone who enjoys birdwatching. Attracting birds to your yard is simple and possible in one of two ways. The first is to set up a bird feeder with yummy seeds to tempt your feathered friends.
Another option is to plant companion bushes filled with berries birds love near your prized flowers. Growing plants that repel fruit flies and other annoying bugs can be helpful as well. Marigolds are great for this purpose.
Use Diatomaceous Earth in Flower Beds
For an environmentally-friendly insecticide, try sprinkling some diatomaceous earth around your garden. This powdery mixture is slow-acting but remains useful for extended lengths of time. Check for results after a few days of exposing the garden pests to the material.
The easiest and best way to use diatomaceous earth for earwigs is to place a ring of food-grade diatomaceous earth along the perimeter of your flower beds. If the diatomaceous earth gets wet, or if it rains, replace it immediately. The moisture causes the powder to lose its effectiveness, so it needs to be reapplied to keep the pests out.
Sprinkle Boric Acid in Wood Piles
Another way to take care of earwigs is by using boric acid. This chemical is a typical insecticide used to kill earwigs, roaches, and ants in households. If you plan on using it indoors, leave it in locations out of reach of pets and children, such as behind appliances or under the kitchen sink.
When treating areas outside, sprinkling it in wood piles is one way to decrease the number of these pests. Dusting areas of your garden also works to keep them under control. Make sure to leave them in piles where these bugs frequent, but pets and children do not.
Most Significant Reasons for Earwig Control
One of the top questions many homeowners ask when it comes to earwigs is: how do they impact humans? The most pressing concern attributed to this is whether these insects are potentially dangerous or cause complications to homes in the same way termites or carpenter ants might.
Are earwigs harmful to humans?
While earwigs may look frightening with their little pincers, they are relatively harmless to humans. These tiny extenders distinguish adult earwigs in terms of sex, with the female earwigs possessing a narrower set of pincers and males showcasing a more circular shape. Their entire purpose is to defend against predators and to assist the insect with scrounging for food.
Despite their intimidating appearance, these pincers do not harm humans the way a bee may use its stinger, or an ant may bite. Earwigs are relatively harmless and not at all poisonous to humans. In fact, as scavengers, they offer many beneficial uses in the gardens and control the populations of other pests like aphids and mites.
They also clean up decaying plant matter and eat detrimental vegetation like algae and mosses. The only time ridding them from your flower beds is necessary is in the event of an infestation. Earwigs love plants like dahlias and chrysanthemums and may cause significant damage if left unchecked.
We hope these tips for managing these garden pests both indoors and outdoors proved useful in keeping them off your property. If you're not sure which method to try, start with the first and work your way down. It's essential to employ more than one pest control strategy at a time, especially when dealing with large numbers of insects.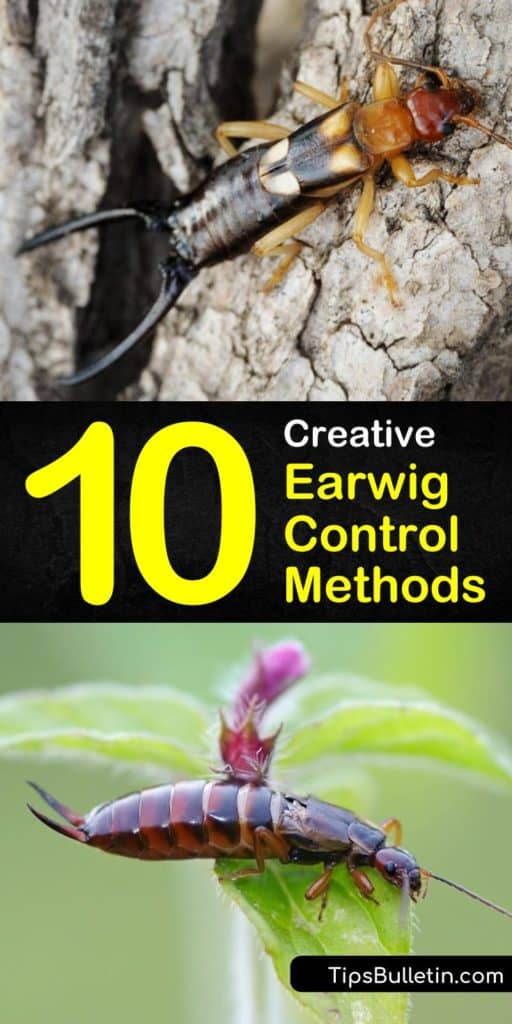 If you enjoyed learning everything you need to know about controlling earwigs in garden areas and homes, then don't forget to share these tips for earwig control with everyone you know on Facebook and Pinterest.