If you want to spruce up your landscape but are lacking a green thumb, consider using easy to grow shrubs. One of the greatest things about shrubs is how versatile they are, as they work to improve your landscape. Bushes provide you with numerous options as they vary in size, shape, and color.
Shrubs offer excellent focal points in xeriscaped yards but look just as good in yards with trees and grass. Both evergreen and deciduous shrubs provide beauty and interest to your landscape year-round. Evergreens provide year-round foliage in a variety of shades, while once the deciduous shrubs drop their leaves, they leave behind trunks and branches for decoration.
Use them to create a privacy screen or hedge, to line borders, or to act as a cover for unsightly areas of your yard. Some of our shrubs work well as ground covers or a landscape backdrop.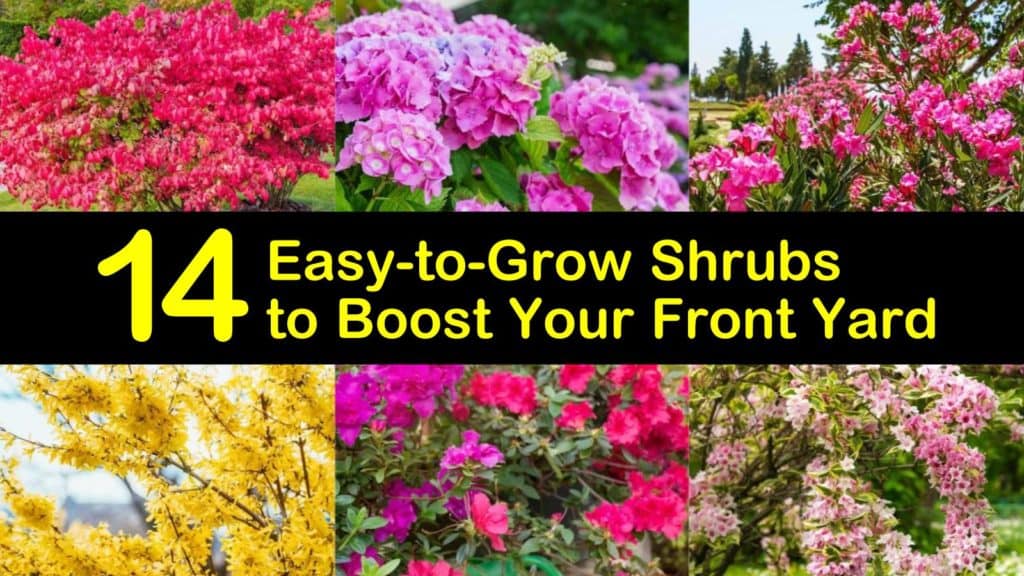 Best Choices for Easy to Grow Shrubs for Your Landscape
Before purchasing easy to grow shrubs, consider where you are planting them. Make sure your planting location provides enough space when they reach their mature size.
Providing enough space ahead of time cuts down on pruning in the future. Know just how much care your shrubs require and know how to correctly prune them for years of enjoyment.
Tips for Purchasing Easy to Grow Shrubs
Shrubs work to hide things as they provide dense foliage, but they also act as a ground cover. Bushes unify your landscape, as they help make transitions from house to yard look smooth and seamless. These beauties also work to control traffic flow when planted along your property lines and paths.
Weather
When selecting the best easy to grow shrubs for your yard, consider the weather. Areas with more substantial rainfall won't need watering as frequently. For areas with very little rain, look for drought-tolerant shrubs, including potentilla and butterfly bush.
Deer Resistant Shrubs
Opting for deer-resistant shrubs is vital if you live in a populated deer area. Deer do unbelievable amounts of damage to landscapes, including nibbling twigs and foliage to eating tender new shoots. With deer resistant shrubs, you minimize the damage caused by deer.
Growing Conditions
When purchasing easy to grow shrubs, carefully consider the growing conditions of your landscape. Read the shrub's label for vital information, such as soil conditions, lighting conditions, and hardiness zones. When purchasing shrubs, consider planting location, such as full sun to partial shade, and choose healthy specimens accordingly.
You may even want to find the best shrubs for pots if you rent your property or don't have much space. Many bushes work just as well in containers as they do in the ground.
Easy to Grow Shrubs – 'Diablo' Ninebark (Physocarpus opulifius)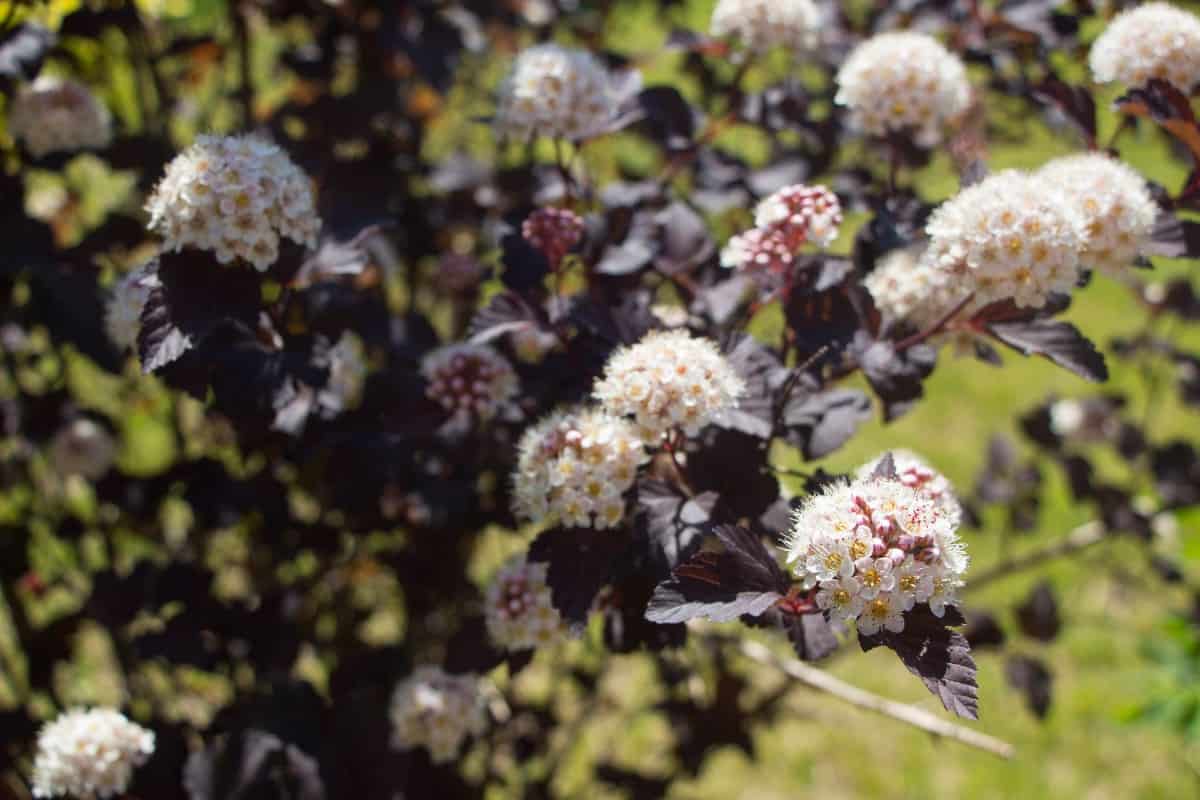 The dark-colored leaves allow the Diablo Ninebark to stand out in any landscape. The pinkish blossoms that appear during the late spring are highlighted against the dark-colored leaves. The shrub works well as a standalone piece in any area but also works as a hedge or privacy screen.
The Diablo Ninebark thrives in zones 3 to 7. The easy to grow plant requires very little care; the branches, when appropriately clipped, look beautiful in bouquets. The deciduous shrub tolerates moderate drought in colder climates.
Black Beauty Elderberry (Sambucus nigra)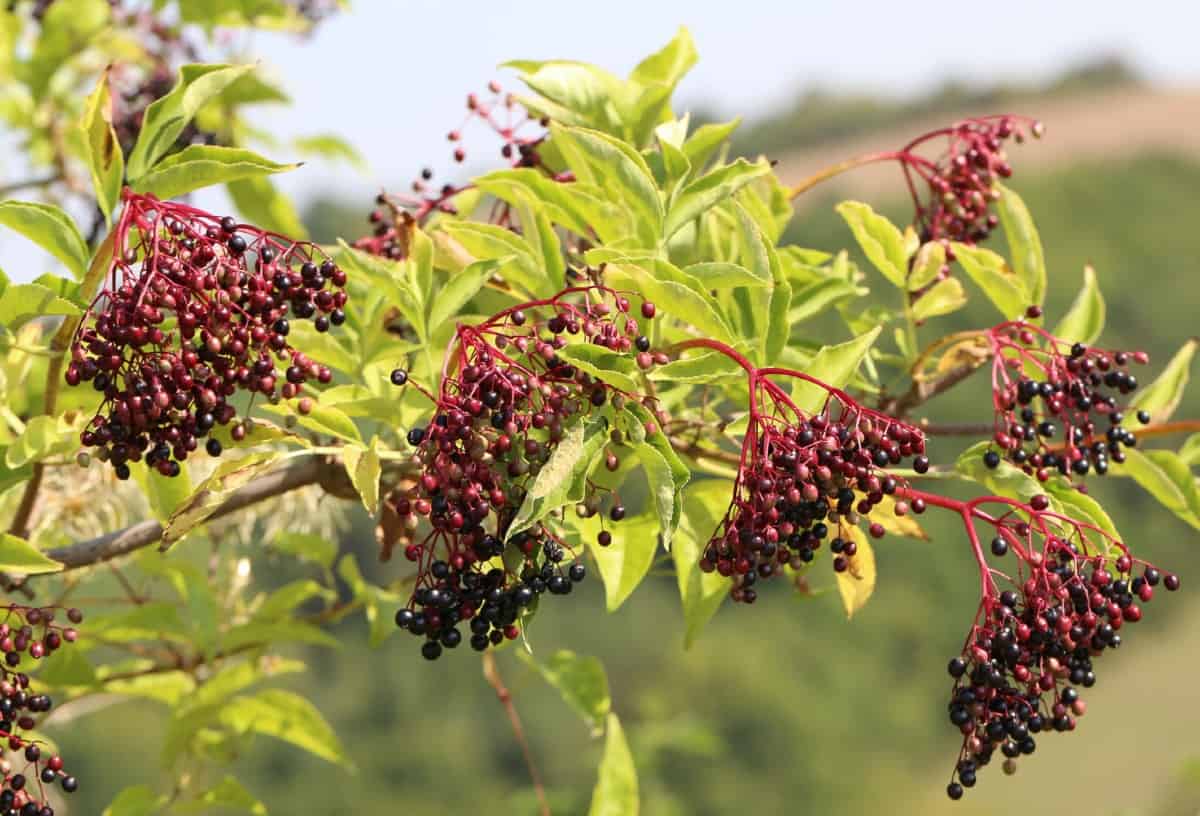 Planting elderberries brings a ferny look to your landscape. The Black Beauty Elderberry offers dark purple foliage with pink blooms that appear during the middle of summer. After the flowers bloom, dark red berries appear against the purple foliage.
If you don't notice the berries, you will see the sudden influx of birds. The Black Beauty Elderberry isn't the first choice for a hedge plant; for those, it's the Black Lace Elderberry. Instead, use it as a perennial border or as a focal point.
Learn when to plant elderberries in your area for the best results.
Weigela Florida (Weigela)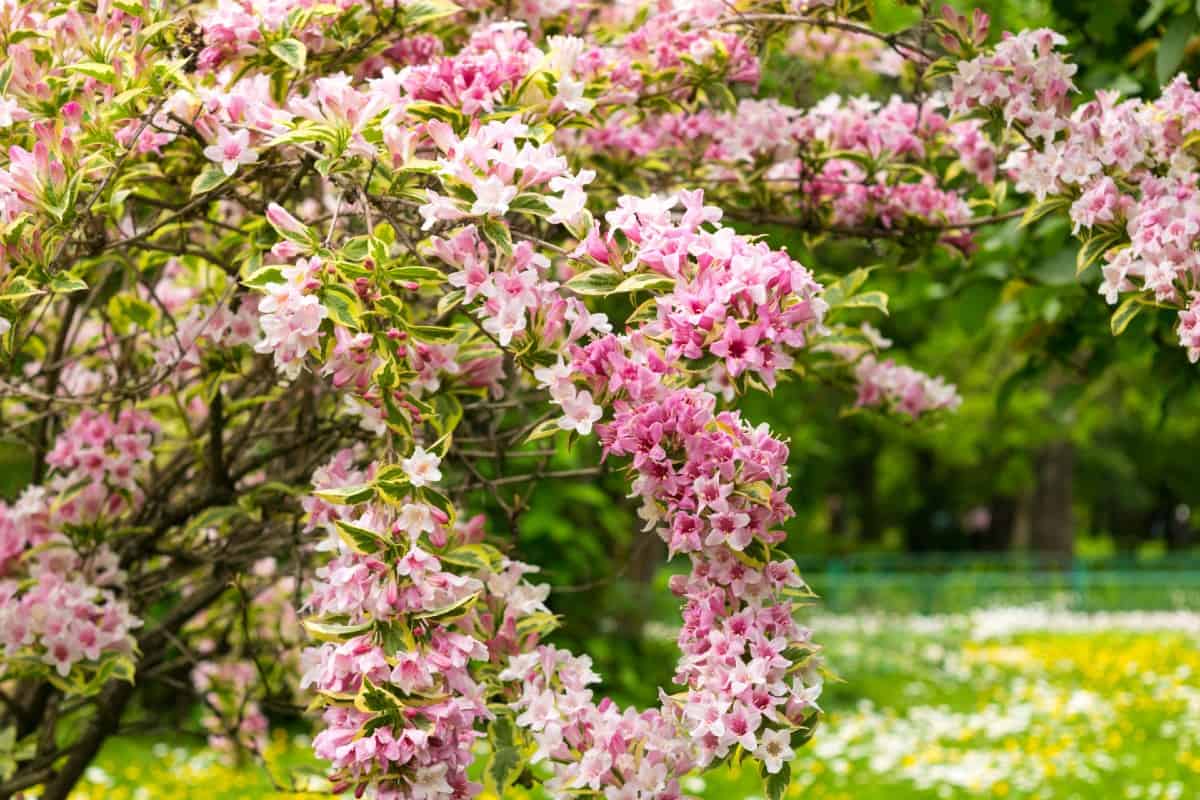 A member of the honeysuckle family, Weigela offers clusters of blooms in the early spring. These shrubs are not only easy to grow, but they also require very little care except for a bit of pruning and watering.
The tubular-shaped flowers draw in butterflies and hummingbirds and come in a variety of colors. These flowering shrubs grow well in zones 4 to 8. Different types offer different growing habits, including mounding, spreading, upright, and arching.
The mature size of these fragrant flowering bushes ranges from 12 inches to 10 feet tall with an 18 inch or 12 feet widespread. The shrub tolerates partial shade, but for the best-colored blooms, plant in full sun.
Butterfly Bush (Buddleia davidii) – Easy to Grow Shrubs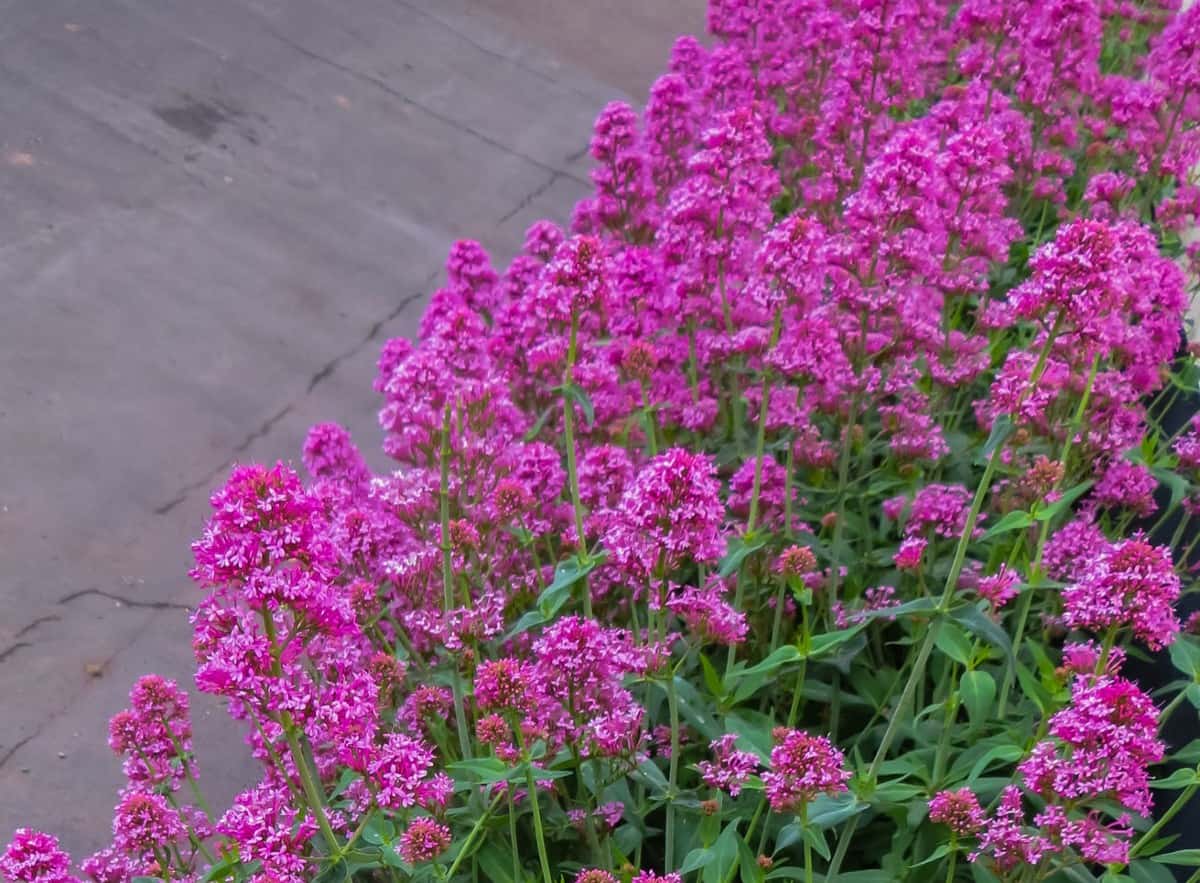 The Butterfly Bush, or Summer Lilac, is known for its eye-catching flower spikes, which bloom in a variety of colors, including a variegated variety, as well as pink, blue, white, and purple.
This shrub attracts butterflies to your yard, but the type with red flowers also works to attract hummingbirds.
These easy to care for shrubs reach heights of up to 12 feet, depending on the variety. These low-maintenance plants thrive in even the harshest conditions and are naturally pest and disease resistant. To prevent them from becoming invasive, opt for the seedless variety.
These evergreens with color in all seasons may be just what you need in that boring corner of the yard. Flowers in summer and green leaves through the colder months provide year-round enjoyment.
Oleander (Nerium oleander)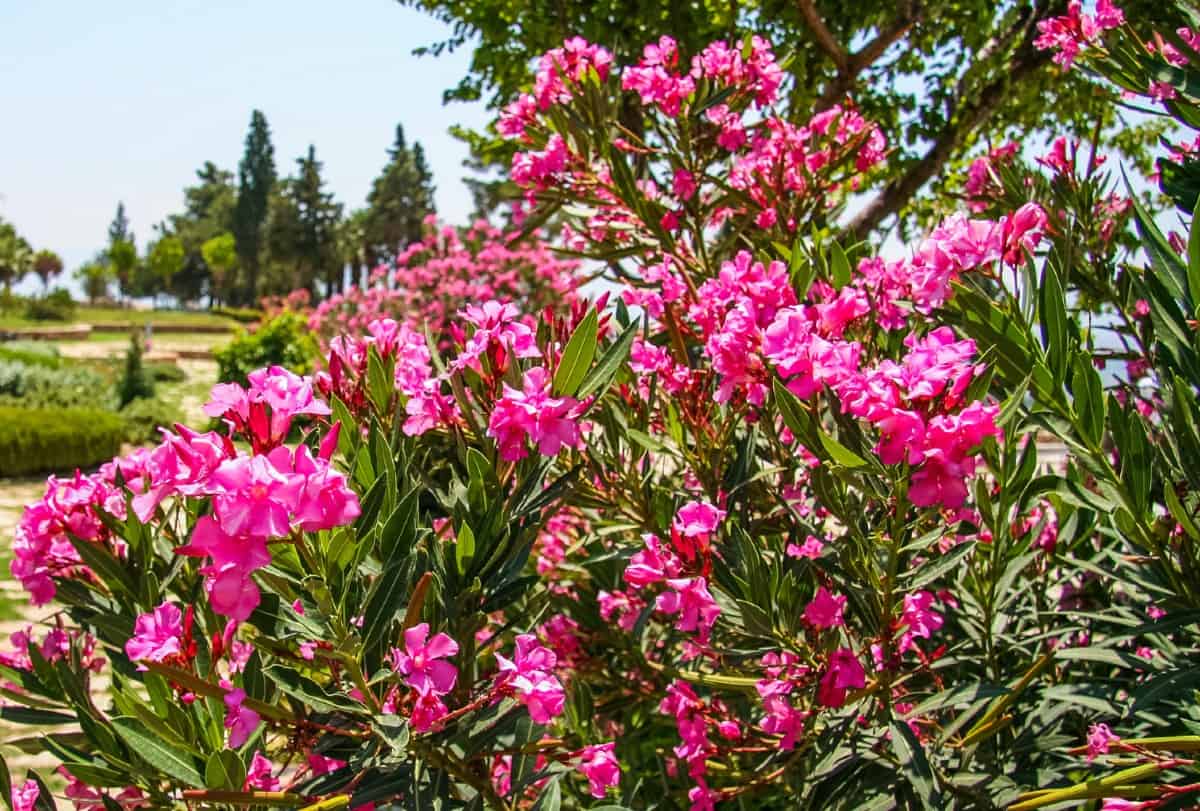 Oleander is fast-growing and eats up carbon dioxide, making it an excellent choice for areas of high pollution. The sturdy and versatile shrub is an evergreen with sword-shaped green leaves. The green leaves offset the showy blooms during summer months.
How fast Oleander grows depends on the location and growing conditions, but it thrives in zones 8 to 10. In ideal circumstances, the full mature shrubs reach up to 12 feet tall with a 10-foot spread with a two-foot growth rate each year.
When planting, Oleander prefers soil high in salt with full sun. The shrub is drought-tolerant and only requires two inches of water each week.
Hydrangea (Hydrangea spp.)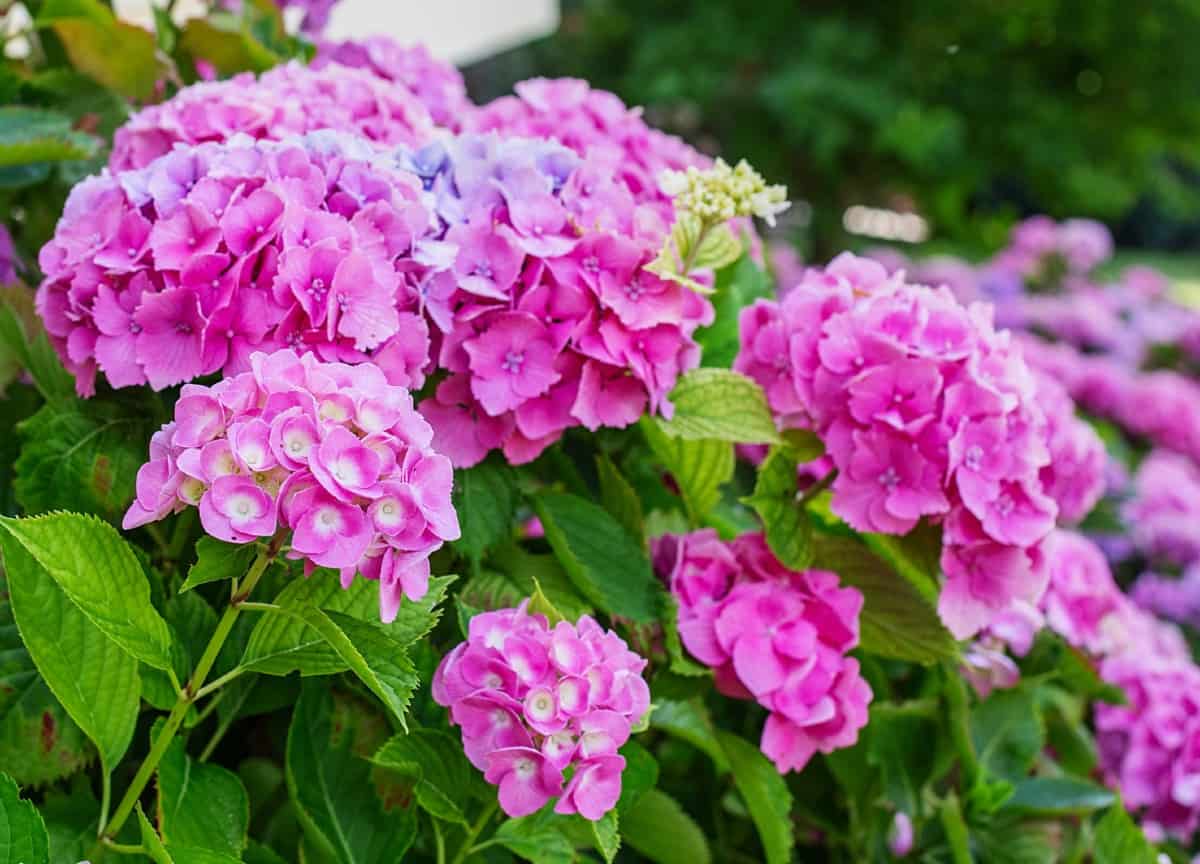 As small low maintenance shrubs, Hydrangeas are best suited for areas of partial shade. These shrubs grow best when they receive morning sun with afternoon shade. The heat from the afternoon sun harms the delicate flower petals so choose your planting location carefully.
Prune back deadwood in the spring or fall to make room for new growth. Hydrangeas are a hardy evergreen shrub capable of growing in a variety of soil conditions.
Shrubs like Oakleaf Hydrangea offer bloom colors based on soil, while panicle varieties do not. Expect blooms to appear in the late summer and fall months, but the evergreen foliage remains year-round.
Easy to Grow Flowering Shrub – Spirea Bushes (Spiraea)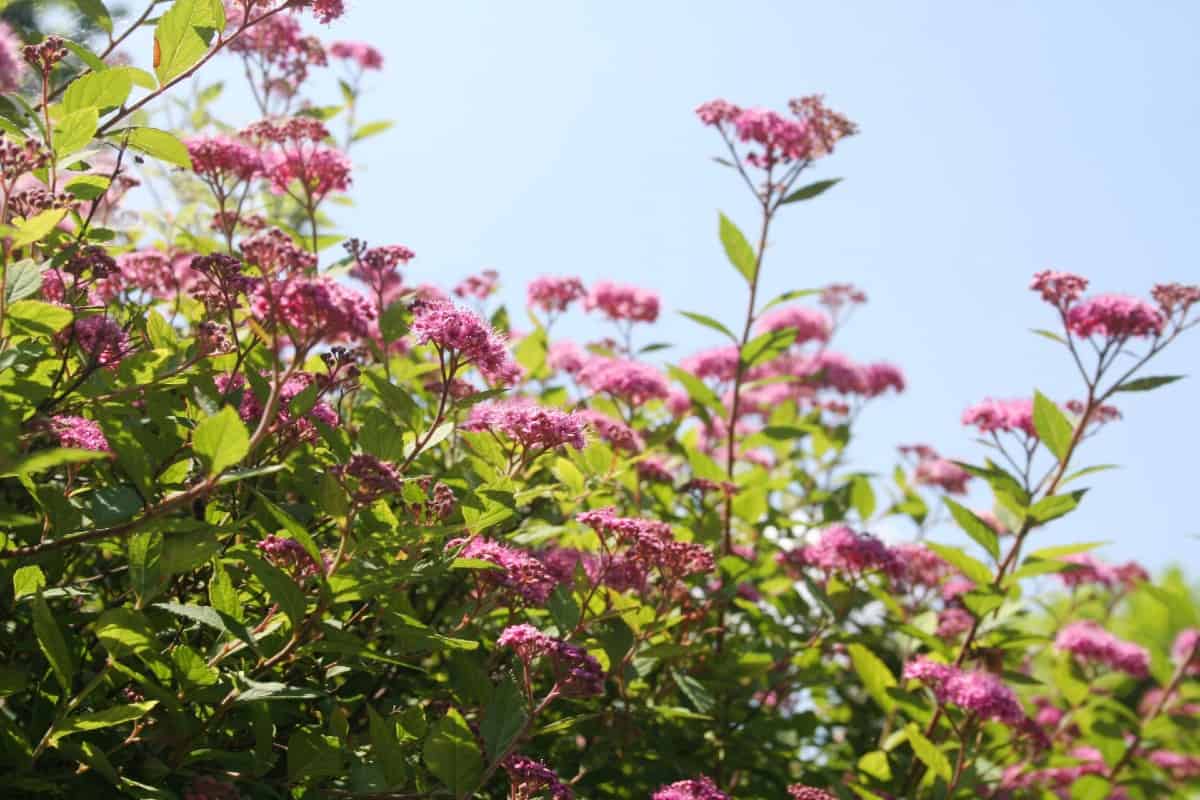 Home gardeners love the eye-catching beauty of Spirea bushes. They are fast-growing and extremely low maintenance. Spirea offers two varieties, a spring-blooming one or a summer-blooming option.
The early spring blooming variety offers cascading branches decorated with clusters of white flowers. The summer variety offers upright branches with white, red, or pink flowers.
Spirea is easy to grow and hardy in almost every growing zone. Plant bushes during the spring or fall for optimal growth. Shrubs reach anywhere from two to six feet tall, so select a location to accommodate them.
Azalea (Rhododendron)
Azaleas provide brilliant red flowers to your landscape. To ensure a healthy and attractive shrub, select a location that gives part shade, as Azaleas don't do well in full sun.
These easy shade plants suffer in highly sunny, hot locations as too much sun leads to burned leaves; too much shade limits the amount of oxygen the plant receives.
Plant them in highly acidic soil with excellent drainage. After the red flowers bloom, prune branches to avoid overgrowth and to encourage a bushier plant.
Creeping Juniper (Juniperus horizontalis)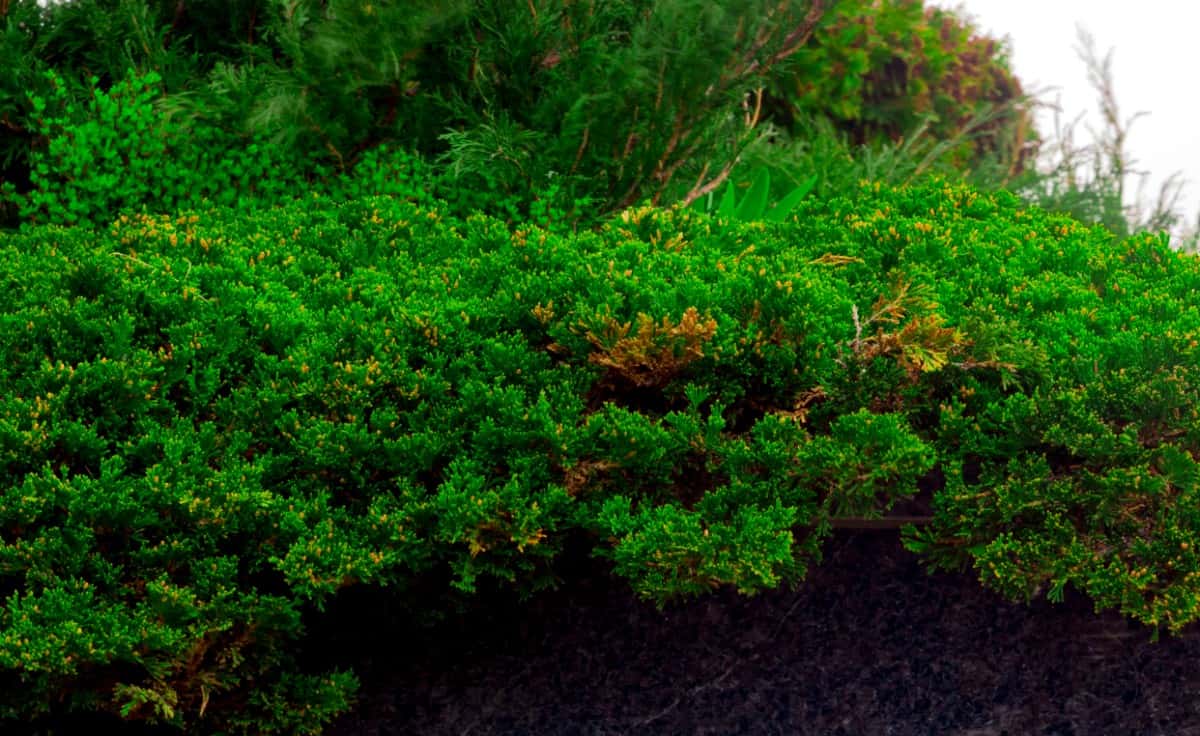 For those looking for shrubs for ground covers, Creeping Juniper is an excellent choice. The bush grows about 12 inches high but features a spread of almost 10 feet across. When using Creeping Juniper as a ground cover, opt for Blue Chip or Bar Harbor varieties as they tolerate various conditions.
During the spring and summertime, foliage is a blue-green color, while during the winter, it changes to a more plum color. Female plants produce berries, while male and female plants produce flowers. These plants thrive on neglect and adapt to all soil conditions.
Golden Bells (Forsythia x intermedia) – Easy to Care for Shrubs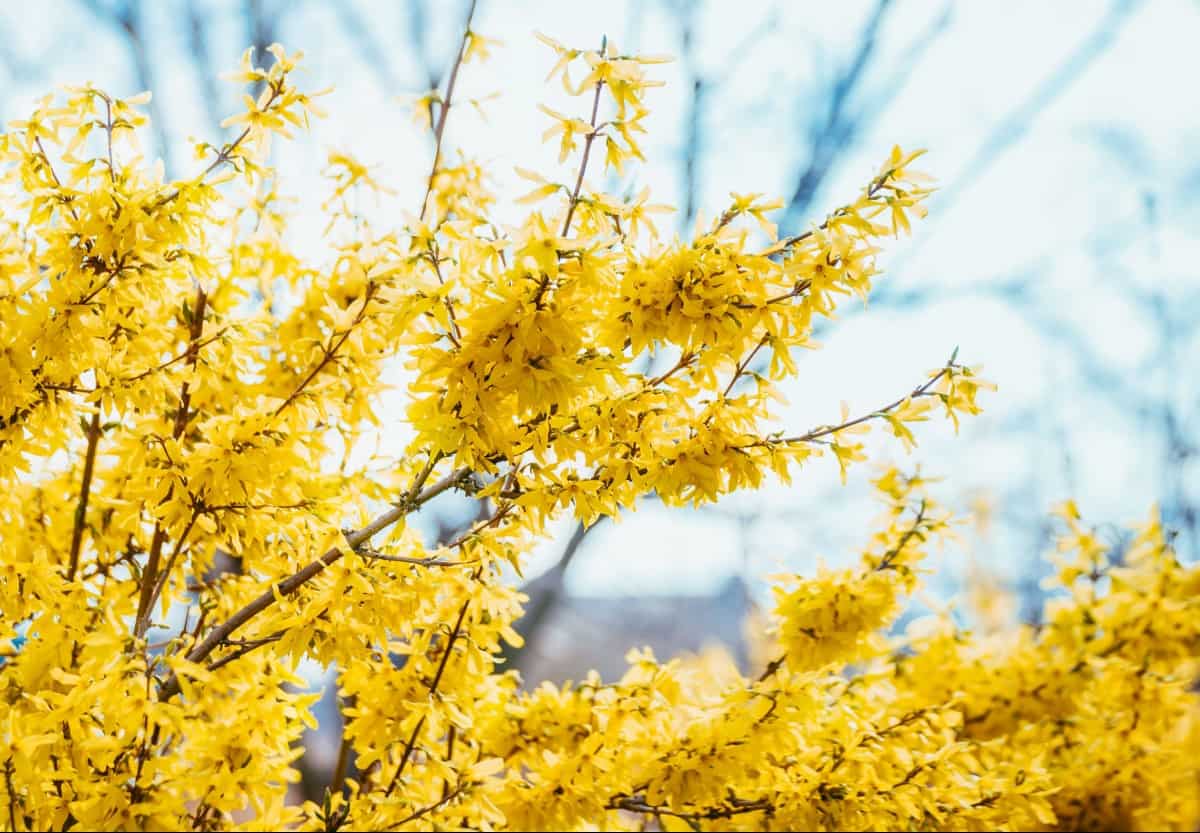 This deciduous shrub produces long branches filled with small yellow flowers. Bloom time begins in the early spring, making this shrub an excellent choice for a centerpiece or backdrop in a variety of landscapes.
This bee and butterfly attracting shrub is a member of the olive family and does well in hardiness zones 5 to 8. Plant the Golden Bells in well-draining soil in a location that receives full sun.
Once mature, these shrubs reach up to eight feet tall with a width of about five feet. Yellow blooms appear before the leaves, but color only appears for a short time during one season.
'Goldfinger' Potentilla (Potentilla fruticosa)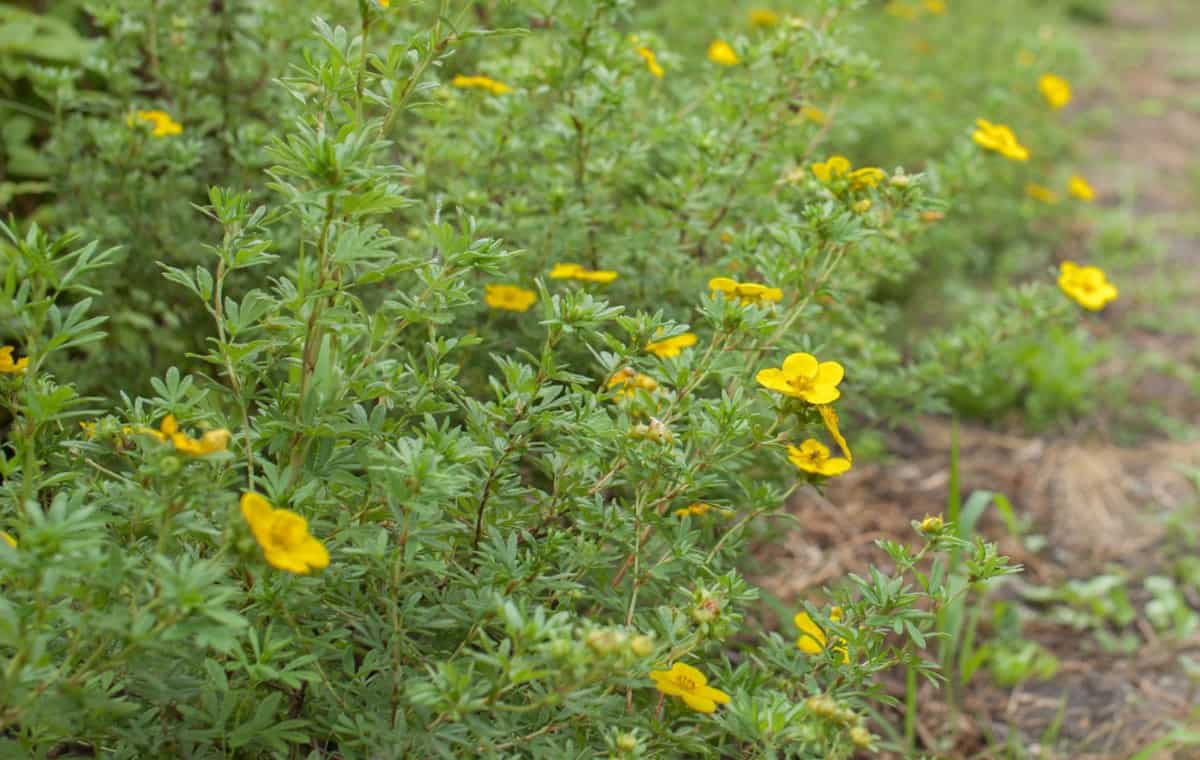 Goldfinger provides a burst of color to your landscape from the early summer months through the entire fall. The flower colors include white, lavender, pink, and gold. Once established, Goldfinger is drought tolerant and hardy in zones 2 through 8.
The buttercup shaped flowers of the shrub require full sun for optimal blooming. Water the plant weekly and increase the amount of water during times of extreme heat. The mature size of the Goldfinger shrub is about three feet tall and four feet wide.
Burning Bush (Euonymus)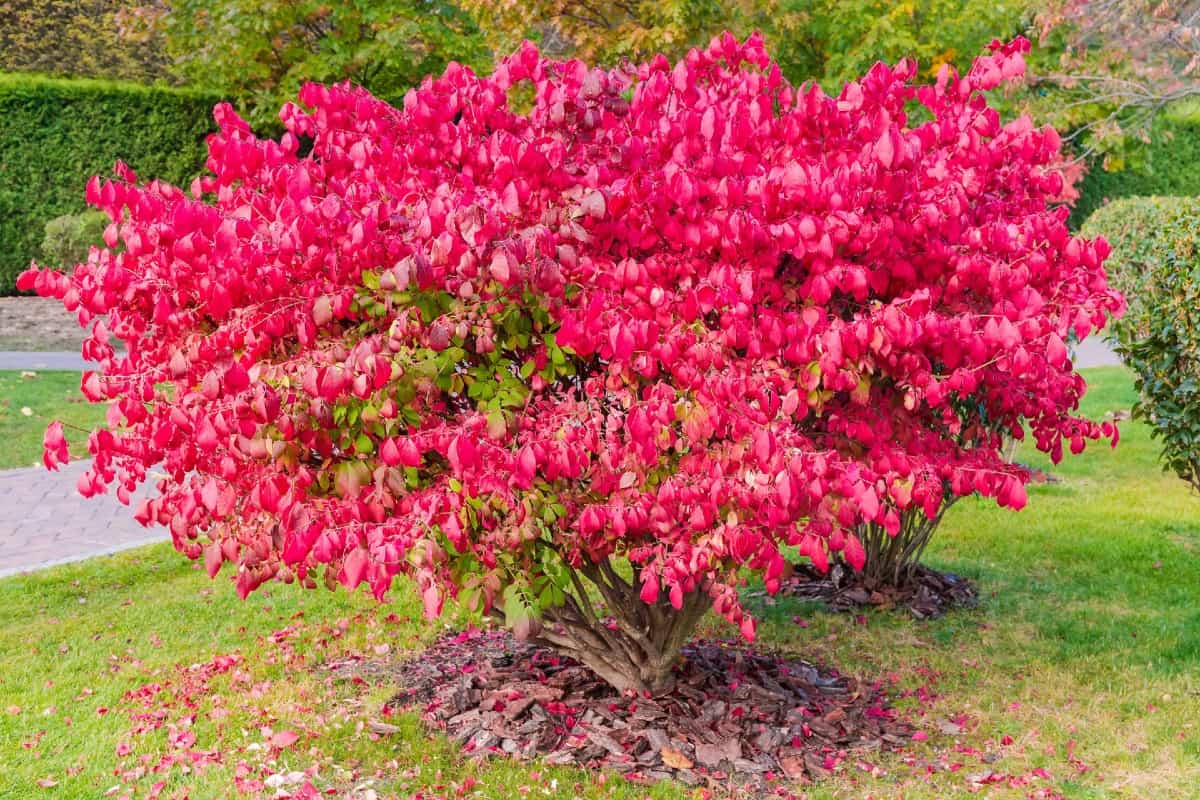 All species of Euonymus shrubs belong to the staff vine family, but the most popular flowering shrub for home landscapes is the variety known as Burning Bush. These shrubs come in numerous shapes and sizes.
As an evergreen shrub, these work well in gardens as they provide year-long color. These hedges do best when left to their own devices, but it's possible to manicure them.
When planting these shrubs for shade, select a location with well-draining and fertile soil. Depending on the variety, the site requires full sun to partial shade.
These plants are considered invasive shrubs in 21 of the states in the U.S., so check to ensure that it is okay to plant them in your area.
Easy to Grow Privacy Shrubs – Green Mountain Boxwood (Buxus)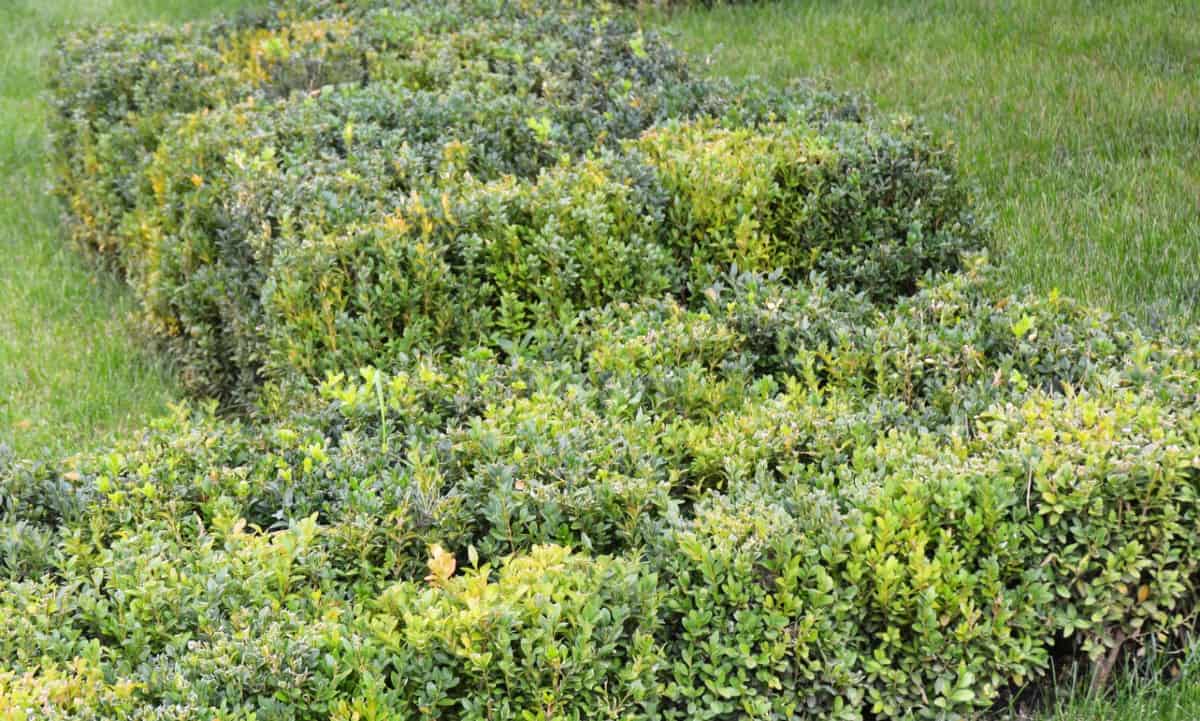 The boxwood shrub works well in containers or as a focal point for landscapes. Boxwood grows up to five feet tall with a three-foot spread. No matter where you opt to plant Boxwoods, proper placement is vital for optimal growth. These deer-resistant shrubs require protection from cold, harsh winds and partial shade.
If using containers, prevent bare bark issues through regular rotation to ensure proper sunlight exposure. Boxwoods do best in hardiness zones 4 through 9.
Japanese Pieris (Pieris japonica)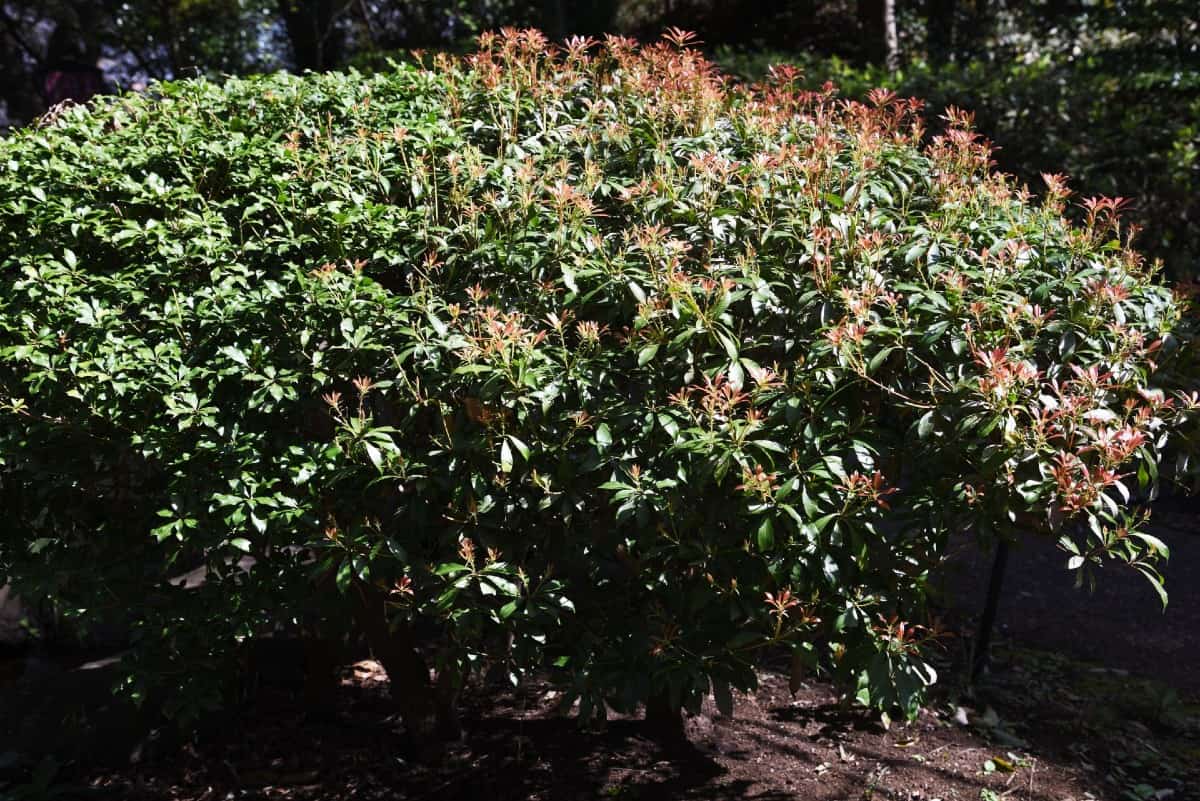 The Japanese Pieris has dark green rosette style leaves year-round. The flower buds begin appearing during the winter and change to a red to pink color as they start to bloom. The flower blossoms of this evergreen are urn-shaped on branches that drape naturally over the sides of containers or raised beds.
As a deer resistant flowering shrub, the Japanese Pieris blossoms in early spring and thrives in zones 6 to 8. Choose a location that protects them from cold winter winds, as well as harsh summer rays. In milder climates, full sun is preferred, but for hotter climates, opt for partial shade.
Thank you for reading about our top ideas for low-maintenance shrubs. If you found any of our thoughts on the best shrubs for your landscape helpful, please share our opinions on easy to grow shrubs with others on Facebook and Pinterest.