Planting elderberries in home gardens has gained popularity thanks to their easy care and beautiful clusters of creamy pink or white flowers. These deciduous shrubs produce edible red, black, or dark purple berries that also have medicinal qualities. In this article, discover how to plant elderberries and keep them flourishing in your garden for years to come.
Elderberries are native to Asia, North and South America, and Europe. They're moderately fast-growing and reach their mature size within two or three years. Elderberry shrubs grow best when planted in USDA hardiness zones 3-9.
Flowering elderberry bushes make an attractive addition to your outdoor landscape that's easy to care for once they become established. Read on to find out all about planting elderberry bushes in various climates.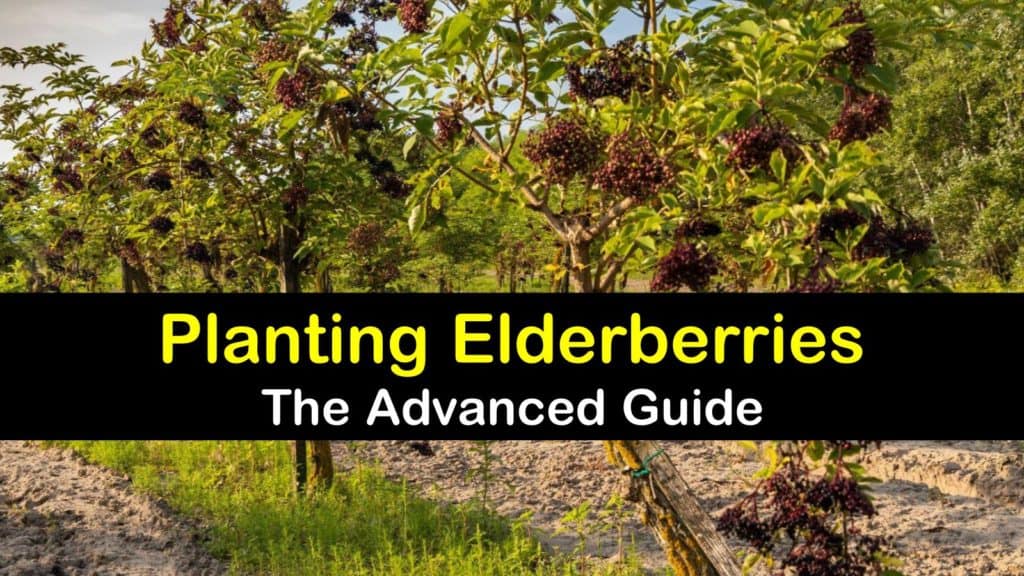 What to Know about Planting Elderberries
People use elderberries to make syrups, jams, jellies, medicinal tinctures, and even elderberry wine. However, the raw berries have a high toxicity level and must be cooked before consumption.
Elderberry shrubs aren't too picky about their growing conditions and tolerate a wide range of soils and sunlight levels. However, where to plant elderberry bushes is important and they need plenty of water.
On average, established elderberry plants require about one inch of water per week. Give new transplants more moisture for the first several months and water extra during periods of hot and dry weather.
These deciduous shrubs grow best in full sun to partial shade, with four to six hours of direct sun daily. In high-altitude climates with intense sunlight, planting elderberry trees in full sun may burn the leaves.
For the first several years, avoid pruning your elderberries unless necessary to allow the plant to develop its root system.
Keep the area well-weeded, as elderberries have shallow roots and suffer when competing for water and nutrients. Use a layer of mulch around the plant's base to retain moisture, insulate the soil, and minimize weed growth.
There are numerous varieties of elderberry available, but they are not year round flowering shrubs. American elderberry, or Sambucus canadensis, is cold-hardy and grows up to 12 feet tall. European elderberry, also called black elderberry or Sambucus nigra, grows much taller, reaching 20-30 feet.
One of the popular types of elderberries, red elderberry or Sambucus racemosa produces bright red berries and grows between seven and 20 feet tall, depending on the variety. Here are a few of the top elderberry cultivars to plant at home.
Add some gooseberries or bee balm nearby, as they make great elderberry companion plants.
How to Plant Elderberries
The best way to plant elderberries depends on your climate and available space. The most common method for planting elderberries is by purchasing nursery-grown shrubs or bare root stock.
It's also possible to propagate elderberries from cuttings. Planting elderberry seeds is a much slower process since they take up to seven months to germinate and must be cold-stratified twice.
After you decide when to transplant elderberry bushes you purchase and after selecting your planting area, dig a hole twice the size of the root ball. Place one tablespoon of organic, all-purpose fertilizer in the bottom. The best time to fertilize elderberry trees is when you plant them.
Fill the hole in with a 50/50 mixture of compost and garden soil. Water deeply and mulch around the shrub's base with organic matter like bark mulch, grass clippings, leaves, or pine needles.
When to plant elderberry bushes is after winter is over. The optimal time for planting elderberries is early spring after the last danger of frost has passed.
Early fall is also a safe time for transplanting after growing elderberries in pots as long as there are still several weeks of above-freezing temperatures so the plant can get established before winter. Avoid planting during periods of hot weather or high winds.
How Far Apart to Plant Elderberry Bushes
Elderberry plant spacing is crucial, as overcrowding results in stunted growth, diminished flowering and fruiting, and increased risk of diseases like powdery mildew and root rot. Ensure that the plants get adequate airflow and the root system has plenty of space to develop.
How far apart to plant elderberry bushes depends on which variety you're growing. Check the plant label for variety-specific recommendations. For some year-round interest, grow evergreen border plants between elderberry bushes.
Caring for Elderberry Plants
The plant stays in a primarily vegetative state for the first year or two as its root system develops. Don't expect a significant berry harvest until the second year at the earliest, but more commonly the third year after transplanting.
Elderberries are heavy feeders and benefit from regular applications of fertilizer throughout the growing season. Fertilize every six to eight weeks during the first year, then twice per year in early spring and late fall after that.
After the second year, it's beneficial to prune old, dead branches to make space for vigorous new canes to grow. The best time for pruning is late fall to late winter, while the plant is dormant.
Remove any dead or damaged canes a few inches above the main trunk with sterile, sharp pruning shears. Trim any branches older than three years, as they no longer produce much fruit. Regular pruning encourages new growth and more robust fruit production.
Of course, there are sometimes elderberry problems to deal with. Protect the plants from pests like elderberry borers by controlling weed growth and routinely pruning off deadwood. Store any cut wood on your property apart from living trees to reduce the risk of borer infestations.
Elderberries are self-pollinating and don't require a second plant to produce fruit. However, a bit of pollinator help never hurts. Cross-pollination may occur when two different varieties get planted nearby.
Harvesting and Storing Elderberries
Elderberry shrubs flower between June and August, and berries ripen from late August through September. Only harvest fully ripened berries with a deep color and a soft, juicy texture. Unripe berries are pale and firm.
Elderflowers are also useful for baking and making juices, teas, and tinctures. The best way to harvest elderberries is to pluck the entire cluster of berries at once. Use sterile, sharp pruners to cut the stem.
After removing the stems and rinsing the berries, store them in your refrigerator for up to one week. Before consumption, elderberries must be cooked or dried to eliminate the toxicity.
Elderberries are rich in antioxidants and an excellent source of vitamin C, which gives them their potent medicinal qualities. Elderberry syrup is a time-honored cold and flu remedy.
Planting elderberries in your garden is a fantastic way to add vibrant colors and textures to your landscape. The gorgeous clusters of pink or white flowers bloom from early to mid-summer, and you'll enjoy juicy elderberries in late summer and early fall.
Give them fertile, well-draining soil and at least four hours of direct sunlight each day. How far apart to plant elderberry bushes depends on each variety's mature size.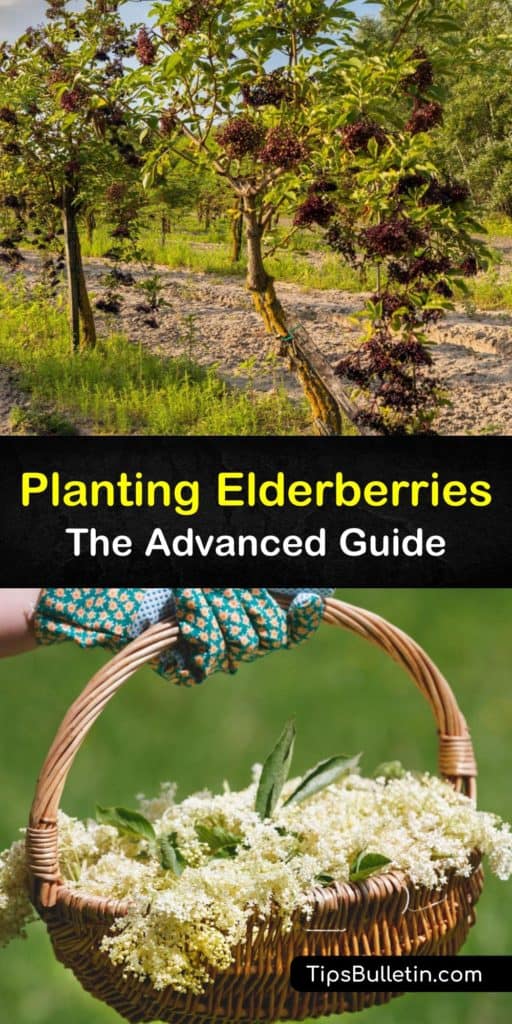 If you found these gardening tips helpful, please share this article about how to plant elderberries with other gardeners on Pinterest and Facebook.