A prominent sign of a spider problem in your home is spider bites. Sure, you can call in an exterminator to get rid of the creepy crawly critters, or you can use essential oils that repel spiders. Using home remedies, such as spider repellent sprays, for pest control is better for the environment, plus they don't expose your family to the toxic chemicals found inside commercial products.
Although essential oils are effective in helping to repel spiders and other pests from your home, like many other natural and chemical methods, they are not 100% guaranteed. There is no sure-fire way to remove all spiders from your home, no matter how much you may want it. You will find some essential oils work better on some spiders, but have no effect on others.
Your best choice is to use other natural spider repellent methods, such as keeping a clean house and catch and relocating them for optimal results.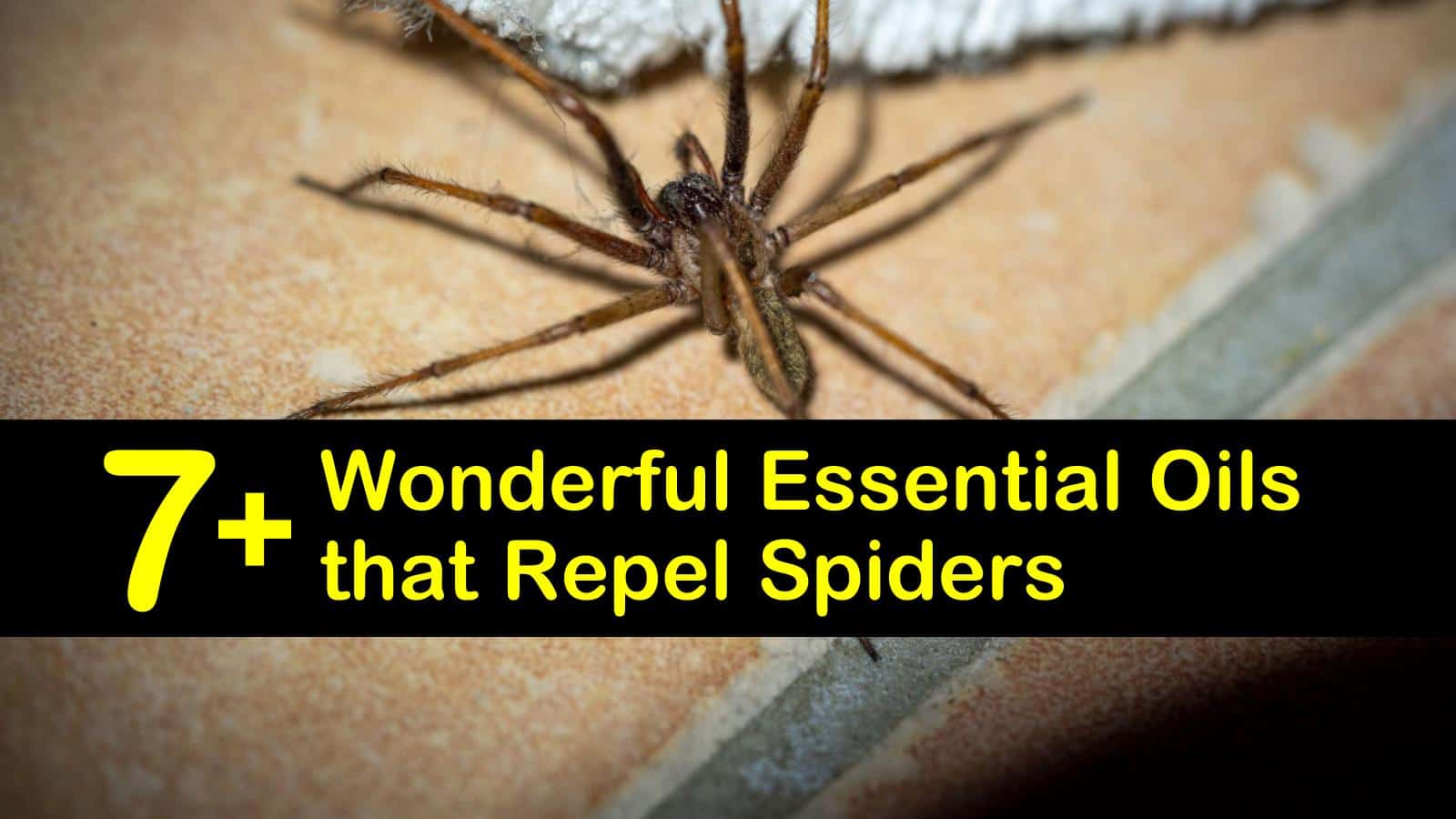 Top Essential Oils that Repel Spiders
One of the best natural remedies for spiders is essential oils. Oils are effective at repelling spiders because of how sensitive spiders are to oils on surfaces.
Spiders use their legs to smell, so when walking through oil barriers, their legs become coated with the scented oil, and it confuses them, so they steer clear of essential oil barriers.
Peppermint Essential Oil Spider Spray
When using a peppermint oil spray, apply the spray more frequently than chemical insecticides. Start by spraying once a week; if spiders reappear before the week is over, begin spraying every few days.
Peppermint oil is an excellent method to repel many pests found in the home. Peppermint oil repels bed bugs effectively. Sprinkle it around the edges of your bed to make the nasty critters stay away.
To make the spray, combine all ingredients inside a spray bottle and shake to mix. Spray the peppermint oil spray around doorways, windows, and the perimeter of your home to help keep spiders out.
You can also spray any dark corners or other places spiders appear. Another natural remedy for deterring spiders is several drops of peppermint oil on a small cotton ball. For optimal results, place cotton balls in known hiding places.
Peppermint is one of the best essential oils to repel mice and other pests like rodents and insects. It's also one of the natural ways to get rid of spider crickets. Humans are the only ones that seem to appreciate and enjoy the scent.
Natural Spider Repellent with Tea Tree Oil
You can use all sorts of natural methods to help keep spiders out of your home, including dusting the perimeter of your home with diatomaceous earth and vacuuming up all stray cobwebs. Despite these measures, spiders may still find their way in, so you need something that will help chase those arachnids away.
Fill a spray bottle with water and add five drops of tea tree oil and five drops of dishwashing liquid. Swirl ingredients together to mix.
Spray repellent directly on spider webs, lawns, gardens, doors, windows, and other surfaces where you have seen spiders. Always test a small area first, as essential oils may leave spots or stains behind.
Repel Spiders with Citronella Oil
Not only is citronella a great way to repel spiders, but it also works as a homemade gnat repellent. As citronella oil is derived from the lemongrass plant, it is safe to use around pets and kids and is friendly on the environment.
Add one quart of water to a glass spray bottle. Place five drops of citronella oil into the spray bottle and then add up to three drops of lemon-scented dish soap.
Secure the sprayer onto the bottle and shake to mix the ingredients. Spray where needed to repel spiders. Using a glass spray bottle is essential with citronella oil, as the undiluted oil will etch plastic.
Homemade Bug Spray for Your Yard with Lavender Oil
Creating an all natural spider repellent is useful as you can use it safely around the home and yard with children and pets. While some essential oils are safe for topical use, none in this recipe are, so do not apply it to your skin.
For a homemade centipede killer or to get rid of other unwanted critters, combine two ounces of white vinegar with two ounces of distilled water inside a glass spray bottle.
Add 20 drops of both oils and swirl ingredients inside the bottle to mix. To use, spray around the house and yard where spiders and other insects appear.
For a stronger spray, use 30 drops of each oil. For a less potent spray, you can decrease the number of drops to 15 each without losing its effectiveness.
Can You Repel Spiders with Cedar?
Cedarwood oil is another natural way to repel spiders and is one of the preferred essential oils for moths, too. Many people have invested in cedar mulch as a natural spider barrier and to get rid of an assortment of other insects. It is said that spiders detest the smell of cedar, so keeping it around the perimeter keeps the spiders out.
For optimal effectiveness, use quality cedar mulch and make sure you maintain it. While cedar mulch may help to keep spiders out, cedarwood oil is a more cost-effective option.
Mix about 20 drops of cedarwood essential oil with a quart of water and spray the outside of your home weekly. Soak a cotton ball in cedarwood oil and place around windowsills to help keep spiders out.
Use Eucalyptus Oil to Keep Spiders Away
Eucalyptus oil is one of the best natural remedies for spiders, but it also repels mosquitoes and snakes.
The most effective way to use eucalyptus essential oil to eradicate spiders from your home is to apply a few drops of undiluted oil to several cotton balls.
Place them in cracks and corners of your house where you have found spiders. Mixing several drops of oil with water to spray along baseboards and crevices in your home's foundation is another great way to get rid of spiders.
Why is Spearmint Oil Better than Peppermint Oil?
Both peppermint and spearmint essential oils are a part of the mint family, but spearmint is a safer alternative for repelling spiders. Many experts claim peppermint oil to be the most effective in spider repellent sprays, but the oil is not safe for children under six. Spearmint oil is the better choice for those who have young children in the home.
Amber glass spray bottles are the best choice, as the amber color protects the essential oil from the harmful rays of the sun. You can use a clear glass spray bottle, but make sure you store it in a dark cupboard away from sunlight to preserve the effectiveness of your oils.
Mix all ingredients inside the spray bottle, screw the nozzle on tightly and shake to mix. Spray inside your home along baseboards, window sills, corners, etc. You can use the spray in areas where you have seen spiders, or you can use it in areas where you wish to prevent spiders.
If you are dealing with a current infestation, spray every few days. Otherwise, spray weekly to maintain the barriers. Spearmint and peppermint are great essential oils to repel yellow jackets in addition to other pests, too.
Homemade Diffuser with Citrus Oils
If you are trying to spread the oil's scent throughout your home, your best method is to use a diffuser. You can buy commercial diffusers at many big box stores, but you can also make your own.
Diffusers with the right oils are one of the best natural ways to deter spiders and make your home smell nice while doing it.
Inside a glass container, place ¼ cup of carrier oil and mix in 15 drops of your favorite citrus oil, such as lemon, orange, or grapefruit.
Place several reed diffuser sticks into the container and flip them every three days to keep the stronger scent. The stronger scent is what will help keep the creepy, crawly spiders away.
How to Get Rid of Spiders with Essential Oils
Using essential oils to get rid of spiders is done in one of three ways. You can sprinkle the spider directly with the essential oil, you can create an all-natural spider killing spray, or you can soak cotton balls in the oil and place them strategically around the house.
Knowing where the spiders are gaining entry into your house is helpful when it comes to repelling spiders with essential oils. If you see the entrance point, place a line of undiluted oil across the area to create a barrier. Sprays work best for larger areas, such as entire windows or doorways.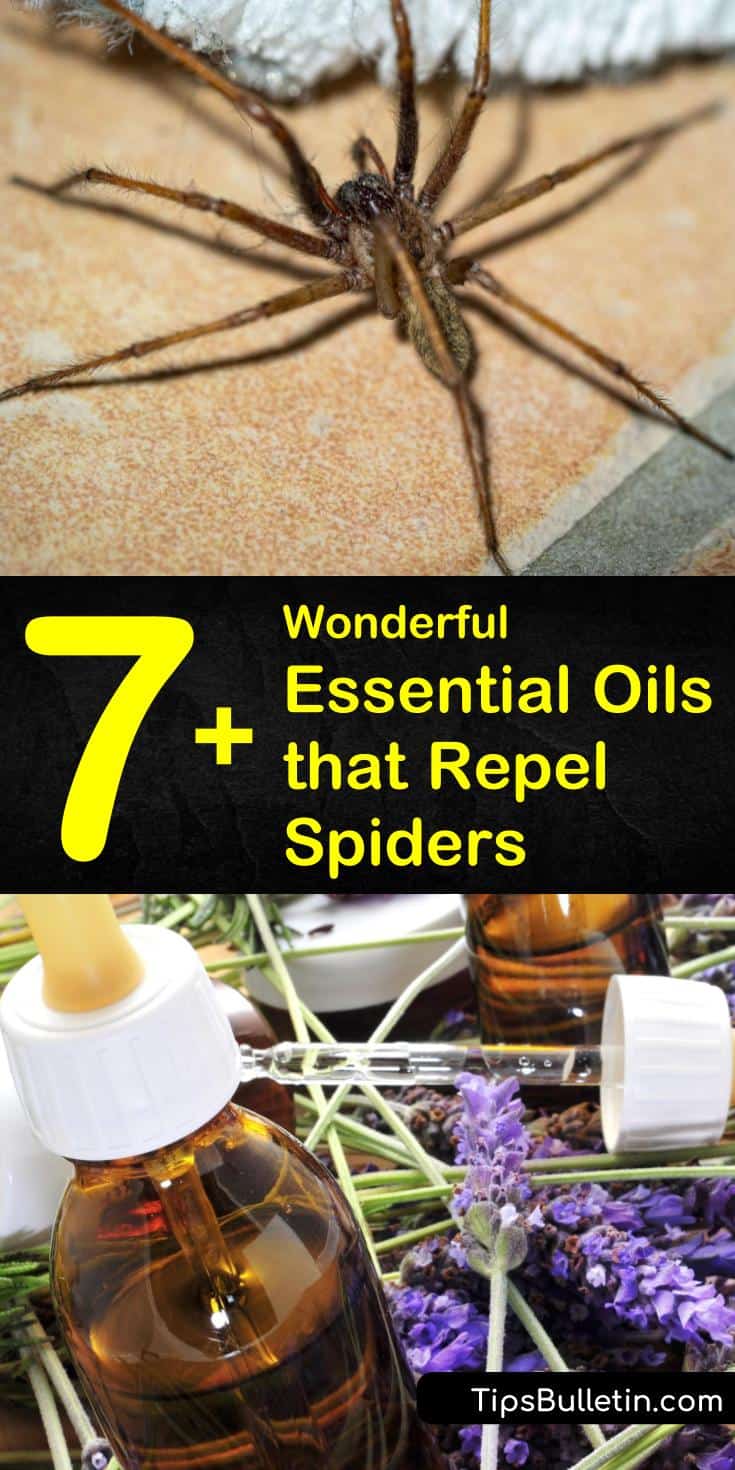 Thank you for reading how to get rid of spiders with essential oils. If you found any of our recipes for essential oil spider spray helpful, please share these recipes with others on Facebook and Pinterest so they can learn about essential oils that repel spiders, too.