When adding trees to our landscaping, there should always be a purpose in mind. One of the most popular reasons for planting trees around your property is to provide shade. Fast growing trees for shade are the perfect option for homeowners who want to cool off the yard without having to wait decades to enjoy what mature trees have to offer.
Although fast growing shade trees are beneficial, they also come with various problems if you're not careful. The one downside to fast-growing trees is that they sometimes aren't as sturdy as trees with a slower growth rate.
Because they don't take their time growing, the wood is often weaker and splits easier during storms and high winds. They drink far more water and tend to have shorter life spans than slow growers. With all that said, fast growing trees for shade are worth it if you're desperate for a lawn transformation.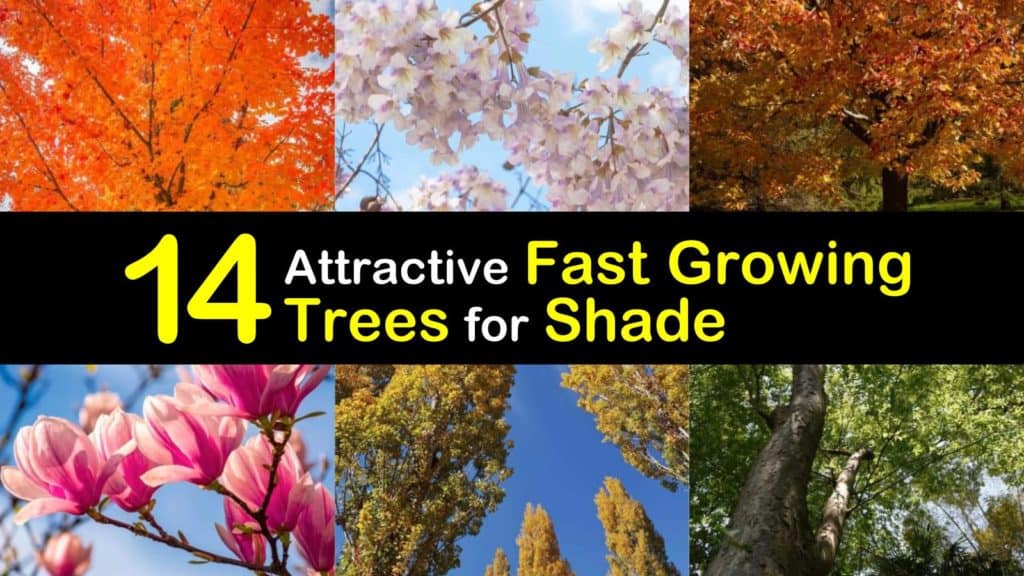 Benefits of Fast Growing Shade Trees
One of the most significant benefits of fast growing trees for shade is that they will reach their full size much more quickly than any other type of tree. The sooner you plant your shade tree, the sooner you're able to enjoy the benefits.
These types of trees lower air conditioning costs when grown close to houses. The shade helps block a large portion of the sun from your home and keeps the inside nice and cool.
Although many of these trees require extra water, they often only demand attention while they're young and are far hardier once they're older.
The most important thing to keep in mind when planting fast growing shade trees is to make sure they have all the proper requirements so they can perform to the best of their ability.
Choose a location with the right sun, water, soil, and spacing specifications so that you're not disappointed if they don't function well.
Fast Growing Trees for Shade: Tulip Tree (Liriodendron tulipifera)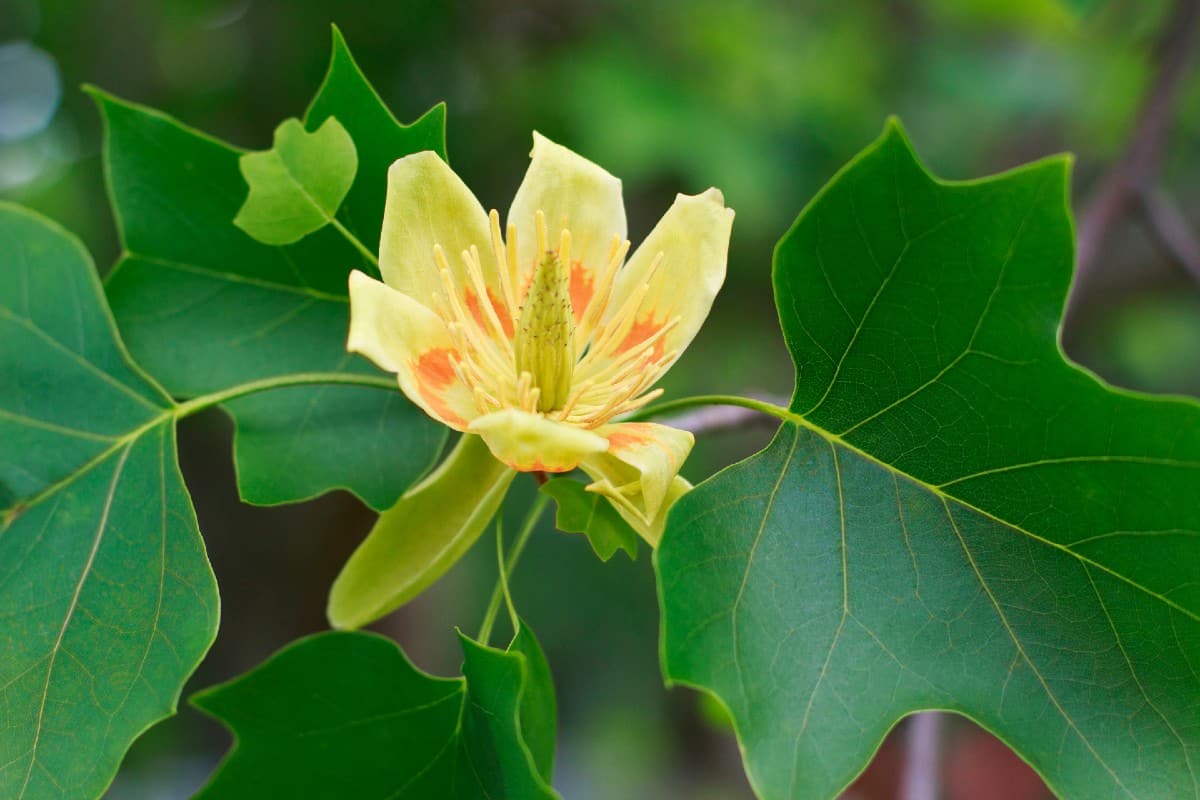 Tulip trees are the stars of fall foliage and are some of the most fast growing trees for shade. These trees get their name for their flowers that look similar to the well-known tulip.
Tulip trees have concave leaves that turn golden yellow every fall. They bloom during the late spring and attract pollinators like hummingbirds and bees and wildlife like rabbits and squirrels.
Tulip trees reach a mature size of 90 feet tall. They prefer full sun or part sun and do best when planted in well-draining, loamy soil. They tolerate a slightly acidic soil pH level and are hardy in USDA hardiness zones five through nine.
At the base of your tulip trees, grow some shade plants that repel mosquitoes so you can enjoy both shade and a bug-free zone while outdoors.
River Birch (Betula nigra)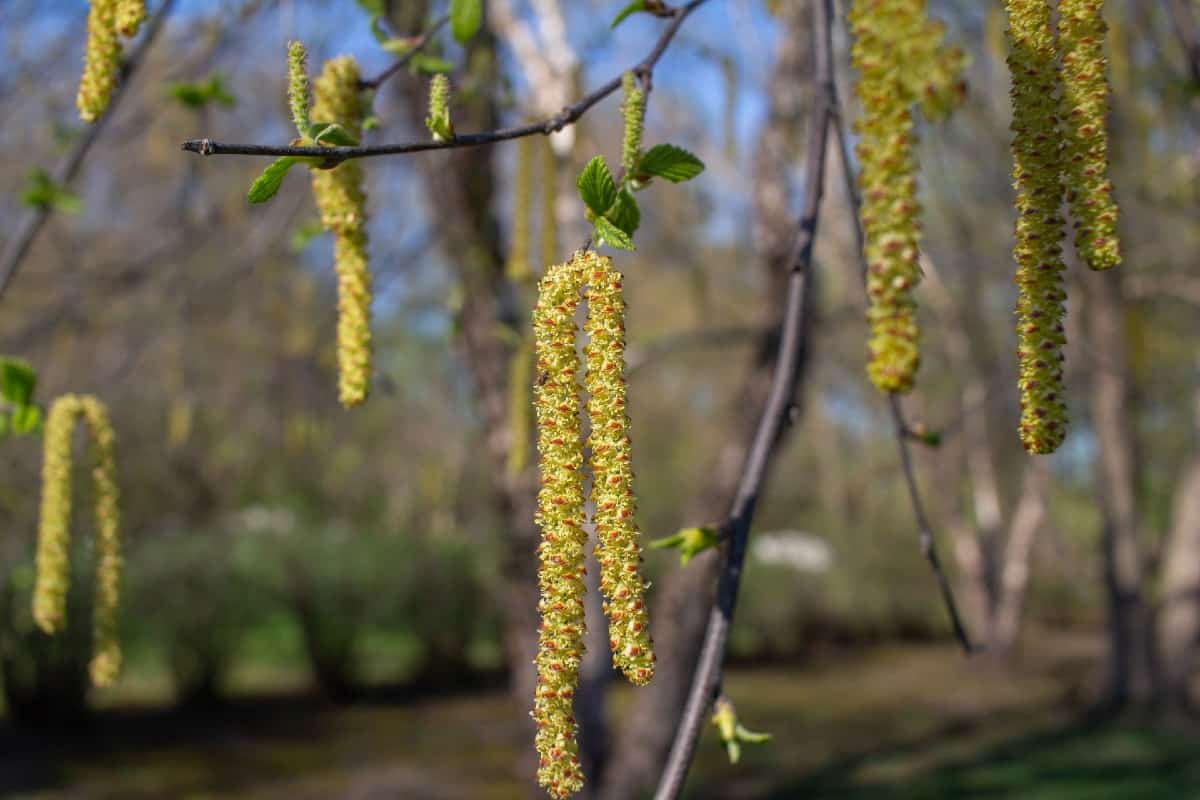 River birch trees are often found in the Midwest and the Southern United States. They grow wild along swamps and rivers and are incredibly heat-tolerant for being cold-weather trees.
River birch has pretty peeling bark that looks like paper in the winter, making them extremely popular shade trees.
River birch trees should get a deep watering every time the soil gets dry. They don't require extra fertilizer when planting but enjoy a three-inch thick layer around the base to protect the roots and retain moisture.
Japanese Zelkova (Zelkova serrata)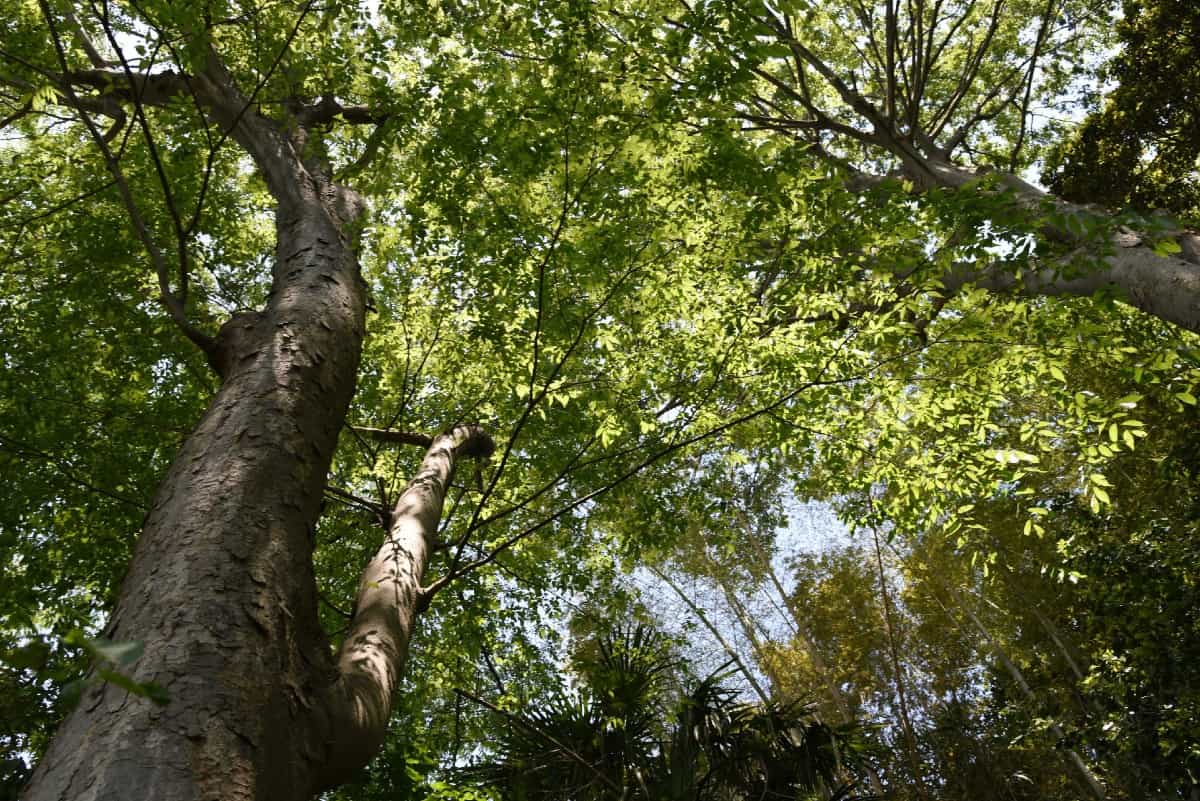 Japanese zelkova trees are ornamental shade trees that are easy to grow and cold hardy. This towering tree reaches 80 feet tall and wide and provides a wonderful display of color throughout the entire growing season.
They have long branches with bright green foliage in the summer and gold and rust-colored leaves in the fall. As the tree matures, the thick outer bark peels and exposes the inner orange-brown bark.
Japanese zelkova trees grow well in most average soils but thrive in loamy, moist soil. They are hardy in USDA zones five through eight and only require watering during the hot, dry summer.
Autumn Blaze Maple (Acer freemanii)- Colorful Shade Trees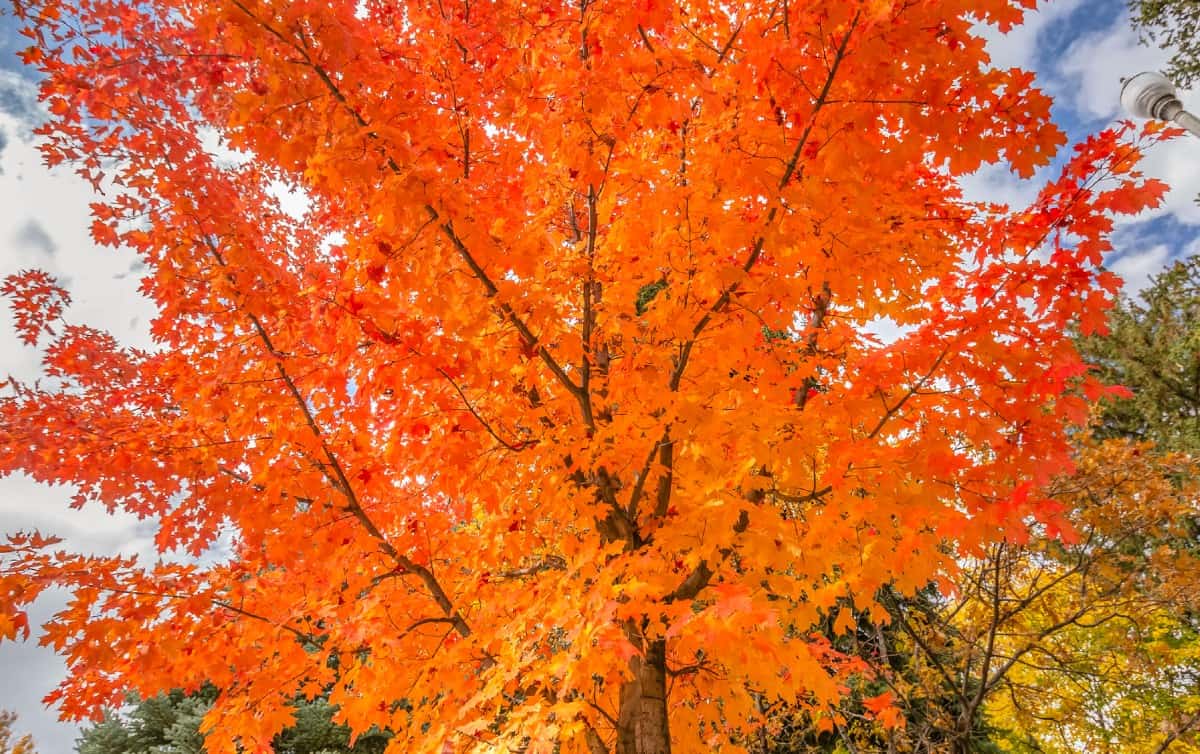 One of our favorite fast growing shade trees is the autumn blaze maple. These are similar to the commonly known silver maple with their lobed leaves and stunning fall color. These large trees reach a mature height of 50 feet tall and 40 feet wide.
They are also one of the fastest growing trees on this list. Autumn blaze maples have unforgettable red and orange fall color with thick, ridged bark.
Autumn blaze trees are hardy in zones three through eight and thrive in most of the United States. Plant these trees in the fall or spring, where they will get full sun. When planting, make sure the hole you dig is three to five times larger than the root ball.
Empress Tree (Paulownia tomentosa)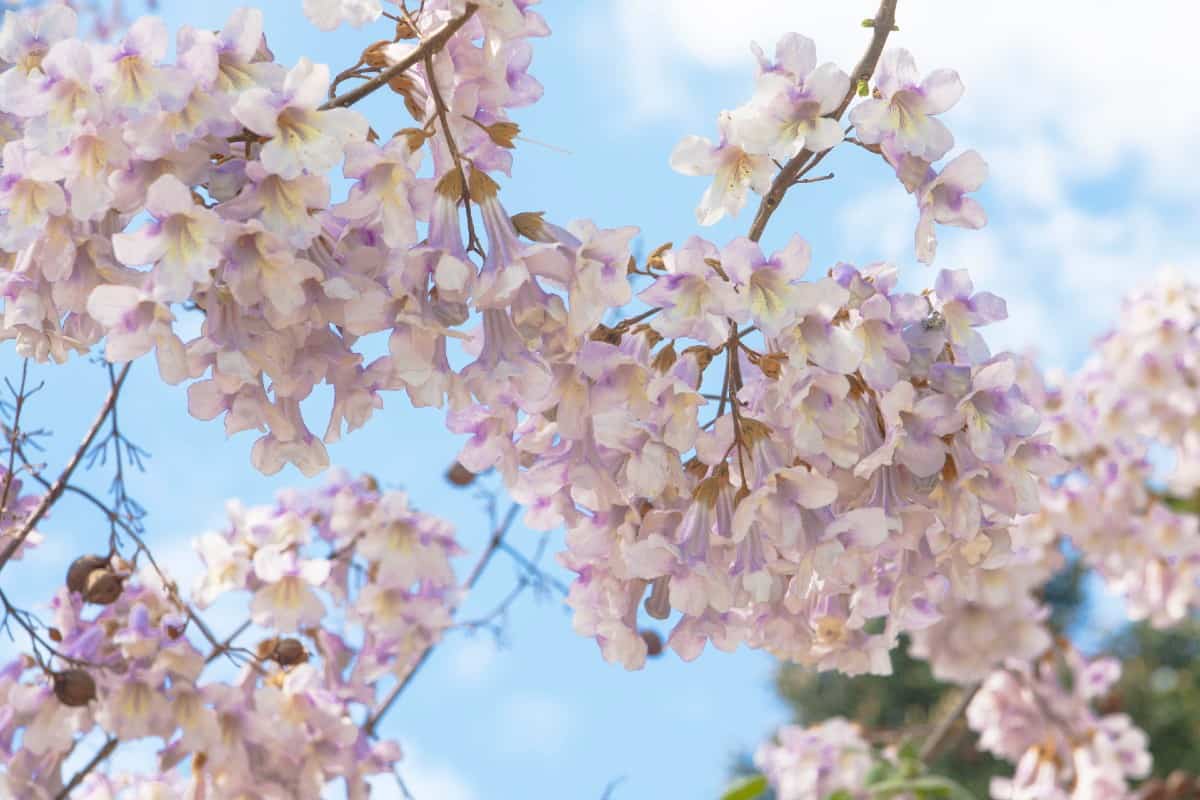 Many people don't know that with fast-growing trees, there comes a trade off in the form of weak branches or aggressive root systems. Empress trees are one of the few trees that are fast growers but minimal issues.
These flowering trees grow an incredible 15 feet each year until they reach a mature height of 40 feet. Empress trees do best when planted in an area of full sunlight.
They thrive in zones five through nine and distinguished by their fragrant pink flowers. Water empress trees once a week during the growing season and add organic mulch to the base to retain moisture in dry regions.
Pin Oak (Quercus palustris)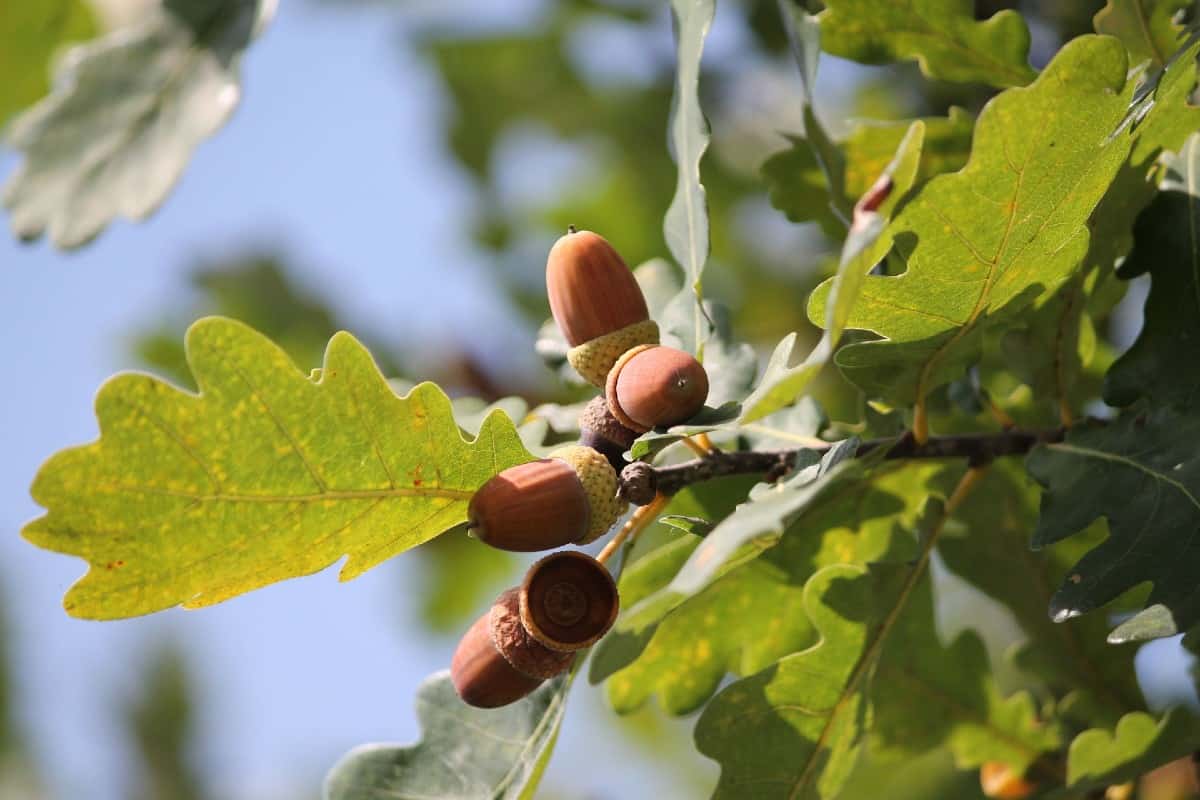 Oak trees like the pin oak are fast growing trees for shade that are native to the eastern United States. Not all oaks are fast growers like this one.
The pin oak is hardy in USDA zones four through eight. It grows up to two feet every year until it reaches around 80 feet tall. They also have red and bronze foliage similar to other oak trees during the fall months.
The pin oak tree tolerates wet soil as long as it is well-draining. These oaks do best when they have lots of sunshine and are a valuable food source for rabbits and squirrels.
Add some shade tolerant plants beneath your oaks for added interest.
Trees with Fast Growth Rates – Black Poplar (Populus nigra)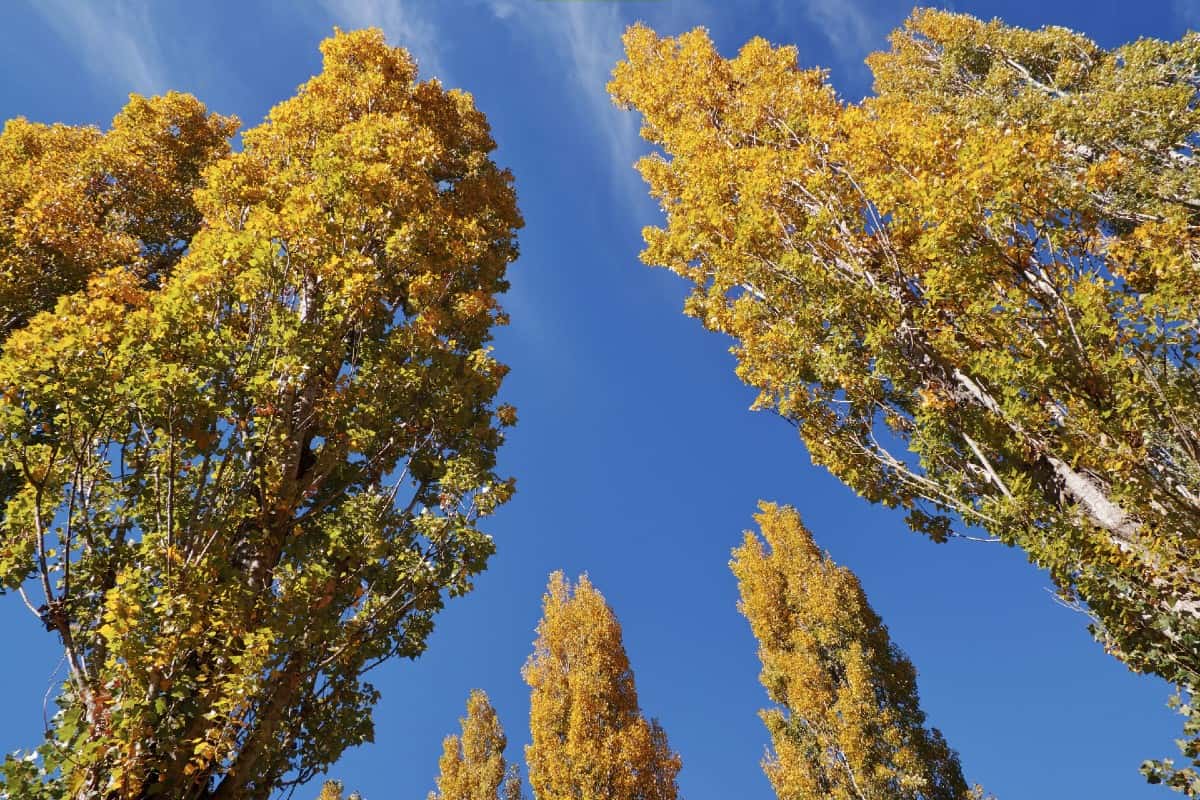 This hybrid poplar tree is native to Europe and central Asia but is one of the best fast growing shade trees to choose from. These trees are large, deciduous trees with diamond-shaped leaves.
They flower every February and March and are named after its dark, wrinkled bark. Plant black poplar trees in cool, moist soil.
They have far-reaching roots, so make sure that you don't plant them too close to a building or concrete slabs. For best results, find a location with sandy or loamy soil.
Weeping Willow (Salix babylonica)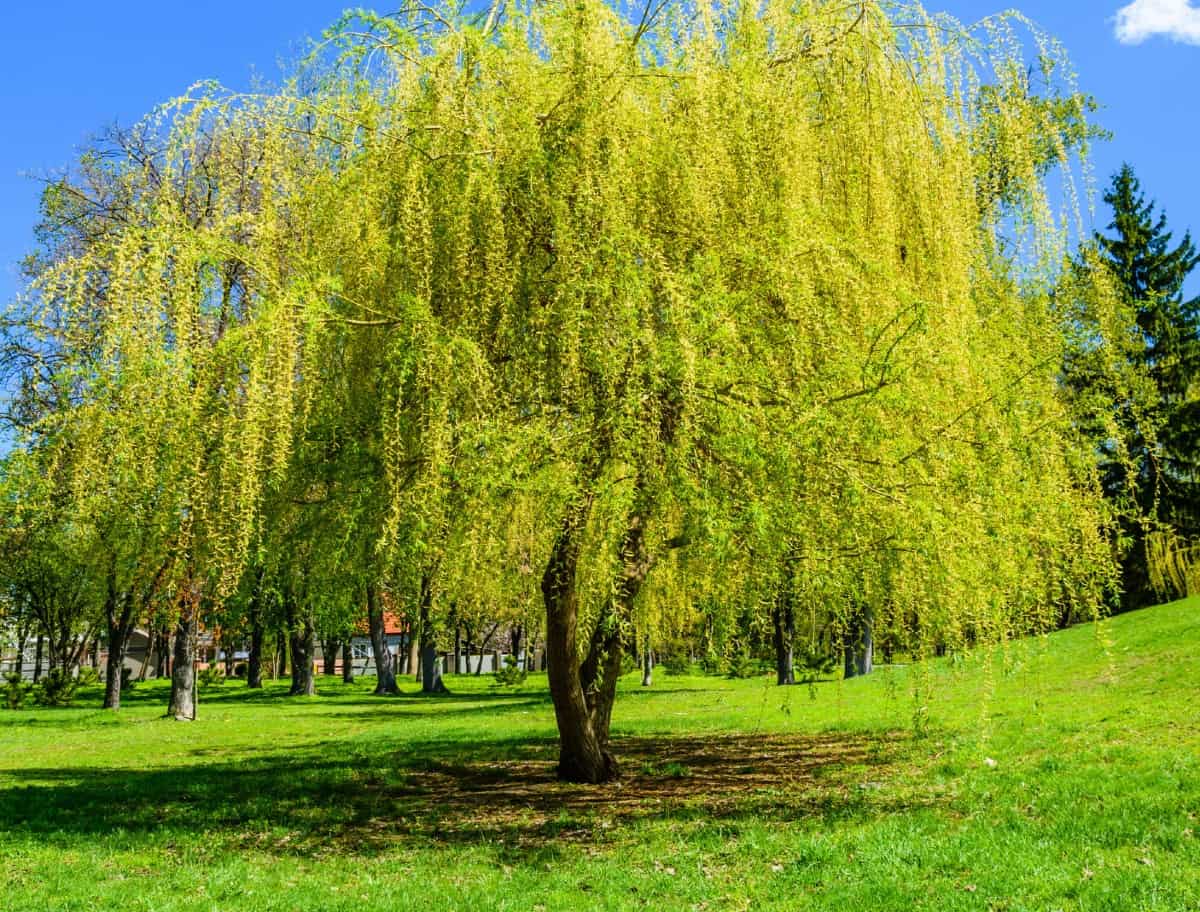 One of the most popular trees worldwide is the weeping willow. These trees are known for their gracefully arching branches and silver foliage that sways in the wind. These trees reach 50 feet tall and are hardy in USDA zones four through ten.
Yellow catkins appear in the late winter and early spring. When young, weeping willows grow ten feet per year but only have a lifespan of about 30 years.
Weeping willows are native to China but grow well in the United States as well. They prefer full sun and moist and slightly acidic soil. They shed a lot of twigs and leaves, so keep them away from areas that may receive damage from falling branches.
Dawn Redwood (Metasequoia glyptostroboides)
You've likely heard of the giant sequoias in California, but these tree cousins are better equipped for landscaping purposes. Dawn redwood trees are a green giant that towers over 100 feet tall.
They have a pyramidal shape that looks beautiful in public parks or lining the drive of large estates. The bark has deep grooves, and the leaves are feathery needles about a half inch long.
Dawn redwoods are happiest with lots of sunlight and loamy soil. They have a preferred pH level of 3.5 and are hardy in USDA zones four through eight. Apply a fertilizer rich in iron once every year to help it grow.
Large Trees that Grow Fast: American Sycamore (Platanus occidentalis)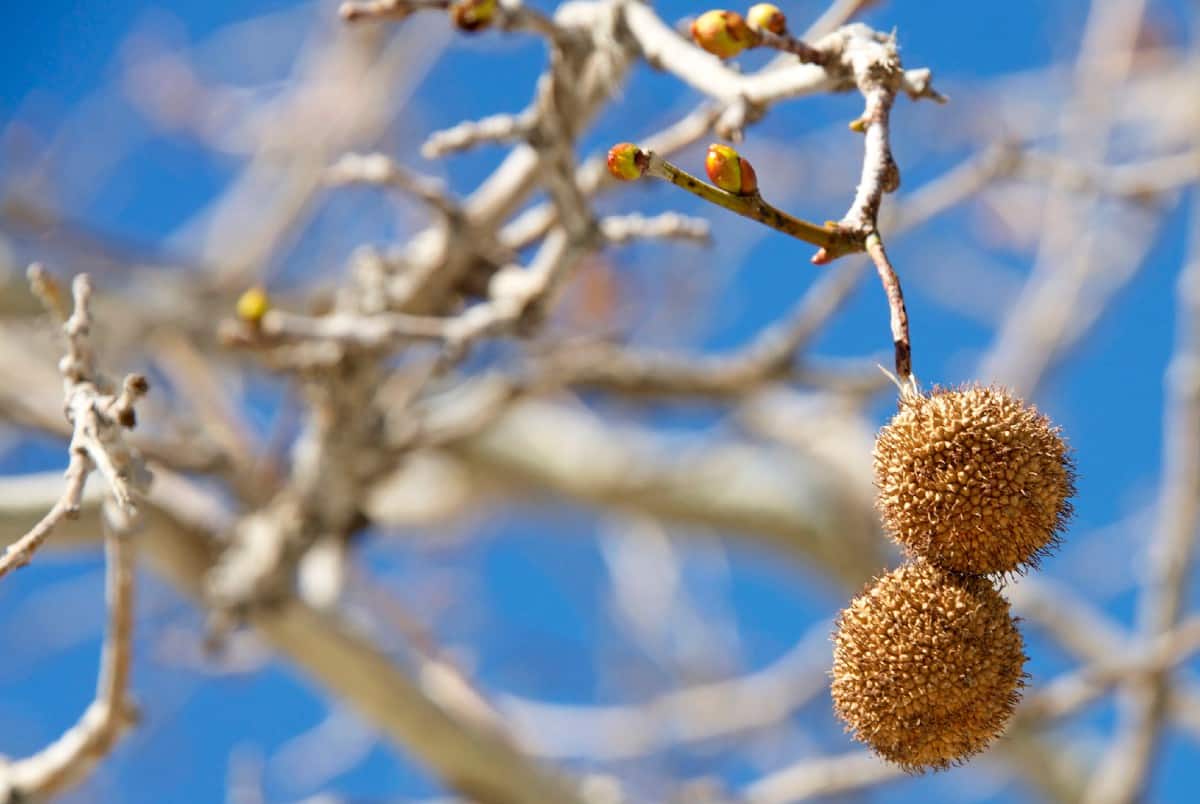 Sycamore trees are excellent shade trees for large landscapes. They have some of the most amazing-looking bark that resembles gray and brown camouflage. The outer bark also peels off in patches to give it even more interest.
American Sycamores grow around 75 to 100 feet tall and adapt to nearly all well-draining soil types.
They are easy to care for and only require fertilizer once every two years. After a few years of life, sycamores are drought tolerant. Give them a deep soaking once every month.
Eastern White Pine (Pinus strobus)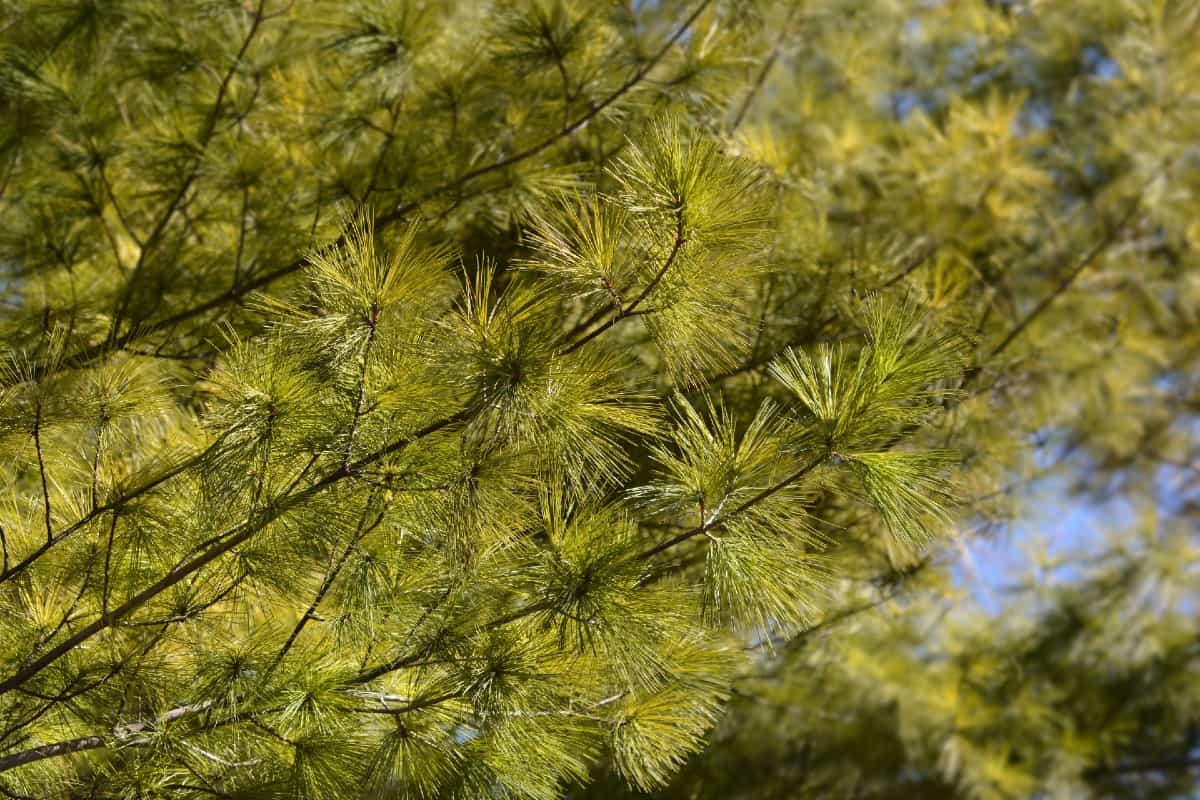 Eastern white pine trees are evergreen trees that have a rapid growth rate. These fastest growing pine trees have long, soft needles that are bluish-green and are found in growing zones three through eight.
They reach up to 80 feet tall and are perfect for adding shade and texture to landscaping. Eastern pine trees tolerate both full sun and partial shade.
They enjoy moist soil that has a pH level of 5.5 to 6.5. They prefer cool, humid weather and don't mind the addition of a high-acid fertilizer every year.
Red Maple (Acer Rubrum)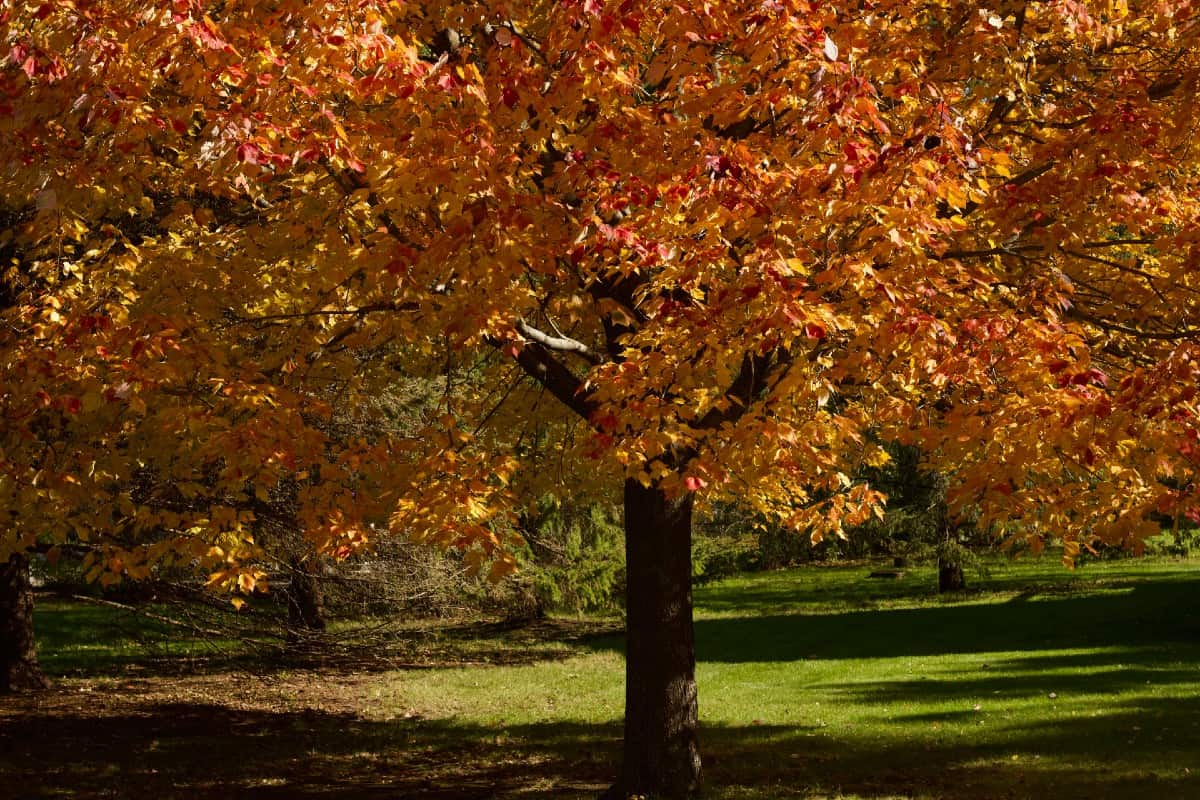 Red maple trees are well-known by most North Americans, and there are no better fast growing shade trees. They are named after their brilliant red foliage that makes an appearance every fall.
Red maples usually grow between 40 and 70 feet tall and spread 30 to 50 feet wide. They are hardy in USDA zones three through nine.
Before planting red maples, be aware that they have thick roots that grow near the soil's surface. Take caution when mowing around the base of these plants.
Finding the right location for them is ideal. Make sure they have plenty of space to spread and have a neutral soil pH.
Leyland Cypress (Cupressus leylandii) – Evergreen Shade Trees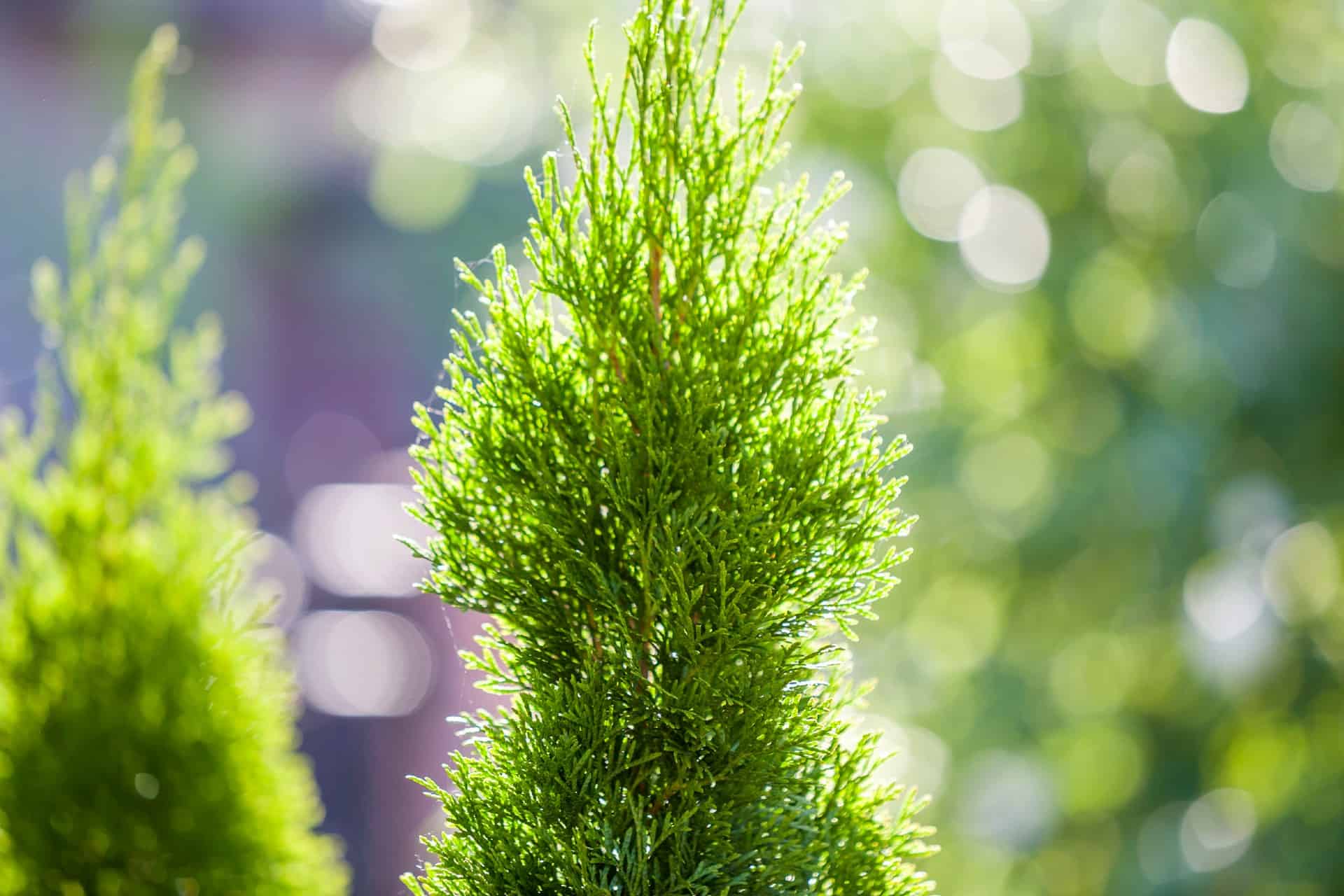 The Leyland cypress or bald cypress is another evergreen tree for shade. This tree has feathery foliage and ornamental bark that looks great in all landscapes. These fast growers have a growth rate of three feet every year and also work well as tall trees for backyard privacy. It's easy to form them into a hedge.
Leyland cypress trees require partial shade or full sun and fertile, well-draining soil. They don't like windy sites that may cause them to blow over. Avoid overwatering to prevent root rot and watch out for bagworms.
Use a Leyland cypress or two as trees for small yards as well as large ones.
Magnolia (Magnolia grandiflora)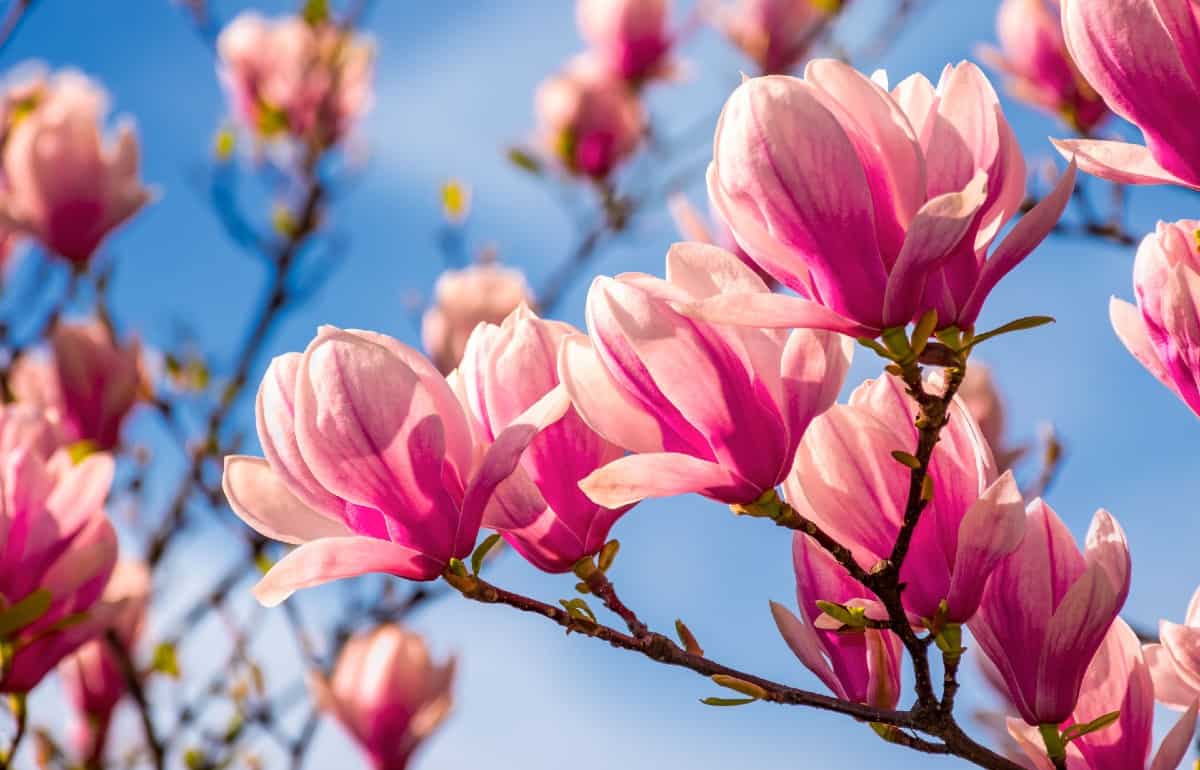 Magnolia trees are one of the most stunning on this list if you enjoy flowering trees. Magnolias have large, fragrant blossoms in white and pink every spring and summer.
Their dark green leaves contrast against the flowers, and some varieties display orange berries in the fall. Magnolias are native to Asia, and they reach 80 feet tall when mature.
Magnolia trees perform best in slightly acidic soil, but they also tolerate wet and soggy soil. Keep young trees well-watered, and water them less frequently as they age. Prune the trees yearly if you want to keep the size in check.
Trees can transform the way a yard or property looks. There are endless benefits to choosing the right tree for your home, and finding fast-growing trees is ideal for homeowners who want their dream lawn in a fraction of the time.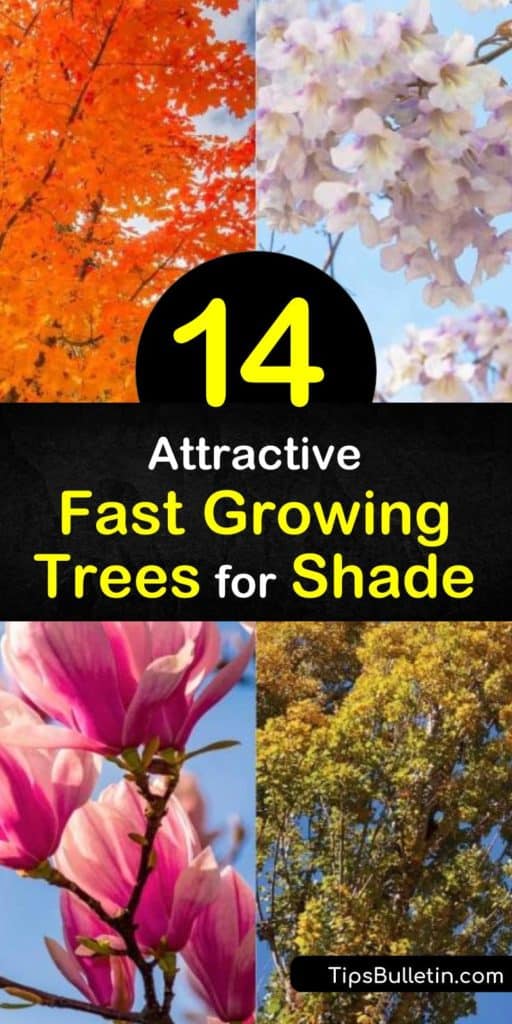 If you were impressed by these fast growing trees for shade, share these quick growing trees on Facebook and Pinterest.