Ants may not be particularly dangerous, but a horde of ants scurrying across your kitchen counter is no fun. However, there's no need to rush to buy Terro when it's easy to make a homemade ant trap. Attract ants with a sweet, greasy, or fatty food, and then kill them with a natural ant killer like Borax.
The format for natural ant traps varies. Some consist of a spread on a piece of cardboard, rather like you might imagine for a commercial ant trap. Others are a powder or even a liquid spray. The common denominator among these home remedies is that they're an easy way to attract and kill ants.
Try a couple of different approaches in case your household's pests prefer either sugar or protein. Also, when laying a DIY ant trap, make sure to mix a new batch of ingredients every day.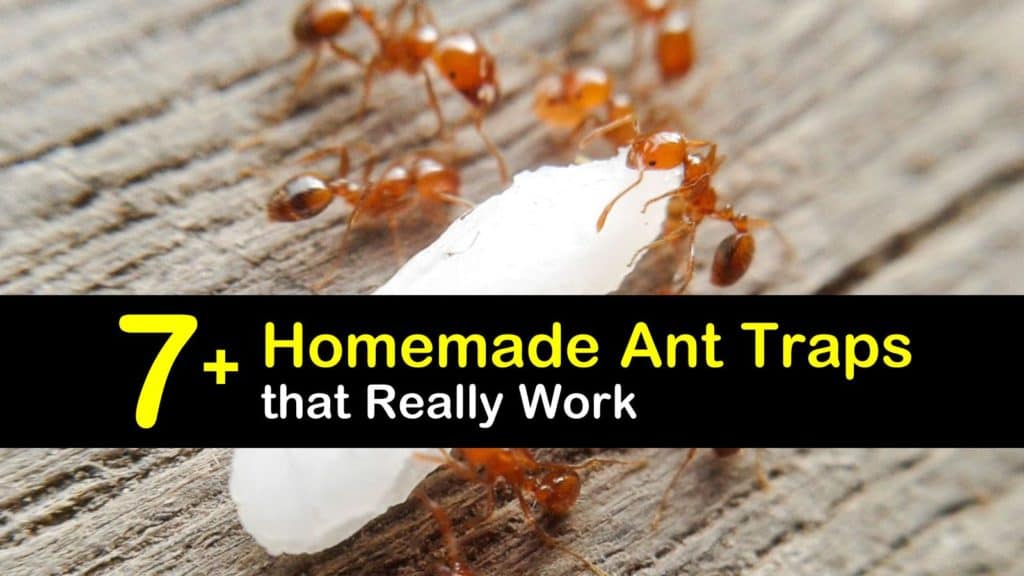 Making Ant Traps
How do ant traps work? Gather the necessary supplies, then prepare your chosen trap according to the steps outlined here and set it up along ant trails or at possible entry points. Wait for the ants to consume the toxin and carry it back to their nest.
Sugary Baking Soda or Borax Ant Trap
Make your homemade ant trap appealing to sugar ants by using powdered sugar, but mix the sugar with another white powder that's deadly for these pesky critters.
For option one, combine one part baking soda with two parts powdered sugar, then spread the homemade ant killer wherever you have an ant problem. This solution is a good bet if you're looking for pet safe ant traps.
Using Borax for ants is quite effective and eliminates the problem. To make a Borax ant trap, combine one part Borax with three parts powdered sugar.
Place the homemade ant bait in small containers and leave them by ant entry points. However, avoid using Borax if you have pets or young children.
Tempt and Kill Ants with Cornmeal
Ants are curious about cornmeal and will try eating it. However, they're unable to digest the yellow meal, meaning that they slowly die from lack of nourishment.
If you like, increase the killing power of this natural product by mixing it with boric acid, available at the pharmacy or the cleaning aisle of the grocery store.
Combine one part cornmeal with two parts boric acid. Leave the mixture lying out in a small plastic dish or jar lid for this simple form of pest control.
Variations on a Borax Ant Trap
It's possible to combine Borax, water, and sugar in a couple of different ways to make a DIY ant trap. The first option has you place the ingredients in an old plastic container. Trap carpenter ants that may have found their way inside or use it for any other ant that has become a nuisance.
Stir the ingredients in the container. Carefully poke holes in the lid with scissors or a knife. Place the trap wherever ants congregate. Alternatively, dip cotton balls in an ant killer solution.
Bring the cup of water to a boil. Remove the pot from the heat and stir in the Borax and cup of sugar. Once the granules dissolve, soak cotton balls in the mixture and place them on top of paper towel by ant entry points.
Yeasty Homemade Ant Trap
Attract little black ants with a sticky combination of sugar, yeast, and molasses. The molasses overpowers the scent of the ant killer, so the ants take the sweet stuff back to their nest, eventually killing their entire colony.
Combine the ingredients and spread the resulting paste on paper plates. Leave this easy DIY ant trap along ant trails.
Ant Traps Made of Fruit Spread or Honey
Sweet-toothed tiny ants head straight for the sugary spread without noticing the deadly Borax that is mixed in. Combine two tablespoons of Borax with your choice of jam, jelly, or honey to make a thick paste.
Spread the ant bait on a piece of paper and place it wherever you've noticed the little pests. If the ants enjoy the jam but don't seem to be feeling the effects of the ant killer, try increasing the quantity of Borax.
It's also possible to make a gnats trap out of honey, colored paper, and a popsicle stick. It's cheap and easy to use items from around the house to capture and kill pests.
Corn Syrup DIY Ant Trap
Similar to the previous tip, combine equal parts corn syrup and boric acid into a paste that is neither too liquidy nor too thick. Coat an index card or a piece of cardboard with the mixture. Lay the trap at possible ant entry points, such as a crack behind one of your countertops or windowsills.
It's necessary to replace these traps regularly since the corn syrup dries out. It's also best to pick another solution if you have pets since your pet might try to lick the syrup.
Try a Peanut Butter-Based Trap
The traps so far have targeted ants that enjoy sugary foods, but some types, such as pharaoh ants and fire ants, prefer foods rich in protein or grease. Try this peanut butter trap in addition to a sweet trap to attract all the types of ants that may be plaguing your house.
Combine the peanut butter and boric acid into a thick paste. Shove the ant killer into the straw then cut it into small pieces. Finally, place the straw segments along suspected ant trails.
If you don't feel like trying to force the paste into a straw, spread it on a paper plate or piece of paper. Lay these traps along ant trails as well.
Quick and Easy DIY Ant Spray
If you prefer a liquid format for ant bait or are targeting ants that are attracted to grease, this spray is an excellent option. The oil tempts the insects, while the dish soap reduces their resistance to water, causing them to drown.
Combine the ingredients, then pour them into a spray bottle. Squirt the mixture on the ants and anywhere they might be entering your house. Because this ant bait is a liquid, the pests won't carry it back to their nest, but it does kill individual ants.
How to Keep Ants Out of Your House
Once you've gotten rid of ants, the last thing that you want is another infestation. Other than giving your house a general clean to resolve issues like standing water and smelly trash containers, you can individually wash away ant trails.
Use white vinegar or soapy water, although you should leave part of the trails in place if you'd like ants to carry poisoned bait back to their nest. Consider employing an ant repellent as well.
You have several natural options, such as peppermint essential oil, cayenne pepper, or cinnamon. If you're tired of waiting around, bring the killer to the ants by sprinkling food grade diatomaceous earth (DE) around entry points.
DE kills insects by piercing their exoskeletons, causing them to dehydrate. However, it's safe to use around pets and small children. DE is a great way to get rid of fire ants, as is Cream of Wheat cereal.
Keep Ants out of Pet Food
If you notice ants around your pet food bowls, it's time to take action. Stop ants from getting into cat food or dog food by cleaning the area where the bowls are located with a vinegar and water mixture. Try to only feed your pet at certain times of day and ensure the bowls don't have food remaining in them.
What Borax Does to Ants and Humans
Borax, the central ingredient in many of our ant trap recipes, is a mineral used in some cleaning products. It slowly damages the ants' digestive system, leaving the pests time to carry the powder back to their nest.
It's an ideal component for a homemade ant trap. Although Borax is less toxic for humans than it is for ants, exposure to the product can still lead to skin irritation, severe nausea, or even hormone issues.
Ingesting even a small quantity of Borax is potentially fatal for young children. If you have pets or young children, try a different ant control method. Good examples include baking soda and powdered sugar, diatomaceous earth, or an oil and dish soap spray.
If you do make a Borax ant trap, make sure to wear gloves and to avoid getting the powder anywhere near your eyes, nose, or mouth.
If you spot ants gathering on your kitchen counter or scurrying across your floor, you now know several variations on the DIY ant trap. These are some of the best ant traps for kitchen and bathroom.
Choose to sprinkle a powder bait, mix a spray, or set up a trap on a paper plate, a piece of cardboard, a plastic container, a straw, or cotton balls.
You probably already have most of the ingredients to make an easy and useful homemade ant trap. If necessary, buy Borax at a grocery store or big-box store. Send the pests the message to stick to their ant hills and leave your home alone.
Recipe for a Homemade Ant Trap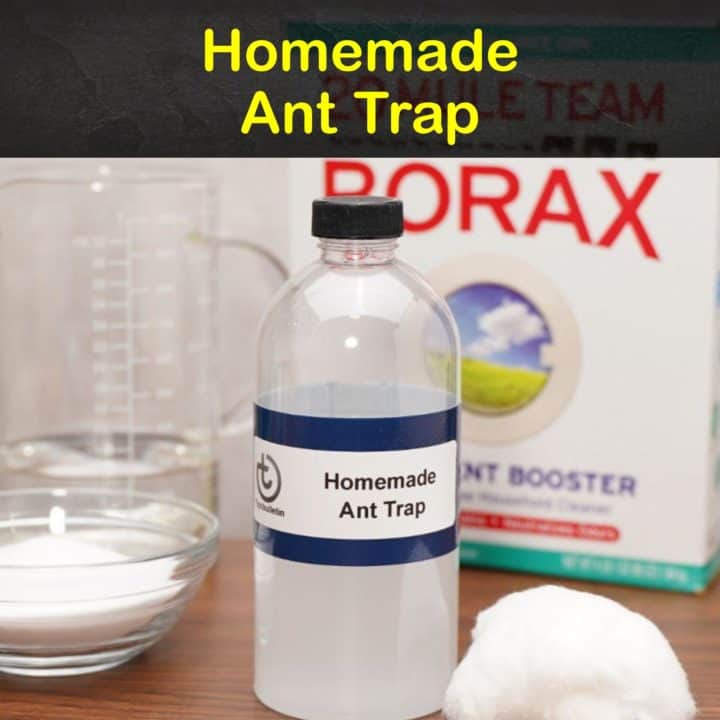 Homemade Ant Trap
A simple remedy for a big problem.
Materials
8 ounces of water
8 ounces white sugar
3 tablespoons Borax
Tools
Saucepan
Tablespoon
Measuring cup
Jar
Cotton balls
Instructions
Pour the water into the pan and heat until boiling.
Take the pot off the burner and add sugar and Borax.
Stir well until combined.
Let the mixture cool to room temperature.
Add the ant killer to the jar.
Dip cotton balls in the end of the jar to saturate them. Squeeze out excess liquid.
Place the cotton balls where ants are a problem.
Notes
Borax is not safe around children and pets.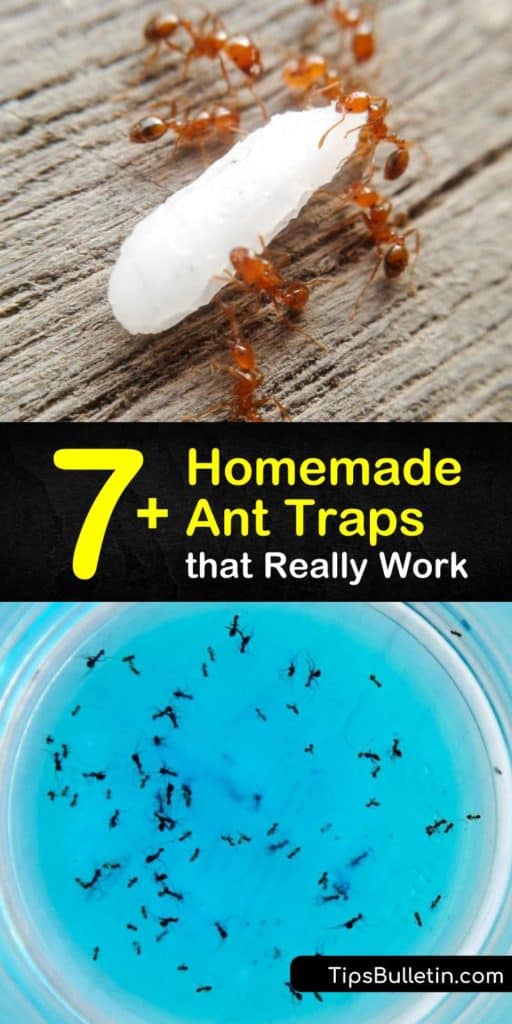 If you liked our recipes for homemade ant traps, please share these ant control tips with your friends on Pinterest and Facebook.