Do you want to discover how to implement pest control tactics in your home, especially when it comes to ants? Do you want to use something other than an ant trap to get rid of the ants roaming around? Do you want to get rid of that entire colony sneaking around in the corner of your kitchen?
Are you wondering if there's an excellent homemade ant killer recipe that can get rid of ants in your home? Ants that roam around ant hills don't bother us; in fact, ants don't bother us until they've entered our house.
We understand how desperate you are to get rid of the ants once they enter. That's why we're going to show you some homemade ant killer recipes and fill you in on some much-needed tips.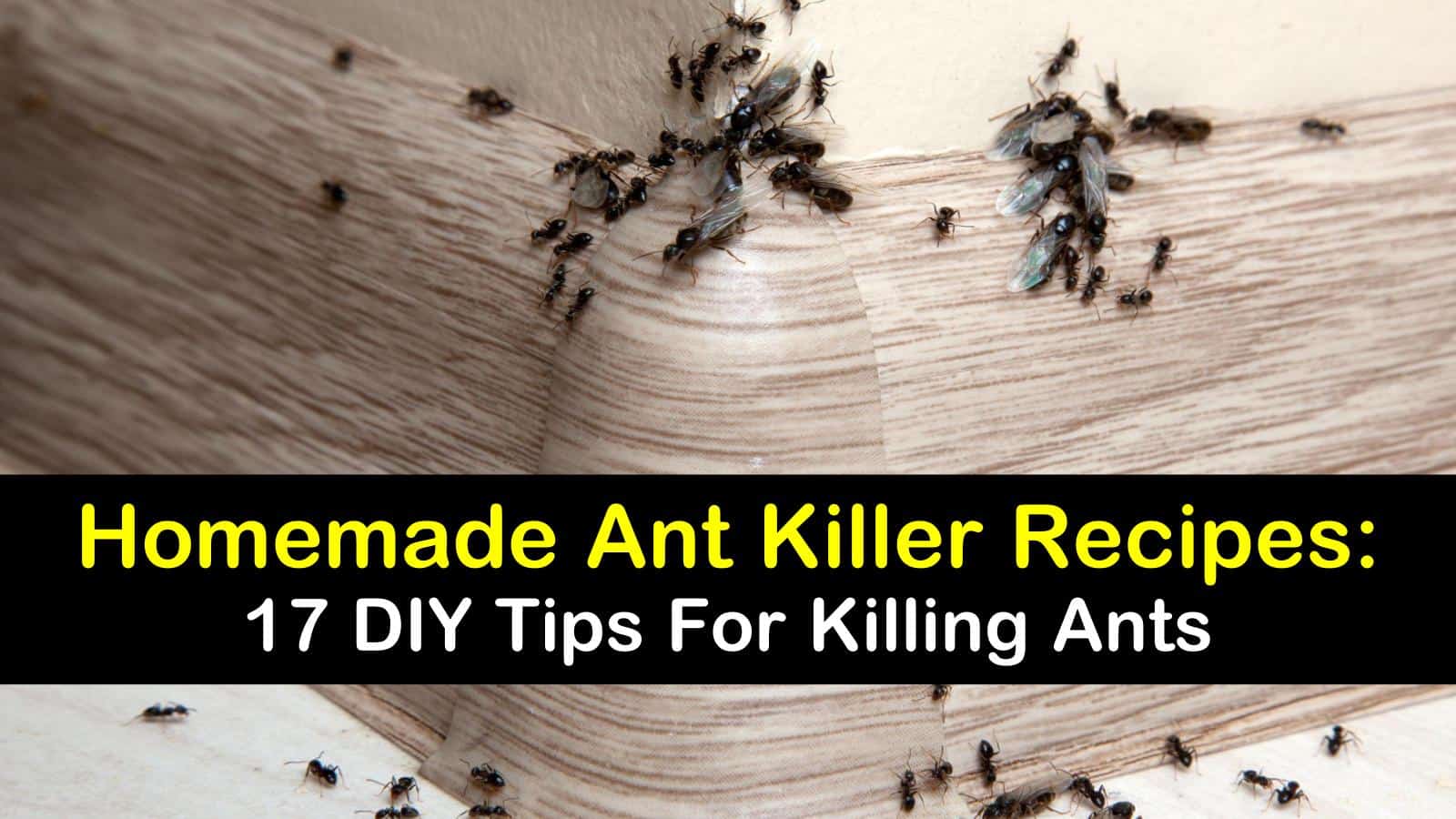 While you learn the best DIY ant killer recipes and tips, you'll also learn what it takes to kill each kind of ant. For instance, we'll cover how to kill new ants, sugar ants, black ants, fire ants, carpenter ants, and much more.
DIY Ant Killer Solutions
Although most ants in the home are merely annoying, we still don't want them there. They belong outside. Getting rid of sugar ants or other ants in the house is not complicated and there are several recipes you can use to banish them for good. Check out these easy recipes.
Getting Rid of Odorous House Ants
Odorous ants will always follow the sweets. If you have forgotten food lying around the house, odorous ants are likely to find their way to it. Once these ants are on the move, they'll start to leave a chemical pheromone trail.
Other ants will likely pick up on this trail to find the same sweets, resulting in a significant ant problem. You'll probably have to kill all of them using different ant remedies, for instance, a DIY ant killer recipe.
To get rid of ants in the house, sponge them and the areas surrounding them with soapy water to get rid of the trail they leave. Then, find the food or sweet treat they've seen and get rid of it.
How to Make Homemade Ant Bait
Homemade ant bait works well with getting rid of odorous house ants in a new house or an old house. The recipe will likely encourage the ants to bring the mixture back to their colony where they will share it with others. They'll die from ingesting the homemade ant killer product.
To get rid of small ants indoors, mix Borax with powdered sugar. Fill small containers with the solution and put it near all entry points. Try a different way if you have little ones or pets roaming around the house as this mixture can be harmful to them.
To get rid of black ants in the house, mix the warm water with the sugar to create a sugar water solution. Then, add the Borax. Soak up the mixture with cotton balls and place them in small dishes near the ants' entry points to deter them and keep them from getting inside.
Getting Rid of Carpenter Ants
Carpenter ants like to live inside wood, hence the name. Chances are, if you have these ants in your home, you'll start to see little bits of sawdust lying around. Don't worry, though, as they're not present in all wood and they don't bite; carpenter ants prey on moist wood.
For instance, these ants will live in your deck after a rainstorm. If you have carpenter ants, use diatomaceous earth as a natural ant killer. It's 100% organic and natural, yet lethal for ants as a homemade ant killer. The substance works by drying the ants out and killing them over time.
You can use different types of DE as a natural carpenter ant killer, but the one you'll need to get rid of the ants is the food grade variety. Be sure to get the solution into the wood cracks where the ant colonies are living.
Spraying Carpenter Ants Away
Diatomaceous earth powder is a phenomenal ant killer. Mix the powder with other ingredients to develop a lethal DIY ant killer recipe. It'll work so well you won't have to resort to commercial products like Terro.
Mix the two ingredients. Put the solution in a spray bottle. Spray it into the holes and cracks and reapply the solution after it rains.
Homemade Ant Spray using Handy Kitchen Ingredients
All-natural ant sprays are great to keep around considering they are not harmful. Plus, ingredients are affordable.
How to get rid of ants naturally starts by mixing equal parts water and vinegar, stir the solution, and putting it in a spray bottle. Shake well, spray wherever you spot ants, and wipe residue with paper towels.
Cheap DIY Ant Killing Trick
If you're on a low budget, this tip will save your house from ant infestation.
Mix equal parts dish soap and water together. If you have a little bit of dish soap left in your current bottle, add some water, shake it up, and pour it on the ants. Give it a few minutes and wipe away.
Killing Ants with Essential Oils
An essential oil-based recipe will help with both tiny and difficult ants. Head on over to your essential oil stash and see what you have. If you find clove essential oil, tea tree essential oil, or peppermint essential oil, grab it.
Place the selected oil in water and shake. Mix equal parts vinegar and water, then add oil in water and shake. Either solution will work. Get a spray bottle, put the solution in it, and spray wherever the ants are.
Natural Ant Killing Trap
If you don't have time to spray the ants away and clean afterward, lean on traps to do the work for you.
Mix ingredients together. Put the solution in a container and poke holes in the lid. Keep in mind; this solution can be harmful to pets; keep it out of reach.
Cotton Ball All-Natural Killing Ant Trap
There's another way to kill ants using a similar method to the Natural Ant Killing Trap listed above.
Bring one cup of water to a boil. Then, remove the water from the heat and add sugar and Borax. Stir the solution until it's completely dissolved and soak cotton balls in the liquid.
As a warning, the cotton balls will be wet and sticky. Place a paper towel under the cotton balls to avoid a messy cleanup.
Killing Ants with Borax and Syrup
Grab some index cards or cardboard before you get started with this recipe.
Add equal parts corn syrup and boric acid in a bowl. Mix until you have a paste-like substance; the result should not be too liquid-like or too thick. Spread the mixture over the index card or piece of cardboard.
Place them at entry points and remember to change the cards or boards out when the syrup dries. This option is not suggested if you own pets, as the pets may want to lick the cards or boards.
Peanut Butter-Based Ant Killing Traps
Some ants don't like sugary treats. Instead, they'll go for protein or grease-based products lying around your house. If you want to catch all the ants, set up both a sticky trap and a protein trap.
Mix the two ingredients. Grab a straw and force the mixture into the straw until it's full. Cut the straw into little pieces and place them around the areas you suspect the ants are roaming.
Using Cornmeal to Help Get Rid of Ants
Try cornmeal to get rid of ants. They will go for it to see how it tastes. Most ants will even bring it back home for the whole colony to try. In the end, the cornmeal will kill most of the ants. This is also a great solution for ant hills in the yard.
Mix cornmeal with boric acid and place the paste-like substance in a plastic dish. The dish should be small enough for the ants to climb over and get in.
Baking Soda & Sugar to Kill Ants
There's a solution that can stop the ants from coming into the home in the first place.
Mix powdered sugar with baking soda. The powdered sugar will act as bait, and the baking soda will kill the ants. You may also want to keep an eye on the solution whenever pets or kids are around.
Products Ants Do Not Like
Sprinkle cinnamon around entry points. Be careful of where you put the substance, as it can lead to staining. Certain ants can't stand baby powder.
Put a thin layer of baby powder in areas you suspect the ants could enter your home. Use Vaseline at entry points. Be aware that this substance is sticky and a little bit pasty.
The Cream of Wheat Solution
Not all ant killing solutions and ant sprays are a mixture of several ingredients. Cream of Wheat will often do the trick. Sprinkle this around ant mounds as a fire ant killer or at points of entry in your house and watch the ants eat it up.
The cereal will taste delicious, but in time, it will cause lethal side effects for the ants. The cereal will expand in the ants' stomachs and kill them. It's a cheap and easy way to get rid of those little pests. And, it's okay to have around pets and kids.
Tips to Bait Your Ants
There are a few aspects of ant baiting you should be aware of before setting up traps or mixing recipes. When laying out traps, be sure to set a fresh one each day. Re-mix a new recipe every day for best results at killing the ants.
Also, don't wash away the ants' trails thoroughly. Instead, leave a little behind so that other ants can follow the path. Try to note if sugar recipes or protein recipes are working. Stick to the one that seems to kill the most ants.
Similar Home Remedies to Get Rid of Roaches
Roach-killing recipes are like ant-killing recipes. Most of them have the same ingredients.
Though this home remedy to get rid of roaches isn't lethal at first, it does get the job done. This is the most common recipe used, especially when pets and kids are around the house.
The ideas provided in this article will help you get rid of your household ant problem in no-time. Make a perfect DIY ant killer using ingredients from around the house.
Recipe for Homemade Ant Killer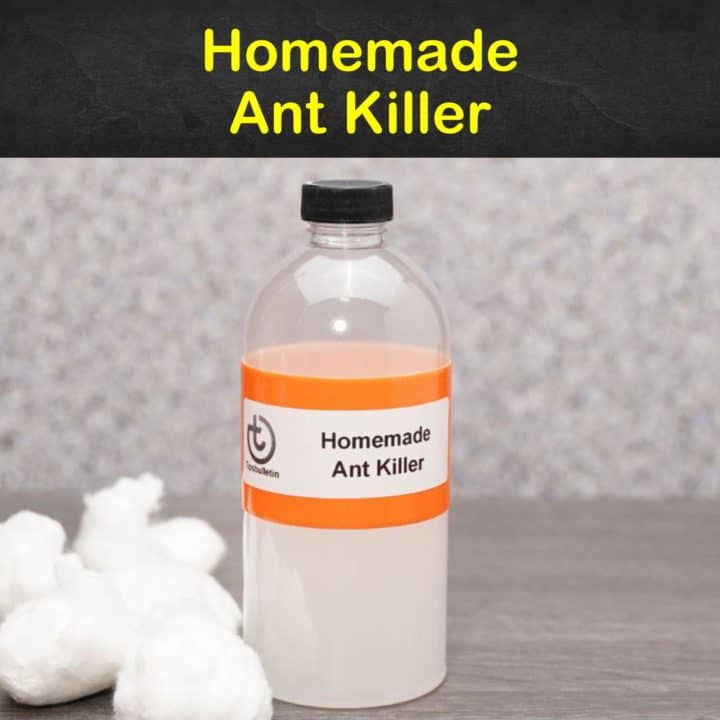 Homemade Ant Killer
Simple ingredients for effective ant bait.
Materials
3 tbsp Mule Team Borax
4 ounces white sugar
8 ounces water
Tools
Jar
Measuring cup
Several cotton balls
Tablespoon
Instructions
Combine the Borax, water, and sugar in the jar with the spoon.
Make sure everything dissolves.
Dip cotton into the mixture and squeeze out excess liquid.
Place cotton balls in areas where ants congregate.
Notes
Borax is unsafe for small children and pets.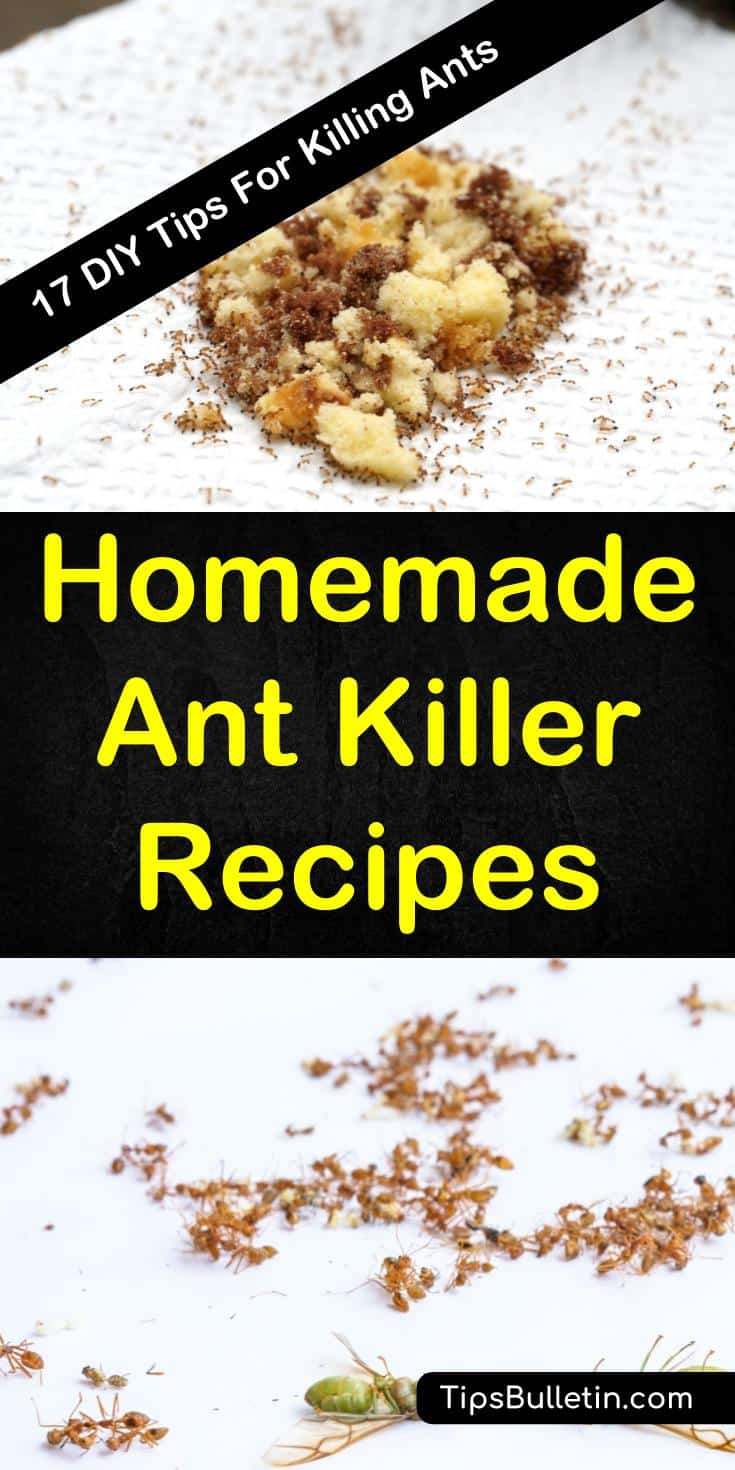 If you like our homemade ant killer recipes and tips, please share them on Facebook or Pinterest with your friends and family.