Basil is relatively effortless to grow, provided it is not overwatered, and its nutritional demands are met. Creating homemade fertilizer for basil ensures your plants grow well. Fertilizers are substances given to the soil to increase the soil's nutrient content and promote your basil plants' maximum growth and health. Many organic basil plant fertilizer choices are available, and liquid and granular fertilizers are easily manufactured.
Whether growing basil indoors or outside, fertilization is critical to cultivating a successful harvest. Homemade fertilizers, including coffee grinds, eggshell powder, or manure tea, are typically less expensive than synthetic fertilizers from a garden store. Gardeners who understand how to fertilize basil with homemade blends can relax knowing what items are going into their garden or home.
Learn to use DIY plant food solutions to nurture your basil plants throughout the growing season and avoid the worry about handling harmful or deadly chemicals, costs, or the availability of store-bought materials.
Organic Basil Plant Fertilizer to Make at Home
Crafting your own homemade fertilizer for basil is straightforward and budget-friendly. Many household wastes or everyday items make incredible organic basil plant fertilizer to support your plants as they achieve maximum growth.
Whether growing basil indoors or in the garden, fertilizing is paramount to ensure your basil crop stays healthy, has good disease and pest resistance, and produces a high yield of delicious fresh basil.
Fertilizer plants reach a larger size and maintain better health throughout the growing season than unfertilized plants. Skip expensive chemical fertilizers and make your own fertilizer for Thai basil and sweet basil with these clever home remedies.
How to Fertilize Basil Plants
Ocimum basilicum, also known as basil or the Tulsi plant, is a fresh herb grown in potting soil indoors or in the garden. Whatever basil you grow, it's crucial to keep the soil moist and fertilize as required.
Make a DIY fertilizer for basil to guarantee your plants stay healthy and produce lots of leaves.
Compost is a Homemade Fertilizer for Basil
Compost is made by breaking down unused organic matter into organic fertilizer to enrich garden or potting soil before you plant basil seed or during the growing season.
Compost provides a wide range of nutrients and improves the soil structure, so when you harvest basil, your crops are tastier and larger. Mix compost into the planting hole or earth as a soil amendment or make compost tea as liquid fertilizer.
Combine water and compost in the bucket and give the compost ten days to break down, so the ingredients merge. Strain and distribute the mixture with a sprayer on your basil beds. The tea keeps pests away from your basil while enhancing the soil's nutritional content.
Try Eggshells for Fertilizing Basil
Eggshells are a brilliant source of organic fertilizer to use before harvesting basil, guaranteeing high-quality herbs. Dry eggshells in the oven on low and crumble them into a powder.
When worked into the soil, the shell powder enriches it with calcium, and slugs and snails are discouraged from feeding on your basil plants. Planting and feeding basil plants in summer with egg shells enriches the soil for maximum growth. Add the egg shells before watering each plant for the most effective fertilizing so the nutrients are carried to the basil roots.
Alternatively, make eggshell tea for straightforward application as liquid fertilizer.
Add the eggshells to the pot and fill with water until covered. Cook on medium heat until boiling; take off the heat and steep the eggshells overnight. Strain the liquid into the sprayer and use it in place of regular watering to nourish basil.
Epsom Salt is the Best Fertilizer for Basil Plants
Due to the high quantities of sulfur and magnesium in Epsom salt, it is frequently used to treat aches and pains. Basil plants get a wealth of nutrients from it, making it a valuable tool when you grow basil.
Epsom salts are one of the most widely accessible homemade fertilizers for basil. It does not collect in the garden soil or harm the earth's quality. Epsom salts can be sprinkled directly on the soil as granular fertilizer or mixed into simple liquid fertilizer.
Mix the ingredients and apply them to your plants. Epsom salt fertilizer increases the size of the basil leaf. It helps start basil seeds to ensure they mature into healthy basil seedlings.
Coffee Grounds are a Natural Basil Fertilizer
Coffee grounds provide several benefits for your basil plant, so don't throw them out. There is a lot of nitrogen in coffee grinds. Other crucial minerals, such as magnesium, calcium, and potassium, are also present. If you make coffee daily, you can make a natural herb food made from ingredients at home for your basil.
Put them in the compost pile with food scraps and leaf litter to make coffee ground fertilizer, or directly sprinkle coffee grounds onto the ground in your garden around your basil plants. Sprinkle the coffee grounds on top, leave them, or scratch them into the upper few inches of soil.
Coffee grinds release nitrogen in trace amounts, particularly when it rains or you water. Do not use excessive coffee grinds or allow them to accumulate. Make a liquid fertilizer by soaking coffee or tea grounds in water overnight. Coffee grounds are a great herb fertilizer that is also ideal for a tomato plant.
Learning how to fertilize basil is essential to ensure your plants reach their largest size and produce the best herbs. Many waste and household items make excellent basil plant food and save you money purchasing commercial fertilizer.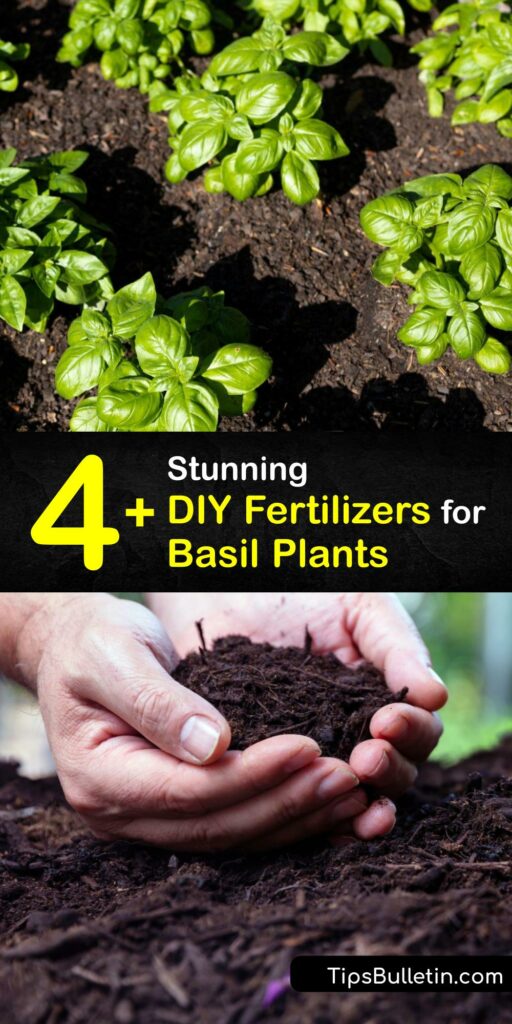 If you liked this article on using homemade fertilizer for basil, please share these brilliant tips on how to fertilize basil with your friends and family on Pinterest and Facebook.