Knowing how to craft homemade fertilizer for bell peppers is a great strategy to ensure healthy plants if you want to grow a bountiful harvest of delicious peppers this year. The key to growing robust, vigorous plants that provide a large crop of peppers is to give them the power and energy they require.
Pepper plants are heavy soil feeders, much like tomato plants. They require an ongoing flow of energy to grow sturdy roots and robust leaves, and when it's time to start producing blossoms and fruit, they need even more. Organic bell pepper plant fertilizer is vital whether you enjoy growing sweet pepper plants, green peppers, or the hottest pepper variety you can find.
A pepper plant's health and yield suffer if it doesn't receive the energy it needs; that is where fertilization helps. Unfortunately, pepper plants frequently run out of accessible nutrients even when grown in the richest soil. Explore how to fertilize bell peppers for your biggest crop ever.
DIY Organic Bell Pepper Plant Fertilizer
Even if you have the best soil mix, it pays to understand how to create a natural fertilizer for pepper plants and tomatoes. All pepper varieties have a considerable nutrient demand, from a chilli pepper plant to hot peppers.
These heavy feeders quickly deplete available resources from the soil and require additional feeding. Find out how to fertilize bell peppers and other varieties to keep your pepper plants thriving and productive.
Homemade Fertilizer for Bell Peppers
Fertilizer provides a pepper plant with the nutrient profile necessary for plant growth. Whether you're starting pepper seed, raising pepper seedlings, or approaching your first time to harvest bell peppers, it's wise to understand how to fertilize them.
The key to success is feeding your pepper plants with the proper fertilizer at the appropriate time. Too much energy given too soon may result in excessive growth of foliage. When peppers acquire excessive nutrients at once, they focus all that energy on expanding. Unfortunately, this sacrifices fresh fruit and blossoms.
On the other side, insufficient energy results in weak plants that lack the strength necessary to produce flowers or fully developed fruit. It all boils down to giving your pepper plants quality fertilizer at regular intervals but in lesser dosages.
The Best Fertilizer for Bell Pepper Plants
Manure tea is the perfect organic fertilizer for growing bell peppers or a tomato plant. Fertilize pepper plants by blending cow, horse, or poultry manure into an easy-to-apply liquid fertilizer.
Work outside to prepare a dung tea with water and well-aged manure – the tea smells unpleasant due to the manure's organic content. This recipe is perfect for gardeners who are producing organic bell peppers.
Put the manure and water into a large garden bucket and leave them for ten days. This waiting period allows the waste to disintegrate and dissolve entirely into the liquid. Stir the manure tea and pour it into a garden sprayer. Shake well before applying it to your bell pepper beds.
The tea shields your pepper plants from pests while enhancing the soil's nutritious value. Manure tea promotes the development of pepper plants and the growth of larger and more plentiful pepper crops throughout the growing season.
Compost Tea is Natural Bell Pepper Fertilizer
Composting makes all the nutrients in organic waste available for plant use. Compost is made from organic materials like kitchen scraps and grass clippings and is fantastic for fertilizing peppers. You have bell pepper fertilizer on hand if you grow pepper plants and already have a compost pile.
Bell peppers benefit from the nitrogen, phosphorus, and potassium-rich organic fertilizer called finished compost. Compost is a popular fertilizer and soil additive among farmers since it is free and reduces food waste.
It's a terrific idea to create a compost heap or to add yard waste to the compost bin when cleaning up outside or in the garden.
Besides food scraps from your kitchen, such as leftover fruits, vegetables, eggshells, and other organic material, you can compost your yard's leaf litter, grass clippings, and rotting branches. Composting decreases food waste while also making your peppers bigger.
Make DIY Fertilizer for Bell Peppers With Epsom Salt
Epsom salt is most commonly associated with sore muscles and bath soaks; however it makes a brilliant bell pepper plant food. Unscented Epsom salt may be used as granular fertilizer or liquid fertilizer for planting peppers and growing peppers.
Epsom salt is made up of tiny magnesium sulfate crystals. Apply Epsom salt as granular vegetable food by sprinkling it around the bases of your pepper plants and watering it in deeply, or blend it into a liquid fertilizer with water.
Shake the salt in the warm water to combine and spray directly onto the leaves of your pepper plants. Using Epsom salts to help bell pepper plants grow in a foliar spray delivers nutrients directly to the leaf tissue for a quick injection of helpful substances.
How to Fertilize Bell Peppers with Commercial Products
If you prefer fertilizing bell peppers with chemical fertilizer, head to your neighborhood gardening store. Consider the best type of fertilizer for your hot pepper or bell pepper plant and if it's important to find an organic product or if you feel comfortable using Miracle Grow.
Choose a synthetic herb fertilizer or a natural phosphorus for pepper plants and tomatoes. Read and follow the fertilizer manufacturer's directions carefully for the best outcome.
Like tomato plants, bell and hot peppers grow best with nutritional support. Use organic bell pepper plant fertilizer in your garden to protect plant health and provide disease resistance. Give them everything they need to produce a colossal harvest of delicious, succulent peppers.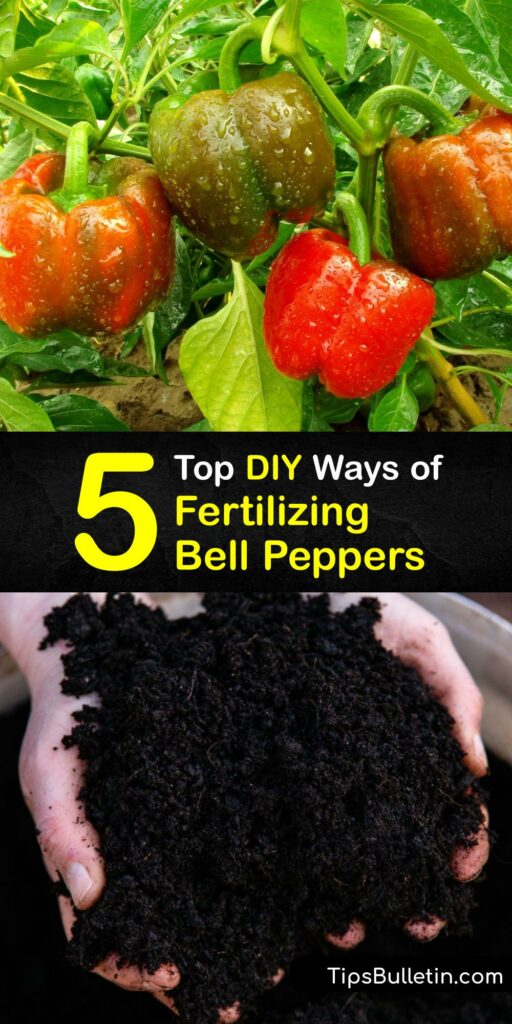 If you loved this article on crafting homemade fertilizer for bell peppers, please share these fantastic tips on how to fertilize bell peppers with your green-thumbed friends and close family on Pinterest and Facebook.