Growing tomatoes at home is incredibly rewarding and simple.
I collect kitchen scraps like banana peels and coffee grounds.
I save and crush eggshells from my kitchen.
I gather grass clippings after mowing my lawn.
I use Epsom salt for essential magnesium.
I make liquid fertilizer from weeds like dandelions.
To make my tomato fertilizer, I start by gathering banana peels; they're rich in potassium and make an excellent addition to the soil. Next, I save my used coffee grounds, which are a fantastic nitrogen source and help with soil acidity. I always make sure to rinse and crush the eggshells from my kitchen, as they provide calcium, which helps prevent blossom end rot. After mowing, I collect the grass clippings; they're great for a gentle nitrogen boost as they decompose.
Finally, I use Epsom salt for a dose of magnesium, which is vital for tomato plant health. For dandelion tea, I simply steep the weeds in the water, creating a nutrient-rich liquid fertilizer that's very cost-effective. All these methods are fast, easy, and use readily available materials, saving me money and ensuring my tomatoes are healthy and delicious.
Tomatoes are a staple crop for nearly every home garden because they grow easily. Growing an effective tomato batch involves having acidic soil, full sun for your tomatoes to grow in, and the proper nutrients provided by homemade fertilizer for tomatoes.
Tomato plants are heavy feeders and require many essential nutrients to grow healthy plants with delicious plump fruits. Tomatoes need phosphorus to develop large flowers and fruits. Nitrogen is another vital nutrient for tomato plant growth because it helps grow green foliage.
Additionally, tomato plants thrive when provided with enough calcium to fight off tomato diseases like blossom end rot. Fertilizing tomatoes for the best results doesn't have to involve commercial options like Miracle Grow or harsh chemical fertilizers.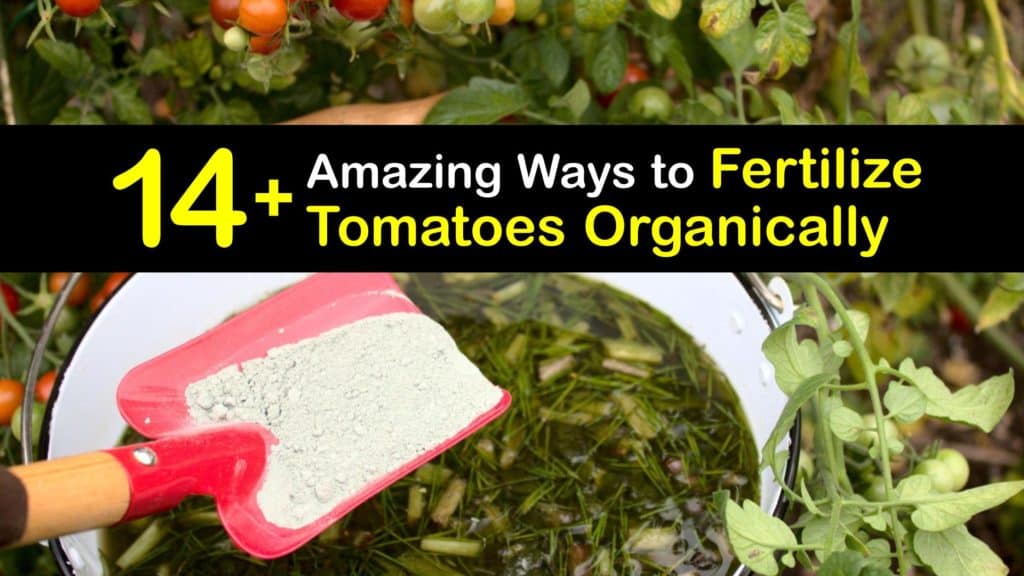 Organic Tomato Plant Fertilizer
Chemical-free gardening consists of making some of the best fertilizers for tomatoes using organic matter resources from around your home and even items from your kitchen. Continue reading to discover how to start improving the quality of your soil to grow the best quality tomato possible.
There are many benefits to making homemade tomato fertilizer, one being how cost-effective it is to fertilize tomatoes across different growing seasons. This article explores many of the best options for making organic fertilizer for tomatoes, whether you follow the way to grow tomatoes in buckets or you put them in the garden.
Amending Soil with Manure
Properly fertilizing your garden for tomatoes begins before your seeds are in the ground. To create ideal soil conditions for tomato plants, start by amending your soil with manure. Spread two inches of manure across your tomato planting area and thoroughly combine it with your soil.
When choosing manure, avoid any waste from animals with a meat diet. Manure from meat-eating animals adds the risk of bacterial infections to your plants. Chicken manure, waste from horses, and sheep are perfect choices for adding to your garden.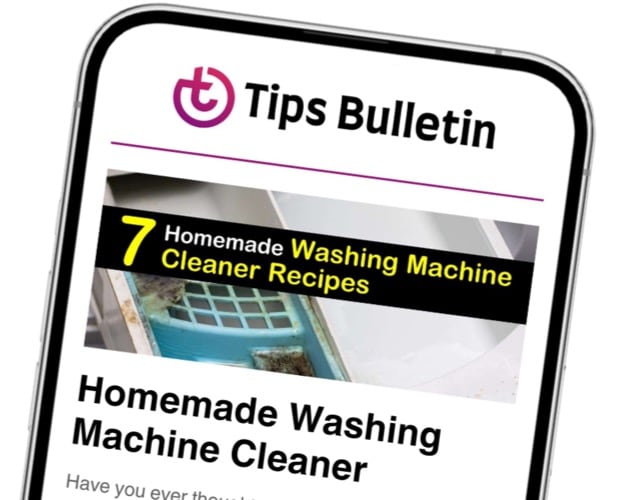 Finally, an email that Transforms Your Home.
Get the latest home and garden tips from our experts, delivered straight to your inbox.
Fish as a Fertilizer
Although we use fertilizer as plant food during the growth of our plants, sometimes the best fertilizing happens before planting begins. For the best results when using organic tomato plant fertilizer, fertilize at the time of planting and again as your plants start to grow.
After digging a planting hole, use fish parts to give your soil a boost of nitrogen, phosphorus, and calcium. The easiest way to add nutrients to planting soil is by adding fish bones, fish guts, or shrimp shells to your planting spot. Using fish as a fertilizer is an excellent substitution for a commercial product like Dr Earth fertilizer.
How to Fertilize Tomatoes with Bananas
Bananas are a source of potassium for humans and plants. To use bananas as a natural tomato fertilizer, save the peels next time you eat a banana and bury them in the soil by your tomato plant. Another option for using bananas is to create banana peel tea.
Collect banana peels in a freezer bag to gather enough to make the tea without allowing them to spoil. Once you collect enough peels, place them in a container and cover them with water to thaw. Leave your peels in water to steep for a week before diluting the peel tea with one cup of water as you use it in the garden.
Recycle Coffee Grounds as Fertilizer
If you regularly drink coffee, reusing the grounds may be the best natural fertilizer available as you grow tomatoes. Coffee grounds are great to fertilize your tomato plants, as coffee grounds are a nitrogen source, improving your soil's acidity.
To use grounds in your garden, mix them with the top layer of soil under your plant. An alternative is to soak your grounds in water until the water becomes dark. Strain your grounds and add the water around the base of your plants.
As long as it doesn't have anything extra added to it, use plain pasta water for plants as fertilizer, too. Your plants will love it.
Homemade Fertilizer for Tomatoes with Milk
Milk is a wonderful source of calcium for human bones, and it's beneficial in the garden as an antifungal spray and fertilizer. Milk contains potassium, magnesium, and nitrogen to help plants grow.
How to fertilize tomatoes with milk is to mix milk with water in equal parts, and treat your garden every two weeks. Spread diluted milk around the base of your tomato plants to allow your plant's roots to absorb the nutrients.
How to Use Eggshells in the Garden
Eggshells are a great source of tomato plant food because they provide your plants with calcium. Adding crushed eggshells to your garden will alter the pH of your garden's soil.
Once broken down, eggshells add potassium, phosphorus, and magnesium to the soil. Mixing crushed eggshells into the soil is also an effective natural tomato pesticide. The sharp edges of eggshells cut into the soft bodies of pests that crawl through the soil to get to your plants.
Wood Ashes
Wood ash, the product of wood burned in a fireplace, is an interesting source of potassium and phosphorus. Potassium is an essential nutrient that tomato plants need as they enter their last stage of growth as the plant is developing flowers and starting to produce fruit.
Using ash in the garden also increases the acid levels of your soil, so using an adequate amount is crucial to feeding your tomato plants without making the soil too acidic.
Note: Wood ash is a perfect substitute for kelp meal.
Making a Slow-Release Nitrogen Fertilizer
Ground alfalfa hay is a fodder containing protein and other valuable nutrients. Alfalfa is a type of food for small animals; however, when ground, alfalfa pellets make excellent fertilizer. After performing a soil test, make a DIY fertilizer for tomatoes using coffee grounds and alfalfa meal if you find your soil lacks nitrogen.
Add water and coffee grounds to a bowl of pellets to help them break apart before creating your nitrogen fertilizer. Add this fertilizer to your tomato seedling to promote green growth as it develops.
Making Homemade Bone Meal
Since bone meal has high phosphorus content, it works well as an organic tomato plant fertilizer. Many garden centers sell bone meal, but it is possible to create bone meal fertilizer using bones from dinner scraps.
After saving bones, clean them to remove residual meat. Fatty material left on the bones slows the decomposition process, making your fertilizer less effective. Put the bones in a saucepan of boiling water for an hour to remove meat and break down the marrow inside the bones.
Bake in the oven at 300°F for at least three hours. This baking process removes bacteria and makes the bones easier to grind. Break the bones on a solid concrete surface before grinding with a grinder, mortar, and pestle.
Add your meal to water and boil until the water absorbs the meal and there is little sediment left in the pot. Add this meal to your garden and perform regular garden soil tests to monitor the changes in phosphorus in your garden.
Hair as a Fertilizer
It may seem odd to gather and save clumps of your hair or your pet's hair to use as a fertilizer for your garden; however, it is a surprising source of nitrogen. Hair also contains keratin, a type of protein.
Including hair in your garden around your tomato plants helps your soil retain moisture, keeps your plant's roots hydrated, and helps regulate the soil temperature. Buried hair decomposes and releases nitrogen into the soil. This slow-release nitrogen fertilizer allows your tomato plants to grow lush green growth.
Recycling Tea Leaves for Fertilizer
Because organic tea comes from natural sources, tea leaves make a unique addition to your garden to boost the health of your plants and help repel pests. Nitrogen is an essential nutrient that plants need to grow, and tea leaves contain lots of it.
Tea leaves contain other nutrients like potassium, phosphorus, aluminum, and fluorine that may slow the growth of your plants. Instead of directly using tea leaves in the garden, add them to your compost pile to increase oxygenation levels in the compost before adding the compost to your soil.
Why You Should Use Epsom Salt When Growing Tomatoes
Despite its name, Epsom salt is not salt; it's a natural mineral compound made partly of magnesium and sulfur. Epsom salt has uses in the home as a foot soak, but it is beneficial in your garden to add magnesium to the soil. Magnesium helps with seed germination, fruit development, and cell development in plants.
Epsom salt is likely the best fertilizer for tomato plants because of its versatility. When growing tomato plants, include one tablespoon of Epsom salt at the planting stage. After your tomato plants start growing, use Epsom salt in a tank sprayer to encourage plant growth. Use it as homemade asparagus fertilizer and for other plants in the garden, too.
Dissolve two tablespoons of salt per gallon of water in a tank sprayer when using Epsom salt for tomatoes and treat your plants once a month. Spraying your plants early in the growing season helps fight blossom end rot (tomatoes rotting on bottom), while treating your plants later in the season helps the plant's yield.
How to Make Liquid Fertilizer from Weeds
Dandelions belong to a family of flowering plants that we recognize for their bright yellow flowers. These flower heads develop into heads with seeds the wind blows off to reseed. Often treated as weeds and plucked from yards and gardens, these flowers possess vital nutrients. Instead of destroying weeds, pluck and save them to create fertilizer.
Choose a large bucket with a lid to fill with dandelions and water. Use eight cups of water for every pound of dandelions in the bucket. Cover the bucket and let it sit for at least two weeks.
While it sits, mix the contents in the bucket at least once a week. When you're ready to use the tea, strain out the solids using a cloth. Dilute one part tea with ten parts water before using it on an indoor tomato plant or in the garden around your tomato plants.
Reuse Grass Clippings as Nitrogen Fertilizer
One of the most accessible types of fertilizer comes from your yard. Nitrogen in the soil helps grass grow, and when you mow the grass, the leftover clippings eventually decompose, and this nitrogen goes back to the soil.
To take advantage of this naturally recurring fertilizer, save your grass clippings the next time you cut the grass. Layer grass clippings evenly in your garden to release nitrogen back into the soil slowly. Grass clippings act as a form of natural mulch for your tomato plants.
Manure or Compost Tea
If you have a manure source on your property in the form of livestock, create a natural fertilizer for tomatoes by soaking manure in water. The best manure to use when making fertilizer tea is from animals that don't consume meat. Using manure from animals like horses and chickens limits the risk of bacterial infections and fertilizer burn.
Place a pillowcase in your bucket before filling it two-thirds of the way with water. Scoop in manure to fill the rest of the bucket.
Leave the manure steeping in the bucket for two days, stirring a few times a day. On the final day, remove the pillowcase from the bucket, allowing all liquids to drain. Dilute your manure tea with water until it is pale-brown. Use two cups of diluted tea in your garden each week as the best natural fertilizer for zucchini, peppers, lettuce, or tomatoes.
Note: Compost from your compost pile works well as a fertilizer.
Growing tomatoes is a rewarding gardening experience. Use the right fertilizers to turn your tomatoes into bumper crops to enjoy delicious fruits throughout the season.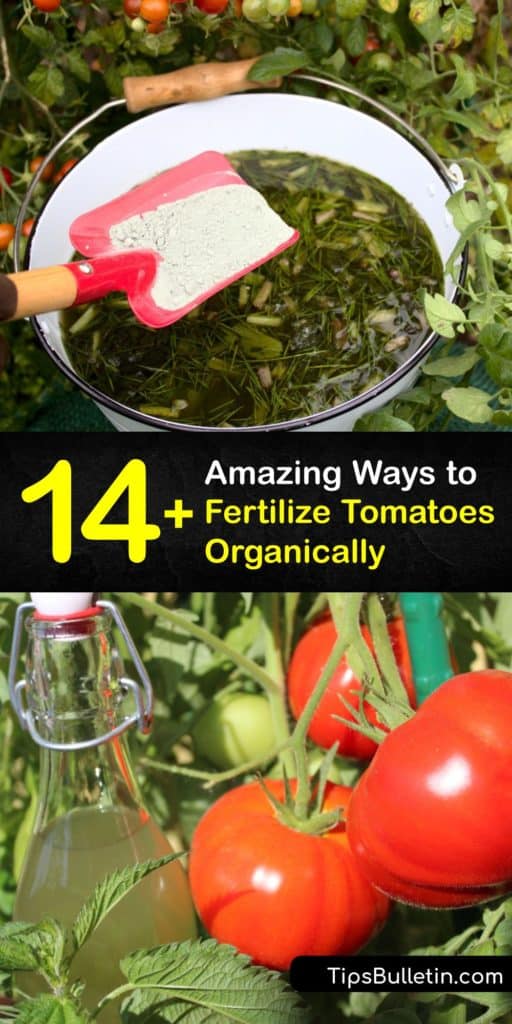 If our guide answered your questions about making homemade fertilizer for tomatoes, please share our tips on how to fertilize tomatoes with natural materials on Facebook and Pinterest with your fellow gardeners.