Level up your home garden and create homemade fertilizer for cabbage plants. Organic cabbage plant fertilizer can get pricey. With the general cost of fertilizer rising and awareness about chemical fertilizers' undesirable effects increasing, there's never been a better time to know how to fertilize cabbage with a homemade blend.
Cabbages stay healthiest and grow fastest when they receive a balanced fertilizer containing equal parts nitrogen, phosphorus, potassium, and other micronutrients. Most garden stores offer cabbage fertilizer, but making it home could not be more straightforward. If you keep a compost pile or bin, you already have a brilliant source of cabbage fertilizer.
Animal manure and banana peels may seem like waste products, but they are effortlessly upcycled into valuable cabbage food. Whether you're already growing cabbages and hope to keep them healthy and pest-free, or you're planning to add cabbages to your garden next growing season, understanding how to make your own fertilizer for green leafy veggies ensures healthy produce.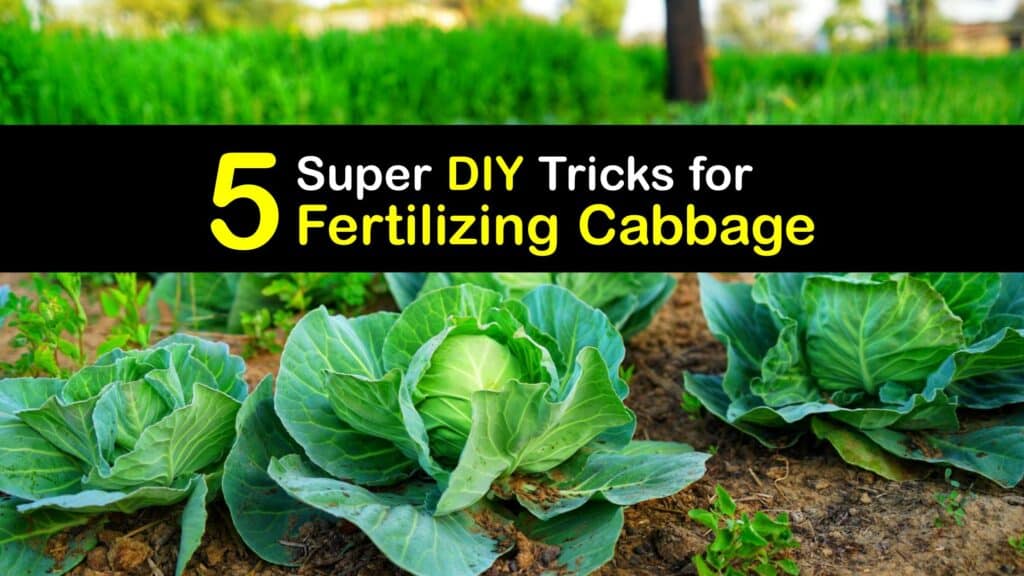 How to Fertilize Cabbage with DIY Plant Food
Crafting homemade fertilizer for cabbage is an intelligent way to cut fertilizer costs and have complete control over the substances you use in the garden. While there is an array of store-bought fertilizers to choose from, it's expensive and full of toxic substances that many growers hesitate to introduce into the vegetable garden.
Though it might seem challenging, making organic cabbage plant fertilizer at home is an uncomplicated process. Epsom salt and waste products like banana peels are perfect for providing cabbages with the nutrition to produce an enormous harvest of large cabbage heads with succulent flavor.
You can also learn tricks to prolong the plant's life, like how to pick cabbage so the leaves keep growing and reproduce new cabbage plants.
DIY Fertilizer for Cabbage Plants in Your Garden
Whether you grow cabbage seed or are already growing cabbage plants and want to give them a boost, they require more than a standard nitrogen fertilizer to thrive.
Cabbage plants achieve the best growth with a balanced fertilizer containing an equal nitrogen, phosphorus, and potassium nutrient ratio. Making your own balanced granular or liquid fertilizers at home is effortless.
Enriching your garden soil with fertilizer improves cabbage plant growth, supports blossoming cabbage seedlings, and gives you a larger cabbage head and a healthier, tastier cabbage leaf.
Make Homemade Fertilizer for Cabbage with Epsom Salt
Though most commonly thought of as a relaxing bath salt for aching and sore muscles, Epsom salts can be used to fertilize Brussel sprouts and cabbage. They make an ideal garden fertilizer to support the growth and health of cabbage plants.
Unlike chemical fertilizer, Epsom salt does not collect in the soil and degrade its quality. Use Epsom salt as a granular fertilizer by applying it around the base of your cabbage plants and watering it in, or mix it into a liquid fertilizer solution.
Shake the salt and water in the sprayer. Drench the earth around the base of your cabbage plants in place of the usual watering. Epsom salt won't give you alkaline or acidic soil, making it perfect for cabbage that prefers a neutral soil pH.
Organic Cabbage Plant Fertilizer
Bananas are a wonderful food source for keeping cabbage plants healthy and boosting their resistance to diseases and viruses. Save old banana peels and either dry and crush them into a powder or soak them in water overnight to make homemade liquid fertilizer or granular fertilizer for cabbages.
Place the banana peels in the bucket and add water until the skins are just covered; leave to soak overnight. Use banana tea instead of regular watering to give cabbage plants extra nourishment. Banana peels are a clever and economical way to get magnesium, calcium, sulfur, phosphates, and potassium. Banana peels may also be composted.
The Best Fertilizer for Cabbage Plants
All animals, such as cows, chickens, and horses, create manure. Although cow, horse, rabbit, and chicken manure are high in nitrogen and other components, you take care when applying them to your cabbages.
Because it is less acidic and nutrient-dense than fresh dung, composted feces is an outstanding choice for improving your soil's capacity to retain water without harming plants.
A surplus of raw manure may cause your plants to burn since it is acidic and provides nutrition above what they need. Animal waste breaks down rapidly into a soil supplement, so you don't have to wait long. Bone meal is another animal product that makes fantastic cabbage fertilizer.
Compost is a Natural Cabbage Fertilizer
Compost is an organic fertilizer made from household waste like shredded paper, kitchen scraps, and yard waste like fresh grass clippings and dried leaves. Nutrient-rich and improving the soil structure of your native garden soil, compost is an excellent choice for cabbage plant food.
As the cost of commercial fertilizers increases and we learn more about the adverse effects of chemical additives, many growers choose to compost. It's a cost-efficient and straightforward technique that produces free organic plant food for fertilizing cabbage plants.
Understanding how to fertilize cabbage is vital to producing a healthy crop of giant, flavorful cabbages. Cabbage plants prefer a balanced fertilizer containing equal nitrogen, phosphorus, and potassium.
Though a range of commercial fertilizers is available, crafting your own cabbage fertilizer is an easy way to save money and a trip to the garden store. Fertilized cabbages are more likely to resist pests such as the cabbage worm, cabbage looper, and fungal diseases.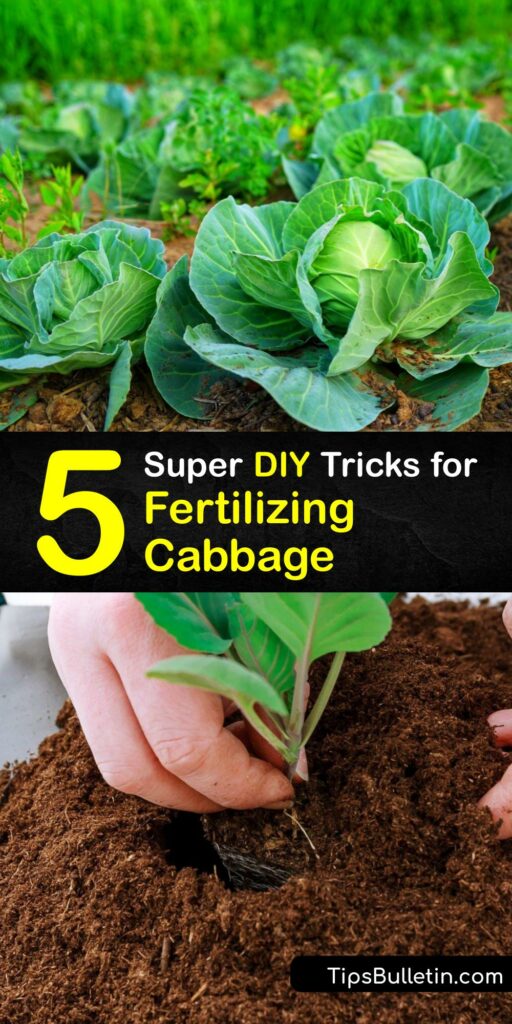 If you liked this article on homemade fertilizer for cabbage, please share this brilliant information on organic cabbage plant fertilizer with your friends and family on Pinterest and Facebook.