Cabbage is an exceptionally healthy vegetable, and its bland taste makes it ideal for soaking up the flavors of other ingredients. It's the main component in sauerkraut and coleslaw, and corned beef and cabbage is just not the same without it. Discover ways to grow your own at home and how to harvest cabbage at the end of the growing season.
Cabbage is a hardy vegetable with a relatively long storage life, lasting up to three months in a root cellar. It is rich in nutrients and antioxidants, and there are many varieties of cabbage, making it an excellent choice for your garden and dinner table.
However, there are a few things to understand before growing and harvesting your own cabbage at home. Many people avoid planting cabbage in their garden because they feel they are challenging to produce.
These veggies are just as easy to grow as any other as long as you give them the right amount of space, growing conditions, and care as they mature.
The main thing to remember is that they are a cool season crop, so it's advisable to plant them in spring or fall for a healthy harvest.
Growing, Harvesting, and Storing Garden Cabbage
Green and red smooth-leaf cabbages are the most common at the grocery store, but there are other suitable varieties to plant at home.
It's easy to grow cabbage in containers or outside, and harvesting cabbage fresh from the garden is the most reliable way to ensure your food is organic and chemical-free.
Explore the different types of cabbages available, the conditions they require for healthy growth, how to plant them, and when to pick cabbage for the tastiest vegetables. Find tips for storing your heads of cabbage and using the leaves in a recipe.
What to Know before Harvesting Cabbage
It's never a bad idea to gather as much information as possible before growing and harvesting cabbage.
How much spacing do cabbage plants need, and how long does it take for cabbage to grow? These are common questions, and we answer these and more to ensure that you produce a healthy garden.
Cabbage (Brassica oleracea) is part of the Brassica family, along with cauliflower and Brussels sprouts. It is a cool weather vegetable that does not tolerate growing in hot temperatures and is sometimes a magnet for garden pests and soilborne diseases.
Growing cabbages from seed or dealing with transplants requires at least 24 to 36 inches of space in between them, or 14 inches apart, with rows 36 to 44 inches apart.
The ideal soil temperature is 60 to 65°F, and temps below 45°F for a long time often cause bolting. It's a great idea to cover the plants with a row cover if you expect cold weather or heavy rain.
Cabbage needs well-drained, fertile soil with a pH of 6 to 7 and six to eight daily hours of full sun. Feed them a balanced fertilizer two weeks after transplanting and a nitrogen-rich fertilizer three weeks later. Cabbage heads take roughly 70 days to grow to maturity, depending on the variety.
Are There Different Types of Cabbage?
When to harvest cabbage depends on which of the many cabbage varieties you grow. Learn about the differences in appearance and taste and their growing requirements to help you choose the right type for your outdoor space.
The four main types of cabbage are green, red, savoy, and napa. Green and red cabbage both grow as a compact head, while savoy has deep green, crinkly leaves that are sweet and tender.
Napa cabbage grows in an oblong shape, reaching 20-inches tall, with frilly leaves and crisp stems.
All types have the same requirements for healthy growth, and they flourish in a garden bed or in a 5-gallon bucket as long as you grow one plant per container.
The green and red varieties are typical for making coleslaw and stir-fry, savoy is a good choice for making stuffed cabbage, and napa is excellent for kimchi.
Growing Cabbage in the Garden and Containers
Once you determine which cabbage type to grow, it's time to get your plants started. Learn how to sow cabbage seeds indoors, transplant them in the outside garden or container, and give your plants the care they love. Find out about common problems to watch for while you wait to harvest.
For springtime planting, plant seeds indoors in the early spring, roughly seven weeks before the last frost. If you decide to fall plant, sow the seeds directly in the garden mid to late-summer.
Check the seed packet before proceeding to check for the appropriate depth and spacing since some types may vary.
The general rule is to sow the seeds a quarter-inch deep by pressing them down into the dirt in seed-starting pots or the garden. If you plant them directly outside, prepare the bed or pot by working compost or aged manure into the soil.
Water the seeds gently to dampen the soil without washing them away, and keep the dirt slightly damp to encourage germination. After the indoor seedlings emerge, harden them off by taking them outdoors for a couple of hours each day for a week.
Start by setting the plants in a shady location and gradually move them to full sun to help them get used to growing in their new environment.
To transplant young plants, dig holes 12 to 24 inches apart in rows and carefully move the seedlings from their small pot to the garden. Push the dirt around the base of the plant, pat it down gently, and water right away to remove air pockets and help the roots settle.
Spreading a layer of mulch over the garden bed is an excellent way to discourage weeds while retaining moisture. Feed your plants two weeks after transplanting and then again three weeks after that.
Root-feeding cabbage maggots are a common garden pest, so consider installing row covers to prevent female flies from laying eggs.
Cabbage loopers, cabbage worms, and aphids are also an issue. To kill cabbage worms, remove them by hand, and treat your plants with insecticidal soap if necessary.
Black rot and downy mildew are a couple of diseases that plaque cabbage plants. Rotating crops and keeping the garden free of dead or rotting plant material are necessary steps to prevention.
When to Pick Cabbage
When to pick cabbage depends on the variety since the growth rate varies. Determine how long the main types take to grow to maturity and how to tell when they are ready for harvesting.
Mature Cabbage
Cabbage heads are ready for harvesting at different times, depending on the type. The Early Jersey Wakefield cabbage is ready to pick as early as 63 days, while many other hybrids are not ready to harvest until 71 to 83 days after planting.
Napa cabbage takes 70 to 90 days to reach maturity from seed, while savoy takes 70 to 110 days.
The best way to tell if your cabbages are ready to pick is to squeeze them. If the head feels firm and the leaves are closed, it's time to harvest, whether they are larger or smaller heads. If the head splits, pick them right away to prevent pests and diseases.
How to Harvest Cabbage Heads
It's finally cabbage harvest time, and you eagerly make your way to the garden to reap your rewards. What's the best way to pick cabbage heads?
Harvesting cabbage is pretty straightforward. Learn how to harvest leaf cabbage to enjoy a second harvest for twice the crop.
Morning is an ideal time to harvest cabbage since the weather is cooler and the leaves aren't wilting. You have a couple of options when you're ready to start picking cabbages.
The first is to put on gloves, grab the cabbage around the base, and pull the entire plant out of the ground. Another way is to use a sharp knife to cut the cabbage head off the plant while leaving the roots, a few inches of stem, and a couple of large outer leaves intact.
The second method is how to pick cabbage so it keeps growing. If you leave enough of the plant behind, in a few weeks, it begins to bud new cabbages to replace the mother plant.
Ways to Store Cabbage After a Good Harvest
Everyone loves a good harvest, but this also means that you need to find ways to store all those cabbage heads. Discover how to keep this veggie fresh in the refrigerator and preserve it in the freezer for longer storage time.
After harvesting, set the cabbage heads on the kitchen counter until they dry. Wipe them with a towel, place them in a porous bag, and store them in the crisper drawer of your fridge. They last a month or two stored in this manner.
If you have too many to eat before they spoil, consider freezing them. Learning how to know if cabbage is bad can help you preserve only the freshest heads.
To freeze cabbages, cut them into wedges and blanch them in boiling water for 90 seconds. Transfer them from the hot water to a bowl of ice water and drain in a colander.
Quick-freeze on a baking sheet for about 12 hours before placing in a freezer bag or airtight container. Frozen cabbage wedges last up to one year.
Another great way to store cabbage is to ferment it. Cut one medium head into very thin slices and put them into a bowl. For this way to store a head of cabbage, cover with one and a half tablespoons of kosher salt and massage it into the cabbage with your hands for about five to ten minutes.
Pack the salted cabbage into a sterilized canning jar and weigh it down with a smaller jar. Cover with a clean cloth, secure it with a rubber band and press the cabbage every few hours for the next 24-hours.
After three to ten days, the cabbage is fermented and ready for pantry or refrigerator storage. How long you ferment cabbage is based on your personal preference.
You'll notice bubbles, foam, or white scum during this time, which are all healthy signs of the process. Fermented cabbage lasts two months and even longer in the fridge.
Making Homemade Coleslaw after Harvesting Cabbage
While there are many ways to prepare cabbage, making coleslaw is a favorite past-time and a great way to use cabbage leaves. This recipe uses green and red cabbage for extra color, and it serves ten, so it's perfect for a gathering of friends and family.
Pour the sour cream, mayonnaise, white vinegar, sugar, and mustard powder in a bowl and whisk until blended. Add the sliced cabbages into the dressing and toss to coat evenly. Salt and pepper the salad to taste and refrigerate overnight for the best flavor.
While cabbage takes a little more effort than some garden plants, the result is worth your time and patience. A bountiful harvest of cabbage heads keeps your root cellar well-stocked and your sauerkraut, coleslaw, and other cabbage recipes tasting top-notch.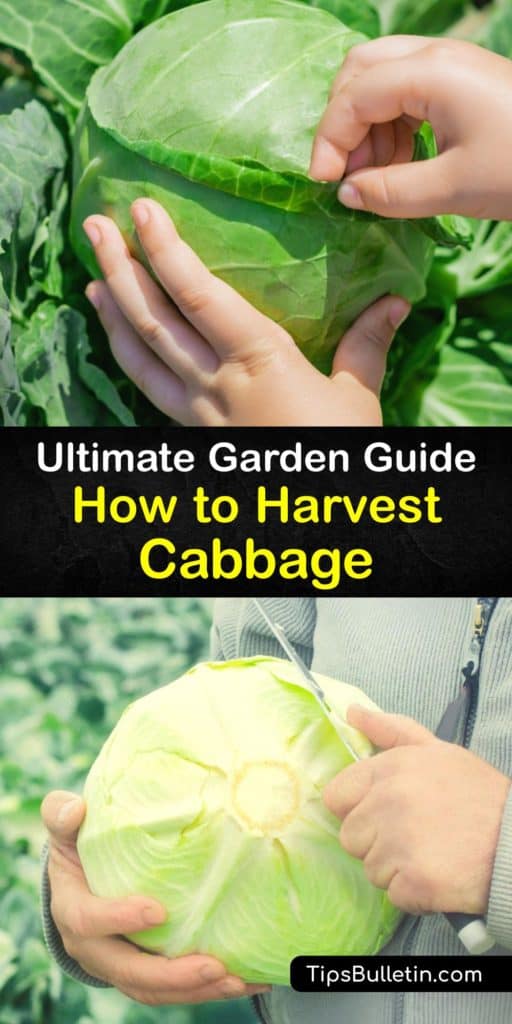 Now that you know how to harvest cabbage after growing it in the garden and store it properly for optimal freshness, why not share our cabbage growing and harvesting guide with your family and friends on Pinterest and Facebook?