If you live in an area of America warm enough to grow tender cantaloupe plants, you're very lucky indeed. These delicious melons are a treat in other parts of the world and are a staple on any fruit tray. Discover how to make homemade fertilizer for cantaloupe to make the most of your growing season.
The curious cantaloupe plant came to America in 1890 as a warm-weather crop popular in California. Cucumis melo, also called the cantaloupe, muskmelon, or rockmelon is part of the cucurbit family. Known for its trailing melon vine, leathery rind, and sweet fruit, cantaloupe, and honeydew melon are summertime favorites.
Not to be confused with watermelon plants, the exquisitely sweet cantaloupe boasts a coral-colored center packed with soft fruit. The male flowers of the cantaloupe are delicate and bright yellow, while the female flowers become the harvest. If you're curious about cantaloupe, we've got answers.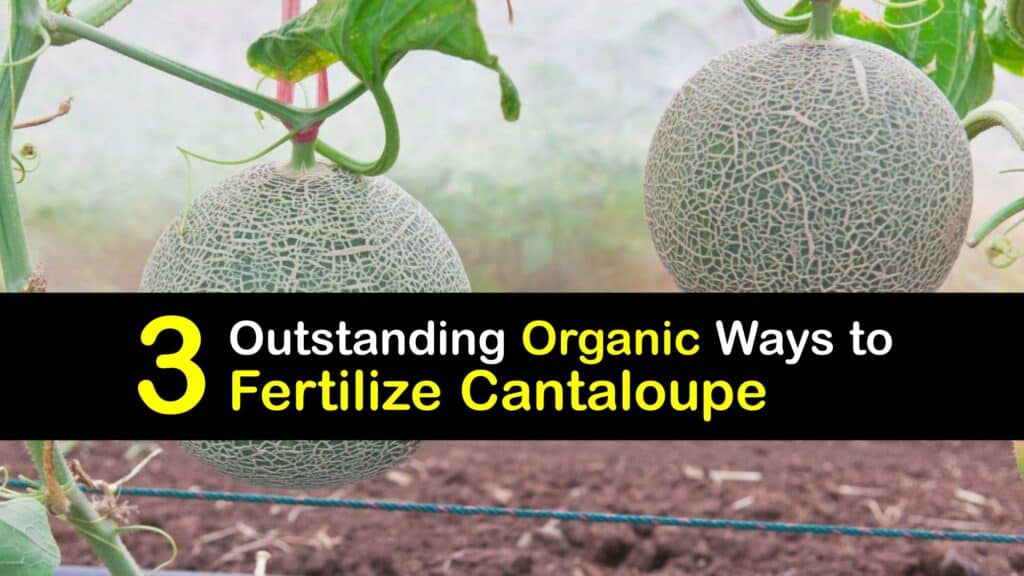 How to Fertilize Cantaloupes Naturally
Learn all about organic cantaloupe plant fertilizer and pick up some awesome tips on how to fertilize cantaloupes for vigorous growth and juicy fruit. Grow your most fabulous garden this year with our organic fertilizer suggestions.
However, you will need to make a schedule for fertilizing watermelons and cantaloupes to be sure that you aren't over or under fertilizing the plants.
Homemade Fertilizer for Cantaloupe – Compost
Organic mulch is a great way to start your melon crop. If you're looking for a natural cantaloupe fertilizer, it doesn't get more natural than compost. Homemade fertilizer for cantaloupe starts in the kitchen with banana peel, egg shells, or coffee grounds.
Organic matter is the cornerstone of healthy growing cantaloupe. First, work an inch or two of compost into the soil at the start of the growing season.
Plant your cantaloupe seeds when the soil temperature is warm, and add a small tomato cage around the seed for built-in support as the melon grows. Choose an organic much over a synthesized plastic mulch.
DIY Organic Cantaloupe Plant Fertilizer
Every successful melon crop needs an even distribution of nutrients like nitrogen, phosphorus, and potassium. Growing cantaloupes in pots requires fertilizer to substitute for the lack of fresh soil.
Fish emulsion is easy to make at home with a surplus of fish parts, or you can buy an all-natural bottle. Discover how to make a DIY fertilizer for cantaloupes in simple steps.
Melon plants are heavy feeders; many nutrients are needed to grow cantaloupe successfully. Mix your cantaloupe plant food and apply it to the soil weekly after your growing melons flower.
Other types of homemade fertilizers can help in the garden. You can also use Epsom salt for a great melon fertilizer. This simple ingredient can be found in most homes.
Manufactured Organic Fertilizer for Cantaloupe
The best fertilizer for cantaloupe plants is one specially formulated to deliver maximum vitamins and nutrients. However, if you want to grow melon plants without heavy chemical fertilizer, try a certified organic option like Dr Earth.
High-grade organic cantaloupe plant fertilizer is a terrific option for those who prefer things quick and convenient. Pre-mixed fertilizer allows precise application, too. Follow the manufacturer's directions regarding how to fertilize cantaloupes with their product.
We hope you enjoyed our garden guide to homemade fertilizer for cantaloupe. You can do a few more essential things to encourage your cantaloupes. Melon seeds love full sun and sandy, well-draining soil. Drip irrigation is a clever way to water cucurbits prone to disease.
Unfortunately, cucurbits have many natural pests to be wary of, including bacterial wilt, powdery mildew, aphids, and the cucumber beetle. Use organic, integrated pest control methods to strike the right balance in your garden, and fertilizing cantaloupes will be a breeze.
If you loved our ideas for homemade fertilizer for cantaloupe, share them with friends on Pinterest and Facebook who love gardening and proper melon care tips.