Mushroom cultivation differs from planting soil-cultivated crops in many ways. Each mushroom has unique nutritional and environmental requirements, which makes things a bit confusing when setting up the ideal growth conditions. Start your culinary mushroom journey by learning how to make homemade fertilizer for mushrooms.
There are about 1.5 million species of fungi on the planet, and over 14,000 of those fungi produce mushrooms, edible or otherwise. Scientists are testing mushrooms for many applications, from medicinal uses to stopping antimicrobial resistance to building materials like bricks and water filters.
Mushrooms are incredible, especially from a nutritional perspective; a single portobello mushroom has more potassium than a banana. Edible mushrooms are the "fruit" that develops from a fungus that grows underground. The fungus is like the root system of mushrooms, and this root system is called mycelium.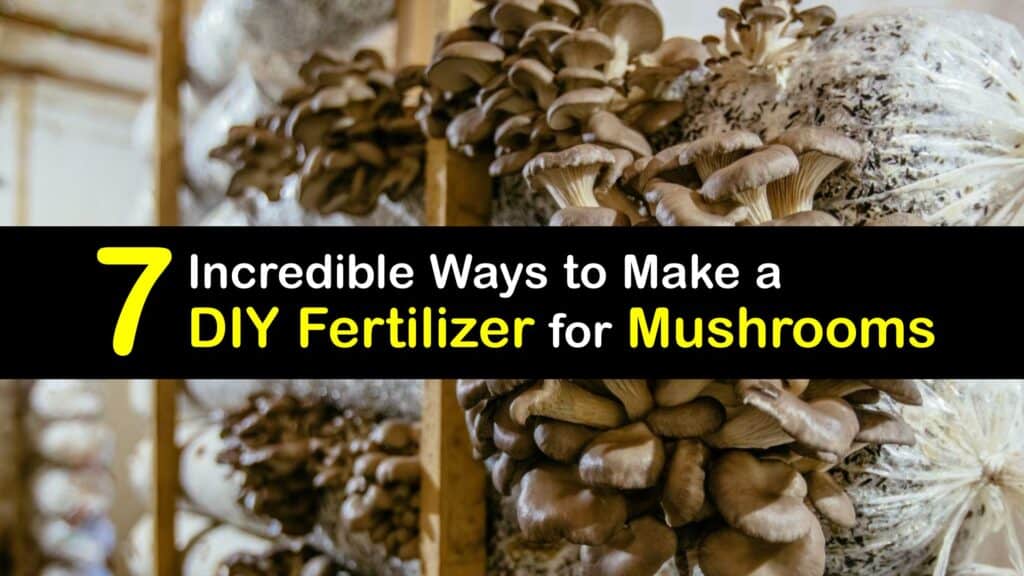 Discover How to Fertilize Mushrooms
Unlike every other vegetable, mushrooms have no chlorophyll and don't require sunlight – meaning uncommon growing conditions. Mushrooms need nutrients to produce vigorously – we've got some excellent organic mushroom fertilizer ideas for you.
Mushrooms are usually found among the peat moss on a dark forest floor. However, growing your own culinary mushrooms at home has never been easier. Learn how to make your own vegetable food to fertilize mushrooms without traditional liquid fertilizer, and discover the best tips and tricks to enhance your harvest.
Organic Fertilizer for White Button Mushrooms
The most popular mushrooms at the grocery store are white button mushrooms, cremini, and giant portobello mushrooms. Did you know they're all the same mushroom species harvested at different periods in their growth cycle?
Portobello mushrooms are mature cremini mushrooms, and button mushrooms are immature cremini mushrooms. Fertilizing mushrooms starts with a nutrient-rich substrate called a growing medium. These kinds of mushrooms prefer manure and compost-based mushroom substrate.
Most garden centers carry what you need to get started with organic mushroom fertilizer. Animal manure is best for the vegetable garden as a source of nutrients for hungry mushrooms because of the high nitrogen content, but poultry manure or sheep manure works, too. Choose 100% manure and not a mix to get the most out of your mushroom spores.
Fertilizer for Oyster Mushrooms
The oyster mushroom is a broad term for a genus of mushrooms called Pleurotus. These unusual mushrooms grow like a beautiful bouquet from decaying wood and organic matter. Oyster mushrooms are wonderfully diverse and come in several colors, including silver, blue, yellow, and eye-catching pink.
These mushrooms are prolific growers, and first-time mushroom farmers don't need to know much about how to fertilize mushrooms to get a successful crop. The tenacious nature of these mushrooms allows them to grow on almost any organic material, even newspaper or furniture.
However, oyster mushrooms have their favorite foods, too. The best homemade fertilizer for mushrooms of this kind is a substrate made from hardwood trees like poplar or aspen. Sawdust is particularly effective, especially when growing outdoors, in containers, or plastic bags.
How to Grow Oyster Mushrooms in a Plastic Bucket
Oyster mushrooms are easy-growing and delicious. Their thick texture and deep umami flavor make them an excellent dupe for meats while giving every meal a valuable vitamin boost. Not only is it possible to make homemade fertilizer for mushrooms, but you can also start a DIY ecosystem in a bucket with just a few items.
It's helpful to pasteurize the wood chips before starting your mushroom spawn. It eliminates competing bacteria and allows the oyster mushroom mycelium to thrive unopposed.
To pasteurize wood chips, pour them into a bucket, fill it with hot water from the tap, and add a few pots of boiling water from the stove to raise the temperature to kill microorganisms. Let your wood chips soak overnight.
Prepare your mushroom habitat by drilling some drainage holes in the bottom. Then, drill ¼-inch holes all around the bucket, spaced a few inches apart. The holes provide airflow for the mycelium and allow the mushrooms to fruit through the holes. The aspen chips provide mushroom food and act as a natural fertilizer for potatoes and mushrooms of all different varieties.
Layer the bottom of your mushroom bucket with a thin bed of wood chips. Alternate layers with your oyster mushroom spawn and the wood chips until the bucket is full; the last layer should be wood chips.
Pop the lid on and store the bucket in a cool, dark place; allow two to three weeks for the mycelium to colonize. Once you notice some fruiting through the holes, bring the bucket outside to encourage airflow and allow the mushroom caps to begin fruiting. Expect a delicious mushroom harvest in about ten days.
Fertilizer for Shiitake Mushrooms
Shiitake are wood-loving mushrooms native to East Asia. This fascinating fungus has secured its place in the history of culinary and medicinal tradition. There are centuries-old written records from ancient China and Japan detailing how to grow mushroom fruit successfully.
According to recent studies, Shiitake mushrooms contain loads of dietary fiber and the polysaccharide lentinan, which shows some promising cancer-fighting properties.
While learning how to fertilize mushrooms like shiitake is slightly more challenging than white button mushrooms, a few simple tips make it easy to grow this exotic beauty. Shiitake loves to feed on the deadwood of trees like oak and beech.
Commercial mushroom farmers make their own fabricated logs from various plant materials and sawdust. It's even possible to get bags of shiitake mushroom spawn that grow as self-contained bricks. The spent mushroom substrate breaks down into a healthy garden soil amendment or compost tea ingredient, which means no waste.
Organic Mushroom Fertilizer for Lion's Mane
Lion's Mane mushroom is also called the Bearded Tooth fungus because of its unique dangling icicle-like formation. These gourmet mushrooms have a mild flavor that many mushroom lovers compare to lobster.
The Lion's Mane mushroom is a fast-growing, beginner-friendly crop that doesn't require much special attention to thrive. Hardwood sawdust mixed with wheat bran is the best fertilizer for mushrooms such as Lion's Mane.
These mushrooms are saprotrophs that love decaying wood and organic matter. It's the best natural fertilizer there is, and it ensures vigorous growth and yield.
Mushroom Compost as Fertilizer
Did you know it's possible to use spent mushroom compost and byproducts from the mushroom cultivation process as fertilizer for other plants? Fresh mushroom compost is beneficial to your garden by adding structure, improving soil health, and encouraging plant growth.
Making mushroom compost is easy and typically includes wheat straw, peat moss, and chicken manure. Experiment with the different components of your compost pile and watch how it encourages plant growth in your home garden.
How to Make Homemade Fertilizer for Mushrooms
Generally, a mushroom grower makes their own substrate or fertilizer to keep costs down and ensure quality. The ingredients and technique vary depending on the mushroom.
Each mushroom variety prefers a specific type of wood or composted manure, and meeting those needs is essential for robust mushroom growth. This fertilizer recipe is for wood-loving mushrooms like Lion's Mane and shiitake.
Sawdust is the primary nutrient source for the mycelium, and the wheat bran encourages larger fruit. Mix the sawdust, pellets, and wheat bran in a clear plastic bag. That's all there is to it; you just learned how to make a DIY fertilizer for mushrooms.
Your 5-pound block is now ready to be inoculated with the mushroom of your choice and can go right into the compost pile afterward.
We hope you enjoyed discovering the world of mysterious, marvelous mushrooms. These fruiting fungi are easy to grow and a pleasure to harvest. Successful mushroom cultivation starts with superior substrate, also known as growing medium or mushroom fertilizer.
Homemade fertilizer for mushrooms is usually made of composted manure or hardwood sawdust, depending on the type of mushroom you grow. Once confident, try moving your mushroom operation from containers to the garden.
Growing mushrooms in the garden allows your plants to develop a beneficial relationship with these mycorrhizal fungi. Encourage biodiversity in your home garden and on your dinner plate by growing a variety of fantastic fungi.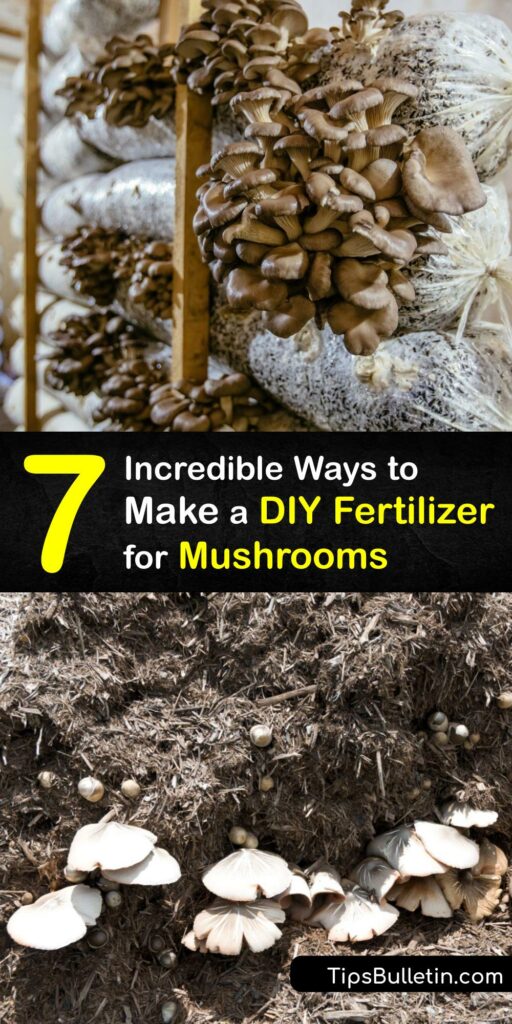 If you loved learning about homemade fertilizer for mushrooms, share this article with a friend on Pinterest or Facebook who loves culinary mushrooms.