Potatoes are a beloved crop for their various uses after harvest. These crops are fun and easy for the entire family to grow, and providing your plants with the right potato plant food ensures you reap excellent yields. The process of making homemade fertilizer for potatoes is straightforward and extremely rewarding.
Growing potatoes with organic fertilizer allows you to grow fresh produce without the concern of harmful toxic chemicals polluting your crops. To ensure your potatoes are entirely organic, skip buying inorganic fertilizer or a product like Miracle Grow and create a homemade fertilizer.
Creating the best fertilizer for your potato plants involves knowing what potatoes need to thrive and what nutrients your soil may lack after a soil test. The ideal soil for potatoes is well-draining, slightly acidic soil with lots of organic material.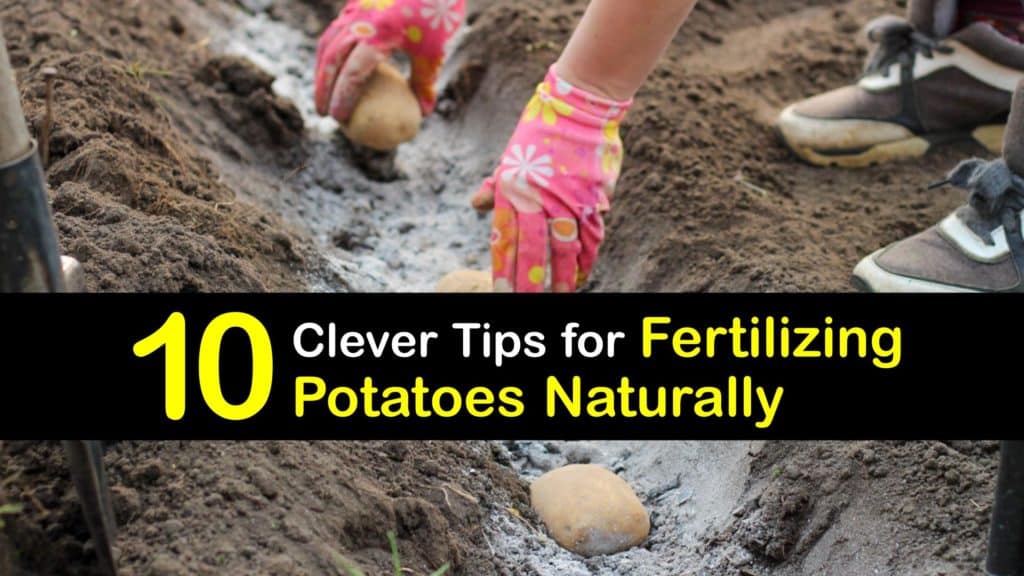 Organic Potato Plant Fertilizer
The journey to growing all-organic produce doesn't have to be time-consuming or expensive. Creating homemade fertilizers is as simple as repurposing household items, and some you can make using resources around the house.
Well-draining soil is essential after sprouting potato eyes to avoid growing diseased tubers. Potatoes grow a shallow root system and have a high requirement for nutrients. Properly managing the nutrients for your potato plants is essential for the best yield and quality of potatoes.
How to Fertilize Potatoes Using Cover Crops
The typical idea for fertilizing potatoes and parsnips involves dressing the soil with additional nutrients, but it's possible to add nutrients to your soil by planting crops before planting potatoes. Cover crops are any crops planted to protect and enrich your soil and include indoor plants grown to amend potting soil.
The best cover crop for fertilizing soil for potatoes is legumes. Bean plants are excellent companion plants for their ability to fix nitrogen in the ground. To reap this benefit, plant legumes in the garden during the fall growing season and plow them under in the spring before putting seed potatoes in the garden.
Amending Soil pH Balance for Potatoes
Part of learning how to fertilize potatoes is knowing what potatoes need to thrive. Like tomato plants, slow growing and fast growing potatoes enjoy slightly acidic soil, between 6 and 6.5, though it is possible to grow potatoes in soil with a pH as low as five, where sweet potatoes thrive.
Perform a soil test to determine if you need to make any adjustments to your soil to make it suitable for potatoes. If your soil is too basic, some gardeners use vinegar to adjust the soil pH.
Mix your ingredients in a bucket and pour it around the area you plan on planting potatoes. You can also wait to apply this solution after planting potato slips.
Use Grass Clippings as a Natural Fertilizer for Potatoes
The most accessible organic potato plant fertilizer comes from your lawn. If you do not use any chemical treatments on your property, rake the clippings into bags after mowing the grass.
Grass clippings are excellent for fertilizing potatoes because they act as a natural mulch to block weeds. The grass from your yard contains nitrogen which is essential for plant growth. After layering grass clippings in your garden, allow them to naturally decompose and add the nitrogen back into the soil for your vegetable plants to absorb. This is a great homemade fertilizer for zucchini and many other veggies.
Creating an Epsom Salt Fertilizer
While growing potatoes, monitoring for signs of a deficiency is crucial to ensure your plants make it to harvest. Nitrogen, potassium, and phosphorus are essential to a plant's development, and other nutrients like magnesium and boron are vital, as well.
Magnesium is essential for your plant to perform photosynthesis and protein production. A lack of boron in your plant means your plant struggles to move sugars through its membranes. To remedy these deficiencies when growing and fertilizing potatoes in pots or the garden plot, create an organic potato plant fertilizer using Epsom salt and Borax.
Fill a sprayer with water before adding salt and Borax and stirring to dissolve. Use this fertilizer when you notice discolored or dying buds on your plant. A sign of a magnesium deficiency is discoloration and necrotic lesions on your potato plant's leaves.
Manure Tea Potato Fertilizer
If you compost at home and have livestock to collect manure from, using it to create a natural potato fertilizer is ideal for giving your potatoes a boost of nutrients. Learning how to fertilize potatoes using manure tea is straightforward as it only involves steeping manure in water.
When using manure, avoid waste from meat-eating animals, resulting in fertilizer burn. The best animals to gather manure from include cows, sheep, chickens, and horses.
Line a five-gallon bucket with an old pillowcase and fill the bucket two-thirds of the way with water. Use manure to fill the rest of the bucket and allow it to steep for two days, stirring once or twice a day.
Once you finish steeping, lift the pillowcase out of the bucket. Carefully wring out the pillowcase to ensure all the tea gets into the bucket. Use the leftover manure in your compost pile and dilute the tea until it is pale-brown.
Add your diluted manure tea to a sprayer and treat your garden soil weekly. If you are growing potatoes in an outdoor container, spread two cups of manure tea in your potting mix or add peat moss during the growing season.
Use Banana Peels as a Fertilizer
Bananas are known for potassium, and a deficiency in this macronutrient creates several visible symptoms in potato plants. In young potato plants, a lack of potassium results in leaves turning bluish-green and glossy. If your plant continues to grow without enough potassium, the leaves turn purple or bronze.
To help your potato plants get enough potassium, add banana peels to the garden soil as your plant grows. Burying banana peels allows them to decompose and break down in the soil, allowing your plant's roots to absorb the necessary potassium.
Use Coffee Grounds as a Granular Fertilizer
If your test indicates that your soil lacks acidity, using coffee grounds is one way to improve your soil pH. Like fruit trees, potato plants enjoy acidic soil to thrive, and coffee grounds are an easy on-hand solution to poor soil acidity.
To use coffee grounds for your potato plants, mix dry grounds with your plant's soil and thoroughly water the area. Another option is to create a cold brew by soaking your grounds in water for a week. Pour this diluted coffee water around your garden to boost the acidity.
Repurposing Weeds as Fertilizer
No gardener wants to deal with weeds around their plants. Weeds sprout around your garden, competing for nutrients with plants. How quickly weeds grow and spread can result in a deficiency for your potato plants.
Rather than mulching over weeds, before planting potato slips, pull the weeds and store them in a bucket. Let them soak in water for a week to make a DIY fertilizer for potatoes to provide nitrogen to your plants.
Homemade Fertilizer for Potatoes with Milk
Milk has a few uses in the garden: as an antifungal spray for treating mildew and as a fertilizer. Milk contains calcium, and adds nitrogen, potassium, and magnesium to the garden. To create a milk fertilizer, mix milk with water and use it every two weeks.
You can use fresh milk to make this fertilizer, but using milk past its expiration is more efficient since you aren't drinking it. Spread the mixture around your potato plants to allow your plant to absorb the nutrients.
Eggshells as a Fertilizer
Eggshell fertilizer is likely the best fertilizer for potato plants because it only involves crushing eggshells. After cooking with eggs, save your shells in a plastic bag, crush them with your hands, or roll a cup across the bag until the shells break into small pieces. Make homemade eggshell fertilizer for potted plants, your potatoes, or add them to the garden for all kinds of plants and flowers.
Eggshells have calcium carbonate, which helps strengthen your plant's cell walls. Eggshells also include potassium, phosphorus, and magnesium. If your soil is highly acidic, adding eggshells helps lower the acidity to a suitable level for potatoes when you plant potatoes 6-8 inches down in a bucket or the garden.
Using eggshells in your garden soil also kills pests that travel through the soil by cutting into their bodies with the sharp eggshell edges.
Using Potatoes as Fertilizer
If you grow more potatoes than you need and have other plants like orchids that need a homemade fertilizer, your potatoes are a source of potassium and phosphorus. To make potatoes into an orchid fertilizer, dice your potatoes into small pieces and boil them for a few minutes.
Strain the water and include the boiled potato pieces in the soil for plants like orchids to add the nutrients necessary to grow healthy plants. Add bananas to your boiling potato water for additional nutrients.
How to Spot Over Fertilized Potatoes
Because potatoes grow underground, it is disappointing to find low yields after spending all season fertilizing your spuds. Low yields are common issues when potato plants are over-fertilized.
An essential part of adequately fertilizing your potatoes is completing a soil test before planting. A garden soil test helps determine what nutrients your garden is missing.
Knowing what to focus on ahead of time enables you to avoid over-fertilizing certain nutrients that may lead to an underwhelming yield. When your potato plants start to bloom, adding too much nitrogen results in no potatoes forming despite the lush foliage above ground.
Although it is difficult to tell by looking at your plants aboveground, there are telltale signs of issues with your potato plants. Over-fertilized potato plants produce lots of green leaves, but these leaves are deformed or roll up under stress. Plants without proper fertilization turn yellow or brown before dying.
Potatoes are unique in growing, and mature best using the hilling method. After harvesting, use some potatoes for cooking and save the rest for growing another batch of potato plants. By avoiding chemical fertilizers, you are sure to grow healthy and organic potatoes for your family to enjoy.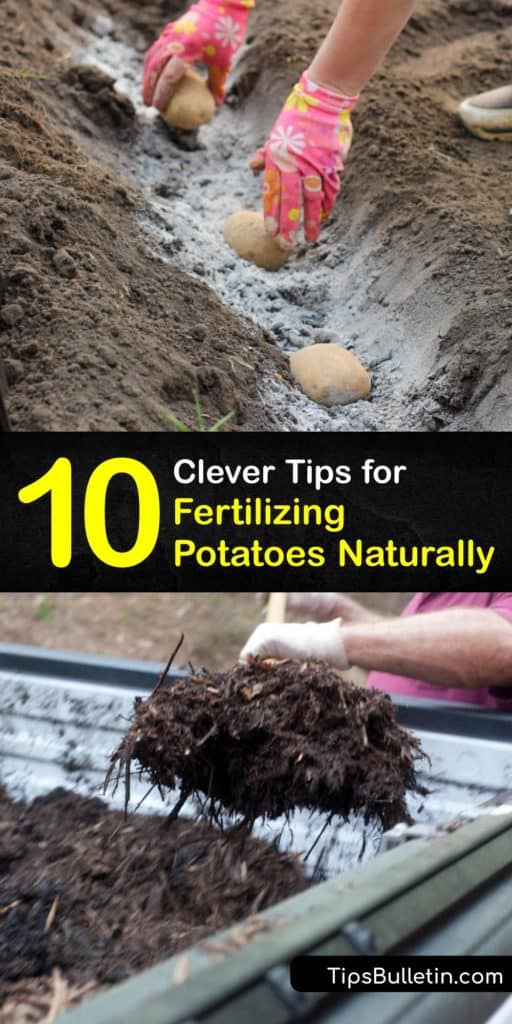 If our tips on homemade fertilizer for potatoes helped you, please share our advice on how to fertilize potatoes with your gardener friends on Facebook and Pinterest.