Are you curious about crafting homemade fertilizer for okra? Okra (Abelmoschus esculentus) is a warm-season vegetable that grows optimally in U.S. hardiness zones 7 through 10. It's popular in many African, Asian, and Caribbean cuisines and is eaten fresh or dried.
Okra plants grow from 4 to 8 feet, depending on the variety you choose. They bloom yellow flowers with red centers before producing edible pods ranging from green to white to red. Okra is a straightforward plant to grow, yet it's somewhat picky about soil and fertilizer. Like many plants, okra needs potassium to thrive and produce fruit.
Luckily, there are a couple easy ways to make your own organic okra plant fertilizer without spending extra money. Discover how to begin using fertilizer to help okra grow faster and yield more produce. Homemade fertilizers save time and funds and keep toxic chemicals out of your vegetable garden.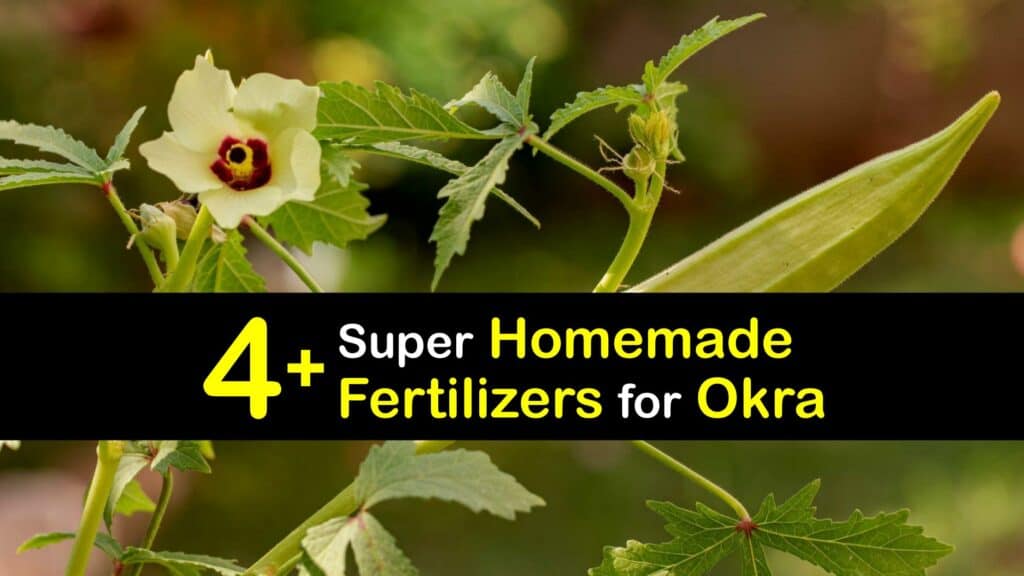 DIY Organic Okra Plant Fertilizer
Okra is a delicious vegetable to grow in your garden, though it does need extra care to produce the finest results. Read on for tips on how to fertilize okra and keep it healthy.
Okra is a warm-weather vegetable and thrives in hot conditions. It grows in full sun, but you can plant it in partial shade if needed. Okra likes moist soil with readily available nutrients.
To ensure your okra plants have all the nutrients they need, follow our ways to fertilize rhubarb and okra for best results. Organic okra plant fertilizer helps your okra grow strong roots and prevent fungal diseases like mold or mildew from attacking leaves or stems.
The Importance of Fertilizing Okra
It doesn't matter if you're growing an okra or tomato plant; vegetable plants benefit from fertilizer. Add liquid or granular fertilizer to potting or garden soil to increase available nutrients. Homemade fertilizers help your okra grow and produce more fruit.
Ensure you're not disappointed as you harvest okra by adequately fertilizing growing plants. Unfertilized plants are often unhealthy and prone to contracting fungal and bacterial diseases or becoming the target of pests. These homemade fertilizer recipes are easy to make, inexpensive, and may be applied anytime during the growing season.
Homemade Fertilizer for Okra Using Epsom Salt
Epsom salt is a natural fertilizer for your plants, including okra plants. It's a mineral compound called magnesium sulfate and contains other minerals such as calcium and sulfur.
Epsom salts are often used in homemade fertilizers since they provide essential nutrient molecules like magnesium and sulfur. These two elements are vital for plant growth and starting okra seed.
Combine and spray the liquid fertilizer at the bases of your okra plants in place of regular watering. Adding some Epsom salts are helpful if you're growing vegetables without adding extra nutrients from compost or other organic material.
Sulfur helps prevent diseases caused by fungi, while magnesium improves photosynthesis (the process plants use to transform light into energy).
How to Fertilize Okra Using Chicken Manure
Apply chicken manure as fertilizer for okra directly to the soil around the plant. Chicken manure is a potent source of nitrogen, phosphorus, and potassium. It's also a source of calcium and sulfur.
If using fresh chicken manure as a fertilizer, spread it around the bases of okra plants at a rate of 1 to 2 pounds per 100 square feet. Use fresh chicken manure as sparingly as possible, just enough to cover the soil around the plant.
If you're using manure from other animals, the application rate varies depending on its nitrogen content. Chicken manure is rich in nitrogen and other beneficial compounds to support the development of okra pods and sustain the health of mature okra plants.
Coffee Grounds are the Best Fertilizer for Okra Plants
Nitrogen is vital for plant growth, as it provides energy for new leaves and stems by allowing water molecules to move through cells more quickly. Coffee grounds are an ideal source of nitrogen, phosphorus, and potassium. Because they contain a lot of nitrogen, coffee grounds are compost activators.
Plants grow larger and faster with better root systems than plants receiving less than optimal amounts of nitrogen fertilizer. Coffee ground waste may be used as a supplement to the compost pile or spread directly on garden soil to improve the quality of your okra crops.
Coffee grounds lower the soil pH, making larger quantities unsuitable for plants preferring alkaline soil.
Compost Is Natural Okra Fertilizer
One of the most innovative ways to make your own fertilizer for sweet corn and okra is to compost. Using compost to fertilize okra plants is a great way to improve the health of your soil. Compost combines dead organic matter with water and turns it into a nutrient-rich material to help your plants grow better.
To use compost as garden fertilizer, mix it into your garden beds before planting okra seed pods. Simply dig out a layer of soil six inches deep, add equal parts compost and sand, replace the top layer of soil with the new mixture, and plant your seeds or seedlings.
Alternatively, use compost as okra plant food by spreading it over existing beds when they're already full of okra plants. The best time for this application is in late fall or early winter—be sure not to apply too much at once because it may cause root rot if it stays wet for long periods.
There are many organic fertilizer options for growing okra or growing tomatoes, from seed meal and banana peels to ground banana peel powder and seaweed.
As we become more aware of the impacts of chemical fertilizer, gardeners are turning to apply zucchini fertilizer in the garden when they plant okra. Create straightforward organic okra plant fertilizer to keep your plants healthy and your harvest abundant.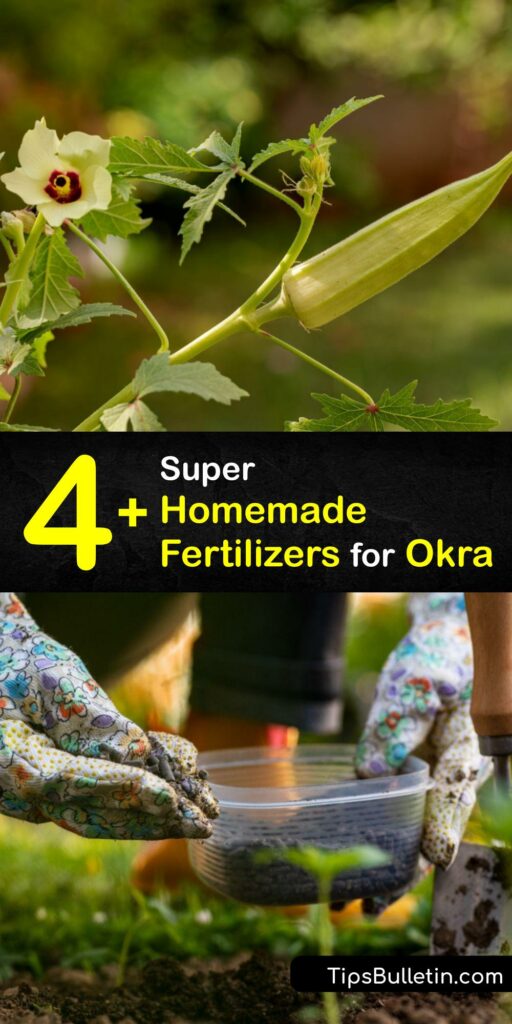 If you loved this illuminating article on homemade fertilizer for okra, please share this knowledge with your close friends and family who wonder about how to fertilize okra on Pinterest and Facebook.