Our sinks collect a ton of gunk and grime, not to mention an abundance of water damage. This overexposure to weathering elements can create water spots and unsightly food stains that ruin the picture-perfect appeal of your kitchen. A homemade kitchen sink cleaner is just what you need in this case, providing natural cleaning solutions without incorporating harsh chemical cleaners.
Nobody wants to be overpowered by toxic fumes, whether it's from your kitchen or bathroom sink cleaner. Instead, imagine the fresh fragrance of lemons and your favorite essential oils.So, how do you make this DIY sink cleaner? And does it consist of outlandish recipes with hard-to-find ingredients?
Many of these excellent stain-fighting ingredients typically reside in your pantry, with everyday household cleaners like baking soda and white vinegar counting themselves among the selection. The only tricky part you will have to face is choosing the right cleaning solution for you.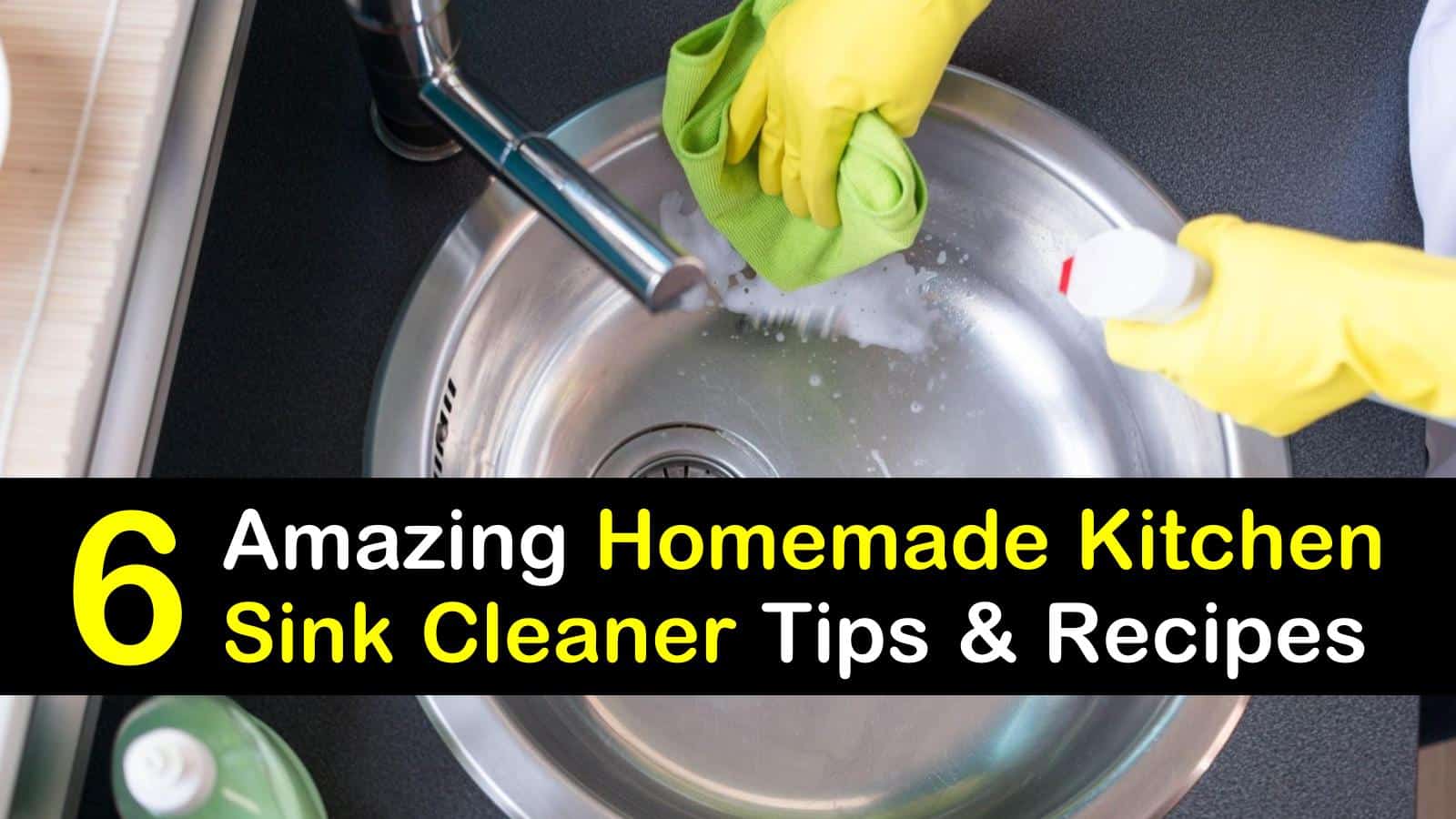 DIY Sink Cleaner Recipes that Sparkle and Shine
No matter what condition your sink is in, or what material it's made out of, we have a printable, step-by-step recipe to help you clean it. These fun and easy tips guide you through the cleaning process, with plenty of methods that allow you to use whatever you have handy in your pantry.
The sink should always be part of your kitchen checklists for cleaning, usually every day if you cook on a daily basis. This important part of your kitchen gets a lot of use and abuse and needs sanitizing regularly.
After your kitchen sink is clean, don't forget to use one of your favorite ways to clean quartz countertops of those made from another material. The entire room will sparkle.
Try this Salt and Lemon Combo for a Cleaner Kitchen Sink
Lemon and coarse sea salt create a phenomenal tag team effect when it comes to cleaning your kitchen sink. Lemon juice is a natural kitchen cleaner that breaks down grease and dirt, while kosher or sea salt creates an abrasive cleaning scrub. Both are relatively simple ingredients to find and require minimal prep work.
Start by cutting your lemon in half. Fill a small dish with salt, and dip the exposed half of the lemon into the salt, the peel facing upward.
Next, using the halved lemon like a scrub brush, rub it along the sides of your sink to remove stains and stuck-on food particles in your sink. Rinse with clean water, then dry.
Create a Cream of Tartar Scrub for Your Stainless Steel Sink
If you have to clean a stainless steel sink, you need to be a little cautious about which products you use so that you are not damaging the shiny surface with harsh cleansers suitable for other materials. One of the most efficient options for cleaning your stainless sink in the kitchen, bathroom, or mudroom is to use cream of tartar paste with vinegar.
This mixture will clean bathroom sink stains or those in the kitchen with ease. The vinegar disinfects your sink and lifts away greasy stains from fingerprints or other debris. Cream of tartar acts in a similar way to baking soda, creating a gritty scrub that won't scratch the surface of the stainless steel but removes anything you don't want to be there.
Find a glass or plastic container to make this stainless steel sink cleaner, as a metal bowl will cause an adverse reaction and make the recipe less effective. Mix the two ingredients to create a thin paste, then pour it into your sink. Scrub the area thoroughly with a soft sponge or rag until all traces of dark water spots and stains vanish.
Rinse the surface with warm water, then dry to avoid any further water damage. This wonderful recipe can also be used to clean your stainless steel dishwasher or any other stainless surface in your home like the microwave and refrigerator.
A Fabulous Bathroom Sink Cleaner for Porcelain Surfaces
Baking soda is a phenomenal cleaning agent that works on most surfaces other than aluminum. When combined with ingredients like vinegar, it will even clean a smelly garbage disposal,which is a quality that comes in handy when it comes to cleaning your sink. One way baking soda also cleans your sink is by adding it to a formula with other magnificent creations like hydrogen peroxide and Castile soap.
When using this recipe, apply it on lighter-colored sinks like porcelain. Bathroom sinks are the best option since the hydrogen peroxide uses bleaching agents that may damage certain metals and colors. Start by blending the ingredients into a thick glue-like texture.
You may see the baking soda fizz at first when adding the peroxide. This occurrence is normal. Wait for the bubbling to stop, then continue mixing. If you plan on using the solution right away, apply to the surface of the sink and get to scrubbing.
Scrub the porcelain with a soft scrubber to lift away difficult dust and dirt particles. If you aren't planning on using the solution immediately, however, ensure that you store the solution in a sealed, airtight container as quickly as possible. The glue will harden after being left out in the open for too long, making it useless if you plan on cleaning with it later.
A Fantastic DIY Sink Cleaner with Essential Oils
Another effective way to clean a sink using baking soda and Castile soap is to change up the ingredients by eliminating the need for hydrogen peroxide. Instead, use some essential oils. Lemon oil, in particular, contains citric acid, which works similarly to vinegar and peroxide to eliminate grease and grime from surfaces.
The first step in using this technique is to combine the baking soda and the essential oils in a medium container. Some homeowners prefer using a container with a lid that allows you to shake the ingredients out of the top like you would with spices.
This step is not necessary, however. If you don't have a shaker to dispense the powder, just use a spoon or pour straight from the jar. You also won't want to add the Castile soap to your powdery mixture yet, as this will be incorporated later. Instead, blend the oils into the baking soda until evenly distributed throughout the container.
Dampen the surface of the sink with a little bit of warm water, then sprinkle the contents of your jar across the top. Now add in a squirt or more of the liquid Castile soap. If you don't have easy access to Castile soap, regular dish soap will also work.
Scrub the surface with a sponge until adequately clean. Don't use a scrub that is too abrasive to prevent scratching. Once finished, rinse with clean water and dry.
Clean with Borax for a Powerful Disinfectant
Borax is a reliable cleaner that works as a natural disinfectant. Not only will it remove a build-up of scum caused by hand soap or bits of food, but it is also a powerful toilet bowl cleaner.
If that isn't enough to sing the praises of how great a cleaning solution Borax is, it also keeps pests away and is impeccable at cleaning painted cabinets. With so many diverse and useful cleaning abilities, why wouldn't you want to give this recipe a try?
To clean a kitchen sink with this mixture, combine the powders in a medium shaker or container. Add the essential oils for extra fragrance, and stir until combined. Turn on the faucet and allow a little bit of water to coat the surface of the sink.
Sprinkle the sink with the powdery combination, and leave it for at least 15 minutes. Once the mixture has had plenty of time to absorb grease and food particles, begin scrubbing.
Rinse any remaining powder down the drain with hot water to fix a sewer smell under the kitchen sink. Use a clean, dry paper towel to wipe down the sink once finished to prevent water spots from forming on the metal.
Use this Homemade Kitchen Sink Cleaner on Stainless Steel Sinks
If you want to create a kitchen sink cleaner that will work on almost every surface of your home, you have located the right cleanser for you. These ingredients are lovely when it comes to cleaning on their own, and combined, offer an even brighter shine.
Both lemon juice and vinegar are well-known for their ability to make surfaces shine. And, while lemon juice gives us a delightful smell to overpower the pungent aroma of vinegar, using your favorite essential oils will make this DIY all-purpose cleaner recipe tailor-made for you.
For a dynamite homemade drain deodorizer as well as a cleaner, try this recipe. Making this cleanser is relatively easy. Pour the ingredients in a medium-sized spray bottle and shake them well.
Once you are confident the cleaner is appropriately mixed, spray the area you are cleaning and wipe down any dirt or soapy residue. If you want to store the cleaner for use later, place it in the fridge to keep the ingredients fresh.
Also, if you plan on using this cleaning spray beyond your sink, do not use it on materials made from granite or marble. The lemon juice and vinegar are too acidic on delicate stone materials and will ruin them.
What about cleaning the drain in my kitchen sink?
When it comes to suitable drain cleaner, many of the cleaning products we have talked about will do the trick. There are many great ways to keep your drain running smoothly and smelling fantastic, without running harsh chemicals down it. Combining cleaners like lemon juice or vinegar with baking soda creates a lovely de-clogger that clears most drains in a matter of minutes.
Equally, several recipes use ingredients like cream of tartar, Borax, and Castile soap in their line up of cleaning agents. Even discarded items like citrus peels form a useful deodorizer in drains and garbage disposals.
Once you are finished with whichever of these cleaning recipes you choose, pouring boiling water down the drain to rinse out the cleanser is a great way to promote the flow of water. The formula to use for your drain will depend on what you have available, and how much you need to clean.
Cleaning our kitchen and bathroom sinks is a chore we often wish we could live without. However, a clean sink is the gateway to a clean kitchen. Therefore it requires as much love and care as we are willing to give.
These simple cleaning tips and recipes will hopefully make this grueling cleaning task that much easier. All that's left to do is to lift up those sleeves and get to scrubbing!
Recipe for Homemade Kitchen Sink Cleaner
Homemade Kitchen Sink Cleaner
Cream of tartar isn't just for baking!
Materials
2 ounces cream of tartar
8 ounces vinegar
Tools
Measuring cup
Sponge
Quart glass jar
Wooden spoon
Dry towel
Instructions
Combine the two ingredients in the jar.
Apply the mixture to the sink with the sponge.
Rinse with warm water.
Dry with a clean towel to prevent water stains.
Notes
Do not use a metal spoon or container as the cleaner will not work as well.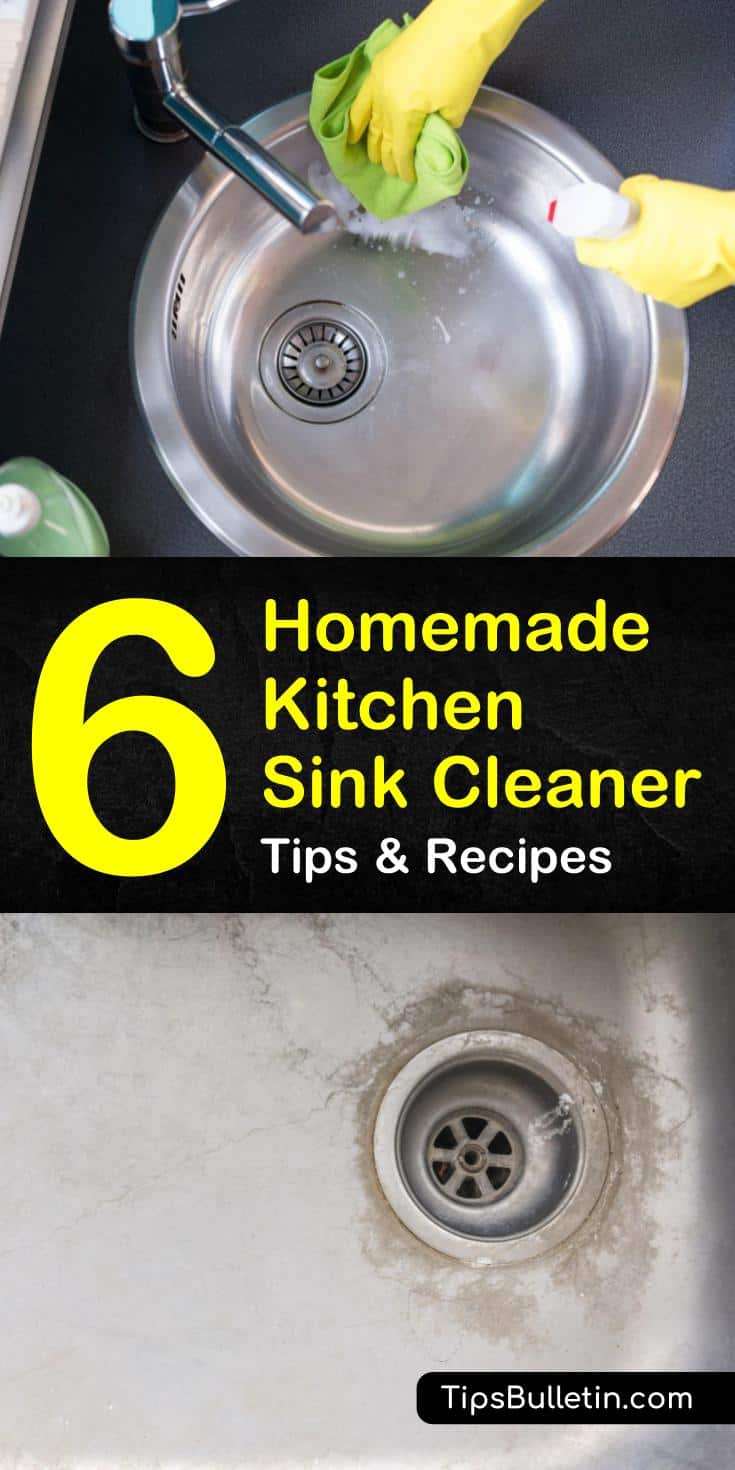 If you enjoyed our DIY sink scrubs and ideas, don't forget to share these homemade kitchen sink cleaner recipes with everyone you know on Pinterest and Facebook.