Many store-bought insecticides that kill cockroaches, ants, and other insects contain chemicals that are toxic to animals. All of your pets are part of the family, and the last thing you want to do when getting rid of an ant problem is to cause harm to your furry little friends. Fortunately, there are many ways to make a homemade pet safe ant killer and prevent ants from invading your home.
Many types of pesky ants infest the home, including carpenter ants, fire ants, and sugar ants, and knowing the safe way to eliminate them is essential if you have a family pet.
Pets are curious creatures and feel they must investigate strange areas of the home, such as newly placed ant bait stations. Therefore, it's vital to use gentle forms of pest control to keep your pet safe.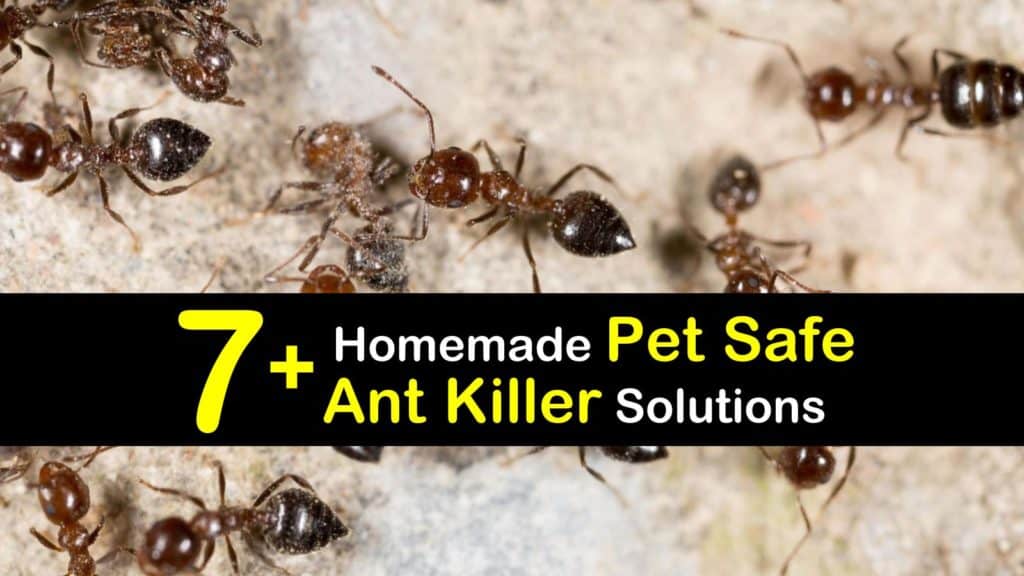 Ant Elimination Solutions that aren't Harmful to Pets
Not only are there many ways to kill ants without harming your pets, but there are also many preventative solutions that are also pet-friendly. Learn how to make a DIY ant killer in many forms from sprays to traps, and how to keep ants at bay with natural remedies.
Which Ant Killers are Harmful to Pets?
You'd prefer not to use store-bought ant baits or ant trap insecticides, such as Terro, to kill ants around you home, but you probably wonder which products and ingredients are safe to use around pets. Is Borax safe for pets? What about boric acid?
Pet Unfriendly Ant killers
Avoid boric acid to kill ants if you have pets in the home. Depending on the size of the animal, the toxicity creates endocrine system problems and blood conditions. Borax, on the other hand, is effective at killing ants but is not as harmful to pets as boric acid.
However, it isn't harmless either, and precautionary steps are required when using this ingredient. While it's tempting to use essential oils to make natural insect repellents, some of these oils are harmful to pets, too.
Oils such as peppermint, pennyroyal, cinnamon, citrus, tea tree, pine, sweet birch, wintergreen, and ylang-ylang are toxic when spread on the skin or ingested in the mouth.
Making DIY Pet Safe Ant Traps
Adult ants and worker ants do not eat solid food. Instead, they take the food back to the nest and feed it to the larvae. It's easy to make DIY pet safe ant traps with Borax and solid bait to eliminate ant larvae from the colony.
To make natural ant traps, use a disposable container and punch holes in the top of the cover. Mix the peanut butter and Borax in the container and close the lid.
The lid prevents pets from eating the bait while the holes allow the ants access. Place the homemade ant killer next to the ant trail or other areas where you notice ants.
Killing Adult Ants with Borax
While older larvae only eat solids, adult ants and worker ants eat liquids, and using a homemade sugar ant killer in liquid form in combination with solid bait is the best way to eliminate the entire colony.
Combine the water, sugar, and Borax in an old, plastic container. Poke holes in the top and seal it tightly in place to prevent pets from having access to the sugar water bait.
Set the trap near entry points to your home, on window sills, and any other location where ants come into the house.
Make Pet Friendly Ant Killers with Cornmeal
Cornmeal is one of the easiest pet friendly ant killers to use. Ants enjoy eating this tasty treat, yet they are unable to digest it properly.
After consuming large amounts of cornmeal, the ants drink water, causing their digestive tracts to swell, resulting in death.
Cornmeal Ant Killer
Sprinkle a fine layer of cornmeal across entryways to your home. Place it along the backside of countertops in the kitchen or around anthills in the backyard. The ants eat the cornmeal and eventually die, and your pets are not harmed by ingesting the powder.
Homemade Pet Safe Ant Killer with Vinegar
Vinegar confuses ants by disrupting the pheromones ants use to communicate. If they are unable to find their food source, they either die or move on to a better location.
This spray not only eliminates the ant trails they leave behind, but it is also an ant spray safe for pets.
When getting rid of ants in the house, pour water into a bottle and add apple cider vinegar or white vinegar. Shake the bottle well to mix and label for future use.
Spritz the liquid on areas where you notice ants marching back and forth to eliminate their pheromone trail. Use a paper towel to wipe the liquid away. Spray the solution directly on ants as you see them. You can also use this mixture outside the house but you may need to reapply it after it gets wet.
Keeping Ants out of Pet Food
Putting away your leftover food and making sure there are no dirty dishes on the counter is easy, yet pet food is a little harder to hide from ants. Here is how to keep ants out of cat food and dog food.
Place all pet food in containers with lids and make sure to close the lid in between feedings. Fill a shallow dish with water and put your pet's food dish in the center.
Doing this creates a moat of water around the food, and when the ants try to get a snack, they drown.
Use Mint around Your Home to Deter Ants
Essential oils are a common ingredient in natural insect repellents. However, many types of essential oil are bad for pets, including peppermint essential oil. However, mint plants are safe and are great for keeping ants out of a hummingbird feeder and away from your patio or porch.
Mint Ant Repellent
Many mint species are non-toxic to dogs, including spearmint, peppermint, and wild mint. These herbs are easy to grow and useful for planting around the patio or porch to keep ants from entering your outdoor sitting area.
Grow mint along pathways to your home and near doorways to keep ants out of your house. Not only does mint deter ants, but this herb is excellent for making homemade tea.
Use Natural Ingredients to Prevent Ants from Entering Your Home
Ants leave a trail of pheromones after they discover a food source. This trail helps other ants to find and gather food for the colony. Removing their path confuses them and forces them to locate another food source. There are a variety of ways to disrupt a trail of ants using everyday household items.
Confuse ants and force them to find food sources away from your home. Pour water into a bottle and add a few drops of dishwashing soap. Shake gently to mix and spray the solution across ant trails on countertops, near pet food, or around the garbage can.
Wipe the area clean with paper towels. One of the uses for baking soda powder in the garden is to sprinkle it or black pepper across areas to mask the pheromone scent and cause the ants to return to their home.
If you discover an ant colony in the yard that is disrupting your home, it's easy to kill the entire nest with boiling water. Pour boiling water into a watering can and pour the hot liquid directly into the top of the anthill daily until all ants are dead.
Killing Ants with Diatomaceous Earth
Diatomaceous earth is a powder that occurs naturally and has razor-sharp microscopic pieces that cut into the exoskeleton of insects as they walk across the powder. These injuries lead to dehydration and death.
Diatomaceous Earth Ant Killer
Begin by following the ants to discover precisely where their trail leads in and out of your home. Sprinkle food grade diatomaceous earth across the trails. If you find out where the ants live, cover the area with the powder and create a perimeter around the spot.
Wait for one to two days to determine if follow-up treatment is required. Since DE is also a pet safe cockroach killer and kills many types of insects, consider using this treatment to eliminate other pest problems in the home.
An ant infestation is nothing to take lightly, especially if they are carpenter ants, but eliminating the ant problem has risks if you use the wrong types of products with pets in the home. Fortunately, there are homemade solutions that are easy to make to prevent and kill ants while keeping your furry friends safe.
Recipe for Homemade Pet Safe Ant Killer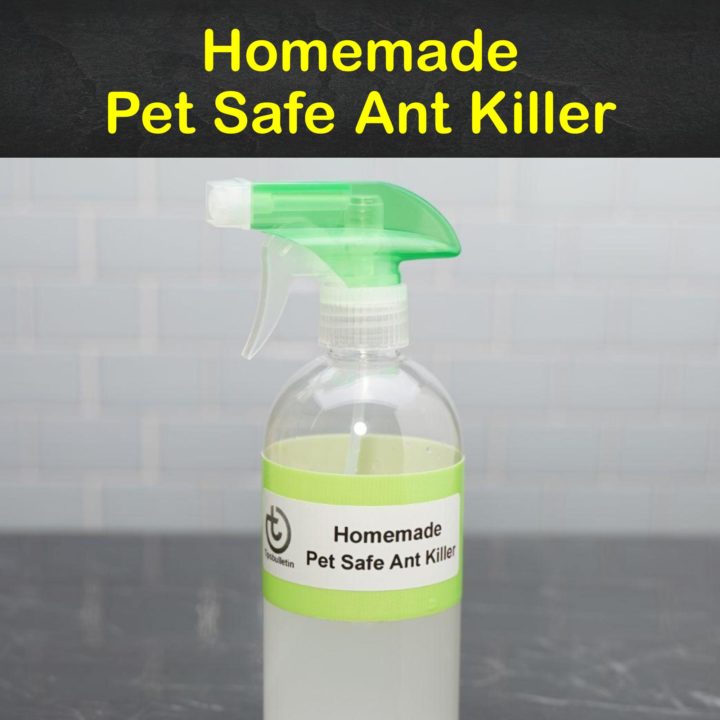 Homemade Pet Safe Ant Killer
Get rid of your ant problem the easy way!
Materials
8 ounces distilled white vinegar
8 ounces of water
Tools
16-ounce sprayer
Measuring cup
Instructions
Pour the liquids into the spray bottle and shake to combine.
Mist any ants you see to kill them immediately.
Use the solution to spray corners, exterior doorways, and under sinks.
Notes
You can substitute apple cider vinegar for white vinegar.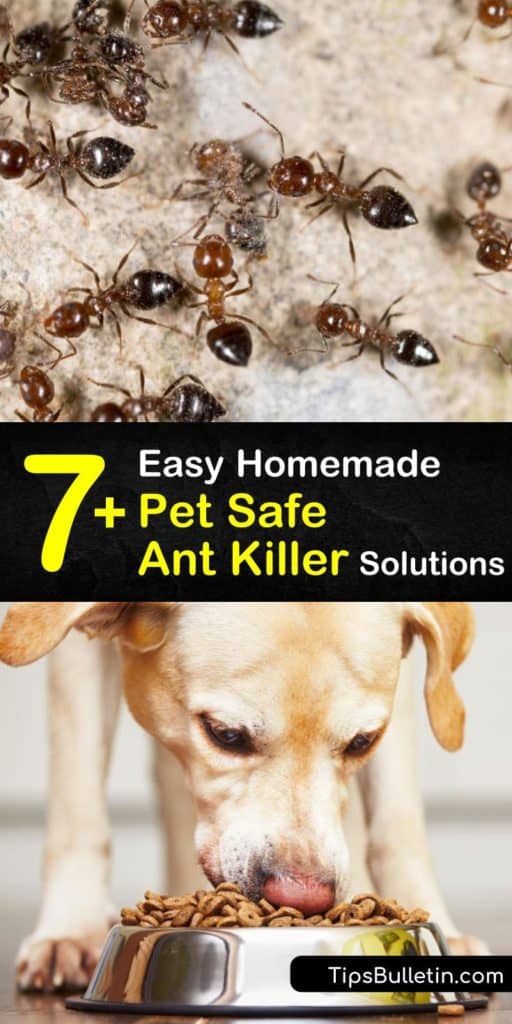 We hope that you make one of our homemade pet safe ant killer solutions to eliminate ants in or around your home, and we'd love it if you'd share our pet-friendly ant killing tips with your family on Pinterest and Facebook.