Nothing is more annoying than pesky fruit flies darting around your food and face while trying to enjoy a meal. While killing these bugs with commercial sprays is possible, pest control products are costly and contain harsh chemicals. Fortunately, there are ways to make a homemade spray to kill fruit flies to save money and eliminate these pests naturally.
Fruit flies are small flying insects that hover around the garbage disposal, trash can, ripe fruit, and other areas where they find rotten fruit and other food sources. Many fruit fly species can lay hundreds of fruit fly eggs in their lifetime, leading to an infestation.
They lay their eggs in fermenting foods and overripe fruit and a fruit bowl sitting too long on the dining room table often causes a fruit fly problem. While these pests are tiny and difficult to catch, sprays and traps eliminate them and stop a fruit fly infestation. The key is to employ the right ingredients and fruit fly control techniques.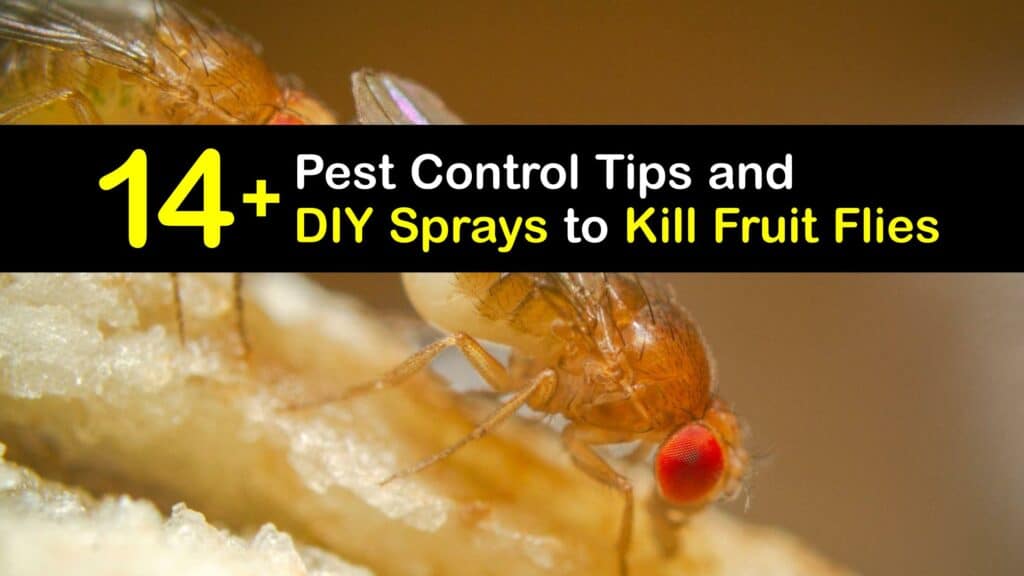 Killing Fruit Flies with DIY Sprays and Traps
Prevent fruit flies from getting into your house and turning into an infestation. One fruit fly hanging out over your fresh fruit is bad enough, let alone a swarm. Learn what fruit flies are, their life cycle and eating habits, and ways to eliminate them with homemade sprays and traps.
What are Fruit Flies?
While you're probably familiar with the fruit fly since this little pest is common, especially around fruits, you may not know that there are 4,000 species worldwide, so it's helpful to learn about these pests to better understand ways to eliminate them.
The Fruit Fly
The common house fruit fly, Drosophila melanogaster, has red eyes, a black abdomen, and a tan thorax, and it gets its name because this insect has a strong attraction to ripening fruit.
Adult fruit flies live 40 to 50 days, and females lay as many as 500 eggs in their lifetime. The eggs hatch within 24 to 30 hours, and the fruit fly maggot feeds on decaying fruit and turns into an adult fly in one to two weeks. It's vital to use a fruit fly repellent to keep these insects out of the home.
Where Do Fruit Flies Come from?
Have you ever wondered where a fruit fly comes from since they seem to materialize out of thin air? All you have to do is set down a glass of juice or wine, and there are suddenly fruit flies following your every move.
Fruit Flies
Fruit flies come from anywhere there is rotting or fermenting food, and you often see them in grocery stores, restaurants, and homes, especially summer through fall. They breed in trash cans, drains, garbage disposals, empty beverage cans, and damp organic matter.
DIY Spray for Fruit Flies with Dish Soap
Soapy water effectively kills fruit flies since it suffocates them. This DIY spray for fruit flies is easy to prepare, safe to use throughout the home, and all you need is some water and a bit of liquid dish soap.
Pour a quarter cup of liquid dish soap into a spray bottle of warm water. Screw the nozzle in place, shake the container gently to mix without creating too many suds, and apply the homemade fruit fly spray directly on the flies. Spray countertops, tables, and floors, and wipe down the surface to prevent an infestation.
Homemade Fruit Fly Spray with Basil
Basil is an aromatic herb that kills and repels various insects, including fruit flies. This DIY spray for fruit flies uses fresh basil leaves or essential oil to quickly and effectively eliminate these flying pests.
Crush a handful of dry basil leaves and add them to a bottle of warm water. Set the container aside overnight to allow the leaves to steep in the water, and then spray the liquid directly on fruit flies when you see them.
To make a fly spray out of basil oil, add a few drops of basil essential oil to a spray bottle with a quarter cup of water, and shake it gently to mix.
Homemade Spray to Kill Fruit Flies with Peppermint Oil
Peppermint oil contains pulegone, a naturally occurring compound toxic to all types of insects, from spiders and mites to aphids and fruit flies. While this minty fruit fly killer spray is enjoyable to us, flies avoid it, seeking better places to infest.
Mix the water and peppermint oil in a glass spray bottle and shake the liquids well to combine. Use glass instead of plastic since essential oils break down plastic materials. Spray the minty liquid on flies as you see them and store the bottle in a safe place for regular use.
Using Lemon Oils to Kill Fruit Flies
Lemon-scented oils work wonders for eliminating the fruit fly and other common pests. This homemade fruit fly spray leaves the room smelling fresh while killing and deterring fruit flies for a bug-free home.
Combine water and vodka in a glass spray bottle and add five teaspoons of lemon eucalyptus oil or lemongrass oil. Close the container and shake it to make your own natural fly spray. Spritz fruit flies and other annoying bugs to kill them on contact.
Using Rubbing Alcohol to Eliminate Fruit Flies
Another great way to eliminate fruit flies is with rubbing alcohol. Make a DIY fruit fly spray with alcohol. This spray kills the bugs instantly, and the scent keeps them from returning.
Fill a plastic spray bottle with alcohol and label it for safe storage. Spray the areas affected with fruit flies or apply it to the insects directly to eliminate and deter them. Keep the bottle in the kitchen and other areas where you frequently notice fruit fly activity.
Making Lavender Fruit Fly Spray
Lavender essential oil is one of our favorite ways to get rid of fruit flies. The fragrance smells heavenly, while the lavender sends fruit flies looking for other areas to congregate.
Pour water, lavender oil, and rubbing alcohol in a glass spray bottle and shake the container gently to combine the ingredients. Avoid using a plastic spray bottle when making this bug spray since essential oils deteriorate plastic materials. Spray the liquid on the bugs when you see them.
Using Epsom Salt to Kill Fruit Flies
Epsom salt has many uses, from easing achy muscles to fertilizing plants, and a lesser-known use is for pest control. Although gnats and fruit flies are not the same thing, this liquid weighs down the flies you spray, killing them on contact. Create a homemade fly spray with Epsom salts.
Fill a bottle with water and add a quarter teaspoon of Epsom salts. Close the container, shake well, and spray the bugs directly as soon as you spot them. To make a large batch for outdoor use, combine five gallons of water with one cup of Epsom salt and spray it over the affected areas.
Make a Fruit Fly Trap with Cider Vinegar
Vinegar is a versatile kitchen item, and there are many good reasons to have at least one bottle in your home. It unclogs drains, eliminates mold and mildew, preserves food, and even kills insects. Discover how to make a homemade fruit fly trap with this miracle liquid.
Pour a small amount of cider vinegar or white vinegar into a jar, add a couple drops of liquid dish soap, and swish the container to mix.
Cover the top with a sheet of Saran wrap and poke a small hole or two in the top for one of the best home remedies to get rid of fruit flies. Set the trap near problem areas like the kitchen, and replace it every couple of days.
The flies crawl into the hole, searching for fermenting food, and cannot find their way back out. It's an easy way to trap gnats and other annoying flying bugs, as well.
Trapping Fruit Flies with Alcohol
While sprays work well to kill fruit flies, you're not always present to spray the liquid on these pests. Another way to eliminate a fruit fly is to set up a trap. This alcohol trap is simple to put together and is effective at luring and trapping fruit flies while you're away.
Pour a small amount of wine or beer into a glass and cover the top with plastic wrap. Make some small holes in the plastic and set the container where you notice fruit fly activity. The flies crawl through the openings for a tasty treat, cannot find their way out, and drown.
Clean the Sink Drain to Get Rid of Fruit Flies
A bowl of fruit in the kitchen is not the only area where fruit flies congregate. They also like to hang out in the kitchen sink like fungus gnats, especially if you flush fermented food particles down the drain.
Start by cleaning the drain well with a bottle brush or hard-bristle brush. Pour boiling water down the drain to kill drain flies, gnats, adult fruit flies, and eggs. Finish by pouring some bleach in the sink to kill bacteria, mold, and other fruit fly-attracting residue.
Trap Fruit Flies with Ripened Fruit
Another way to trap a fruit fly is to bait them with ripe or rotten fruit. They smell the fruity scent, find themselves trapped, and eventually die. This is one of the easiest natural ways to kill fruit flies inside your house. Set up a fruit fly trapping system with old fruit.
Place overripe fruit in a container and cover the top with a plastic bag. Secure it with a rubber band and poke a few small holes in the top. Any type of fruit works, from bananas and melons to apples. Set the trap in an area with fruit flies and watch as they are captured in the fruit trap.
Deterring Fruit Flies with Plants
While sprays and traps are great for getting rid of fruit flies, plants are even better since they keep the pests away from your home and prevent an infestation. Here are some of the more popular insect-repelling plants to grow inside your home and garden.
Basil and peppermint are popular herbs that repel fruit flies. Both plants are easy to grow, and basil is perfect for growing indoors on a kitchen windowsill.
Lemongrass is an ornamental grass that looks stunning in the yard, and it keeps fruit flies and other pests away. Getting rid of fruit flies is easy with lavender, as it is an attractive flowering herb that emits a floral scent these insects hate.
Ways to Prevent Fruit Flies in the Home
Fruit flies are a nuisance since they are tiny and seem to disappear as soon as you try to capture them. Fortunately, there are numerous ways to keep them outside and prevent them from becoming a problem.
Fruit Fly Prevention
One of the best ways to keep these pests out of the house is to slow the ripening process of fruits and veggies by keeping them in the fridge. If you cannot refrigerate them, wash the fruits well and cover them in a fruit bowl.
Empty trash cans often, especially after discarding fruit pieces. Keep the sinks and garbage disposals clean, and set a fruit fly trap on the counter as soon as you notice fly activity.
While fruit flies seem to come out of nowhere and quickly multiply, getting rid of them is pretty straightforward. All you need is some vinegar or fruit and some patience, and these pests are gone in no time.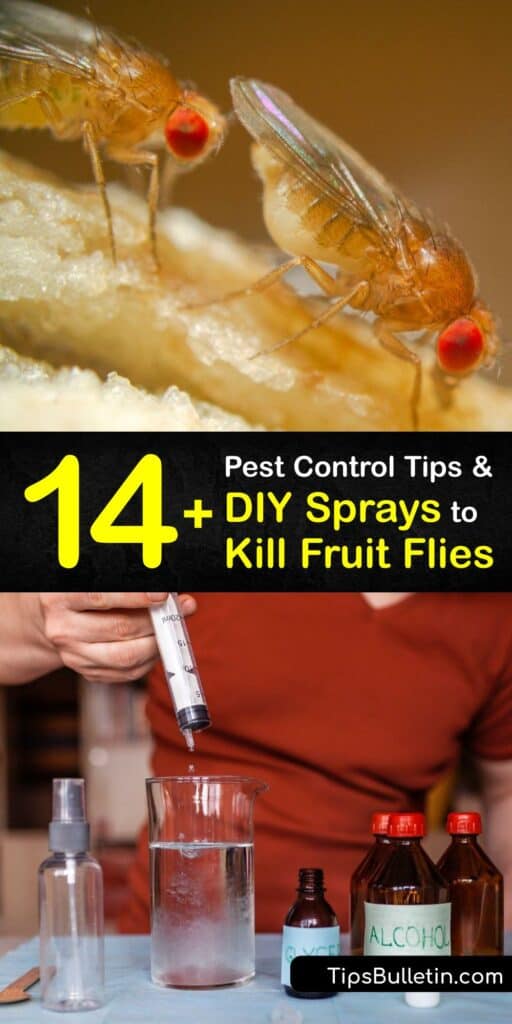 Now that you can get your home fruit-fly free with a homemade spray to kill fruit flies, why not share our DIY fruit fly sprays and traps with your family and friends on Pinterest and Facebook?