Who doesn't enjoy butternut squash roasted with olive oil and maple syrup and seasoned with a dash of cinnamon or a steaming bowl of rich and creamy butternut squash soup you create with your favorite squash recipe? But, how long does butternut squash last, and where is the ideal place to store it?
Just like spaghetti squash, acorn squash, and other winter squash, butternut squash is very nutritious. It is rich in nutrients, contains high amounts of Vitamin A, and is low in calories. Its sweet and nutty flavor makes it the perfect fall side dish for everything from fried chicken to roasted turkey.
While this winter squash is available throughout the year at your local market, it is best in the early fall through winter. It's at this time of the year you find the greatest deals, and it's convenient to stock up on your favorite cooking gourds.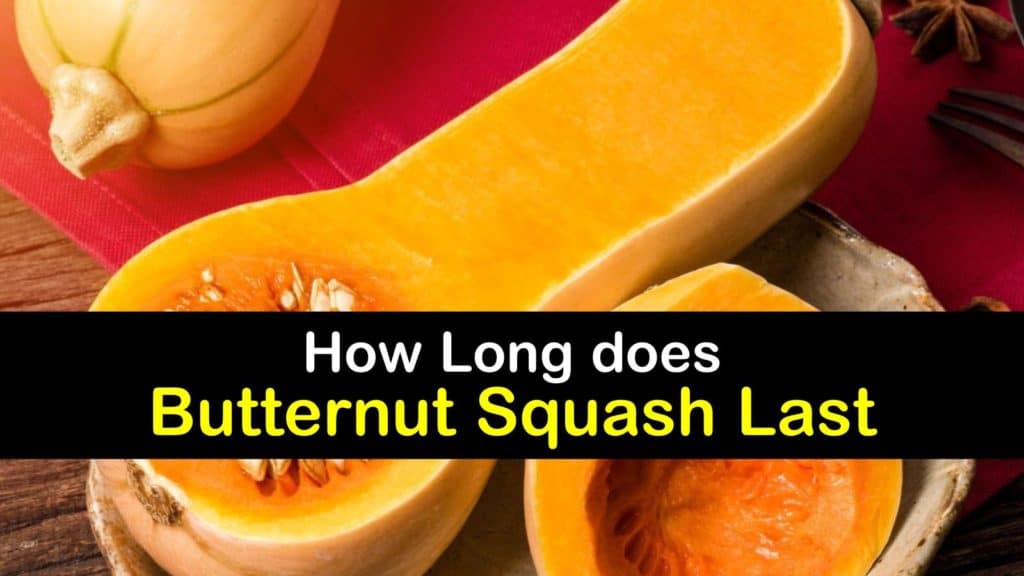 The Shelf Life of Butternut Squash and Ways to Store it
Even though squash lasts a relatively long time, it's still important to know the right way to store it to keep it fresh.
Unlike delicata squash that is less hardy or when you want to store yellow squash, butternut squash seems to last forever, as it sits waiting for your next recipe, and it's often difficult to know whether it is ripe or unripe.
Unlike ripening fruit, it's not easy to tell when winter or summer squash is ready to eat. So, when is butternut squash ripe?
Everyone has their own style of picking ripe vegetables at the grocery store, with methods that include everything from knocking on the veggies to squeezing them.
We explain how to tell when butternut squash is gone bad, when it's perfect for eating, and ways to store it short and long term.
When is Butternut Squash Ripe?
Tomatoes are ripe when they are red and firm, and bananas turn yellow when ripe. However, squash is a different story. After you discover the best time to plant butternut squash and care for it in your garden, you have a few other things to learn.
There's a bowl of squash on the kitchen table, whether you grow your own squash in the garden or you buy it, so when is butternut squash ripe and ready to eat?
To choose healthy, ripe butternut squash from the grocery store, begin by looking for a squash with a matte, dark beige skin with the stem still attached. Avoid those with cuts, bruises, blemishes, or soft spots.
Bypass them if they have green or yellow patches and a shiny surface since this means they are picked too early and are unripe. Hold it in your hand and check for weight.
A ripe squash feels heavier than one that's unripe. Tap on the outside of the squash and listen for a hollow sound that indicates ripeness.
If you grow your own squash at home and can't determine when it's ripe for harvesting, the first thing to look for is size.
While this varies, squash that is ready for picking is usually about eight to twelve inches long. Wait until the stem turns from green to brown, and pick it when the skin is golden or beige.
If you have to pick your squash before they are fully ripe due to an unexpected frost, try curing them to encourage ripening. Store them where the temperature is between 80 and 85°F with a humidity level of 80 to 85% for ten days.
How to Tell When Butternut Squash is Gone Bad
That squash is still sitting, waiting for you to eat it, and you've finally decided to use it in a recipe, but is it still good? Here is how to tell when butternut squash is gone bad and ready for the trash or compost pile.
Bad Butternut Squash
Healthy butternut squash has a firm rind with a fairly even color and no soft or mushy spots. However, a few small soft spots are okay and easy to remove when cutting. If the squash feels hollow inside or begins leaking fluid, toss it out.
If you are still unsure, set the squash on a cutting board and use a sharp knife to slice it. If the flesh has its usual texture and color, but the seeds look stringy and unappealing, simply cut out that section and enjoy the rest.
To check if butternut squash is still good after cutting it and storing it in the fridge, it is more than likely bad if it sits for more than a week.
Inspect it for white specks and mold or a change in texture, and smell it for an off odor since these are all indications that it is bad.
How Long Does Butternut Squash Last?
How long does butternut squash last, and where should you store it? It depends on whether it is whole, cut, or cooked. Here is how to properly store squash in the basement or cellar and the refrigerator.
To store whole butternut squash, keep it in a cool and dark place in your home, keep the squash dry, and store it away from fruits that produce ethylene gas.
Squash keeps the longest when the temperatures are between 50 and 60°F, so the basement and cellar are good locations. Stored in this manner, they last up to three months.
It's safe to keep your squash at room temperature if you plan on eating it fairly soon. Remove it from the grocery store plastic bag and set it in a dry place in your kitchen for up to two weeks.
After cutting into a butternut squash, it's essential to keep it cold in the fridge to prevent spoilage. Place the squash half or slices into a plastic storage bag or airtight container and set it in the fridge.
To keep cooked butternut squash fresh, allow it to cool and spoon it into an airtight container. Snap the lid in place and store it in the coldest part of the refrigerator.
How long does butternut squash last in the fridge? Cooked and uncooked squash keeps fresh for four to five days.
Can You Freeze Butternut Squash?
Does butternut squash hold up well to freezing? This question is common, and the answer may surprise you. Butternut squash does, in fact, freeze very well, and this is the perfect way to store your leftovers for up to one year.
The way to freeze squash without blanching and to freeze raw pieces of squash, peel and cut them into desired sizes and spread them in one layer on a cooking sheet lined with parchment paper.
Flash freeze them until frozen solid and transfer them into a freezer bag. Use your hands to push out excess air before sealing the bag shut and returning it to the freezer.
If you prefer to blanch your squash before freezing to retain texture and flavor, peel and cut the squash into one-inch chunks. Set the pieces into a pot of boiling water and blanch them for three to five minutes.
Use a slotted spoon to move them quickly into a bowl of ice water to stop the cooking process. Spread the pieces on a parchment lined baking sheet and set the pan in the freezer for a few hours.
Transfer the frozen squash into a freezer bag, press out the air, and seal it shut before returning it to the freezer.
It's also possible to freeze leftover cooked squash. Let the butternut squash cool completely, and scoop it from the pot or dish into a freezer-safe container. Set it on the freezer shelf and use it within 12 months for the best quality.
How to Cut Butternut Squash for the Freezer
The best way to keep butternut squash long term is to freeze it. However, it needs preparation before you store it in the freezer. Here is a simple way to peel and cut your squash for the freezing process.
Set the squash on a cutting board and use a large knife to slice off both ends, and then peel the skin off the entire gourd with a vegetable peeler.
If the skin is extra tough like that of the hubbard squash, use a fork or knife to pierce it in several areas and then set it in the microwave for two minutes before using a peeler.
After peeling, cut the squash in half vertically and use a large spoon to scoop out the stringy seeds. Set the flat side on the cutting board and cut the squash into one-inch pieces or desired sizes. Refrigerate the squash pieces or freeze them for longer storage.
Butternut squash is a great addition to your diet, whether you puree cooked butternut squash or prefer eating yours cubed and roasted.
Not only is it versatile and high in nutrition, but it is easy to store and lasts a long time at room temperature and in the freezer.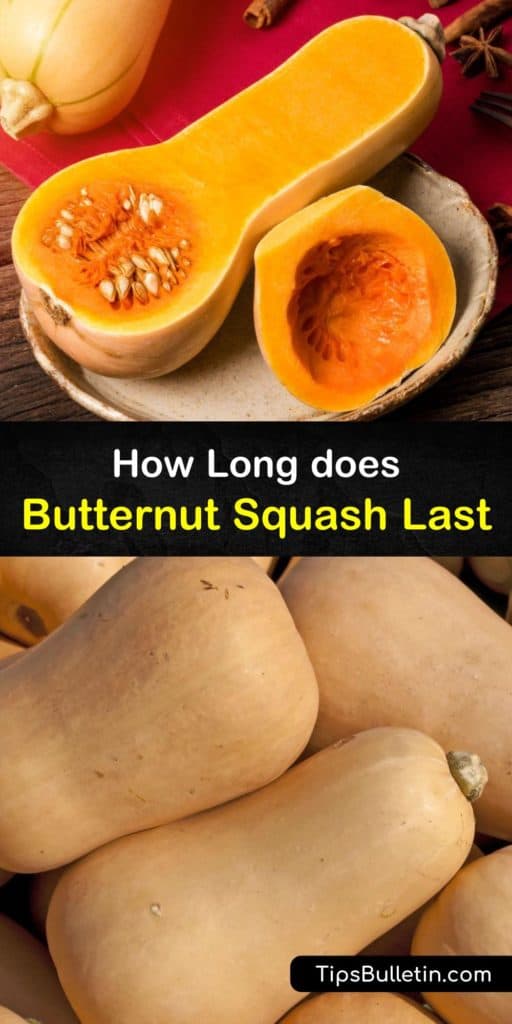 Now that you learned the answer to how long does butternut squash last, why not share our butternut squash storage guide and tips with your social circle on Facebook and Pinterest?