Nothing is more frustrating than enjoying a bowl of fresh fruit when fruit flies or gnats are present. They fly in front of your face and settle on each sweet bite of juiciness before you get to eat it. Learn how to catch a fruit fly with bait and traps and prevent an infestation so you can enjoy your fruit in peace.
Fruit flies (Drosophila melanogaster) are a common problem, especially when a fruit bowl of ripened fruit is sitting in the kitchen. These pests love ripe fruit and fermented items like wine, beer, and liquor and flock to areas where they are readily available.
These food sources also give pesky fruit flies an opportunity to breed and lay eggs, leading to a fruit fly infestation. It's essential to eliminate fruit flies and fruit fly larvae and take preventative steps to stop the fruit fly problem from recurring. Follow our natural ways to get rid of fruit flies at home and in the yard.
Ways to Catch a Fruit Fly
Discover how to make a fruit fly trap and use different baits to capture and eliminate fruit flies in your home. In addition, find ways to keep these insects from becoming a household problem.
How to Bait Fruit Flies Into a Trap
The best way to catch a fruit fly is to use the type of bait they love. Learn several of their favorite food sources to help you pick the ideal bait to attract and trap fruit flies.
Vinegar is an excellent liquid for luring fruit flies, and while white vinegar works, apple cider vinegar is even better. Ripe, overripe, or rotten fruit is another item that attracts flies, as well as fruit juice. Alcohol, like beer, wine, and liquor, is excellent for drawing fruit flies.
Best Way to Catch a Fruit Fly
There are many different fruit fly traps, yet one that uses beer as bait is a favorite since it seems to draw the most flies. Explore the best way to catch a fruit fly by making a beer fruit fly trap.
Pour a half cup of old or fresh beer into a Mason jar and screw the lid in place. Punch a few holes in the top with a hammer and nail. Set the fly trap in an area where you notice fruit fly activity and dispose of the liquid once it captures the pests.
Catching Fruit Flies With Apple Cider Vinegar
This fruit fly trap is a good alternative if you prefer catching fruit flies with apple cider vinegar rather than beer. All you need is some apple cider vinegar, dish soap, a container, and plastic wrap.
Pour cider vinegar into a small bowl, add two drops of liquid soap to ensure surface tension, and cover the bowl with a sheet of plastic wrap. Secure the plastic with a rubber band, poke holes in the top, and set the trap in the infested area.
How to Catch a Fruit Fly in a Bottle
Don't be too hasty to discard the bottle the next time you open a bottle of wine. Instead, save it to use as a homemade fruit fly catcher, and you'll be fruit fly-free in no time.
Fruit Fly Bottle Trap
Fruit flies love wine because they think the liquid is fruit. Put an empty bottle of wine on the counter to trap the pests. The bottle has a small hole with a narrow neck, and the insects fly in and cannot find their way back out. Consider leaving a small amount of wine in the bottle to make the trap more effective.
Ways to Keep Fruit Flies at Bay
Catching fruit flies with apple cider vinegar is relatively easy, yet we'd prefer to avoid these pests in the first place. Follow some fruit fly prevention tips to help you stop an infestation, such as our natural fruit fly killer spray that makes these pesky flies leave you alone.
Fruit flies hate the scent of basil; leaving a potted basil plant on the counter in your kitchen helps keep these insects away. They also hate mint, rosemary, and lavender. Creating an indoor herb garden is an excellent way to control gnats and flies in your yard. You will also have fresh herbs handy whenever you need them.
If you keep your fruit in a fruit bowl, wash and dry them well, and cover them to prevent flies from having easy access. Otherwise, slow the ripening process by storing them in the fridge. Keep the sink, drains, and garbage disposal clean to stop the organic matter from fermenting and drawing bugs.
Fruit flies can quickly find even the tiniest splatter of fruit juice or wine, so it's vital to clean up promptly after preparing food by wiping down the counters, table, and dishes. Avoid placing fruits and other fermenting foods in the indoor trash. Instead, dispose of them in the outside garbage can or outdoor compost pile.
Wash sponges and dish towels frequently since they may contain tiny bits of trapped food particles. Keep the doors and windows closed as much as you can, and control indoor humidity. Keep a fan on the kitchen counter to blow fruit flies away from your food while cutting, preparing, and cooking to prevent the flies from landing on the food items and laying eggs.
An adult fruit fly lays up to 500 fruit fly eggs, and it's not long before fruit fly populations get out of control. It's essential to dispose of rotten fruit immediately and take steps to trap fruit flies as soon as you notice them.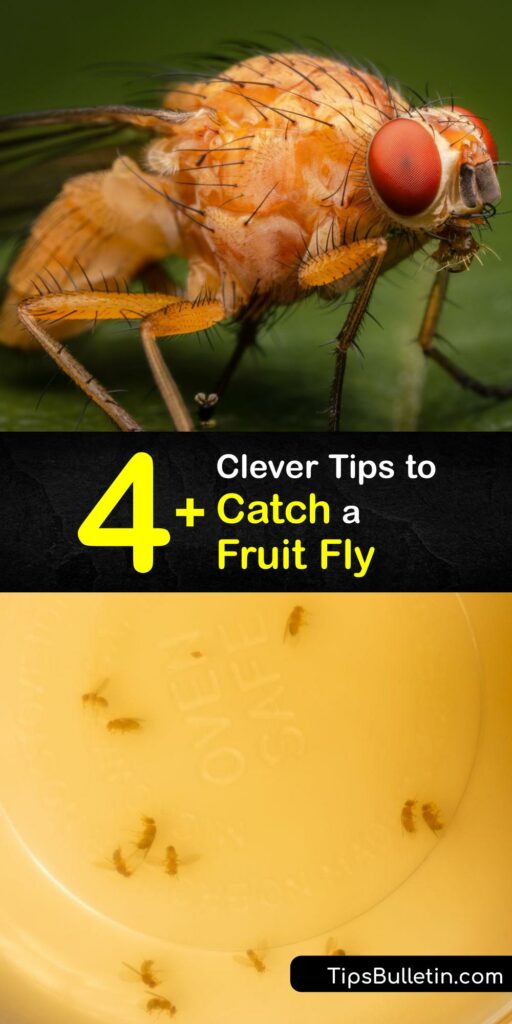 Knowing how to catch a fruit fly means that you get to enjoy eating fruit without bothersome pests, so why not share our tips for catching fruit flies with your friend and family circle on Pinterest and Facebook?