Equipping yourself with the tips on the best way to clean a diffuser revives the relaxing, calming, and wellness benefits of aromatic essential oils after its use. It's vital to know how to clean a diffuser, and you can practice once in a while instead of waiting until it starts to experience hiccups like clogging.
Standard diffusers contain an oil and water mixture reservoir with a small bottom disc within while a lid covers the top. This water reservoir area starts to look a bit dodgy on the inside with frequent use as sticky oil residues begin to build up.
Buildup within the diffuser will give you mixed scents, especially if you are changing oils and cleaning the mold. Cleaning a clogged diffuser for your essential oils is also one sure way of extending its lifespan.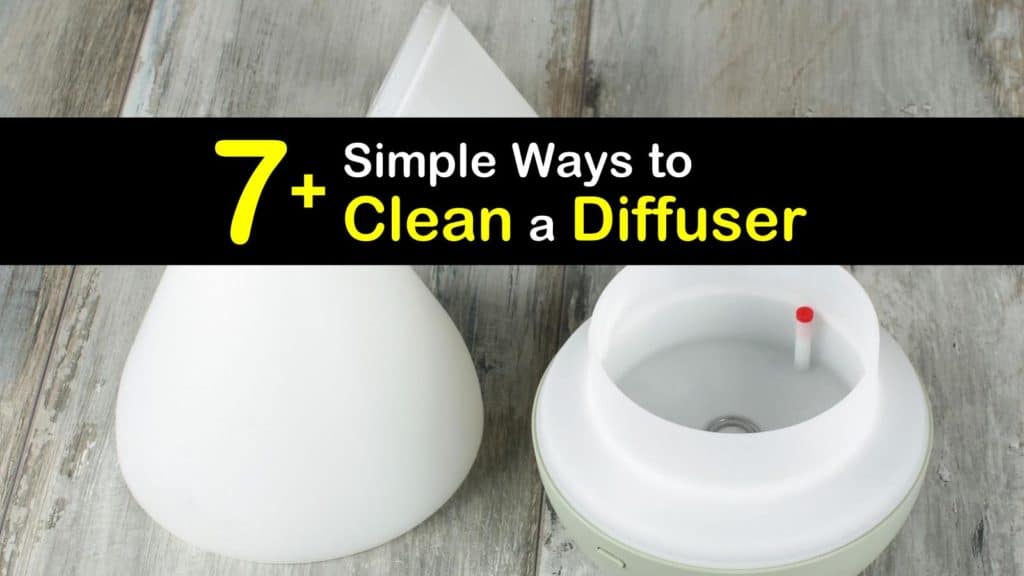 What's the Right Way to Clean a Diffuser?
Although essential oils like rosemary, eucalyptus, thyme or tea tree, and sandalwood have anti-germ properties, mold does creep into unwashed diffusers.
If you leave water standing within your diffuser after use, you'll be essentially spreading mildew spores whenever you turn it on.
Dirty, clogged diffusers not only damage the air quality in your living space but also cause the electrical implement eventually to break down, detrimental to your warranty.
Viscous oils leave a gum residue that clogs up your diffuser, affecting the next diffusion's efficacy and scent. Mold, bacteria, and other harmful pathogens love a dirty diffuser, and cleaning keeps it functioning at its optimal levels.
Because of this, it's important to learn how to clean a diffuser. A diffusion of energizing grapefruit is perfect for relaxation when you are stressed or in a bad mood.
Unless you know how to unclog a diffuser, its attributes may be hampered by the previous lavender relaxation scent or odor residue. You also don't want to wait and have to deal with cleaning a clogged diffuser if you know how to clean one.
How to Clean a Diffuser for Essential Oils
To get the most of your essential oils diffuser, ensure that you clean it regularly or, if possible, after each infusion. The buildup often occurs due to hard water scum if you use tap water to mix your essential oils.
Altogether, some oils naturally leave residue after being heated or evaporated. Your diffuser could also be spreading less mist, or there is an increasing ringing sound, especially with ultrasonic models.
All these symptoms point to the right time for giving your diffuser either a quick or a thorough cleaning. Read your manufacturer's manual as some diffusers come with specific cleaning instructions.
Before attempting to clean a diffuser, or troubleshooting other problems, always unplug from the wall socket. Depending on how frequently you use the essential oils diffuser, improve functionality with regular cleaning, which translates to one or two times a month.
Maintain its functionality by following these simple ways to clean a diffuser, avoiding odor, clogging, and malfunctions—empty remnant oil solutions within the reservoir before following these DIY steps.
Clean after Use
Forgetting to empty or clean mold in your diffuser after use leads to a mix of scents. Before doing a deep clean, wipe out the inside with an alcohol-soaked microfiber cloth or cotton swab to avoid the buildup.
When you notice essential oil buildup in your diffuser, fill it with white vinegar or rubbing alcohol to its water level line and let it soak overnight as one way to descale.
Just like you can use vinegar and baking soda in the toilet tank for cleaning, these items do a great job of eliminating oil buildup in a diffuser, too.
White Vinegar for Cleaning a Diffuser
Vinegar, a common household ingredient, also serves as an essential oils diffuser cleaner. It's also ideal for cleaning an ultrasonic humidifier. However, using vinegar as a cleaning solution may void your manufacturer's warranty on some humidifier and diffuser models.
To make a homemade cleaner with vinegar, add vinegar to a diffuser that's half full of water, and let this cleaning solution sit for about five minutes. Start your diffuser and let it run for a few minutes, then drain the water and vinegar mixture completely.
Dip a cotton swab in vinegar, clean the nooks and crannies, and then rinse and dry the diffuser thoroughly. Repeat the process if some spots are still dirty, and rinse and dry with a clean cloth.
Vinegar makes the perfect solution for descaling a humidifier, as well.
Alcohol for Cleaning an Ultrasonic Chip Diffuser
It's best to clean an ultrasonic diffuser with alcohol, particularly for ultrasonic models that feature a chip in the water tank.
Unplug from the power source and pour out any mixture remaining in the reservoir. Wet the soft cloth in water, dot it with a small amount of liquid dishwasher detergent, wipe out the water reservoir with the cloth, and rinse with clean water.
Dip a cotton ball or microfiber cloth in rubbing alcohol before gently wiping the ultrasonic plate or chip. Remember to dry the diffuser components completely before assembling and refilling it again for use.
Before trying this DIY home remedy, check manual instructions, or talk to your product or brand vendor's customer care specialists for advice.
Try alcohol as a way to keep humidifiers clean, as well. The disinfectant properties help to prevent the spread of germs.
Citric Acid Solution for Cleaning Your Essential Oil Diffuser
You can use citric acid to clean your diffuser since it's water-soluble and won't leave an oil residue. However, check your manufacturer's manual to avoid any damage resulting from an acidic solution.
Fill the diffuser with water, add citric acid and let the solution sit for approximately ten minutes.
Turn on your diffuser and let the citric acid and water solution run through its machinery; drain the mixture, and rinse the diffuser with warm water.
Repeat the process until any discoloration or buildup clogging is removed, and wipe down your essential oil diffuser with a dry microfiber cloth.
Try this remedy to properly clean a humidifier, too. It offers excellent results.
Cleaning a Nebulizer Diffuser
With frequent use, clean nebulizing diffusers at least once a week. The main glass reservoir is where a significant amount of cleaning is needed, and accomplished with rubbing alcohol.
After adding a couple of alcohol drops within the reservoir, let the nebulizer run for ten minutes as a way to descale.
Remove the water reservoir and place it in hot water and mild dishwasher liquid solution, leaving it to soak for about half an hour. Rinse it thoroughly with clean water; wipe with a paper towel before letting it air dry.
Cleaning an Evaporative Diffuser
The proper cleaning of an evaporative diffuser is easy as there are no small parts to remove.
Remember to remove the scented pad or wick before wiping everything down with a damp microfiber cloth. After cleaning, reinsert the wick, and you're ready to start diffusing your oils.
Cleaning a Clogged Diffuser with Alcohol and Vinegar
When dealing with a clogged diffuser, a thorough clean should bring it back to optimal working level.
Unplug your clogged diffuser and empty any standing excess oil mixture. Avoid getting the control buttons wet, and cover any electrical parts of the diffuser.
Fill the diffuser reservoir to the water-fill line and add a few drops of white vinegar into the tank. Plug in and run the diffuser for ten minutes, giving the water and vinegar solution time to cut oil residue or buildup.
Deep Cleaning Your Essential Oil Diffuser
To keep your diffuser working without clogging, clean it thoroughly at least once every month. For a diffuser deep-cleaning, fill the diffuser with water below its fill line, and add one teaspoon of white vinegar.
Plug in the diffuser and run for five minutes, then empty the reservoir and rinse with clean water. Refill the diffuser with water only and run again for two minutes, empty and dry it out.
How Does a Diffuser Work?
Like your reusable water bottle or coffee maker, the best essential oil diffuser is something you use daily. With such frequent use, and as a means for maintenance, you should know how to clean a diffuser, giving it a thorough once-over after a while.
So, how does a diffuser work? Dating back to ancient Egyptian, Chinese, Roman civilizations, oil diffusers are useful tools for aromatherapy.
The best essential oil diffusers work to fill a room with natural fragrances by heating and dispersing essential oils for calming, relaxing, or energizing effects.
The best essential oil diffuser blends are available with different dispersion mechanisms, including nebulizers, ultrasonic energy, or electric heater.
Other than the oil vaporizing elements, the best essential oil diffusers have outer parts made from wood, ceramic, or glass.
Did you enjoy this article? We hope you have learned at least one way to clean a diffuser to continue brightening your day with essential oils mists.
The tips we provide are beneficial for cleaning a clogged diffuser and should work wonders to return that hum in your diffuser.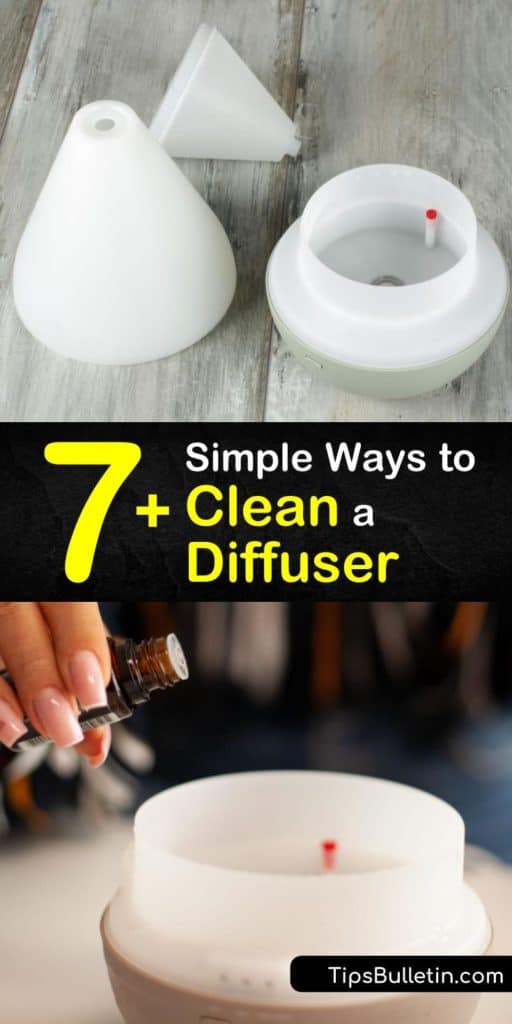 If you found these tips on how to clean a diffuser helpful, share the ways to unclog a diffuser with your friends on Facebook and Pinterest.