When you clean your kitchen, you probably think you're getting every crumb and streak. However, it's easy to forget an essential part of the kitchen: the stove top. It's such an easy part to overlook when looking over your cleaning checklist for your kitchen, but learning how to clean a gas stove top will not only make your life better, it can potentially help you avoid a dangerous scenario. 
It may not seem so important, but if you neglect your gas stove top, you could be dealing with significant issues. Leaving a gas stove top too long without cleaning can be hazardous. Too many instances of dropped food particles or accumulated oil can lead to a fire, and no one wants that to happen.
Luckily, proper upkeep can prevent any danger from occurring. When you follow these steps for cleaning your gas burners, you can avoid many of the inconveniences that come with dirty burner caps and food residue. While oven cleaner products work well, you can save money by making your own cleanser with household ingredients.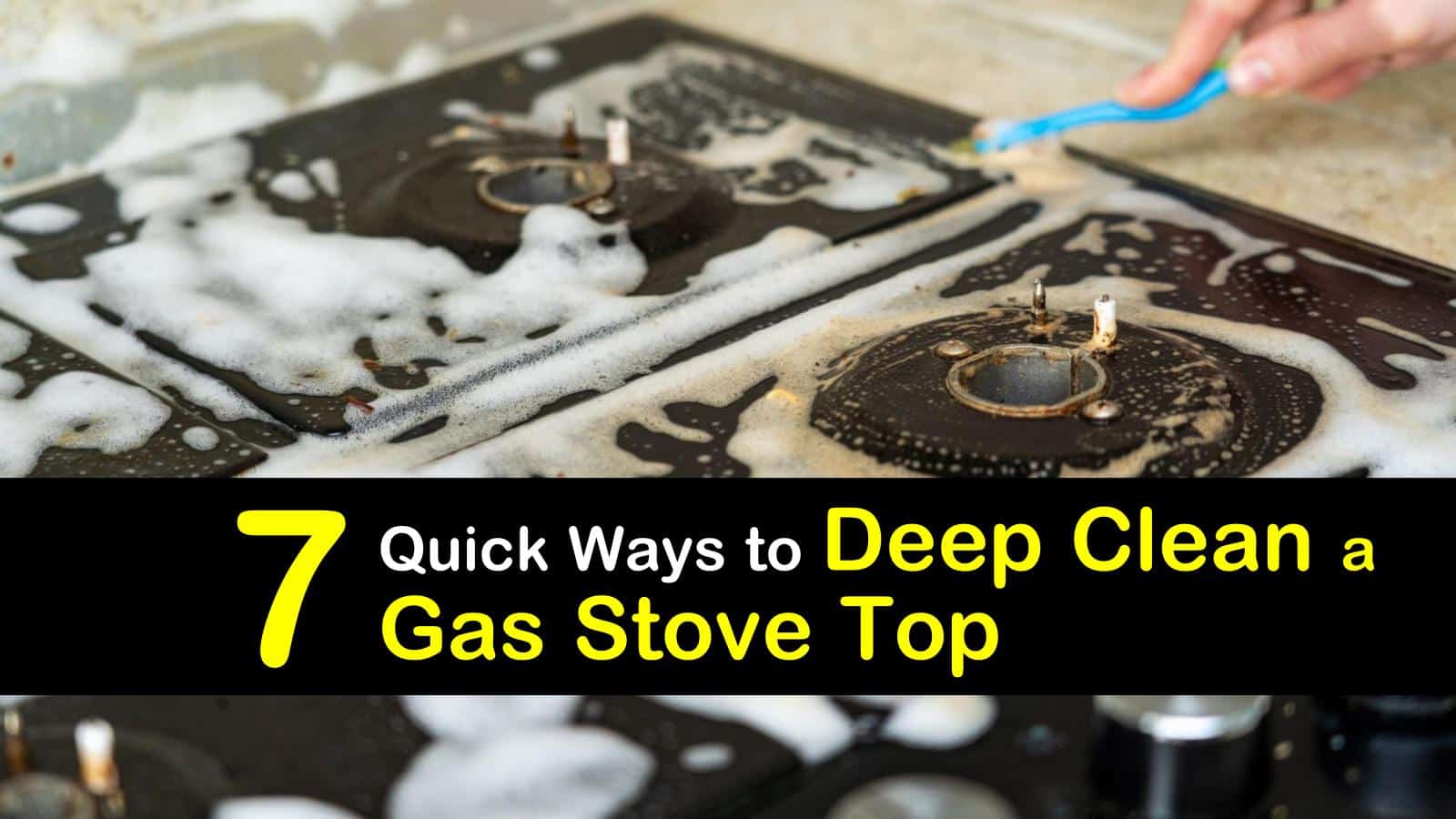 Seven Ways to Clean Your Gas Stove Top
1. How to Clean a Gas Stove Top Safely
Before you begin applying the natural, DIY recipes to your stove top for cleaning, you need to prepare your stove top. A gas stove top can be dangerous, so you must observe some safety measures as you work toward cleaning the stove top.
First, you must disconnect the electrical connections and turn off the gas. Remove every detachable part that you can from the oven, including the burners, stove grates, caps, drip pans, racks, knobs, and handles. Make sure your stove is cool, and be careful not to turn on the burner when removing the knobs.
Place these parts in soapy water and use a scrub brush to remove debris. Dry them with a paper towel. It is also essential to clean your igniters while disassembling the parts. Use a toothbrush to remove any build-up and gunk that is on or around the igniter.
Use a non-abrasive scrubber to remove debris from the surface. If there are any port openings or hard-to-reach areas, use a straightened paper clip to dig out the caked-on gunk.
2. Clean the Gas Stove Top with Baking Soda and Hydrogen Peroxide
Baking soda and hydrogen peroxide are a powerful combination when it comes to giving your gas stove-top a deep clean. Sprinkle baking soda over the stove and then, using a spray bottle, squirt hydrogen peroxide on the baking soda-covered stove top.
The surface should have a thick paste on it that begins to fizzle as it breaks down dirt and grime. Once the stains have loosened, rinse the stove with water and wipe down with a microfiber cloth.
3. Use Vegetable or Olive Oil for a Clean Stove Top
Vegetable or olive oil can help loosen caked-on stains. Pour a small amount of oil onto your stove top and use a cloth to scrub it into the mess. Spray down the entire surface with an all-purpose cleaner and wipe off.
This solution also works on the hood of your stove. You can follow our easy all-purpose cleaner recipe, which is the perfect stainless steel cleaning liquid. Combine all ingredients in a 16-ounce glass bottle with a spray nozzle.
All-Purpose Cleaner for Cooktop

½ cup rubbing alcohol
1/3 cup distilled white vinegar
12 ounces of water
4. Ammonia Can Make a Big Clean-Up Difference
Ammonia is perfect for cleaning up baked-on grime on your burners. If your grates are particularly dirty and soapy water won't cut it, place them in a Ziploc bag and pour in ammonia. Seal the bag and leave the bag outside overnight.
Rinse them off the next day and see the difference. While you're doing this, use steel wool or a scraper to scrub your burner base to get rid of all grease stains and food particles.
Using warm water with some dish soap, wash away the stains, and use a sponge to soak up any debris. Grab a damp cloth to wipe the base clean.
5. Boiling Water Will Do the Trick
One of the easiest ways to clean gas stove burners and grates is using boiling water. It isn't the most powerful cleaner on the list, but it will get the job done in a pinch.
Boil water and then carefully pour it over the dirty stove top. Leave it until it cools and then wipe away with a cloth. If there are stubborn stains left over, grab a scrubber or dip your cloth in some Dawn or liquid dishwasher soap and wipe down the stains.
6. White Vinegar and Elbow Grease
White vinegar is one of the most potent natural cleaners and is one of the best ways of cleaning gas stove top grates. It is perfect for loosening stains from glass top stoves and other surfaces.
Vinegar Stove Cleaner Mix

1 part vinegar
2 parts water
Mix the vinegar and water in a spray bottle and spray the cleaner on your gas range stove. Wipe down the surface and wring out your cloth. To help loosen the dirt, you can use hot water in your mixture, though any temperature will suffice.
7. Safest Ways to Clean Gas Stove Burners and Grates
With all of the tips and information we've dispensed here, the most crucial factor when it comes to properly cleaning your gas stove top is performing a test. Some ingredients don't react well with burners, so you must try each cleaning method on a spot-test basis. If you are able to clean grime from your gas stove with traditional methods, then you should be safe to use any of the methods on this list for cleaning.
Next time you get ready to clean up your kitchen, remind yourself that it's probably also time for you to clean your stove top. And while you're at it, you should also clean the inside of your oven — an easy task with a self-cleaning oven.
While many of the deep cleaning solutions on this list also work for an electric stove, the process of disassembling the stove parts is a little different. Remember that cleaning is always easiest when you don't let the problem get too bad, so add this cleaning task to your regular cleaning rotation.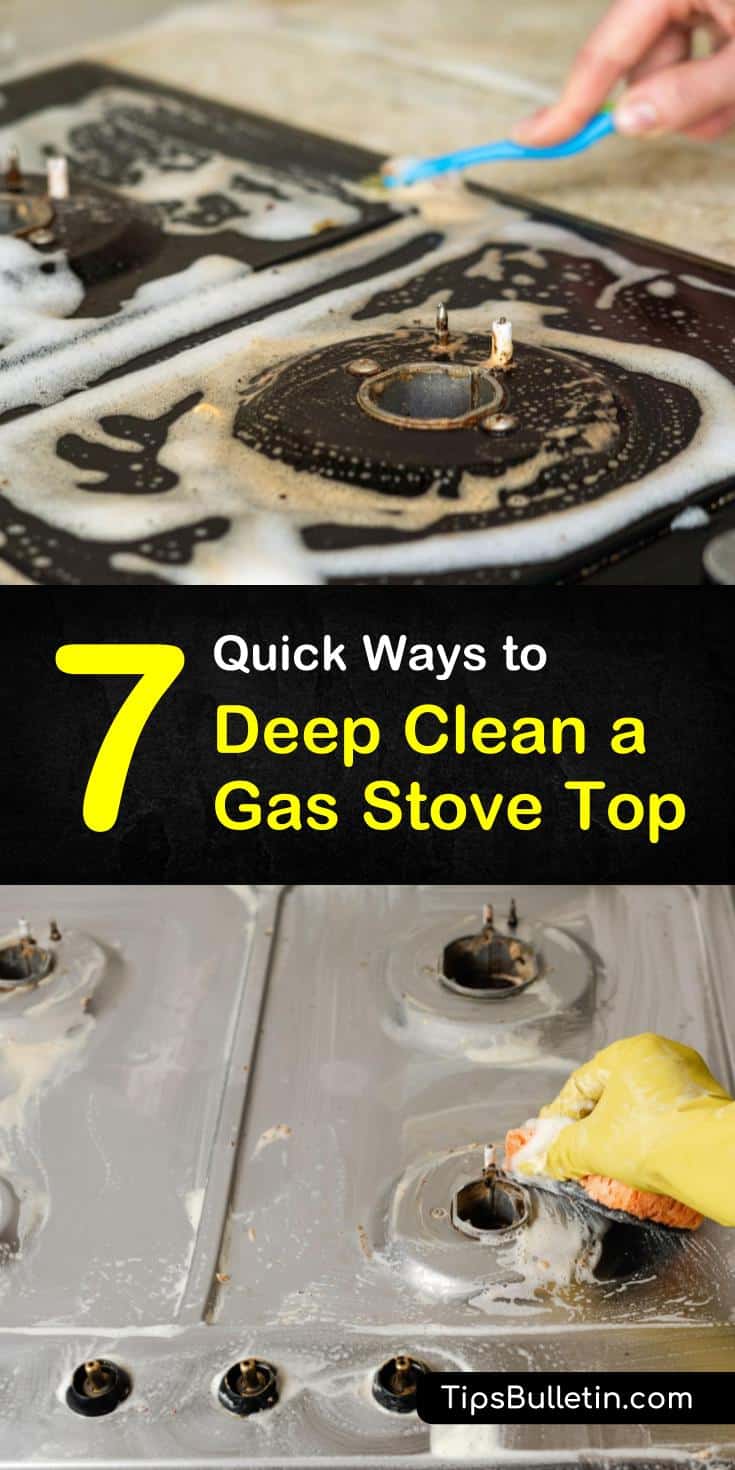 If this guide helped you learn how to clean a gas stove top, then share our cleaning tips with your friends and family online!