Almost every cook prefers to work with gas burners. Having a gas stove gives us exceptional control over our cooking temperatures, and when you cook with gas, you get instant heat without a long wait, unlike electric coils. Cast iron gas grates can get dirty in a hurry, though, and that's why it's essential to know how to clean gas stove grates.
Having tried-and-true methods for both heavy-duty and daily cleaning of gas stove burners and grates will keep your kitchen looking beautiful and tidy. We created this article to help you find the methods of cleaning stove grates that work best for you. In our guide, you'll discover how to clean cast iron stove grates regularly using gentle cleaning products and elbow grease.
We also show you cleaning methods you can use for more robust baked-on and burned patches that require heavy-duty solutions. In no time flat, you'll be cleaning stove burners like a pro and will make your home sparkle.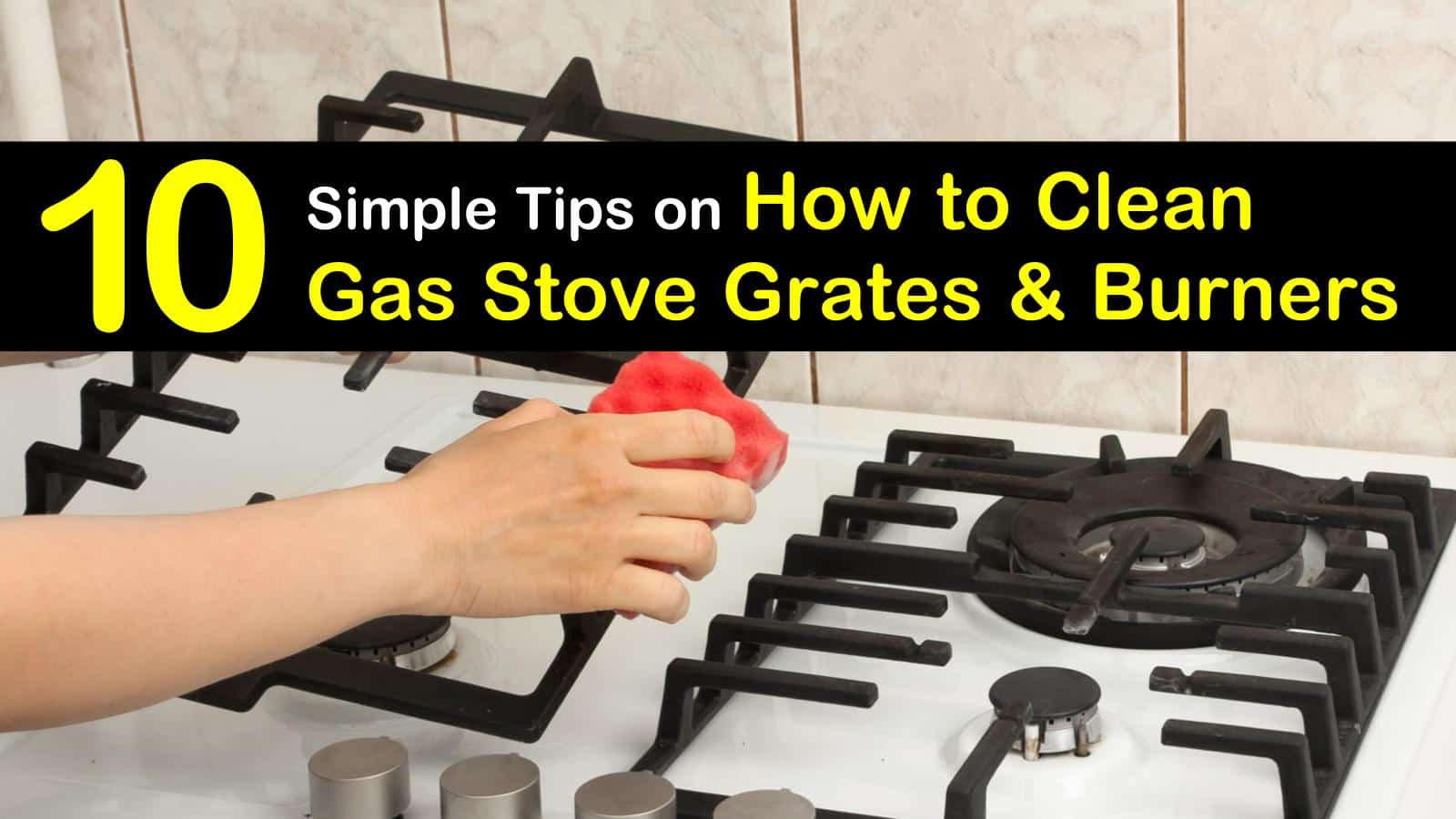 Here's How to Clean Gas Stove Grates – Daily Methods of Cleaning Stove Grates
The best way to clean stove top grates varies depending on several factors. Perhaps the most significant factor that affects which stove and grates cleaner you select is how often you clean greasy stove grates. If you make cleaning stove grates a daily task, you'll be able to make most cleanings a snap.
To keep your stove grates looking their best for the least effort and lowest potential for damage, you should have a few daily methods of cleaning stove burners and grates. You'll learn here how to clean cast iron stove grates and burners using gentle, low-impact cleaners.
You can use these cleaning options on your cast iron grates every day to clear away grime before it takes over and becomes difficult to remove, and they won't damage the metal. You'll find the ingredients for our all of daily cleaning options in your home. Best of all, they won't pose a risk to your or your family's health.
Use a Daily Vinegar Spray
If you've worked with DIY cleaners for any length of time, you've likely discovered vinegar's many uses. Vinegar contains acetic acid and is one of the best household cleaners you'll find. Vinegar is a critical ingredient in all sorts of cleaning hacks. It's non-toxic and inexpensive, and it will get your cooktop gas range looking like it just came off the showroom floor.
Don the gloves. Fill your spray bottle with vinegar, and spray the stove grates and burners. Let the vinegar sit for 15 minutes to give it time to cut through the gunk, and wipe the stove equipment with the clean cloth. Repeat if needed to clean away stubborn food or grease spots.
Clean Your Grates with Baking Soda and Water
Baking soda is an excellent cleaner. You can clean all sorts of items with baking soda, including clothes, dishes, and even your teeth.
Thanks to its abrasive scrubbing power, you can also use baking soda to clean up your grates without worrying about damaging them. Baking soda paste also makes a fantastic homemade oven cleaner.
Form a paste with water and baking soda in a small bowl. Apply the paste to all burners and grates, and allow it to sit for at least 20 minutes.
Scrub the paste off with the brush, and wipe the surfaces clean using the cloth or paper towels. Repeat if necessary.
Get Your Grates Clean with Baking Soda and Vinegar
Sometimes, you need to use a daily cleanser with a little more oomph. When you mix vinegar and baking soda, you get a cleaner that is greater than the sum of its parts.
Vinegar and baking soda have strong reactions when combined, and this effervescence is excellent for cleaning your stove top and cast iron accessories. Cleaning oven racks with vinegar and baking soda is inexpensive and gets your grates shiny again with just a little effort.
Sprinkle the baking soda on the grates and burners. Fill the bottle with vinegar and spray the equipment. Don the gloves and scrub the burners and grills, and wipe them clean with a microfiber cloth or paper towel.
You can use the same recipe here for cleaning grill grates on your barbecue grill. Be sure that they are dry before replacing them in the grill or turn the grill on low for about 15 minutes to thoroughly dry the grates.
Use Dish Soap on Your Stove Grates
You can use dish soap for a lot more than cleaning dirty cutlery and dishes. The same cleaning power that cuts through grease on pots and pans will do a number on your cast iron grates. If you need a little extra degreasing action to get your stove and oven clean, liquid dish soap might be just what you need.
This method works exceptionally well on enamel-coated cast-iron grates. You can also throw your grates in the dishwasher for a wash cycle to get the same effect.
Allow the grates to cool after use, and place them in an empty sink with the drain open. Pour boiling water over the grates to loosen any grease and grime. Plug the drain, and fill the sink with hot water until it covers the grates.
Add a few tbsp of dish soap, and allow the grates to soak for at least ten minutes. Scrub the grills with the pad or brush until clean, rinse them in warm water and wipe dry.
How to Clean Cast Iron Stove Grates – Heavy Duty Methods
Daily cleanings will keep your stove looking great most of the time, but they won't take care of every type of mess. If you have a tough stain or are cleaning stove grates for the first time after letting them gather gunk, you'll need to break out the big guns and apply a heavy-duty gas grate cleaner.
Having a powerful cleaning option ready to go will give you peace of mind that you can handle anything your stove throws at you. This section looks at stove cleaners that pack some serious power. These cleaners and approaches take on the worst cleaning jobs and come out on top without blinking.
You'll learn the best way for removing rust from cast iron, as well as dirt and caked-on food debris with old fashioned tools and the latest commercial cleaners. We also show you which household items work for cleaning your stubborn stove and oven stains.
Scrub Away the Grime with a Wire Brush and Water
If your stove grates have some buildup or have begun to show their age with patches of rust or weathering, get them back into fighting form using a wire brush, water, and elbow grease. Do not use this cleaning method on enamel-coated cast iron, however, as you will scratch the finish. Because you are removing a protective layer, always season your cast iron after scrubbing with a wire brush.
Vigorously scrub your grates with the wire brush until you remove all grime and rust. Rinse the grates under hot water and repeat until the grates are completely clean. Dry the grates thoroughly, and coat them in a light film of vegetable oil.
Place the grates in the oven over a layer of foil to catch any drips, and heat at 350°F for an hour. Recoat the grates, and cook for another hour at 450°.
Get Your Grates Beautiful with Ammonia
Believe it or not, ammonia is perhaps the most effective gas stove grate cleaner around. Use ammonia to clean clothes or coins as well as all sorts of outdoor tasks.
On top of everything else, it makes your stove grates look like new. Always wear gloves and safety gear when working with ammonia, and always work in a well-ventilated area with fans running and windows open.
Don all safety equipment. Pour the ammonia in the plastic bag or trash bag, and place the grates in the bag and seal it. The ammonia fumes will do the cleaning, so make sure that the grates are not soaking in the ammonia when you put the bag down.
Be sure there are no leaks. Wait for ten to twelve hours, then unseal the bag. You should be able to rinse almost all grime and dirt off under warm water.
Clean Your Grates in the Oven If Permitted
Some ovens and stoves work hand-in-hand to stay clean. Many manufacturers design their stove grates so that, when they get too dirty, you can place them in the oven for a good cleaning. Always check your user's manual to see if you can clean your grates in the oven.
If you can't find an oven-cleaning option for grates in your manual, do not attempt to clean your them with this method. Remove all grates from the stove, and place them on oven racks.
Turn the oven to the "self-clean" setting and follow the manual's instructions for the length of the cleaning time and handling the grates when the cleaning cycle is complete. When the cleaning time has elapsed, remove the grates from the oven, allow them to cool completely, and wipe them clean.
Clean Your Stove Grates with a Commercial Degreaser
When you clean your stove regularly, you will occasionally encounter a stain that home remedies and self-cleaning ovens can't handle. When that occurs, you can always reach for a commercial or homemade kitchen degreaser.
Degreasers act by breaking down dirt, grime, and other greasy contamination into individual parts so you can clean them away more quickly. Citrus-based degreasers work exceptionally well.
Spray your grates, burner caps, and stainless steel burners with the degreaser, and allow it to sit from 15-30 minutes for tough-to-clean spots. Scrub the gear with your pad or brush until you remove dirt or debris. Repeat until you've cleaned away every bit of grime, and wipe down with a cloth.
Use Oven Cleaner on Your Stove Grates
If you're near the end of your oven-cleaning rope and can't seem to clean your grates thoroughly, don't give up yet. A commercial oven cleaner is an excellent option for cleaning your gas stove grates and maintaining clean burners.
Oven cleaner cuts through grease and dirt with ease and takes care of any challenge your stove may have. Always wear proper safety gear when you clean with oven cleaner, open all the windows and turn on fans.
Put on your safety gear, and spray the oven cleaner on all burner grates and burners. Allow the cleaner to sit; check the cleaner's instructions for recommended soak time.
Scrub the equipment with the brush or pad. Repeat until all gear is clean. When the burners and grates are spotless, wipe them with a cloth.
Clean Them with a Commercial Stove Grate and Burner Cleaning Kit
You might have to pull out specially formulated cleaners from time to time if you run across a dirty grate that you can't get clean no matter what method you use. To make sure that you hit your stove grates and burners with the most potent cleaning products, give a commercial stove grate and burner cleaning kit a try.
Companies formulate their cleaning kits to target the worst gas stove top stains specifically and many are available for cleaning any stovetop. The companies usually stand behind their products if correctly used.
You can find cleaning kits such as CeramaBryte online and in home improvement stores. Follow the instructions for each kit to make sure that they perform as advertised on your burners and grates. Always wear gloves and all other appropriate safety equipment when using a cleaning kit.
We hope you enjoyed our gas stove grates cleaning tips. Chefs and home cooks around the world prefer gas cooktops for their quick response and rapid heating, but regular food spills and grease splashes can make your stove messy in a hurry.
To make sure that your kitchen looks its best and your home is clean, you should know how to clean cast iron stove grates. Our article helps you find the right cleaning methods for your needs and gets your appliances looking beautiful.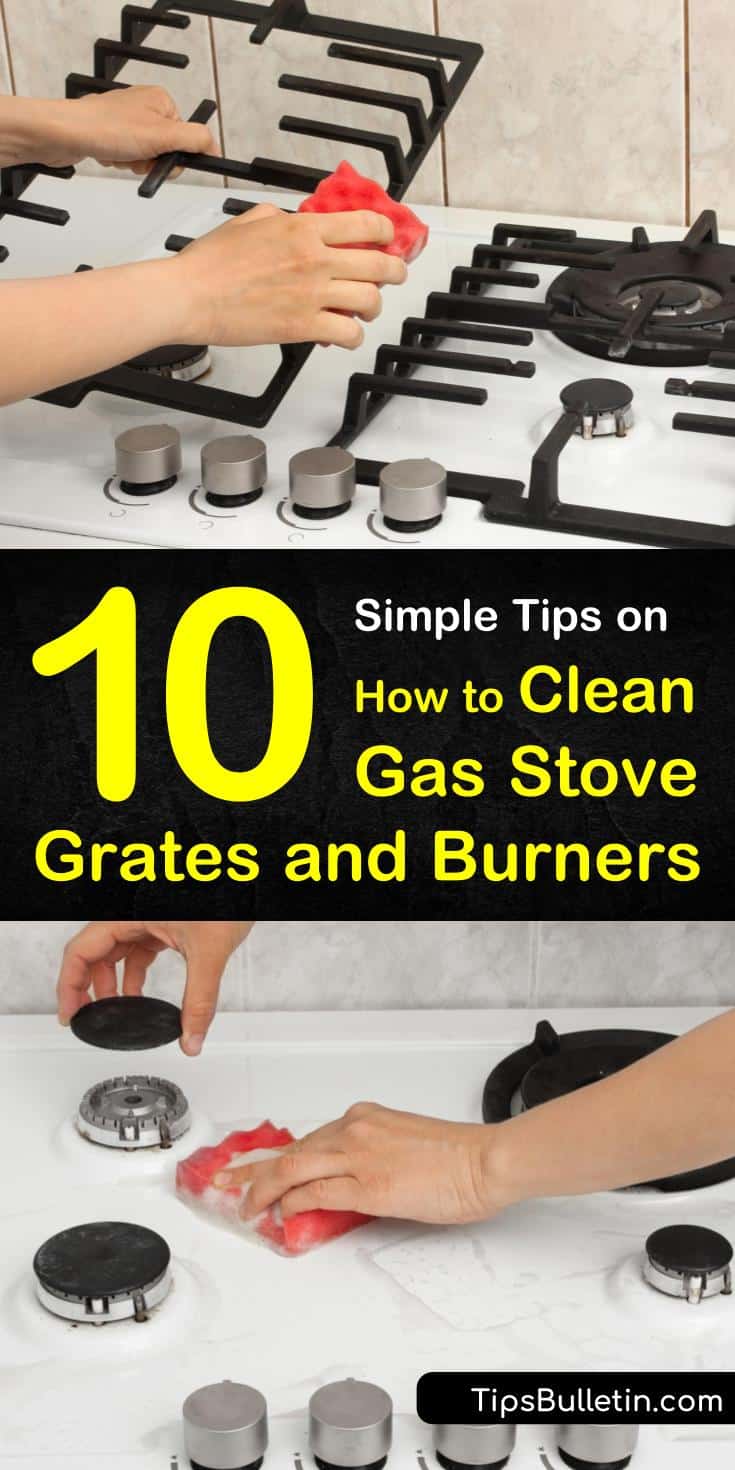 Thank you for reading our cleaning stove grates guide. If you found our article on how to clean gas stove grates useful, we'd appreciate it if you would share these stove cleaning tips on Pinterest and Facebook.