The drip pans on your stove see some scary things. Oil, grease, crumbs, charred bits of food and even the occasional sticky mystery substance can get caught up in your drip pans. Learning how to clean stove drip pans to ensure the long-term function of your stove is very important.
A dirty and crusty stovetop drip pan can not only look ugly, but it can be dangerous, too. A drip pan full of oil or crumbs can light on fire when heated, setting off alarms in your home or, in the worst cases, catching your house on fire.
However, if you make sure to clean these drip pans consistently and thoroughly, you will have a much safer and nicer-looking stove in your home. A little elbow grease is definitely worth it!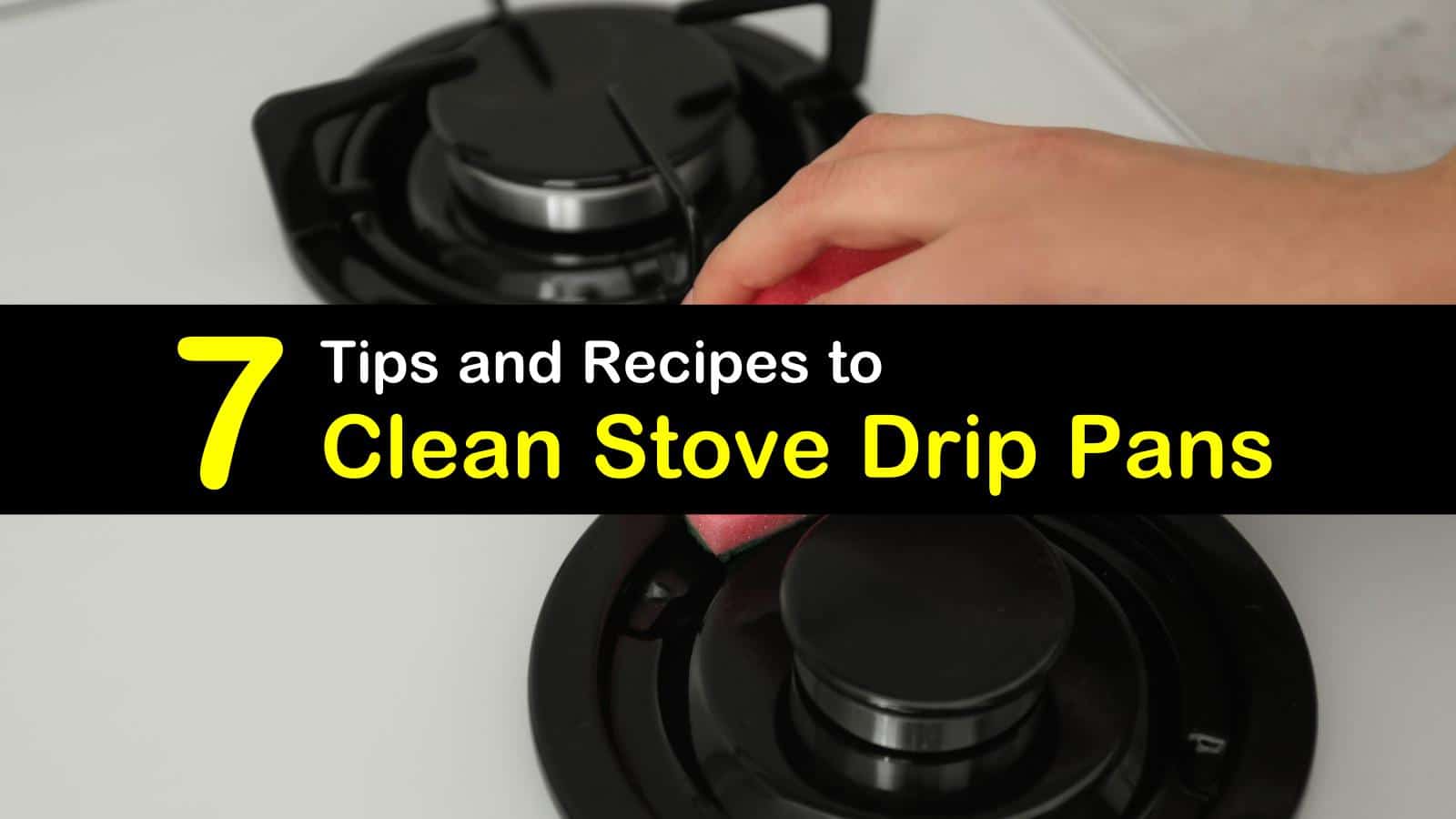 How to Clean Stove Drip Pans with Household Chemicals
In this article, we'll introduce you to some of the best drip pan cleaning tips and remedies that are sure to make your job easier. What's even better is that you can clean your oven without oven cleaner and you will not have to worry about those harsh fumes and chemicals. Read on to learn more about how to clean stove drip pans with natural cleaning methods!
White Vinegar and Baking Soda for Cleaning Electric Stove Top Drip Pans
Using white vinegar for cleaning electric stove top drip pans is a cleaning solution that's free of harsh, toxic chemicals, making it an excellent choice for homes with young children or homes that don't believe in using harsh chemicals.
Make sure your drip pans have been soaking in boiling water for at least ten minutes; there should be at least enough boiling water to cover all of the drip pans you're washing. Drain the water and cover the drip pans with white vinegar so that they're all submerged. Let them sit for 30 minutes.
Sprinkle a small amount of baking soda into the vinegar. Make sure to rub the baking soda into the crustiest areas on your drip pans, too. Let the drip pans soak for 15 minutes in the baking soda and vinegar mixture. Remove the drip pans and rinse them with more warm water from your faucet.
If there is still any crustiness on your drip pans, work a bit more baking soda into these areas. Rinse your drip pans and paper towel dry. The white vinegar and baking soda method should be sufficient enough to remove any crud from your dirty drip pans, leaving them free of grime and gunk (..).
Homemade Ways to Clean Burner Pans
There are many different options for making a homemade stove cleaner out there, but we find that the easiest and most effective of the many ways to clean burner pans is with a mixture of baking soda and dish soap.
Mix your baking soda with your dish soap of choice until the mixture reaches a frothy, foamy consistency. Use this mixture to scrub away at your pans until the gunk starts to loosen. Once the baked-on crud starts to flake off, leave the saturated drip pans to sit for an hour in the plastic bag.
Scrub off any remaining residue with the abrasive side of a sponge to take care of any lingering mess, but if not, repeat the process. Once everything has come off, rinse away any remaining mixture and allow the drip pans to dry.
Bar Keepers Friend for Drip Pans
Of course, if you don't like the idea of crafting your own cleaner at home, you can always purchase one from the store. For premade cleaners, though, keep in mind that some work better than others. You may want to choose whichever one is your favorite or your go-to, but we like Bar Keepers Friend for this purpose.
Spray your drip pans lightly with water from the spray bottle. Sprinkle the Bar Keepers Friend generously over the stained parts of your drip pans. Let the powder sit for several minutes to do its work. We recommend at least five minutes to get the job done, but you may want to opt for more if your drip pans are particularly soiled.
Scour your drip pans with your scouring pad. Resist the temptation to use steel wool, as this can scratch and dull your drip pans. Rinse them with water, and you should be left with beautiful, clean drip pans! If they still have some dirty areas, you can always repeat this process.
Oven Cleaner for Clean Drip Pans
Another excellent pre-packaged cleaner for your burner pans is just plain old oven cleaner. Oven cleaner is designed to get baked-on, burnt gunk off of your oven, so it's well-equipped to handle the same thing from your stove burners, too.
Oven cleaner is an excellent cleaner for all of your stovetop needs. It can clean gas drip grates and stainless steel oven racks, too. Try it on your cookware to get rid of burn marks on pot that you are having trouble eliminating.
Place your dirty drip pans in your sink and squirt a generous amount of dish soap over them. Fill the sink with hot water – at least enough to cover your drip pans. Let your drip pans soak in the sink for one hour or more.
Drain your water and soap mixture from the sink, rinsing your drip pans in the process. Spray a thick, even layer of oven cleaner over the drip pans.
Allow the drip pans to sit in the sink covered in oven cleaner for another full hour. Any lingering grime should be removable with a scrubber or scouring pad. If not, repeat the process.
DIY Hydrogen Peroxide Clean Up
Hydrogen peroxide is another cleaner that packs enough of a punch to clean stove plates, and most of us already have some on-hand at home. Baking soda makes a return in this recipe, too.
Rinse your cooktop drip pans free of any loose gunk or debris. Sprinkle baking soda liberally over your drip pans, making sure to coat the worst areas thoroughly. Drizzle your hydrogen peroxide carefully over the drip pans, making sure to coat them thoroughly.
You will be able to see the baking soda fizz and work away at the gunk on your drip pans. Leave them like this for a while, then rinse everything away. If this process does not remove anything, extra scrubbing or repeats may be necessary.
This method is also excellent for cleaning gas stove top or even electric ones. Just be careful not to damage any elements of the stove in the process.
Household Ammonia for Effortlessly Clean Stove Top Drip Pans
While ammonia is not the most pleasant cleaning chemical to work with, it's a cleaner that many of us already have on hand, and it's undeniably effective. Additionally, ammonia is powerful enough that it can do an excellent job of cleaning stove tops all on its own.
For this method, all you need to do is add your drip pan to a zip-top bag, add ¼ cup of ammonia, seal each container, then let them sit overnight. The ammonia will do all the hard work for you, and your dirty drip pans should be clean stovetop drip pans by morning. Rinse them off the next day, and all of the food and grime should be gone.
Dishwashing Detergent for Shining Drip Pans
Dishwashing detergent is made for cleaning baked-on or dried-on food residue, so it makes sense that it would work for cleaning stove drip pans, too, right?
Fill a saucepan or roasting pan with enough water to cover your drip pans, plus a little extra. Add your ½ cup of detergent to it, stirring to dissolve. Add your burner pans and bring the water to a boil. Turn the heat down and let the pot simmer for 30 minutes. Carefully remove the drip pans and rinse them clean!
Did you enjoy our short list about cleaning stove top drip pans? Since many of us own stoves or stovetops, we all need to know how to clean them thoroughly from time to time. Of course, buying new drip pans is always an option, and it's not particularly expensive, either.
You also have the option of lining your drip pans with aluminum foil to keep them clean, but this doesn't look as nice. With just a few small cleaning tips, though, you can get more life out of your old ones than you might think.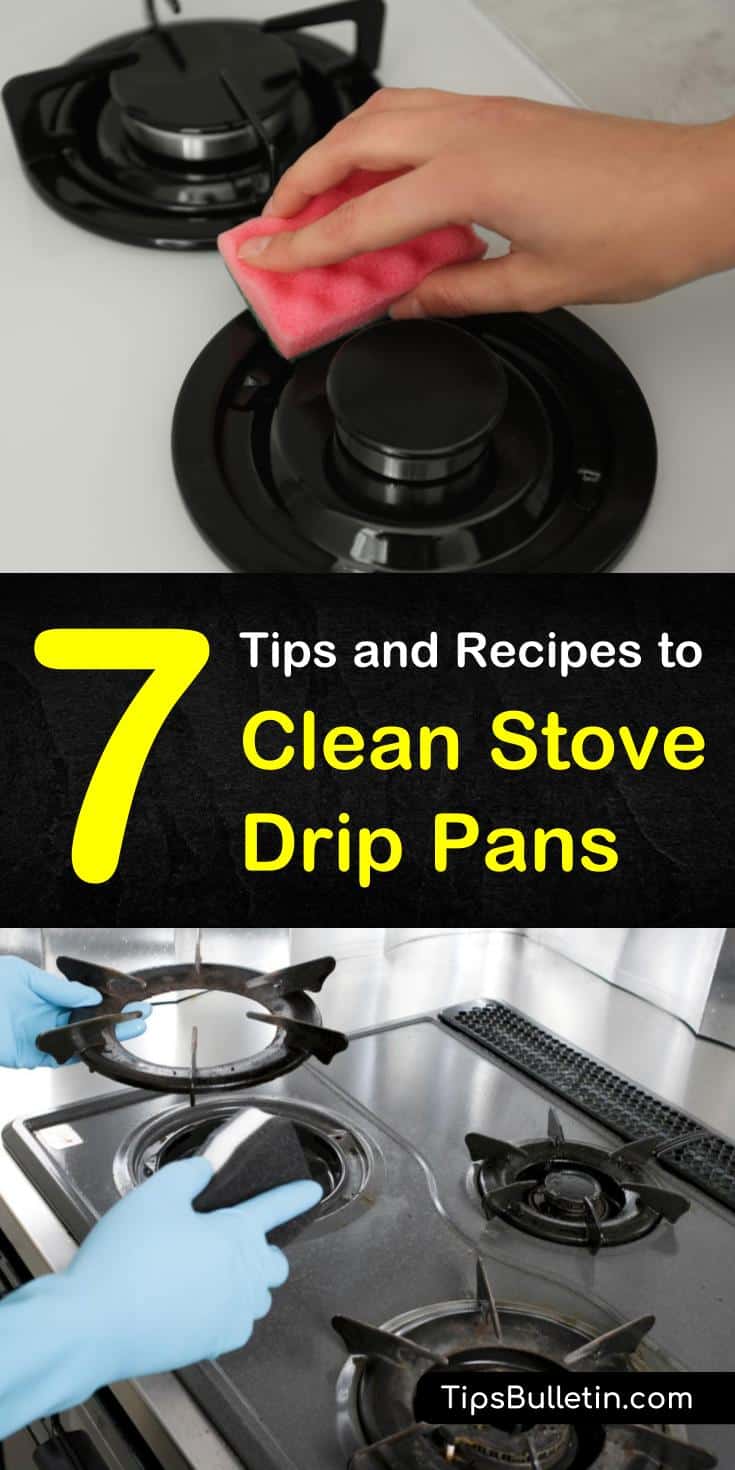 If you found this article about how to clean stove top drip pans useful, share these stove cleaning tips with your friends on Pinterest and Facebook!