In today's world, most people have an Apple iPhone, Android, or some other form of smartphone glued to their hip. Between texts, calls, emails, and endless social media scrolling, consumers touch our phones with dirty hands more than we'd like to admit. Learning how to clean a silicone phone case is not only cleaner, but it's healthier for us, too.
Try to picture all the things your hands come in contact with throughout the day. Now imagine the endless possibilities of dirt, grime, and who knows what else that transfers from our hands and phones to our mouth, eyes, and face.
This dirt isn't visible at first, but eventually causes build-up on a silicone case. Lots of people use silicone phone cases to protect their phone screens from shattering and the rest of the phone from scratching. Cleaning silicone rubber is easy and only takes a few minutes out of your day. If you're trying to find the best way to clean rubber phone cases, this article gives you plenty of options.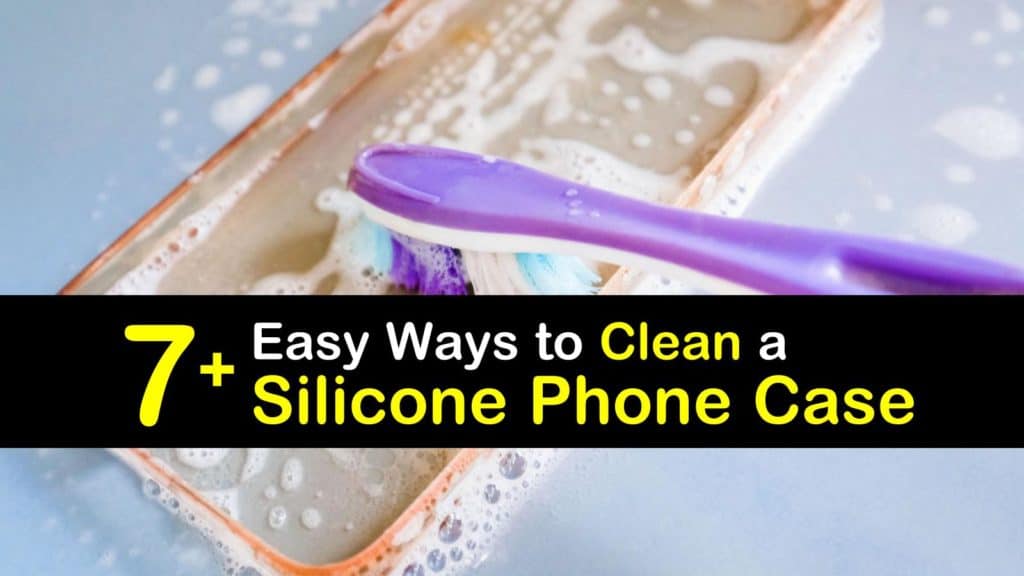 What to Know about Cleaning Silicone Rubber
Silicone rubber is a popular material for most cell phone cases since the material is durable and flexible. Silicone rubber combines silicone with other molecules like oxygen, hydrogen, and carbon.
The silicone structure has better heat resistance, abrasion resistance, and weatherability compared to other materials.
Cleaning a silicone phone case is simple because it stands up to most household ingredients. While it's not impossible to damage, it's also not easy to do.
How to Clean a Silicone Phone Case
The best way to clean rubber phone cases involves regular washings after you take the phone out. Germs and dirt build up over time, so try washing your phone case once per month and disinfecting it with a natural sanitizing spray once per week.
Here are some of the best deep-cleaning techniques and homemade disinfectants to assist you with cleaning the silicone.
To clean the phone itself, make your own DIY screen cleaning spray with rubbing alcohol.
Cleaning Phone Cases with Microfiber Cloths
If you inspect your phone case carefully around the edges where the case and the phone meet, you'll see build-up from dirt. Although this first method doesn't disinfect your phone, it works when you're in a pinch for time and sick of looking at the filth.
For how to clean silicone quickly, remove your phone from the case and use a microfiber cloth to begin buffing away the dirt spots on both items.
Once the significant flaws are gone, swipe over each piece several times to pick up leftover traces of dirt. Put your cell phone back in the case and disinfect later.
Dish Soap Phone Case Cleanser
The best way to clean rubber phone cases is by using dish soap. This combination is a tried-and-true technique and works to break down grease while disinfecting at the same time.
Remove your phone from the case. Fill a small glass or plastic bowl with warm water and a few drops of dish soap. With an old toothbrush, stir the water to create suds.
Dip the brush in the soap water and scrub your case for two minutes, taking time to focus on the hard to reach corners and around the camera hole and side buttons. Make sure to dip the toothbrush back in the water every so often.
Use warm water to rinse away the suds and dry your phone thoroughly with a soft cloth before placing the phone back in the case. This routine is also best for a clear phone case that has started yellowing.
The Ideal Way to Clean Rubber Phone Cases
Baking soda cleans a multitude of household objects. Combine it with the second-best cleaning product, vinegar, and get an extra tough phone cleaner.
In a small-sized bowl, stir equal parts baking soda and vinegar until paste forms. The mixture may bubble a little. Dunk an old, clean toothbrush in the baking soda paste, scrubbing the entire case until it is covered.
Let the mix sit on the phone for five minutes before rinsing under warm water. Allow your phone to air dry or wipe it with a soft cloth.
Quick and Easy Disinfectant
Disinfecting your phone case once per week sounds like a lot, but it only takes 60 seconds. Have a few disinfecting wipes on hand at home, in your purse or suitcase, or at the office.
Remove your phone and wipe the inner and outer surfaces of the case, as well as your entire phone. Let both air dry before putting them back together.
Making Sanitizing Wipes at Home
Sanitizing wipes are a little pricey. If you don't have the flexibility in your budget to purchase wipes from the store, there is a much cheaper option.
To clean a phone case with DIY wipes, remove your cell phone from its case and place a small amount of rubbing alcohol onto a cotton ball so it is wet but not overly soaked.
Swipe the cotton around the entire case, inside and out, to remove dirt and kill bacteria. Use a cotton swab for areas that your fingers are too big to reach. Let the case air dry and place your phone back inside.
Homemade Purifying Spray
This is another simple way to make your own homemade sanitizing spray. Again, these ingredients are often already around your home, are cheap to buy, and only take a minute to make. They also last a long time and make the cleaning process quicker.
Mix equal parts distilled water and 70 percent or higher isopropyl alcohol in a spray bottle. Shake the bottle to combine the liquids thoroughly. Remove your phone from its case.
Spray a few squirts of the solvent on all sides of your phone case and phone. Use a microfiber cloth and gently wipe down the surfaces to remove excess dirt.
Cleaning White Phone Cases
White phone cases look clean and sleek – for a while, that is. After some time, white phone cases start yellowing and look dingy. There's a simple solution to cleaning white phone cases, and you likely already have the ingredients on hand.
Polymers found in silicones naturally start to yellow as they age. The discoloration worsens as the silicone gets exposed to high levels of heat, light, and chemicals.
As opposed to staining, yellowing means the material is starting to degrade. Although it is a natural process, it makes our phone case look dull and uncared for.
In a container large enough to fit your phone case, dilute one teaspoon of bleach into enough warm water so that it gets fully submerged.
Dunk the phone case and let it soak for a few minutes. Remove the case from the bleach solution and rinse it under the sink in warm water. Let the case air dry before placing it back on your phone.
Using a Magic Eraser for Cleaning Silicone Rubber
Is it too much to say that Mr. Clean Magic Erasers really are magical? These small pads are great for cleaning phone cases and giving them extra shine.
Dunk your Magic Eraser in warm water and begin scrubbing both sides of your phone case until all visible dirt is gone. Let the case air dry and place it on your phone.
This solution also works very well after washing silicone cupcake liners and you are left with a few grease stains. The eraser easily wipes them away.
Cleaning Solutions for Overstretched Silicone Cases
With regular wear and tear, silicone phone cases may stretch out over time. If you have this problem, there is a way to shrink your silicone case while cleaning it at the same time. Over medium-high or high heat, bring a small pot of tap water to a rolling boil.
To shrink silicone, remove your phone from the case and submerge the case only in the boiling water for 30 seconds up to one minute. Use tongs to remove the case from the hot water and set it on paper towels to air dry.
Avoid Using Harsh Chemicals
Although silicone is durable, it's best to avoid harsh household cleansers whenever possible. Bypassing these products allows the silicone rubber to last longer and prevents the chemicals from peeling or damaging the case.
Avoid using harsh chemical products that contain ammonia, hydrogen peroxide, aerosol sprays, and window cleaners.
When All Else Fails, Get a New Case
Cleaning silicone rubber regularly is the smartest way to prolong the life of your phone case. Yours may have even lasted you years. Unfortunately, as the saying goes, good things do end.
If your case looks dull, no matter how many times you clean it, it's probably time to invest in a new one.
The internet and most brick and mortar stores are full of options with different colors, materials, patterns, and other perks. They also have a large scale of price ranges that fit anyone's budget no matter how low or high.
The world is only becoming more technologically advanced. The further along in time we go, the more advances we see in phone and phone case technology.
Regardless of how advanced things get, remember that germs and bacteria never go away. Cleaning silicone rubber phone cases is a task that should be on everyone's monthly checklist.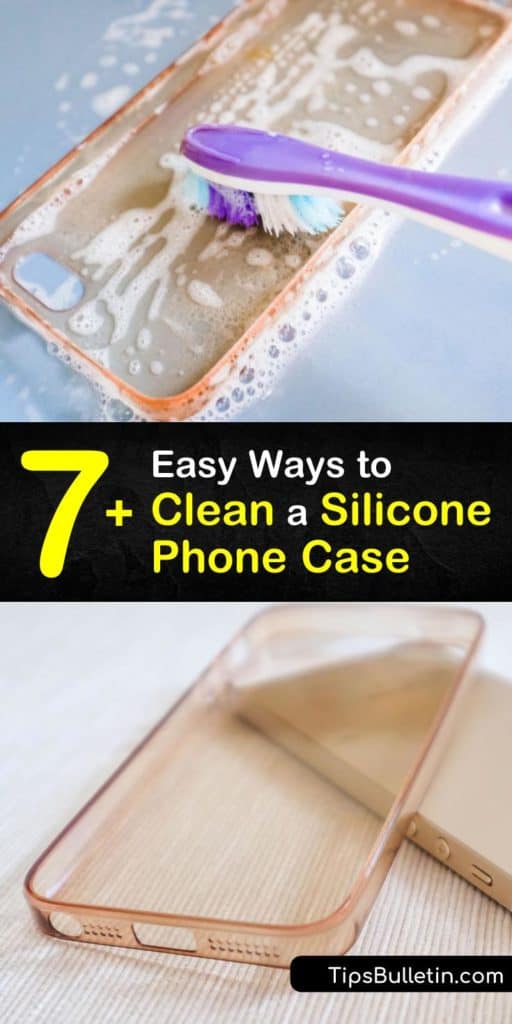 If these strategies for how to clean a silicone phone case made your case shine, feel free to share these homemade phone cleaners with others on Facebook and Pinterest.