Silicone is everywhere these days, from bakeware and phone cases to caulk. This versatile and malleable material is convenient in the home, yet it requires regular cleaning to maintain its appearance. We show you how to clean silicone materials and remove unwanted silicone from surfaces.
Silicone is technically part of the rubber family and is useful for making rubber-like materials, spreadable fluids, and hard resins. It is similar to plastic because it is easy to soften and harden, form, and shape.
If you've ever spread a little too much caulk while working around your home, you're fully aware of its durability. The flexibility, water and temperature resistance, and non-stick surface of silicone make it an ideal material for many applications.
Silicone products are non-staining and easy to clean. However, it still needs regular cleaning to remove everyday dirt and grime.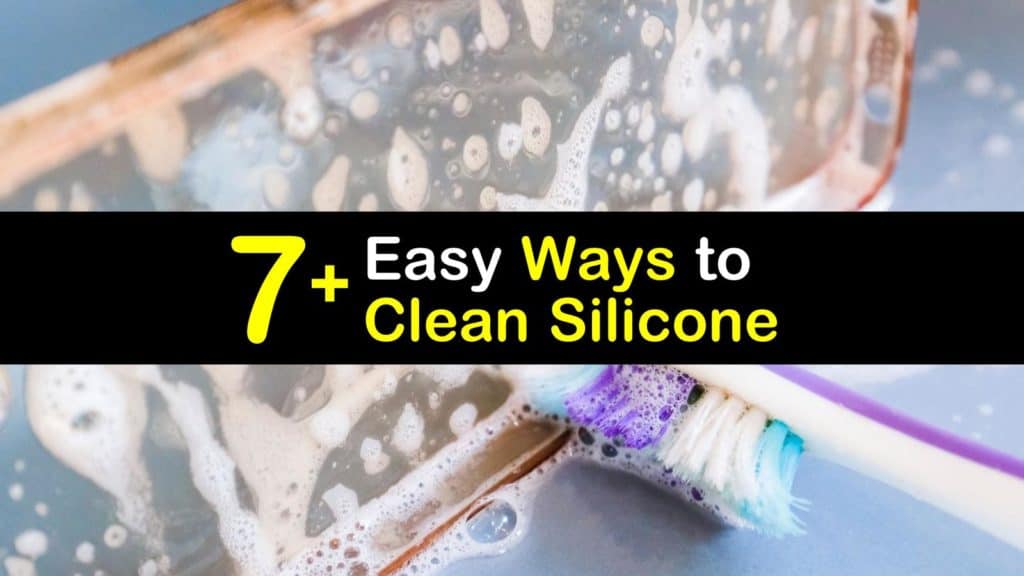 Cleaning Silicone Materials and Removing Silicone Residue
There are a variety of silicone cleaners that are easy to use, whether cleansing everyday household items or removing caulk and residue leftover from home improvement projects.
Use one of these recipes as the best way to clean silicone molds or sanitize your phone case.
Cleaning Silicone Bakeware
Silicone bakeware is convenient in many ways. It is safe to use, easy to store, and simple for turning out baked goods.
However, food and grease tend to stick to the material and requires a little elbow grease to clean. The simplest way of cleaning silicone bakeware is with a grease-cutting soap.
To clean-silicone, place the stopper in the kitchen sink and fill it with water that is hot enough to tolerate. Add a couple of squirts of grease-cutting dish detergent and soak the bakeware in the soapy water for roughly half an hour.
Use a non-abrasive scrubber for scrubbing away grime and stains when you clean silicone baking mats, making sure to get in all the nooks and crannies. Rinse away the soapy residue and place the item upside down on a towel or rack to air dry.
Removing Tough Stains on Silicone Cookware
If cleaning your bakeware with soapy water doesn't do the trick, try using heat and baking soda. The high heat temperature of the oven loosens hardened grease while the baking soda absorbs grime.
Place the bakeware in the oven set at 350°F for ten minutes. Remove the heated item from the oven and set it in the kitchen sink.
Drizzle a little water on the surface and shake a decent amount of baking soda over the stain to form a paste. Let the mixture dry before rinsing the item with warm water.
Use some baking soda and water on stubborn oven rack stains and, if they fit, take care of cleaning oven racks in dishwasher.
Cleaning Tough Stains on Silicone Cooking Utensils
If you have silicone spatulas, stirring spoons, and other cooking utensils, you probably notice them changing color over time. Greasy foods, tomato sauce, pesto, turmeric, and other foods are famous for staining and discoloring cookware.
Soap is an excellent medium for cleaning visible dirt but not very efficient at removing food-causing stains.
Pour enough hydrogen peroxide into a bin or tub to cover the stained items. Submerge the utensils in the liquid and allow them to soak for 24-hours. Hydrogen peroxide is an oxidant that eliminates tough stains while disinfecting the surface.
Clean the item after soaking with warm water and a small amount of dish soap, or clean them in the dishwasher before using them.
Cleaning a Silicone Phone Case
Considering how much we use phones these days, it's no wonder they get dirty. A mild soap solution is the safest way of cleaning a clear phone case effectively and is easy to do in a matter of minutes. Clean your silicone case in this manner once a month to keep it dirt-free.
Pour warm water into a bowl or container and add several drops of mild dish soap. Remove your phone from its case, dip the head of a toothbrush into the soapy water, and gently scrub the case with circular motions.
Begin on the inside of the case and work your way to the outside. Rinse it thoroughly under cold water and dry it completely before replacing it on your phone.
Cleaning Stains on a Silicone Phone Case
You hold your phone in your hands throughout the day, leading to a build-up of dirt and stains. Harsh cleaners damage some materials, but a mild abrasive such as baking soda is a safe choice for removing tough stains.
Remove your phone from the case and set it aside. Shake a good amount of baking soda into a dish or bowl and add enough water to form a paste. Dip the toothbrush bristles into the paste and apply it to the case.
Scrub the stains gently using circular motions. Hold the case under running water to rinse away all residue and dry it thoroughly with a soft towel before fitting it on your phone.
Disinfecting a Silicone Phone Case
Your phone is something you touch throughout the day, and probably even several times an hour. Regularly cleaning a silicone phone case is essential to remove germs. Rubbing alcohol is a liquid that kills bacteria without harming the surface of the case.
Apply a decent amount of rubbing alcohol to cotton balls or pads until they are damp. Take the case off your phone and use the damp cotton to wipe down the silicone, inside and outside.
If you do not have rubbing alcohol, consider using disinfectant wipes as a substitute. Perform this routine every week to ensure that your phone remains germ-free.
Disinfectant wipes or a rag coated with alcohol also makes a great yoga mat cleaner recipe, whether you use it daily or weekly.
Removing Silicone Caulk from Surfaces
As time passes, caulk breaks down and requires removal before applying fresh caulk. Other times, silicone caulk gets a little out of hand during a home improvement process.
Cured silicone is not the most straightforward substance to remove from household surfaces, but using the right tools makes the job a lot easier.
Use a hairdryer to heat and soften the caulk for easy removal. Slice and loosen the end of the caulk line seam with a utility knife, and repeat on the opposite end.
Slip the blade beneath the caulk and slide it close to the wall until you reach the end. Use a putty knife to pry any remaining caulk away from the surface.
How to Clean Silicone Residue
Have you ever tried to remove old caulk and were left with a mess? This is a common headache during improvement projects, and not removing this residue before applying fresh caulk prevents it from adhering correctly.
Mineral spirits is a great liquid for cleaning away old caulk, and rubbing alcohol is also how to get silicone off hands and other surfaces.
Always wear rubber gloves when using strong cleaning agents. To remove silicone residue from concrete, marble, or tile, apply a small amount of mineral spirits to a sponge and scrub the area.
Use rubbing alcohol to remove silicone from painted surfaces or plastic by using the same technique. For stubborn areas, use a putty knife to pry the softened caulk away from the surface gently.
Finish up by cleaning the surface area with warm, soapy water and a sponge and dry it with paper towels.
Preventing Stains on Common Silicone Items
Stains are an inevitability of life, but there are ways to prevent them from becoming a permanent problem on silicone items such as a phone case, bakeware, cooking utensils, and other personal items.
It's essential to wash silicone bakeware and cooking utensils immediately after using them. Use grease-cutting liquid dish detergent and warm water to clean all food and dirt from the items before drying and storing them.
Washing these items properly also prevents them from getting a white residue. Silicone is porous, and over time, oil and grease seep into the pores of the dish, creating a white appearance on the surface. Regular cleaning prevents this from happening.
Silicone items that you use daily, such as a phone case, need regular cleaning and disinfecting. The process keeps them clean and stops the spread of germs and bacteria.
Keep disinfectant wipes handy and clean all areas of the item at least once a week, and wash them in soapy water once a month.
Silicone has many uses in your daily life and often needs cleaning to remove germs, dirt, and grime. Fortunately, this versatile material is easy to clean using a few simple and inexpensive ingredients that are also useful for removing old silicone caulk and residue.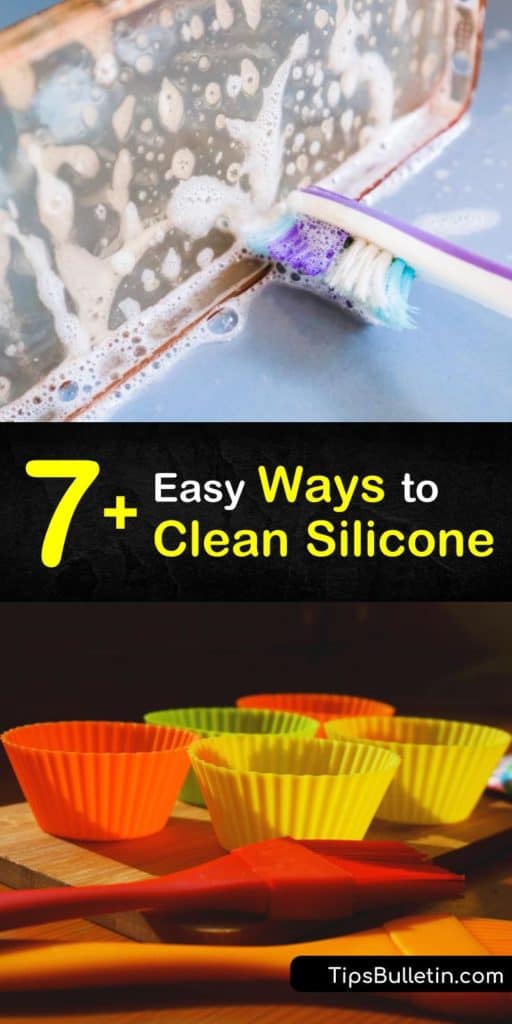 Learning how to clean silicone is easy, whether it is a phone case or a caulk mishap, so why not share our silicone cleaning solutions and tips with your friends and family on Facebook and Pinterest?