Did you spill something on your beautiful viscose carpet and now have an unsightly yellow stain on the rug? Viscose carpets are inexpensive alternatives to real silk or wool rugs but are challenging to clean. Discover how to clean a viscose rug to remove all types of stains and keep it in tip-top shape.
Viscose, or rayon, is a material manufactured from wood pulp. It has silk rug qualities and offers the same comfort as natural fibers. Viscose rugs come in varying sizes, colors, and shapes. They are a popular home choice, yet they aren't as durable as other rugs.
A rayon rug loses some strength when you spill liquids on it. They also cannot tolerate high-traffic areas. Nevertheless, you don't have to hire viscose rug cleaning services to maintain them. While viscose rug cleaning takes a bit of time and patience, restoring the carpet's appearance with the proper carpet cleaner is possible. The key is to vacuum the rug regularly and treat stains as soon as you see them.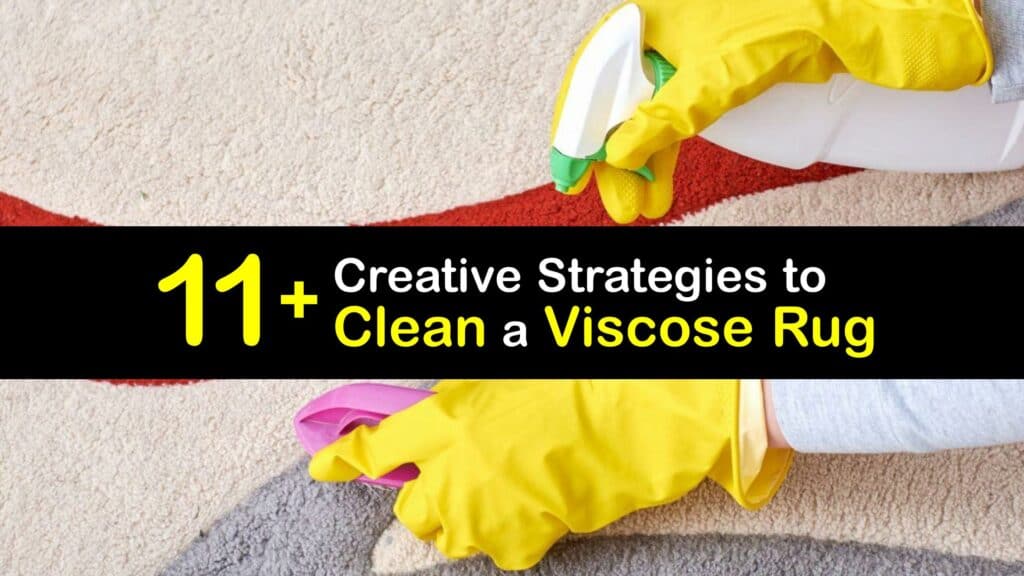 Cleaning Viscose Rugs
Routine rug cleaning is essential for carpet maintenance, and stain removal keeps the rug looking its best. Learn ways to clean your viscose carpet by vacuuming, removing stubborn stains, and performing carpet cleaning.
Why Is a Viscose Rug Challenging to Clean?
We're all familiar with a wool rug, but what is a viscose rug, and why does it require different treatments? Learn what this rug type is and why it requires special cleaning techniques to remove dirt and stains.
Viscose Rugs
Viscose is a synthetic rug made from rayon, a material popular for shirts, jackets, curtains, and carpets. It doesn't trap heat and may be combined with cotton and wool for extra durability.
This rug type is sometimes called bamboo silk or art silk, offering the same comfort as natural fibers. Unfortunately, viscose rugs shed quickly, and the fibers bend with consistent traffic. In addition, spills cause yellow stains on their surface.
How to Get Stains Out of a Faux Wool Rug
There are different methods for cleaning a viscose rug, and which one you use depends on how dirty your carpet is. For example, vacuuming removes everyday dirt and dust, yet it does not help remove a tough stain.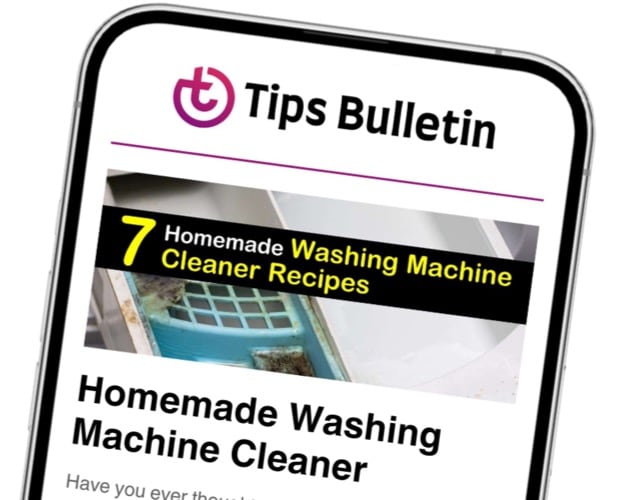 Finally, an email that Transforms Your Home.
Get the latest home and garden tips from our experts, delivered straight to your inbox.
Regular vacuuming removes dust and debris, and carpet cleaning gives the rug a fresh appearance. White vinegar, detergent, and water are ideal for removing stains from viscose carpeting, and baking soda is an excellent odor-absorber.
Cleaning a Viscose Rug to Remove Everyday Dirt
The most straightforward way to clean a viscose rug that doesn't suffer from stains is with a vacuum cleaner. However, using the correct settings on your vacuum to prevent damage to the viscose fibres is essential.
Viscose Rug Vacuuming
Before vacuuming, run your hand over the carpet surface to determine the nap direction. Set your vacuum cleaner to the highest pile setting and vacuum the rug along the nap pile to prevent distortion to the carpet. If your carpet has fringe, use a broom instead of a vacuum to brush dirt away from the mat.
How to Clean a Viscose Rug to Remove Spills
Getting stains out of a faux wool rug after they set is no fun, so cleaning spills and splatters as soon as they occur is crucial. Discover how to treat a fresh carpet stain to keep it from setting.
Press paper towels into the carpet to soak up as much of the spill as possible. Make sure to blot the stain on the top and bottom if it's on an area rug. Make a mild soapy solution with water and a few drops of dish soap, and blot the carpet with a sponge to lift the stain. Pat the area with a towel and allow it to air dry.
Use Vinegar to Remove Stains From a Viscose Rug
White vinegar is the go-to when it comes to stain removal. Its acidity breaks up stains and loosens the dirt from the viscose fibers. Discover how to get stains out of a faux wool rug with a vinegar and soap solution.
Combine a cup of water with a quarter cup of vinegar and add several drops of soap. Apply the cleaner to the rug with a cloth and use a blotting motion to remove the stain. Once the carpet is clean, wipe the area with a damp sponge and dry it with a towel.
Removing Odors From a Viscose Carpet
Removing stains from a viscose rug at home is one thing, but what if the carpet has a foul odor? Baking soda is the perfect remedy for eliminating smells and washing a polyester bathroom mat that might hold onto damp smells. It is an alkaline powder with odor-absorbing qualities and is safe for all rug types.
Viscose Rug Odor Remover
Shake sodium bicarbonate or baking soda over the viscose rug and let it sit overnight. Vacuum away the powder in the morning in the direction of the rug pile. To remove odors from an area rug, apply baking soda to the carpet for a few hours and shake it outside to remove dirt and powder.
Carpet Cleaning a Viscose Rug
A carpet cleaner is a cleaning tool everyone should have in their home. It is excellent for everything from mattress cleaning to upholstery cleaning, leaving a carpet looking new. Discover how to get stains out of a faux wool rug by overall carpet cleaning.
Overall Viscose Rug Cleaning
Follow the instructions for your carpet cleaner model, and mix a homemade carpet cleaning solution for area rugs. Don't use hot water, which causes viscose rug shrinkage. If you're cleaning a throw rug, secure it in place with clamps to keep it from moving as you clean.
Depress the trigger button and move the rug cleaner back and forth over the rug with overlapping passes. Go back over the rug again to suck up the dirty water, and repeat until the carpet is clean.
How to Dry a Viscose Rug After Cleaning
Cleaning your viscose rug is only the first step. Drying your carpet is equally important since a damp rug breeds bacteria, mildew, and mold. Discover ways to dry your rugs and speed up the drying process.
The best way to dry a viscose area rug is to hang it outside over a railing. However, don't hang it in a place where it sits in direct sunlight, which may cause color fading. To dry wall-to-wall carpets, turn on a ceiling fan and open the window if the outdoor conditions are warm and dry. Aim portable fans at the rug to speed up the process.
Treating a Viscose Rug With Fabric Softener
Sometimes, cleaning a rug leaves it less soft than when you first purchased it. Believe it or not, fabric softener is great at softening the carpet fiber while leaving it with a pleasing scent.
Combine equal amounts of distilled water and fabric softener in a spray bottle and shake it gently. Lightly spray the softener over the rug and allow it to dry thoroughly before allowing traffic.
Fluffing the Rug Fibers After Cleaning a Viscose Rug
You may notice the fibers aren't as fluffy as they once were after cleaning a viscose rug. A cleaner flattens the carpet nap, leaving it dull. The good news is you only need a soft brush to lift the fibers back into place.
Carpet Fiber Brushing
Use a napping or soft-bristle brush to groom the rug by brushing it toward the carpet grain or nap. Begin at one end of the rug work your way to the opposite side, and continue brushing until it has a smooth and even surface.
Things to Avoid When Cleaning Viscose Rugs
Viscose rugs are unique, and some cleaning products and methods are not good for the material. Learn which items to avoid when cleaning your carpets to ensure they get clean without damage.
Never use straight water to clean a viscose rug; always mix your cleaner with cool water rather than hot. Use small amounts of stain remover when spot cleaning to prevent fiber damage. Avoid scrubbing the rug with harsh chemicals.
Always put the vacuum on the highest carpet pile setting or use a broom to remove loose dirt. It's vital to dry a viscose rug as quickly as possible. Nevertheless, never dry the carpet with heat. Instead, use cool air from a fan or window.
Tips for Maintaining a Viscose Rug
Maintenance is vital for everything, including viscose rugs. Otherwise, what looks rich and beautiful eventually becomes dreary and unattractive. Luckily, there are simple ways to keep your carpeting looking as it should.
Maintaining Viscose Carpets
Vacuum your viscose rug at least once a week to remove dirt, dust, and shed material. Blot up spills as soon as they occur, and use the appropriate stain remover to clean the spot. Use a carpet cleaner rather than a steam cleaner to get stains off a rug without steam or water. Always brush the carpet after it dries to restore the nap.
Carpet cleaning isn't much fun, whether it's a wool, silk, viscose, or Oriental rug. Nonetheless, it's a task we all must do to keep the carpeting looking, smelling, and feeling its best.
While viscose area rugs and carpets are not natural materials, cleaning them is easier than you think. Vacuum them regularly and treat stains promptly with the proper cleaners; your rugs will stand the test of time.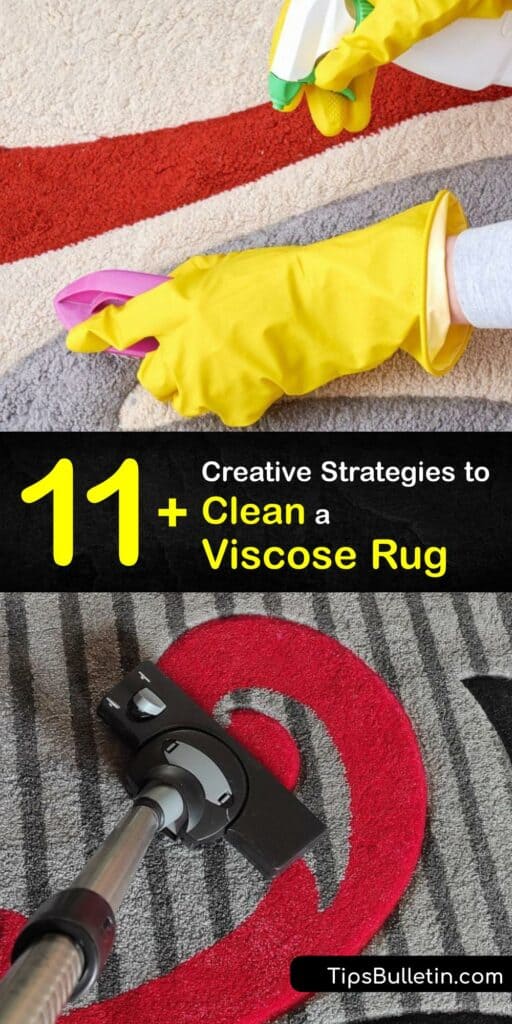 We hope you enjoyed learning how to clean a viscose rug, and we'd love it if you'd share our viscose rug cleaning tips with family and friends on Facebook and Pinterest.