There's nothing better than enjoying the beauty of a wool rug, whether it is contemporary or hand-knotted. It feels cozy on the feet, and its vibrant colors and patterns look stunning in the home – that is, until it gets filthy. We'll show you how to clean a wool area rug to remove everyday dirt, tough stains, and odors.
Wool carpeting is both an investment and a form of style for your home. This natural fiber is renewable, durable, comfortable, and beautiful. Also, wool rugs deter the growth of bacteria and naturally repel dust mites and stains. These factors alone mean that it is vital to use proper care and cleaning to protect your wool carpet.
Like any other carpeting, wool carpets take a beating with everyday activity, from pet stains and foot traffic to red wine spills. Cleaning wool is not as straightforward as cleaning other types of materials. The soft and natural wool fibers are easily damaged if you use harsh cleaners to remove grime.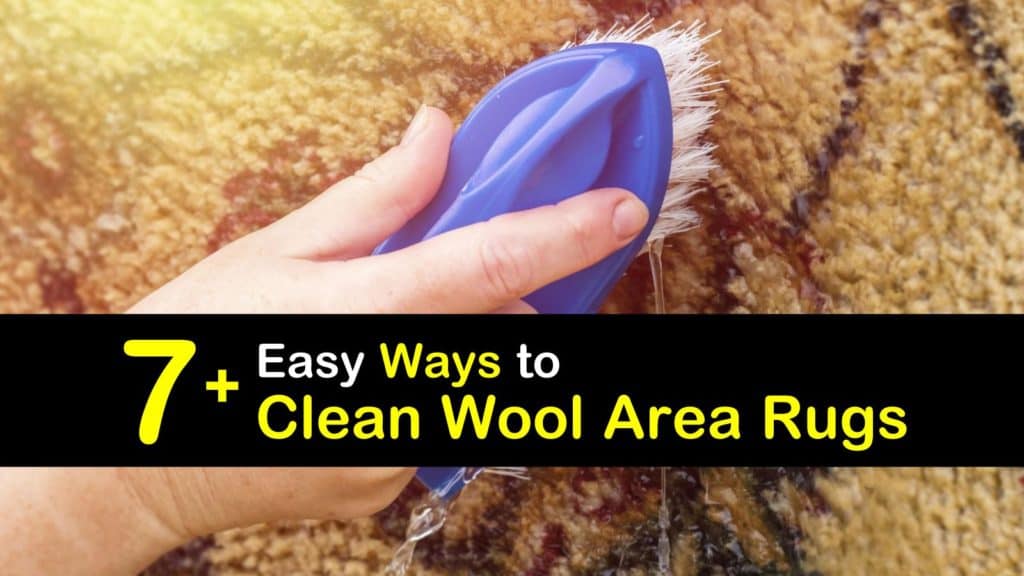 Cleaning and Maintaining a Wool Area Rug
Routine rug cleaning is not one of our favorite things to do. But, performing regular maintenance on your wool rug is necessary to keep it fresh and clean and help your investment last a lifetime.
Fortunately, there are several effective ways to clean a sheepskin rug or wool area rug without hiring professional cleaning services.
Don't be tempted to add your wool rug to the washing machine. Does wool stretch and shrink? Yes, to both. Machine washing can distort your rug if you do not use a lot of care. It's best to try other cleaning methods first.
Basic Wool Rug Cleaning to Remove Loose Dirt
It's entirely natural for new wool rugs to shed fibers for a couple of months after purchase. Using a vacuum cleaner twice weekly removes this shedding. It's also essential to perform routine wool rug cleaning to remove loose dirt, dust, and pet hair.
Get a little extra exercise when you clean carpet at home with this old-fashioned remedy.
If you have a small area rug, take it outside on a sunny day and hang it over a clothesline. If you don't have a clothesline, try hanging it a porch railing or the back of a chair. Use a broom or another object to hit both sides of the rug to remove dirt and dust.
For larger area rugs, use a vacuum with a beater bar to clean the wool. However, do not use the beater bar if your carpet has fringe on the edges. Flip the carpet upside down, vacuum the bottom-side first, and then flip it over and repeat it on the top-side.
Cleaning Wool Carpet with Detergent
While vacuuming your rug or shaking an area rug outside removes loose dirt, it doesn't clean deeply soiled carpet or rugs.
Consider making a gentle DIY rug cleaner using cool water and a small amount of dish soap for cleaning wool carpet to remove embedded dirt and grime.
Fill one bucket with cool water and add the dish detergent, and fill the second bucket with clean water. Start at one side of the carpet and work in a grid that is about three feet by three feet.
Dunk a sponge or cloth into the soapy solution and clean the first section using gentle pressure. Rinse the sponge as needed to remove dirt and do not over-wet the fibers while cleaning.
Dunk the sponge into the clean water and rinse the soapy water off the rug section. Skipping this step causes the fibers to attract more dirt in the future.
Blot the area with dry towels and then move on to the next section. Repeat the process until the rug is clean and dry.
How to Clean a Wool Area Rug to Remove Fresh Stains
Routine woolen carpet cleaning is essential for cleaning the entire rug, but there are times when only a small spot requires washing. If you notice a stain while it is still wet, try using baking soda to absorb the mess.
Use paper toweling to blot as much of the stain off the rug as possible. Sprinkle a decent amount of baking powder over the spot and let it sit for at least 30 minutes.
Use a vacuum to suck up the stain-absorbed powder. If some of the stains remain, use a damp sponge to blot the stain and dry it with a towel.
Using Vinegar to Remove Tough Stains on Wool Rugs
If you discover a stain on your rug that is already dry and set-in, using baking soda alone probably isn't strong enough to clean the spot.
For stubborn stains, try using a cleaning solution of white vinegar and dish soap. Vinegar is also handy for killing mildew and mold or getting a burn mark out of carpet that causes unsightly stains or smells.
Combine the white vinegar, water, and dish soap in a bucket or bowl and mix. Dunk a sponge into the mixture and test it on an inconspicuous area of the rug to check for adverse reactions.
Use the sponge to clean the stain by blotting and rubbing inwards. Do not rub in an outward motion to prevent spreading the stain. If your carpet has piling, make sure to rub gently to maintain its appearance.
Rinse the sponge under cold water and blot the area once more to remove the leftover cleaning solution. Use dry towels to blot up excess moisture and hang or prop the rug up to dry.
Removing Pet Stains from a Wool Rug
Pets are lovable members of the family, even when they have accidents. Discovering that you have a pet stain on your carpeting is disconcerting but not the end of the world.
Try making a homemade pet stain carpet cleaner for your wool area rug without using bleach or harsh cleaners.
Begin by blotting up the urine as much as possible using dry towels or paper toweling. Sprinkle the stain liberally with baking soda and allow it to soak up the remaining urine for at least half an hour. Vacuum the baking soda up from the stain after it dries.
Combine the water, vinegar, and dish detergent into a bowl and agitate it to mix well. Dunk a soft scrub brush into the solution and use it to rub the stained area with circular motions.
Get a soft cloth or rag wet with cold water and rub the area clean of all residue. Lay dry towels over the spot and press to pull up excess liquid. Repeat with more dry towels if necessary.
Cleaning Stains on Wool Carpeting with Ammonia
Ammonia breaks down stains and loosens grime resulting from vegetable oils and animal fats.
This cleaner utilizes this liquid's power to clean wool rugs and is especially useful for cleaning kitchen carpets.
Mix the ammonia, water, and dish detergent in a bowl. Use rags to apply the liquid to the wool stain and use inward, circular motions to clean the spot.
Avoid wiping the cleaner outward to prevent the stain from spreading, and rinse the rags as needed. Use a clean cloth or towel to blot the area with clean cold water, and use dry towels to absorb the liquid.
If you need to clean blood from carpet, try this remedy. If the stain remains, add some hydrogen peroxide to the mix. Note that peroxide can lighten the wool if it is dark, so use it carefully.
Cleaning Odors out of Wool Carpeting
Over time, carpets absorb odors from inside the home that results from cooking, smoke, and moisture. Baking soda has the power to absorb these foul odors and remove them from your carpeting. It is also a useful tool to get dog urine smell out of carpet.
Shake a decent amount of baking soda over the surface of the area rug, making sure to spread it evenly. Let the rug sit for one hour while the soda absorbs odors.
Vacuum the carpet to suck up all of the odor-absorbed powder. Perform this routine once a month, or as needed, to keep your carpets odor-free.
If you suspect a carpet beetle problem, add some diatomaceous earth to the baking soda. It's one of the simplest and most effective carpet beetle control tips.
How to Care for and Maintain Wool Carpets
No carpet is stain-proof, and all rugs endure everyday wear and tear. However, there are a few easy steps to take to ensure that your wool rug stands the test of time and maintains its natural and comfortable beauty.
Wool Carpet Care
One of the most important steps to take to ensure your carpets' longevity is to keep shoes off the surface. Have visitors and family members take off their shoes at the front door when entering your home.
Place rug protectors on the bottom of furniture legs to keep the rug pile from flattening, and place a rug pad beneath your area rug to reduce friction. Vacuum or shake the new rugs outside once to twice a week to remove loose fibers.
Clean your wool rugs by hand rather than steam cleaning, and remember to brush them in the direction of the nap. If you come across stray loops in the carpeting, use a pair of scissors to cut them back rather than pulling them.
You undoubtedly invested a lot of money and time while choosing a wool area rug for your home. Routine rug care and occasional deep cleaning are vital to maintaining the look and feel of your wool carpet while protecting your investment.
Fortunately, cleaning wool is easy using mild and simple ingredients, such as baking soda and dish soap.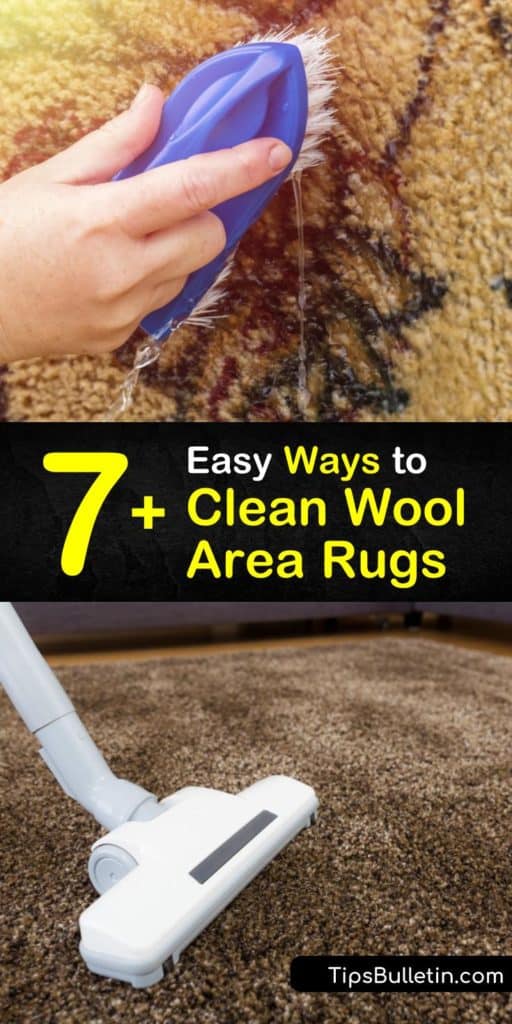 Now that you learned how to clean a wool area rug to keep your carpet clean and smelling fresh, why not share our wool rug cleaning tips and solutions with your family and friends on Facebook and Pinterest?