One of the most enticing things about aluminum doors and window frames is the durability and required upkeep. Aluminum doors are incredibly durable compared to other types of frames and demand very little maintenance. Even though they do not require a lot of attention, you must learn how to clean aluminum doors, so they last as long as possible.
Another reason you must clean aluminum shower door frames and window frames is to prevent corrosion. Cleaning aluminium cannot be done with just any commercial cleaner, as it may damage the aluminum doors. Learn the proper solvents to effectively clean and disinfect aluminum frames without harming the material.
Cleaning an anodized aluminum shower door is simple with the right cleaning process. Familiar home improvement cleaners like vinegar, dish soap, and baking soda clean-aluminum quickly.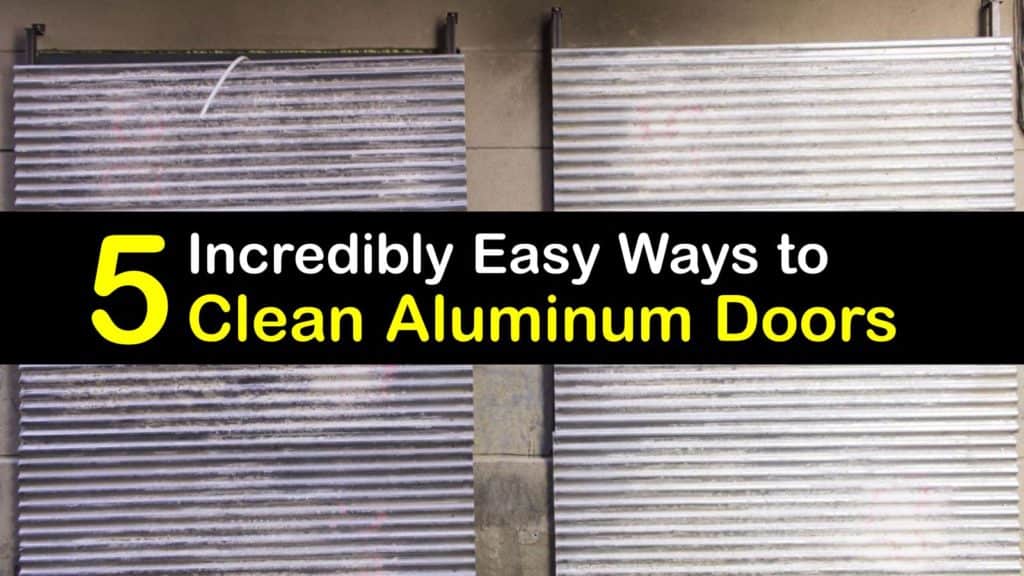 Why Aluminium Frames are Better
Aluminium windows and door frames are so durable because of the special coating called oxide.
When cleaning aluminum-window-frames with an anodized coating, ensure you have a cleaning solution that does not corrode the protective layer to protect your metal surfaces.
The DIY aluminum cleaner techniques we describe eliminate tough grime build up, restore anodized aluminum window frames, and get your aluminium doors and window frames back to looking brand new. To maintain spotless aluminium window frames and doors, clean them once every two months.
Preparing Your Aluminum Surface for Cleaning
Before you clean oxidized aluminum, you must prepare the area so cleaning aluminum shower door tracks or window frames is a smoother process.
Remove the larger chunks of dirt, debris, and calcium build up to create a smoother surface to clean. The best solvent is liquid dish soap because it easily cuts through grease and grime.
Pour the measured dish soap at the bottom of your bucket before dumping in the warm water. Warm or hot water loosens tough, stuck-on dirt on the aluminum.
Use a sponge to swish the water around until you have soapy water. Apply the soapy water to the aluminum doors with the sponge and scrub vigorously until the dirt is lifted.
Not only does this remedy work for cleaning your shower doors, but you can also take care of cleaning an aluminum horse trailer, boat, or RV with soap and water.
How to Clean Aluminum Doors with a Commercial Cleaner
For stubborn stains, utilize the specialized chemicals found in aluminum commercial cleaners. Cleaning aluminum with commercial cleaners is excellent to remove excess grime and dirt in hard-to-reach areas.
When using a commercial cleaner, make sure you read and follow the directions on the package carefully to avoid damage.
Before you clean aluminum shower door frames with a commercial cleaner, perform a spot test in a small area that is hard to see.
Spray the commercial cleaner on a soft cloth and scrub in a circular motion. To clear the excess cleaner away, rinse the aluminum with clean water and a dry cloth to remove the moisture.
Cleaning an Anodized Aluminum Shower Door with Vinegar
Vinegar is a terrific solvent for aluminum shower doors and window frames. White vinegar is an acid that dissolves and loosens dirt, grime, and grease found on your aluminum frames.
Another advantage of using vinegar for cleaning an anodized aluminum shower door is that you probably already have it among your cleaning supplies.
For a homemade daily shower cleaner, mix vinegar and water in a bucket and use a nylon scrub brush to remove the oxidation spots from your aluminum frames, as well as wiping the glass.
If you notice that some oxidation spots remain, apply fine steel wool and warm water or a damp cloth to scrub the area gently. Learning how to clean aluminum doors is a breeze when you have vinegar.
Vinegar is also ideal to remove rust from galvanized metal pieces you may have around your home. Add some baking soda for more cleaning power if needed.
Clean Aluminum Shower Door Frames with Baking Soda
Baking soda is a great way to destroy mildew, calcium build up, and grime on your aluminum shower doors and window frames.
To make a baking soda cleaner even more effective, add lemon juice. Not only is lemon juice a natural disinfectant, but it also helps remove dirt. One advantage of using a baking soda solution is that it reaches small areas and cracks.
Stir your lemon juice and baking soda in a mixing bowl until the ingredients form a paste with a consistency like peanut butter. Spread the paste on the aluminum frames with an old toothbrush and let it sit until it dries.
Rinse a paper towel under warm water and use it to remove the paste residue. It is important to rinse the baking soda mixture soon after it dries to avoid hurting the aluminum.
Follow this same recipe using vinegar instead. Cleaning aluminum with vinegar and baking soda is just as effective as using lemon juice.
How to Use Bleach to Clean Aluminum Shower Doors
For the tough stains that seem impossible to remove, utilize the powerful cleaning effects of bleach.
Bleach is a standard household cleaner because it kills germs, breaks through tough build up, and is an inexpensive solvent. Pairing bleach and baking soda ensure that even the most stubborn stains get clean.
When cleaning an anodized aluminum shower door with a bleach cleaner, make sure you wear rubber gloves to protect your skin.
Stir the bleach and baking soda until it forms a thick paste. Use a sponge to cover the aluminum with a sponge and let it sit for five to ten minutes.
Rinse the bleach paste with warm water. A bleach-baking soda paste makes understanding how to clean aluminum doors simple.
While you can use muriatic acid to clean aluminum, as well, it is not the best idea for indoor use. The caustic nature of this solvent is better used outdoors with plenty of natural ventilation.
At first, cleaning an anodized aluminum shower door may seem like a time-consuming task. With solvents like baking soda, bleach, and white vinegar, you will clean aluminum shower door frames without much effort.
Using the specific cleaning solutions provided in this article prevents potential destruction to the aluminum doors or window frames.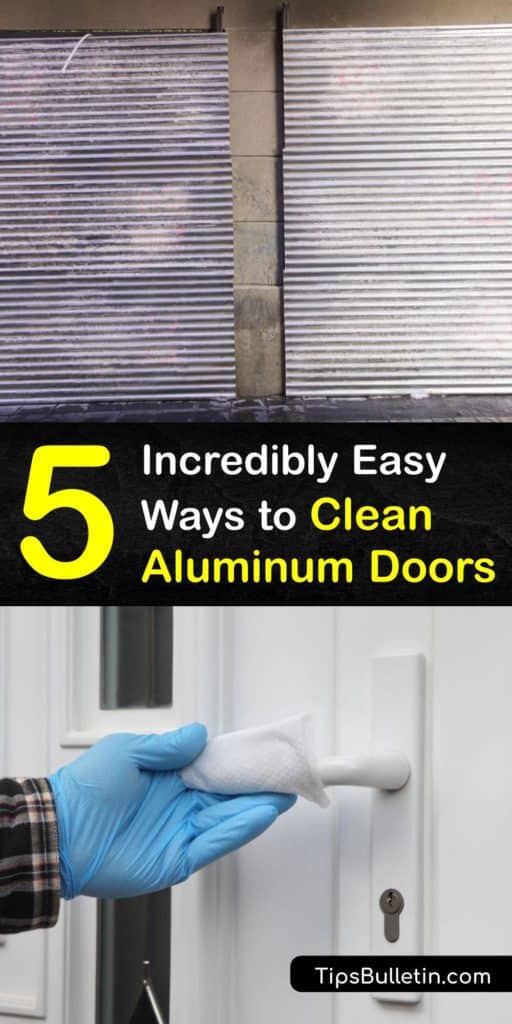 If you discovered how to clean aluminum doors, share this article about aluminum cleaners with your family members and neighbors on Facebook and Pinterest.