Aluminum is a lightweight metal that is popular in everything from outdoor furniture and vehicle trim to cookware and household decor. This durable and corrosive-resistant material does get dirty over time and requires special cleaning techniques to remove grime. We'll show you how to clean aluminum to remove stains, oxidation, and discoloration.
Aluminum is a soft and malleable metal that is silvery-white in color. Sinks, pots and pans, utensils, window frames, vehicle wheels, kitchenware, and lawn furniture are just a few items made of this popular metal. Therefore, different cleaning solutions are required depending on the aluminum object.
Surface contaminants and dirt give aluminum a dull appearance that basic cleaning resolves. While regular cleaning is necessary to keep aluminum surfaces in good shape, this metal gets tarnished or corroded in certain situations and requires deep cleaning using specific cleaning products.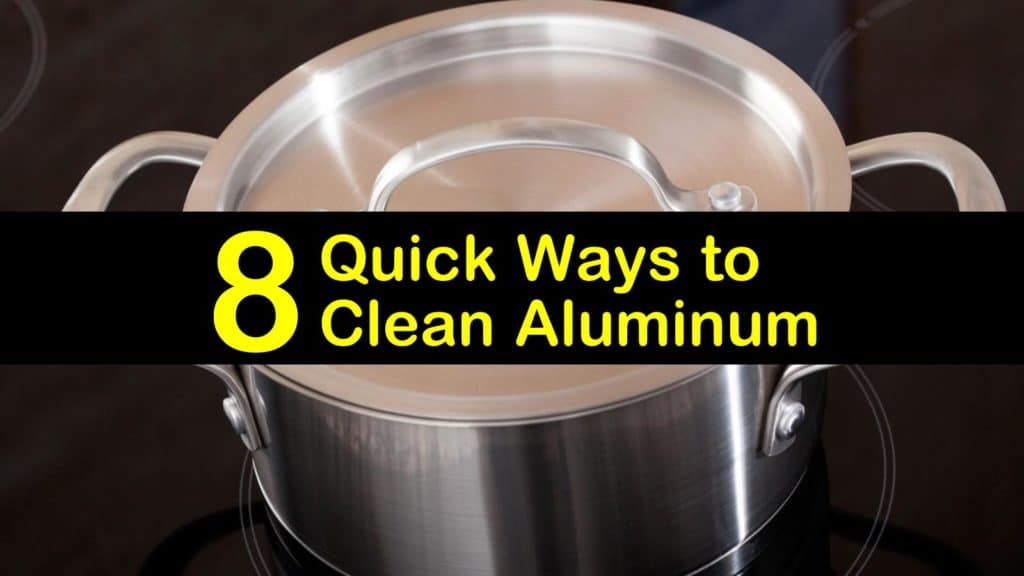 Cleaning Aluminum
There are many determining factors when it comes to cleaning and restoring aluminum, and several ways to clean it to remove dirt, oxidization, and corrosion. The way to clean anodized aluminum is a little different than dealing with simply removing grime. We'll show you how to clean everything from aluminum pots and pans to aluminum wheels.
Easiest Ways to Clean Aluminum
There are several ways to clean aluminum, depending on the condition of the piece. Many times the aluminum piece needs prewashing to remove dirt and grime before proceeding with the next step in the cleaning process.
Pour hot water into a tub or bucket and add a few squirts of dish soap or another degreaser. Dunk the aluminum piece into the soapy water and clean away dirt with a non-abrasive sponge. For extra dirty areas on the aluminum, use a mild abrasive to clean away gunk.
Get a cloth wet with warm water and sprinkle a layer of baking soda over it. Rub the metal surface with the cloth, using circular motions to loosen up tough stains. Rinse the aluminum under clean water and dry the piece with a soft towel.
How to Clean Aluminum with an Acid Wash
Over time, the surface of aluminum begins to discolor and doesn't look as nice as when you first acquired it. Use an acid bath to remove this oxidation and restore its shiny appearance. Cleaning aluminum pans or other containers with an acid wash requires extra care and protective wear. Make sure to keep the solution away from children and pets.
Before proceeding with the acid wash for aluminum trailers or other aluminum items, put on a pair of rubber gloves and protective glasses. After pre washing your aluminum piece, pour water into a large bucket, and then carefully add the acid. Use either the muriatic acid or hydrochloric acid and consult the acid product instructions for the water to acid ratio, and special directions for its safe use.
It's vital that you put the water in first and then add the acid to prevent flash boiling. Keep both the acid solution and aluminum item at room temperature.
Place the pre washed aluminum object into the acidic solution and watch as the acid begins working on the aluminum. Once the metal is the color you desire, remove the piece from the acid wash and rinse it thoroughly with clean water.
How to Clean Oxidized Aluminum
Oxidized aluminum happens when the metal wears away due to a chemical reaction, resulting in a thin and hard layer of corrosion. Make your own homemade aluminum cleaner to remove oxidation from aluminum.
How to clean oxidized aluminum starts with a pot of hot water. To remove oxidation from the inside of aluminum pots, add two tablespoons of white vinegar for every quart of water. Bring the liquid to a boil and allow it to continue boiling for 15 minutes.
For cleaning smaller items such as aluminum utensils and decor, place them into the boiling liquid for the same time. Remove with tongs and rinse the aluminum pieces with clean water. Dry thoroughly with a soft cloth.
Cleaning Corroded Aluminum
Aluminum pieces that get oxidized over long periods end up with areas of corrosion that require a little more elbow grease. Use the mildly acidic action of the lemon juice and gentle abrasiveness of salt or cream of tartar to clean corroded aluminum. These natural ingredients scrub away the corrosion without causing damage.
Cut a lemon in half and shake a layer of salt on the surface. Rub the lemon over the aluminum and wipe away the residue with a clean cloth.
If the aluminum pieces are extra corroded, use the cream of tartar. Wet a cloth, add cream of tartar to it, and wipe it over the metal. Use a soft scrubber to rub the area gently, rinse the aluminum with clean water and dry.
This solution may help you remove scratches from brushed aluminum if they are not very deep, as well.
Ways to Clean Brushed Aluminum
Brushed aluminum is a material rich in beauty with its finely striated, silver marks. This metal is prevalent in everything from kitchen faucets to hubcaps. It's essential to use the right aluminum cleaning solution to prevent damage.
Use this simple recipe as one of the best home remedies for cleaning jewelry made from aluminum. A toothbrush is ideal for getting into cracks and crevices.
For the best way to polish anodized aluminum or to tackle dirty brushed aluminum, combine the white vinegar and water in a container. Dunk a soft cloth or sponge into the solution and use it to wipe the brushed aluminum clean. For easy surface cleaning of faucets and other aluminum surfaces, add the two ingredients in a spray bottle and keep on hand to use as needed.
Shake the container well and spray it directly onto the surface of the metal before wiping away dirt. The solution also works well for cleaning stainless steel pans and other items.
How to Clean Cast Aluminum
Cookware and outdoor furniture are often made with cast aluminum and require regular cleaning to maintain a clean and shiny appearance. Use natural products and a little elbow grease to restore cast aluminum surfaces.
To clean cast aluminum pans, get them wet with warm water in the kitchen sink. Sprinkle the surface of the pan with cream of tartar and scrub the area gently with a soft cloth.
For small crevices, use a soft bristled toothbrush to clean away dirt residue. Rinse the cookware with clean water and dry. To clean cast aluminum patio furniture, use a garden hose to spray the metal with water.
Sprinkle cream of tartar onto the bristles of a soft scrub brush and rub the metal surface with it. Reapply the cream of tartar as needed. Use the water hose to rinse away all residue.
Cleaning Polished Aluminum on Vehicles
Polished aluminum is a common material in many classic vehicles. It's easy to clean the aluminum wheels, trim, and engine covers on vehicles using inexpensive cleaners.
To clean the aluminum engine cover, place a polishing ball on a power drill and squeeze a small amount of toothpaste on the ball. Use the low speed on the drill and use both hands to set the surface of the ball on the engine cover.
Glide it over the surface, reapplying toothpaste as needed, until you remove the grime. Use a damp cloth to wipe away residue, and dry with a microfiber towel.
For cleaning automotive wheels, begin by spraying the surface of the wheel with water to remove dirt and brake dust. Spray the aluminum surface with a commercial wheel cleaner and scrub away grime using a soft-bristled wheel brush.
After cleaning aluminum rims, use a water hose to rinse away all cleaning residue from the wheels and dry them with a microfiber towel to prevent water spots. Scoop a small amount of car wax paste on to a clean cloth and apply it to the wheel surface using a circular motion. Your wheels will look like they just came off the showroom floor!
Clean Hammered Aluminum with Mild Soap
Hammered aluminum is a popular choice in home decor. Using abrasive cleaners and scrubbers to clean this soft metal causes damage. A small amount of soap and water is all that is required to clean everyday dirt from brushed aluminum.
Fill the kitchen sink with warm water. Squirt mild dish soap over the surface of the hammered aluminum piece and submerge it in the water. Use a soft-bristled brush or sponge to rub the metal surface gently.
For stubborn stains, let the piece soak for up to half an hour before scrubbing. Rinse the hammered aluminum under clean water and dry it with a soft cloth.
Cleaning aluminum to remove tarnish, grime, and discoloration from years of neglect is not as hard as you think. Using ingredients such as white vinegar and dish soap while avoiding abrasive materials such as steel wool brings out the natural attractiveness of an aluminum sink, aluminum cookware, and any other aluminum surface.
Now all you need is a little bit of time and some elbow grease to apply these cleaners to your home improvement task.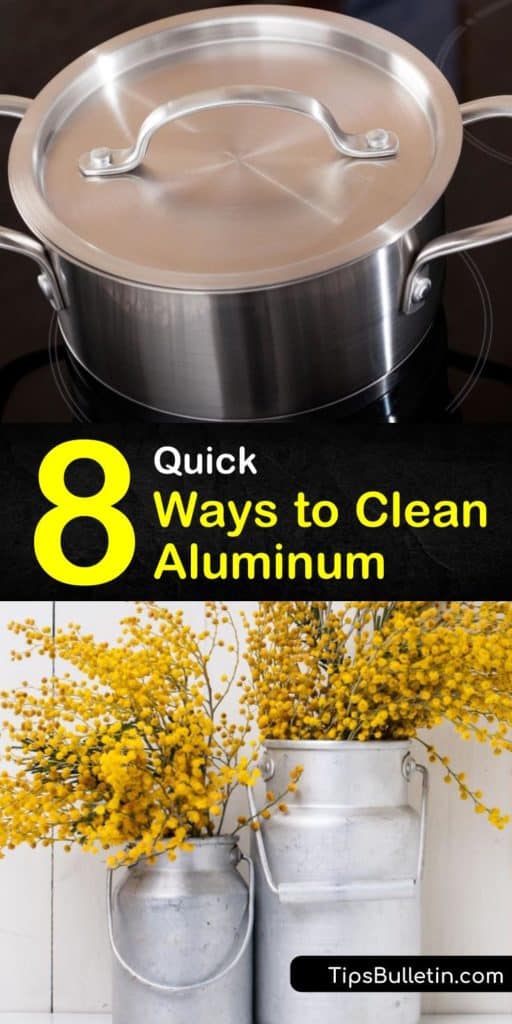 We're glad that we could show you how to clean aluminum to restore its bright appearance, and we'd love it if you'd share our aluminum cleaning tips and recipes with your family and friends on Facebook and Pinterest.