There are many reasons you might need tips for cleaning glass bottles. Perhaps you enjoy making jams, storing preserves, collecting vintage bottles, or you simply want to recycle. Discover how to clean an old glass bottle or more modern types of glass in our guide to gratifying glass care.
Humans have been making glass for about 5,500 years. The oldest glass known comes from Egypt and Mesopotamia in the form of jewelry and, later, glass vessels. We make glass by melting several raw materials like sand, limestone, and soda ash at high temperatures to create a unique new structure.
The flexible nature of glass-making allows us to pour, bend, and blow glass into any shape imaginable. During the manufacturing process, molten glass is almost like a liquid. However, once dry, the glass behaves like a solid. This article is for you if you have some gorgeous glass that needs refreshing.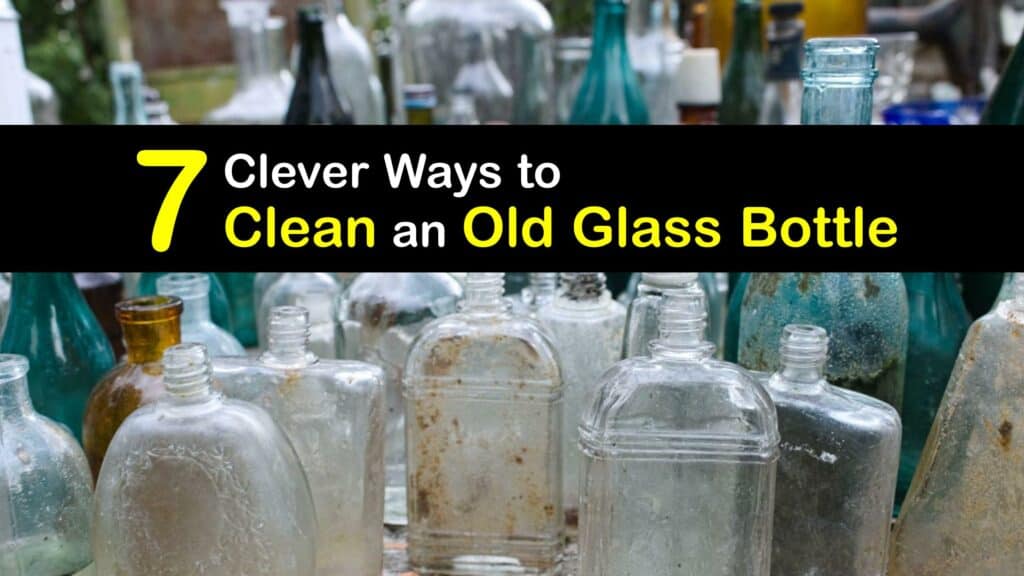 My Tips for Cleaning an Old Glass Bottle
Do you want tips and tricks to help clean and maintain your glass bottle collection? Learn how to clean antique glass bottles, deal with mineral stains, clean cloudy glass, and keep your supply of glass spray bottles free from buildup and bacteria. This article has everything you need to remove a cloudy film from glass easily and get a gleaming glass surface every time.
Starting with a Dish Soap Soak for My Glass Bottles
Cleaning an old glass bottle is often as easy as a soapy water soak. If you have a bucket and a few drops of dish soap, you can make a very effective bottle-washing station without breaking the bank.
Get a 1-gallon bucket, or one that meets your space requirements, and fill it with barely warm water. Add a few drops of your preferred mild dish soap or another food-safe detergent, and let the bottles soak for a few hours.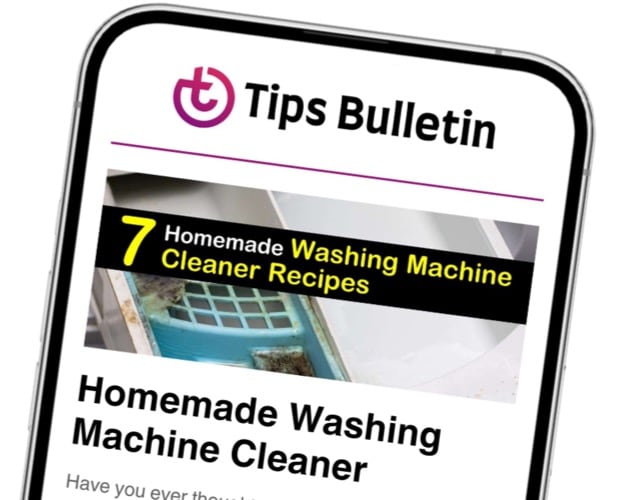 Finally, an email that Transforms Your Home.
Get the latest home and garden tips from our experts, delivered straight to your inbox.
One great trick is to fill the bottle with warm soapy water, cover the bottle opening with your finger, and shake the water around to clean any stubborn residue. Break out the bottle brush for lingering residue, rinse thoroughly, and let the bottles dry in the sunshine. UV rays are a fantastic way to disinfect glass bottles as they kill even the smallest germs on the surface.
The dish soap soak is ideal for glass jars, plastic bottles, or your reusable straw collection. Avoid boiling water when cleaning glass because abrupt temperature changes could shatter the glass.
Making a Super Scrub to Clean My Glass Bottles
Wouldn't it be great to have an all-natural scrub to help with stubborn, stuck-on stains? Use vinegar to make a glass cleaner at home to wash old glass bottles. This recipe takes seconds and should help with your most difficult bottle-cleaning chores.
Fill the glass bottle with a mixture of coarse salt, baking soda, white vinegar, and warm water; adjust the measurements as needed to fit the size of your bottle.
Allow the bottle to sit for a couple of hours, then cover the opening with your finger to shake the bottle without spilling. Rinse with clean water, and use a bottle brush for extra scrubbing power, if necessary.
How I Clean an Old Glass Bottle
Denture cleaner isn't just for false teeth. It may surprise you that denture tablets are ideal for cleaning anything you can't get a bottle brush into, such as an awkwardly shaped wine bottle or even a narrow reusable water bottle.
Cleaning an old glass bottle with denture cleaner tablets is incredibly easy. Drop the tablet in the bottle, fill it with water, and let it sit for 30 minutes or as long as the manufacturer's directions instruct. Denture cleaner tablets like Polident are formulated to clean thoroughly, and most advertise the ability to kill 99% of lingering bacteria.
How I Clean Antique Glass Bottles
Antique glass bottles are a great way to add an interesting conversation piece to your home. Old glass bottles are readily available at any thrift store, and it's often easy to find a few unique pieces for just a couple of dollars. However, antique glass usually requires a thorough cleaning to restore the surface to its former glory.
To clean antique glass bottles safely and effectively, assess the glass. Look for a filmy coating, gold leaf, or ornamental decoration on the glass to determine how much elbow grease you can safely use. It would be tragic to strip the artistic embellishments from an antique bottle or goblet.
Never submerge antique glass or vintage bottles underwater; ensure the water is at room temperature. If you have an heirloom-quality piece at home, clean it with distilled water and a soft, lint-free cloth to maintain its condition. Know your limits; a museum-quality glass object sometimes requires a professional touch to clean and restore safely.
Cleaning My Cloudy Glass
If you've ever noticed foggy bottles sitting along the bar in an old Western movie, you've seen the cloudy glass phenomenon. Cloudy glass happens when water or other liquids become trapped in tiny fractures along the glass bottle. The trapped moisture creates a hazy or cloudy appearance that takes away from the bottle's natural beauty.
Try several solutions for treating an old bottle or coffee pot with cloudy glass. A dab of rubbing alcohol on a soft cloth followed by a lukewarm rinse usually does the trick. Some people recommend a citrus solvent or citrus oil-based cleaner, and others swear by baby oil and mineral oil. Test these methods to remove coffee stains from a glass carafe and decide what works best for you.
Cleaning Mineral Stains from My Glass
Mineral stains are common in our everyday lives. Whether in the form of shower limescale buildup or mineral remains on our favorite glassware, this pesky residue has got to go.
Mineral stains occur when liquid or hard water evaporates from glass, leaving minerals behind to cling to and bond with the glass surface. Fortunately, the acidic nature of lemon juice and vinegar is excellent for bottle cleaning. Discover how to clean an old glass bottle with mineral stains using our DIY limescale remover.
Mix the ingredients in a plastic spray bottle and spray old glass bottles with lingering mineral deposits. Wipe with a lint-free cloth, and dry in the sunshine.
Cleaning My Glass Bottles for Recycling
Recycling isn't just for cardboard boxes and plastic bottles; many communities also have a glass recycling program—no need to throw out old spaghetti jars or other glass food packaging. Check the city recycling website for your city or state and look at their requirements.
Most local glass recyclers require the bottles to be clean and free of food debris or wax. Use these methods for removing a candle from a glass jar so that it can be recycled. We recommend a dish soap soak if you have a few bottles that could use cleaning. Give the bottles a rinse, allow time to air dry, and place them in your glass recycling bin without the lids; reducing your glass contribution to the landfill is that easy.
We hope you enjoyed our best tips for how to clean an old glass bottle, fix mineral stains, cleanse cloudy glass, and prep your jars for recycling. Glass is such a large part of everyday life; the more we know about how to care for and reuse it, the better off we are.
Most glass, except vintage and antique glass, cleans easily with warm water and dish soap. Follow with a bottle brush for nooks and crannies, and dry everything in the sunlight if possible. For vintage glass, use a lint-free cloth dampened with distilled water to keep things looking fresh and sparkly.
Don't forget to inquire with your local recycling program if you're looking for ways to reduce your contribution to the landfill. We all have a shelf of old glass bottles somewhere. If we can't make crafts out of them, use them for preserves, or put them out for decoration, we should recycle them for future use in something new.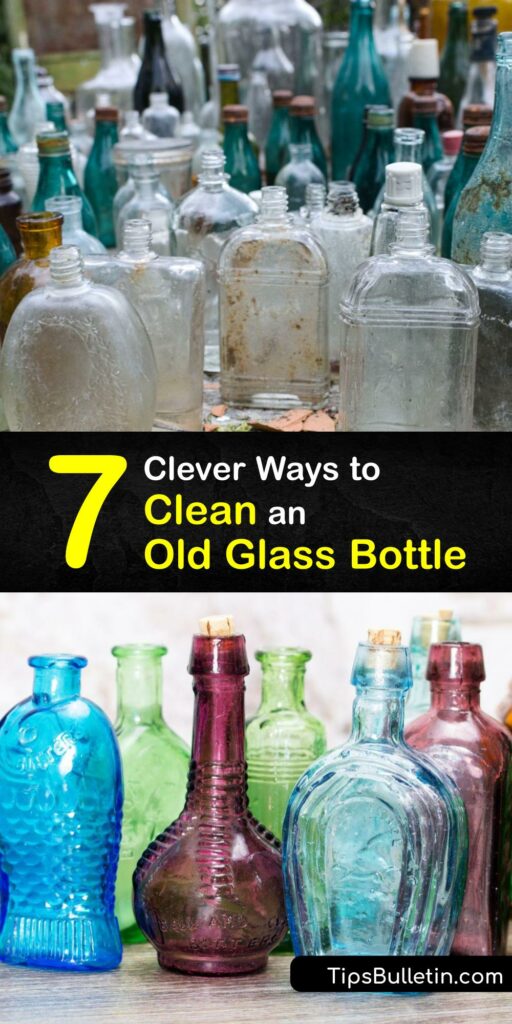 If you loved learning how to clean an old glass bottle with our restoration tips, share this article with friends on Pinterest and Facebook who collect vintage glass or love old bottles.