Whether you have a common above ground pool, an inground pool, or an Intex pool, cleaning a dirty pool is a chore that everyone dreads during the summer. Swimming around in dirt and algae is not only unhygienic, but it also stirs up all of the fine particles, which requires you to do even more work. Figuring out how to clean dirt from bottom of a pool is something that all pool owners must face.
Vacuuming the bottom of your pool seems like the easiest option, but there are other options to try to get dirt out of a pool without vacuum cleaners for pools.
Removing dirt from bottom of a pool, especially without a vacuum cleaner, does take a little more effort. However, there are many ways to get rid of fine dirt in your pool that don't require you to expend a lot of cash.
You'd be surprised at the amount of debris you can pick up with a few tools from your garage or garden shed.
If you're looking for unique ways to clean the bottom of a pool, skim through this list of alternate cleaning methods to make the bottom of the pool free of all sediment.
What Makes a Pool Dirty?
It always seems like pool maintenance is a never-ending job. Even with an excellent filtration system and chemicals from your pool supply store that are great for clearing up a cloudy pool, the bottom and sides of the pool get slimy and covered in both small and large debris over time.
Why is it vital for you to be consistent with pool cleaning? Your swimming pool gets bombarded with bacteria, dirt, and algae daily. Algae grow in all bodies of water that are not consistently moving.
Pools are the perfect place for algae to grow, and no matter what you do, you are constantly working to keep it away. Sediment gets in your pool every time it rains.
Think about the wind carrying dust, decomposing leaves, and droppings from animals that find themselves in the water. Your pool gets dirty from far more than just people.
Your body also releases fats, ammonia, nitrogen, bacteria, and dirt every time you take a dip. Many different things create buildup, so it is important to know how to clean dirt from bottom of a pool efficiently.
How to Clean Dirt from Bottom of a Pool
If you go too long without thoroughly cleaning your pool, you won't be able to avoid the weeks' worth of buildup on the bottom of the pool. Aside from dirt and sand, a lot of things may be lurking in your pool water and filter system.
Keep up on the maintenance so that it makes the task go by faster and happens less often. It's not necessary to have an automatic pool cleaner. If you're struggling with getting sand out of pool without a vacuum, there are several alternative methods to try out.
Balancing Your Water to Reduce Bacterial Growth
Before you start scooping out sediment from the pool floor, test your water to see if anything is off. The pH level is something that pool owners should check two to three times a week.
Because your pool is usually uncovered, there are dozens of things that could make their way into the water every single day. Head to your pool supply store or another local shop that sells pH testers and perform an analysis to ensure the water is in a safe zone.
Normal pH levels range between 7.2 and 7.6. If the pH is too low, you'll have to add chemicals to increase it. If the pH is too high, you have to lower it.
When your pH levels are in the normal range, it makes it harder for bacteria and algae to grow, keeping your pool floor cleaner for longer periods and reducing the need to clean green algae in the pool.
Backwashing the Pool and Filtration System
The pool pump works hard to push water through the pool filter and keep the water flowing into it as clean as possible. If too much time goes by without cleaning the filter, debris gets stuck inside and renders the filtration system pointless.
If you avoid backwashing your filter, contaminants make their way back into the pool, and the filter keeps cycling them through. Backwash your pool one or two times every week.
Backwashing reverses the flow of the water through your filter system and flushes it through a waste line. The wastewater and the lodged contaminants are discarded outside of the pool so they won't make their way in again.
A simple pool filter cleaner solution, depending on the type you have, is to rinse it well with a firm stream of water.
How to Get Dirt Out of a Pool without Vacuum
Removing dirt from bottom of a pool without a pool vacuum isn't as challenging as you may believe. It is possible with only a skimmer and pool net. Start by using your pool skimmer to remove all of the debris floating on the pool surface.
Attach a pool net to the pole and use it to scoop out anything lying on the bottom of your pool. It may take a few tries, but with a bit of time and perseverance, the bottom of the pool is spotless once again.
Removing Dirt from Bottom of a Pool with a Leaf Rake
Sometimes pool ownership requires you to get a little creative. A leaf rake is a tool that most of us have stored in our garden sheds and makes the perfect replacement for a pool vacuum.
Try only to use a plastic rake so that the metal doesn't tear the liner. Use the plastic rake to gently sweep debris into a small pile. Once you have everything in a heap, use the rake or a pool net to scoop it up carefully and discard it.
Brush Your Pool Walls
Vacuums aren't necessary when you have a pool brush at your disposal. Pool brushes are a great tool because they don't focus only on the bottom; they can also scrub the sides of the pool, so they aren't slimy and covered in algae.
For removing scale from pool tile and any other buildup, use the pool brush. Wipe down all the walls thoroughly and let the water sit for a few hours when finished so all of the sediment settles.
Once there aren't any floaties, use the brush's bristles to gently sweep them into one big pile on the pool's bottom. From there, either use a manual vacuum to remove the pile or remove it by hand.
Using a Shop Vac to Clean a Pool
Removing dirt from bottom of the pool without a pool vacuum isn't ideal, but there is a way to create your own pool vacuum with a shop vac and garden hose. If you use this method, make sure you have a wet/dry Shop Vac, or you might wreck the vacuum.
One of the best pool vacuuming tips we have for those without a pool vacuum is to use a Shop Vac. Set your Shop Vac as close to the pool as possible without the danger of falling into the water. Remove the vacuum head that is attached to it or any other attachments on it.
If you have pool hoses, hook up several of them and tape them to your vacuum hose. If not, unravel your garden hose and tape it to the vacuum hose.
Tape the other end to a pool pole so that you easily reach the bottom of the pool. Put the end attached to the pole into the water and turn the vacuum on so it sucks up all the debris. Empty the vacuum each time it fills up as you go along.
The Power of Chlorine
Chlorine is a necessity for knowing how to clean dirt from bottom of the pool. Chlorine kills things that make their way into the water and keep it looking clear.
You don't want to let your pool's chlorine levels drop, so perform regular water tests and ensure that chlorine tablets are always in your pool hopper or that you are adding chlorine manually when needed.
A Pool's Best Friend: Algaecide
Aside from chlorine, it's essential to invest in algaecide. Algae cause the biggest mess in a pool and multiply so fast that it's hard to keep up with. Pouring algaecide into the water kills the algae and prevents it from growing in the future.
It works by interrupting the life process of the algae and stopping photosynthesis so that it won't multiply.
Without algae continuing to grow, you'll notice a significant difference in the amount of time between each for cleaning. This also means you save hours spent trying to pick up dirt and other fine particles from the bottom of the pool.
Pools are a lifesaver during summer. They cool us off from the blistering sun and make hours outside feel like minutes of endless fun.
Making the most out of your summer as a homeowner is possible by keeping your pool clean and free of dangerous particles.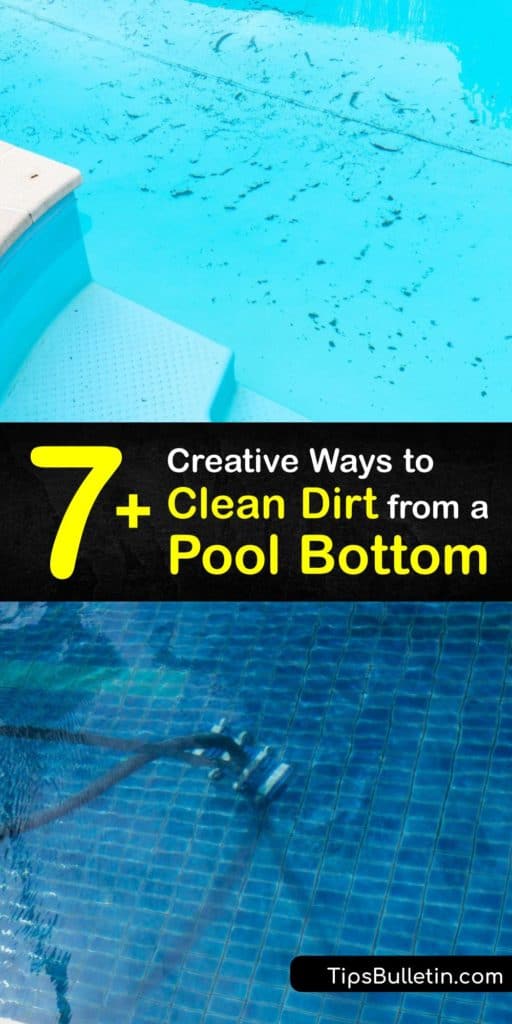 If this article helps you figure out how to clean dirt from bottom of a pool, use these tips to get dirt out of a pool without vacuum cleaners on Facebook and Pinterest.