Linoleum is a durable material that easily withstands dirt brought on by even the toughest stains on your kitchen floor and the muddiest of boots. While this magnificent flooring stands the test of time, cleaning linoleum floors regularly is an essential part of maintaining its strength and longevity.
Using the best methods for how to clean linoleum floors, whether preparing it for deep cleaning, reducing yellowing and discoloration, or just giving it a proper washing, will ensure your linoleum remains as bright and appealing as the day you first installed it.
When discovering the best way to deep clean linoleum flooring, it's essential to know just what linoleum flooring is and from what it is made. Linoleum is a type of flooring made from all-natural ingredients, including linseed oil, wood flour, and limestone.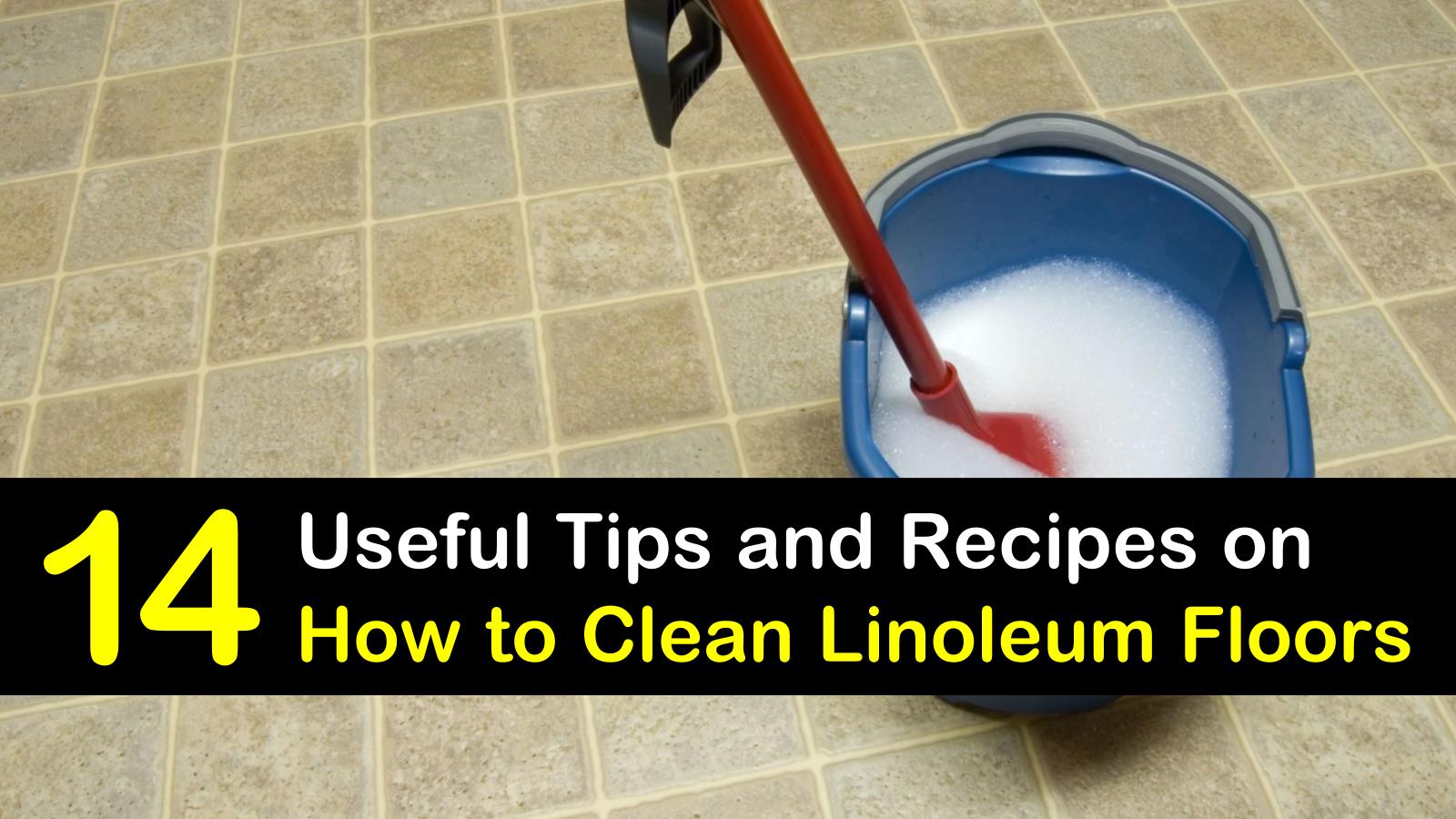 Fantastic Advice for Cleaning Linoleum Floors
Some companies inaccurately label vinyl flooring like linoleum, having used the terms interchangeably for years. Vinyl flooring does not use the same materials, using a blend of synthetic and natural resources instead to create its flooring. As a result, it is imperative to know precisely which type of flooring you have and the proper ways to clean it.
Whether you are doing a regular cleaning, a deep cleaning, or attempting to remove yellowing and stains from your linoleum tiles, there are a few supplies you want to keep handy. Even if you don't need them for one floor cleaning treatment, you may end up using them later.
Although there are many commercial cleaning products on the market for cleaning your floors, you probably have all you need at home to tackle the job. It's easy to make a homemade tile floor cleaner from basic household ingredients. Here is a list of the materials to keep close by when cleaning your linoleum tiles.
Most of the items listed here are standard household supplies and already regular residents of your utility closet. In some cases, one supply can be used in place of another one.
For example, dust mops, brooms, and vacuums all work interchangeably. Adjust this based on the type of mess involved and the areas that need cleaning.
Remove All Dirt from the Surface Before Adding Cleaner
The first step you want to take when preparing to clean your linoleum floors is to eliminate all traces of dirt. This will ensure that the dust is not being ground further into the grout or tile during cleaning and will limit the amount of dirty water sloshing around on your clean floor.
For this step, you can use a broom or dust mop to sweep the area clean. You can also use a vacuum, especially when it comes to using the extender attachments to reach those awkward nooks and crannies.
Use Dish Soap for Basic Cleaning Solution
Use mild dish detergent to clean the surface of your floors. While linoleum is exceptionally durable and can take quite a bit of scrubbing and cleaning without much damage, avoid harsh chemicals like ammonia when cleaning. Starting with a gentle cleaner made from dish soap is the best way to ease into cleaning linoleum floors.
Pour a gallon of warm water into the bucket, then add a tablespoon of dish soap to make a homemade vinyl cleaner or linoleum cleaner. Ensure the two are thoroughly mixed before you start mopping but don't create too many suds, as these will be hard to eliminate.
Clean the floors, making sure you wring out any excess water before starting. Mop in small sections, then completely dry the area when finished so that no water spots remain behind.
Vinegar: The Best Way to Deep Clean Linoleum Flooring
If you want to try a stronger technique, cleaning linoleum with a vinegar solution also works. Similar to how you use the dish soap method, use the following recipe for homemade mopping cleaner.
The combined ingredients will not leave behind a residue and evaporate quickly, meaning you also won't have to dry the floors separately afterward.
For this recipe, mix equal parts hot water and vinegar in a large bucket. Dunk the mop into the bucket, wring thoroughly, and clean the floor. For a deeper clean, use a scrub brush to get deep into the tiles and between the grout lines.
If choosing this method, scrub the tiles in two square feet of space at a time. This way, you ensure you aren't missing any areas when working.
Vinegar is the perfect all-around cleaner for every part of your home, both inside and out. This natural product is likely already sitting in your pantry and ready for cooking or for making one of the best kitchen cleaners you can find. Get rid of grime in the bathroom or on your vehicle with this versatile product.
Add Baby Oil for an Extra Shine
There are multiple recipes involving white vinegar as a DIY vinyl floor cleaner. Some include adding a few drops of dish soap for additional reinforcements in the degreasing department, while others incorporate essential oils for a longer-lasting fresh scent. This variation on the vinegar solution calls for adding oil to make the floors shine even more brilliantly.
Like the other cleaning options, combine the ingredients in a large bucket and mop the floors. The vinegar blasts through stains, grease, and grime, while the baby oil leaves behind a shiny finish on the floor.
Don't add too much oil, however, as this can leave the surface greasy or slick. For best results, buff floor dry using a microfiber cleaning cloth.
Remove Stains with a Magic Eraser Scrub
Sometimes, mopping your floors isn't enough to remove the challenging stains. A Mr. Clean Magic Eraser can be a helpful ally in this case. This soft scrub is fantastic for eliminating difficult spots and scuffs. It also removes tea and coffee stains and is a Sharpie eraser.
You don't even have to add water to use this Magic Eraser effectively, though a few drops can be beneficial for added absorption. While the Magic Eraser works amazingly on linoleum, it may damage other flooring materials like wood floors or marble tiles.
Clean Linoleum Floors Using a Homemade Baking Soda Cleaner
To deep clean linoleum flooring, baking soda is an excellent additive for power-blasting through dirt and grime. While the other ingredients loosen up grease, baking soda absorbs the loosened particles and excess moisture. It uses finely ground particles for a gentle scrub that won't leave scratches on your tile.
Start by dissolving the baking soda in the gallons of water. Once fully dissolved, add the vinegar and dish soap to the mixture.
Doing this will prevent too much foam from building up in the bucket and leaving water spots on the tiles after cleaning. Apply the cleaner using a damp mop, scrub brush, or a microfiber cloth.
How to Clean Linoleum Floors with a Steam Mop
If you want a nice, deep clean of your floor, a steam mop will do the trick with ease. Not only is this method extremely effective at cleaning and sanitizing your floors, but it is also as simple a task as vacuuming. Using a mop may require you to rinse or dry the area after cleaning to reduce water spots.
With a steam mop, there is no soapy water left behind, and any moisture left by the steam is quickly dried. This method will also kill dust mites and most bacteria, including E. coli and Salmonella. It cannot be used on certain materials, however, such as laminate flooring.
Dry Floors Completely after Cleaning to Avoid Soap Residue and Water Spots
Drying your floor is an integral part of the cleaning process, whether it pertains to routine maintenance or a deep clean. Allowing any standing water to remain on the floor will cause the tiles to collect mildew or cause water stains to form on the tiles.
Especially when mopping, it is entirely possible to spread dirt from one area of the floor to the next when cleaning linoleum floors. Rinsing the area afterward with warm water, and drying up any excess moisture with a clean towel will make a huge difference.
It will remove any leftover dirt and prevent a build up of soapy residue from collecting on the floor, as well. While some cleaners do not require drying afterward, it is best to scan the area for wet spots before moving onto another task.
Use Borax for Stain Fighting and Cleaning Power
Borax is another powerful cleaner that breaks down dirt and cleans floors. While Borax is hugely useful on its own, it can also operate in conjunction with other cleaners like vinegar and dish soap. Adding these additional ingredients make it an aggressive stain remover on tile floors.
When adding Borax to your gallon of water, make sure the powder has completely dissolved before using it. While you can add this to a bucket for mopping, placing the ingredients in a spray bottle and treating the area that way will also work.
If using as a spot cleaner or a cleaning spray, use a soft bristle brush to scrub dirt from the tiles and grout. Rinse with clean water and dry when finished.
Cleaning Linoleum Floors with Castile Soap
Another spectacular example of how to clean linoleum floors is to use Castile soap. Castile soap is a natural cleaner made from olive oil and vegetables. It comes in both bar soap and liquid form and is used in many cleaning recipes despite its shifting appearance.
For this recipe, liquid Castile soap works the best. If you only have a bar version of the soap, use a tiny piece, equivalent to two tablespoons, and wait for the soap to dissolve in the water before proceeding. Apply to the floor using a mop or a dampened cloth.
When using the cleaner, allow the solution to soak into the tiles and grout for a few minutes before rinsing away and drying. This step allows the soap enough time to eliminate grease and loosen up dirt particles.
Remove Yellowing with Sunshine
Numerous factors cause yellowing of linoleum floors. Using ammonia or relying on other highly alkaline products when cleaning can cause yellowing over time.
Another often overlooked cause of yellowing is a lack of sunlight. When floor mats and rugs cover parts of your linoleum floor, you may notice a dingy, yellowed appearance when moving the cover.
This discoloration occurs because linoleum contains linseed oil, which will oxidize and turn yellow without exposure to sunlight. One way to reverse this reaction is to remove the floor mat or rug and open some windows. Let the sunlight stream down on the area to absorb as much of the sun's rays as possible.
Leave the area exposed to the sun until the color returns to normal. After the original color has returned, regularly remove the rug and allow some sunlight onto the covered area to prevent yellowing from occurring in the future.
Use a Lemon Juice Paste to Remove Yellow Discoloration
Another great way to remove yellowing without bleaching your floors is to create a lemon juice and baking soda paste. Lemon juice appears in many recipes to reverse discoloration, including teeth whiteners and removing yellowing in nails. Together with baking soda, it acts in a similar way to reduce the staining in the linoleum tiles.
Depending on the surface area of your hard floor that needs cleaning, you can increase the amounts to suit the size. After adding the lemon juice to the baking soda, there will be a little bit of bubbling and fizzing that takes place. Allow the bubbles to subside before blending thoroughly.
Lather the paste over the tiles and grout. Let them sit for 15-30 minutes, depending on the depth of yellowing. Scrub the area with a bristle brush. Make sure to get all the yellow coating and dirt out from between the tiles and from the surface before rinsing with clean water and drying.
Use Floor Wax, But Not too Much
Wax has a love-hate relationship with your linoleum floors. While waxing is an essential part of protecting those tiles from damage, applying too much wax is one of the leading causes for yellowing.
In these cases, the wax needs to be stripped away before cleaning the floor and applying a new, thin layer of wax. If you are using a deep cleaning method, especially anything acidic or requiring hard scrubbing, the wax coating may wear down and deteriorate.
After cleaning the floors, reapply the layer of wax to keep the linoleum protected. The key here is finding a balance between maintaining the thin film of wax for protection and not adding too much in the process.
Polish Floors when Finished Cleaning for Long-Lasting Shine
After you have successfully dusted, cleaned, and rewaxed your entire floor during the in-depth cleaning process, the final step is to shine it up with a beautiful, lasting polish.
Many of the ingredients in the polish have already been used when cleaning. When used in varying quantities and combined with more oils, these materials make a fantastic floor polish that will put the shine back in your linoleum.
Combine the ingredients in a small bucket or large bowl. Similar to applying floor cleaning products, spread the polish across the floor with a mop or a soft sponge. Buff the area dry when finished and enjoy the brilliant shine.
Other Important Advice to Know about Cleaning Linoleum Floors
Linoleum floors are relatively low-maintenance and require minimal upkeep. The most difficult issues arise from the yellowing, which can easily be avoided by using the appropriate cleaning products and methods. In case you need more help, here are some additional cleaning tips to keep your linoleum floors cleaner longer.
How often should I clean my linoleum floors?
As with every area in your household, the frequency with which you clean your linoleum floors depends on how often it gets used. Regular foot traffic on your linoleum floors requires you to clean once a week. This technique keeps dirt and grime from building up on your floors while also keeping it free of unnecessary chemicals cleaners.
In high traffic areas of the house, or areas overly exposed to mud and water, increase cleaning to every day or every other day. Equally, you don't want to clean an area too often.
Too much exposure to chemicals and waxing can cause undesirable yellowing, which is what most homeowners try to prevent by cleaning. In these cases, once a month is an adequate amount of time for regular cleaning.
What are the benefits of using linoleum flooring?
Linoleum is a highly durable flooring that is easy to clean and looks impressive. If those benefits aren't enough for you, then the "green" properties it also possesses may persuade you. Linoleum consists of all-natural products that are easily recycled and reused when necessary.
Materials like ground cork are highly renewable resources, meaning they quickly grow back in nature without much loss to the resource at all. Other natural components, such as resin extracted from pine trees, are critical elements in what holds the other materials together. This resin is drawn from pine trees with little to no damage done to the tree.
If you decide to remove or replace your linoleum tiles, they can be recycled as a fuel source that burns similarly to coal. If you plan on just tossing the tiles in your local landfill, however, you also won't have to worry about them spending a lifetime deteriorating.
Linoleum is biodegradable and will not emit toxic gases or fumes into the air when it breaks down. From start to finish, linoleum is a wonderful natural resource that won't leave a massive carbon footprint in its wake.
With these 14 amazing tips, you are ready to tackle the deep cleaning of those linoleum floors. While they are easy to maintain and durable enough to withstand tough spills and repeated wear and tear, they still require a little love and care from time to time. Now you know the most effective methods for keeping your floors looking their best.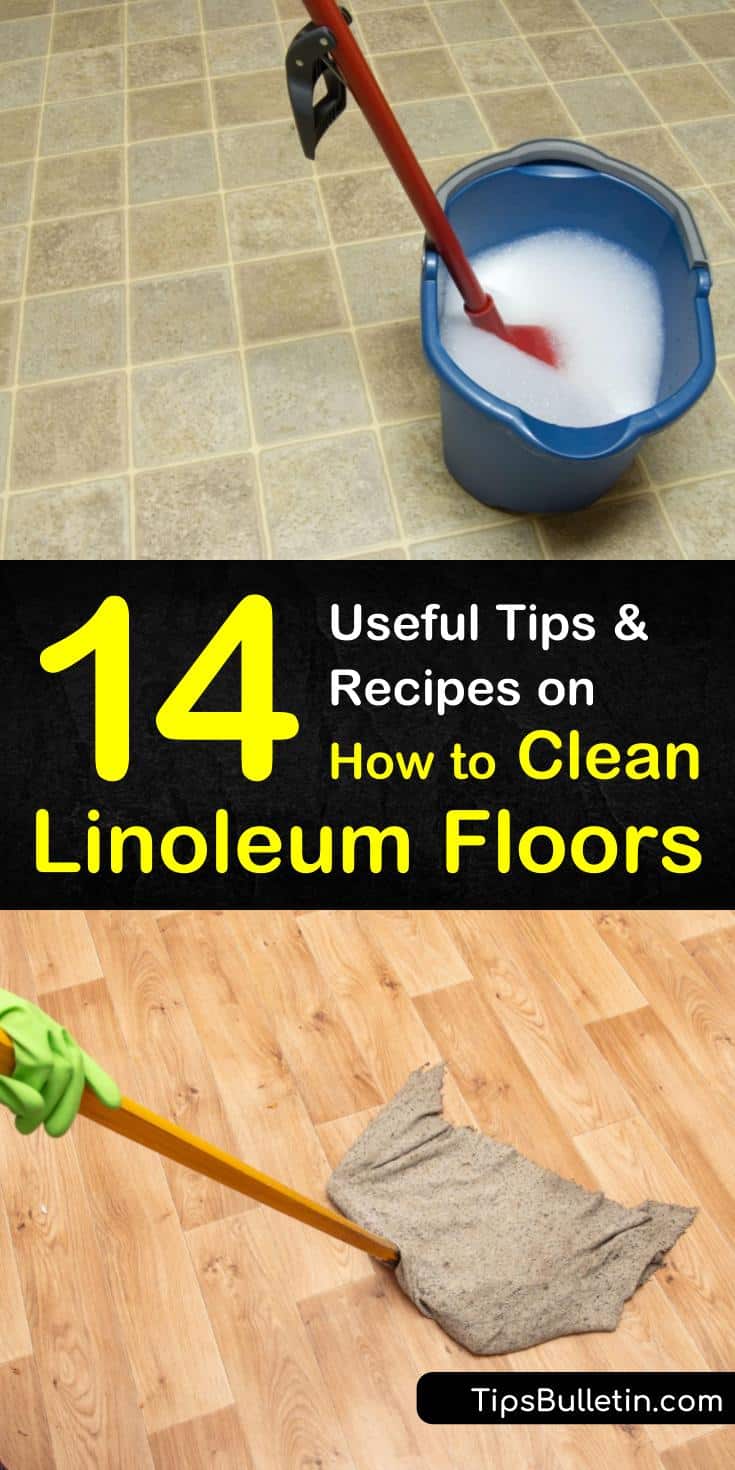 If you enjoyed these linoleum floor cleaner recipes, don't forget to share how to clean linoleum floors with friends and family on Facebook and Pinterest.