Getting a good night's sleep can improve a person's overall health, increase the strength of the immune system, and reduce stress levels. So, worrying about how to clean memory foam or your memory foam mattress should be the last thing keeping you up at night.
As a memory foam mattress owner, you've probably already heard the warnings: you cannot clean memory foam the same way you clean a regular mattress. Poor maintenance of memory foam can cause loss of shape and support.
It can also damage the material over time or allow moisture and mildew to build up inside. Learning helpful ways to get yellow stains out of a mattress and regular maintenance can increase the lifespan of your memory foam mattress, memory foam topper, or memory foam pillow.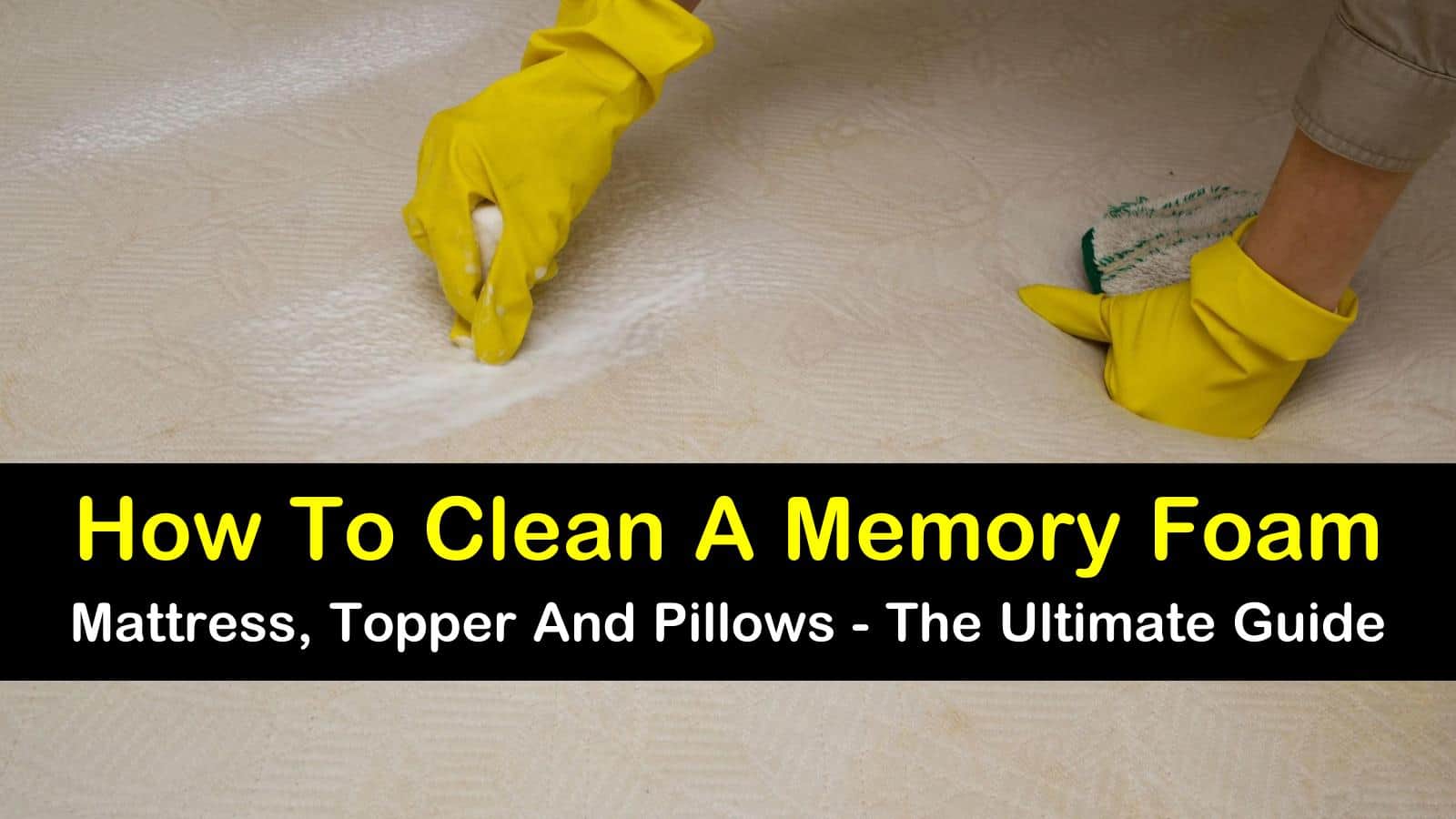 What You Need to Keep Your Memory Foam Clean
Whether you need to take care of cleaning a yoga mat or your mattresses, we have some great ideas. We will go over a step-by-step process for how to clean a memory foam mattress during routine cleanings, how to clean a memory foam mattress topper, and how to clean memory foam pillows.
We will also address the different types of stains and odors you may encounter while cleaning and how to get them off your mattress. Below is a list of supplies you will need to help you properly clean memory foam and keep it stain-free.
You may not need to use all of these items at one time, especially if you are doing routine cleaning. However, when you do need spot cleaning or more substantial stain removal, like when you clean an old memory foam mattress, it's an excellent idea to have these items handy.
Some of these items can be swapped out or replaced with other things. For example, if you do not have a handheld vacuum cleaner, a regular vacuum cleaner with a soft brush attachment will also work. If you have a preference for baking soda over white vinegar, either solution is useful for removing stains and odors.
How to Clean Memory Foam – Cleaning Routine
Vacuum Memory Foam to Clear Dirt and Dust Particles
Whether you are trying to clean a memory foam mattress, topper, or pillow, the instructions all start the same: vacuum the memory foam first. Use circular motions while vacuuming to loosen up dirt and dust particles.
Wash Memory Foam Using Gentle Cleaning Solution
If there are no significant stains or odor problems to address, then a light washing is all that is necessary. Can you wash memory foam pillows? Wash all memory foam by hand, even when cleaning items like pillows that can easily fit inside a washing machine.
Running a memory foam pillow through the washing machine can ruin the material and cause it to lose shape. Use fabric cleaner or mild laundry detergent and dilute it with warm water before adding it to your memory foam.
Mix the fabric cleaning solution or laundry detergent with water in a spray bottle. Lightly mist both sides of the entire mattress, topper, or pillow with the cleaner. Make sure you do not soak the memory foam. Too much moisture can be especially harmful to memory foam since it's such an absorbent material.
A damp cloth can be used in place of a spray bottle by wetting the fabric and gently applying it to the mattress. Again, use circular motions if you go this route and avoid excess water to prevent mildew from building up inside the mattress.
Use this mixture for sofa fabric cleaning, too. It works great on stains or just for general freshening of the material.
Dry Memory Foam to Remove Excess Water
This last step can take some time, especially since you want to make sure to remove every bit of moisture to prevent it from getting trapped in the memory foam. Wringing or twisting the foam may seem like a natural solution to removing excess water, but never do this!
These motions can affect the structure of the mattress, making it less responsive to your weight as you sleep, and reduce the amount of support it provides.
Instead, use an electric fan or hair dryer to speed up this process. For either option, blow the air at an angle a safe distance away from the memory foam. Use the lowest setting on a hair dryer.
If your hair dryer comes with a warm or cool adjustment, this is even better. Taking your mattress outside to air dry is another excellent option if you have space. Exposing your mattress to direct sunlight also helps reduce odors.
It can take as long as 24 hours for your mattress to dry on its own. Using hair dryers, electric fans, and even air drying it in the sun can not only speed up the cleaning process but also reduces the chances of forming mildew. Make sure the memory foam is completely dry before returning it to your bed or using it.
Keep foam mattress clean by adding a mattress cover. Doing this will also reduce the need to wash memory foam as often and leaves you with the opportunity to clean the mattress cover as often as you wish.
Remove Stains and Odors from Memory Foam
For moderate stains, use a homemade mattress stain remover, such as one made from baking soda or vinegar. Alternatively, you can purchase an enzymatic stain remover, like those used to clean pet stains.
How to Get Stains Off with Natural Ingredients
Avoid recipes with hydrogen peroxide if you can. While hydrogen peroxide is a great way to remove stains from regular mattresses, it can cause discoloration and break down the material of your memory foam product over time. Follow our ways to get urine out of a memory foam mattress with non-staining natural ingredients.
For the easiest and best way to get pee out of a pillow top mattress or if you have another wet stain, cover the area with a dry cloth first. Absorb as much of the liquid as possible. Combine white vinegar with water in a spray bottle or apply to a damp cloth. Lightly spray the spot or blot with the damp cloth.
Again, be careful not to soak the area. It can be tempting to add more vinegar spray to the spot if the stain does not come out right away. Resist the urge!
If the stain lingers, sprinkle some baking soda over the stain and let it sit for about an hour. Afterward, vacuum the remaining powder. This process should take care of most stains.
Use an Enzymatic Cleaner to Remove Pet and Urine Stains
Tougher stains on mattress topper or memory foam mattresses, as well as to clean urine from a couch, may require alternative measures, especially if those stains come from sweat or are pee stains. Vinegar works most of the time but sometimes you need something stronger.
There are many products you can use to get urine stains out of a memory foam mattress, but we are going to focus on three: vinegar, baking soda, and enzymatic cleaners.
What causes yellow stains on mattress?
If using vinegar doesn't help remove the stain, try an enzymatic cleaner, like those used to clean up pet stains instead. These cleaners are designed to target stains caused by organic materials like vomit, sweat, and urine.
A yellow spot is a good indication of a stain caused by any of these materials. All of them are treated the same way.
First, soak up all the urine using paper towels or a dry cloth. Next, lightly spray enzymatic cleaning solution. Let sit for 15 minutes. Use a dry cloth to dab the area and soak up any excess moisture. Sprinkle baking soda over the area and let it sit overnight, or for at least 8 hours.
Vacuum the remaining powder — repeat steps as necessary. Other consumers suggest using cleaning options like Borax, which you can also add to the cleaning process. Using enzymatic cleaners and baking soda also helps with removing urine smell from mattress.
The same treatment can be used to remove pungent odors caused by sweat, vomit, or even cigarette smoke. On a smaller scale, sprinkling some baking soda on your memory foam pillow and letting it settle for one hour before vacuuming absorbs the odors and oils you leave behind.
What Causes Rust-Colored or Brown Stains on Mattress?
Food and drink stains are pretty easy to spot, and we already identified the causes of most yellow stains. Rust-colored, brown, or dark-colored stains, however, could be a sign of something much more troublesome. Nobody likes to think about them, but bed bugs can be almost anywhere – even in your memory foam mattress.
The possibility of getting bed bugs and dust mites decreases for owners of memory foam mattresses due to the density of the material used to make them. However, this does not prevent these pests completely.
If you suspect bed bugs might be a problem, unlike with other pests, deep cleaning will not resolve the issue. A budget-friendly option is to apply diatomaceous earth for bed bugs on the mattress before calling the exterminator.
Learning how to clean memory foam is nothing to lose sleep over, especially with so many great resources available! These easy tips for how to clean memory foam mattress topper, mattress, or memory foam pillow will help you rest easy. Now, it's time to give a little love back to the mattress that supports you and your dreams!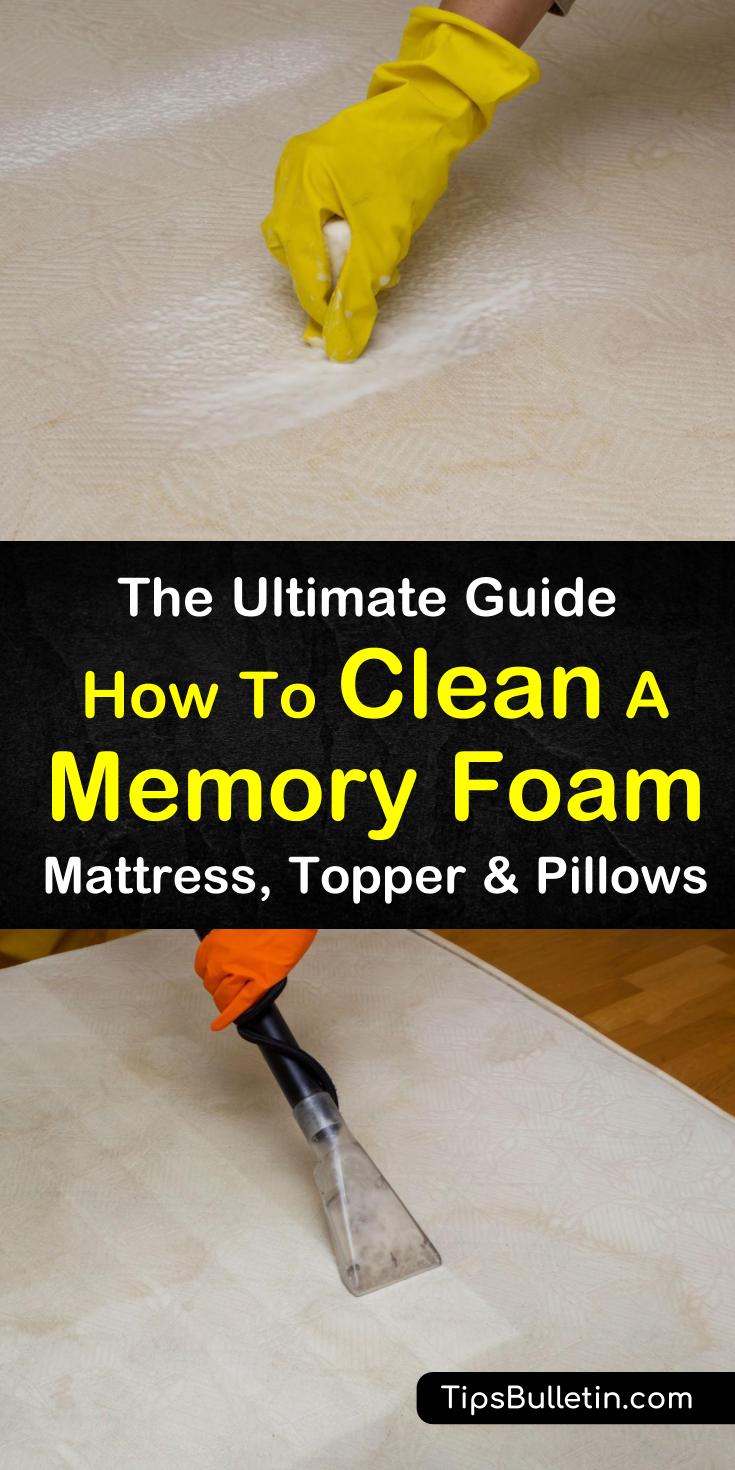 If you enjoyed our article on how to keep your memory foam clean, let the world know by sharing these tricks and tips on Pinterest and Facebook.