Did you buy a new outdoor dining set and realize you have no idea how to clean rattan furniture? Many homeowners are intimidated by the thought of cleaning rattan furniture. Rattan furniture, also known as wicker furniture, is stunning. It's usually shaped into a series of sweeping curves and interlocking fibers, adding interest and excitement to a room.
While rattan is beautiful, it's less durable than an aluminum or cast iron patio set. It requires proper maintenance to extend its life. The intricate shapes and tiny details mean endless spots for dust, dirt, and food residue to settle. Luckily, cleaning rattan is easy.
Regular dusting, spot cleaning of mud or food, and mold inspections are vital. Read our tips about getting dust off wicker patio furniture if your wicker couch needs to be freshened up. Follow our step-by-step instructions to eliminate mold and recondition the fibers if more drastic cleaning is in order.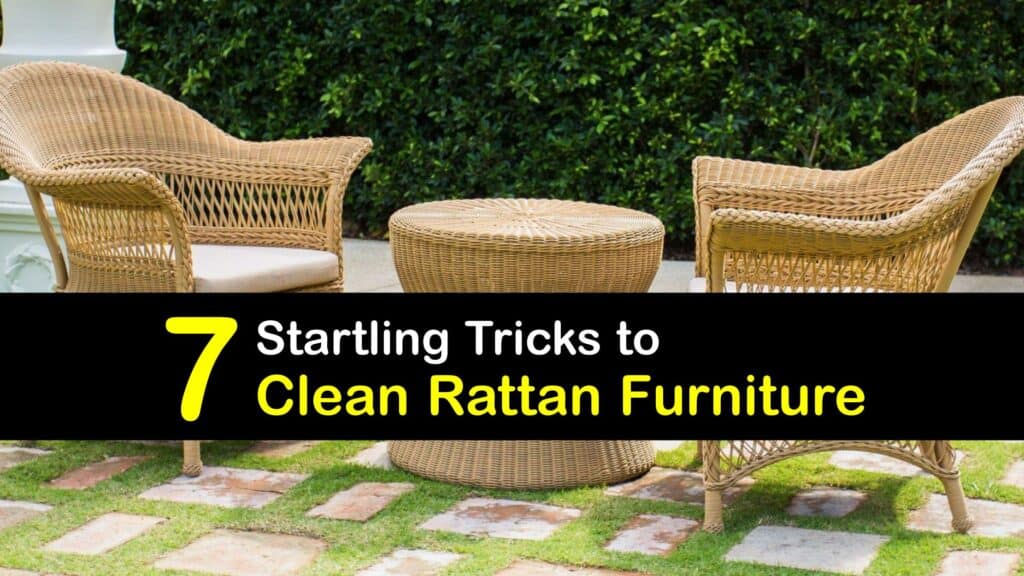 Smart Tips for How to Dust Rattan Furniture
Don't let cleaning rattan furniture be a source of stress. Wicker furniture is stylish in many settings but quickly loses its charm when it gets filthy or dusty. Keeping your rattan furnishings clean and free of dust ensures they last a long time.
Learn how to clean rattan furniture by dusting, spot cleaning, washing with dish soap, or removing mold with a bleach mix and conditioner.
What Is Rattan Garden Furniture?
Rattan furniture is used indoors and outside for dining chairs, tables, and loveseats. Cane furniture is lightweight, long-lasting, and environmentally friendly.
Rattan is a tropical palm-related vine that grows into a cane one to three inches in diameter. It's often cut into lengths and steamed to shape into natural rattan furniture. The vine's outer skin is scraped to make flexible lengths to bind furniture joints together.
Alternatively, synthetic rattan garden furniture is made of resin wicker and has aesthetic appeal with a little more durability. Because rattan can become brittle or broken when exposed to heat or moisture, some maintenance with a patio and outdoor furniture cleaner for plastic and rattan will keep rattan clean and dust-free for years to come.
How Often to Wash Rattan Wicker Furniture
The many nooks and crevices in natural and artificial rattan furniture might accumulate dust and filth due to the construction techniques used. Weekly dusting or vacuuming with an upholstery brush keeps dust particles at bay. Perform a more thorough cleaning once a month.
Wipe up stains from food or grime quickly and inspect the furniture at least once a year. Look for cracks in the fibers and mold growth, mainly if the rattan has been outside.
Take the time to address issues and condition the fibers. Though it seems counterintuitive, cleaning and washing rattan too often can be as harmful as not washing it. Focus on minimizing the amount of liquid your wicker is exposed to while cleaning to discourage mold problems down the road.
How to Clean Rattan Furniture With Dish Soap
Always dust and lift stains before cleaning your rattan chair. In a bucket or bowl, combine four cups of warm water and one teaspoon of dishwashing liquid to create a cleaning solution. Stir the mixture until suds appear. Add some clean water to a second bucket for rinsing the cleaning cloth.
Wipe down the furniture with a microfiber cloth dipped in soapy water, beginning at the top. Rinse the cleaning cloth frequently with new water and wring it out until it is slightly damp. Remove any buildup grime in the weaves with a soft brush.
Avoid over-saturating artificial or natural wicker with water. Allow the rattan to air-dry unless it is excessively wet. If there is extra water, dry the furniture with a clean cloth.
Cleaning Rattan Furniture After a Spill
It's vital to clean your natural or synthetic rattan furniture as soon as possible if it sustains food stains, drink spills, and muddy smears. Rubbing away these stains pushes the substance further into the woven threads.
If there are solids present, lift them off the outdoor furniture with a dull knife. Wipe off the area with a moist, soft cloth and let the rattan dry. To dislodge heavy dirt crusted on the rattan, use a toothbrush to scrub the stain.
Dampen a microfiber cloth and dab it with a drop of dishwashing liquid. Wipe the stained area. Allow the region to air-dry after wiping it with a cloth dampened with clean water. Launder cushion covers to refresh your bar stools or chair.
Tips for Dusting Rattan Furniture
Dust the entire surface of your wicker piece every week as part of your regular cleaning routine. Start with a disposable duster or your vacuum cleaner with an upholstery brush. While a duster catches most of the lint, your vacuum and brush attachment suck it up from all the hard-to-reach places.
This keeps excessive soil from accumulating in the weave of your corner sofa. Use a soft-bristled toothbrush To eliminate dust buildup in tight corners. Use the crevice tool on the vacuum to clean under the cushions and blast compressed air into confined spaces. Follow the additional tips if you note any food or mud stains.
Scrub Outdoor Rattan Furniture With Diluted Bleach
Try not to spray woven rattan furniture with commercial mold removers. Treat mold and mildew by cleaning outdoor teak furniture with vinegar or bleach, followed by deep conditioning.
Wear protective gloves and soak a cloth in the bleach solution before applying it to the affected area. Don't soak the rattan; cover the entire surface with the damp cloth. Place the furniture in the sun to dry as rapidly as possible.
When dry, condition the rattan using a soft cloth dipped in boiled linseed oil. Use the rag to polish old rattan furniture, beginning at the top to stop drips. The linseed oil gives moisture to the fibers, preventing them from breaking. Allow 48 hours for the rattan to dry completely before putting the cushions back on it.
Extend the Life of Clean Wicker Furniture
Following a few simple tips helps your furniture serve you longer. Keep your outdoor wicker chairs and table in good shape by not dragging them across the floor. Lift rattan furnishings gently from each side to avoid putting too much strain on the fibers.
Place silicone caps or felt cushions beneath each leg to prevent additional wear and splitting. Avoid installing rattan furniture in high or low-humidity situations to maintain the fibers.
Rotate your furnishings periodically to prevent excessive aging on one side from the sun. In rattan seats, use upholstered cushions to help disperse the user's weight and keep the rattan from sagging.
After reading this article, do you feel confident about dust rattan furniture? Rattan furniture is an investment. Its naturally toned fibers and intricate patterns are visually stunning. Don't let dirt or mold ruin your patio set. Use proven hacks to make caring for your rattan furniture painless.
If you loved this insightful article on how to clean rattan furniture, please share it with your friends and family cleaning rattan furniture on Pinterest and Facebook.