Teak is a durable material that gives all the aesthetic appeal of genuine wood without the insane maintenance routine often associated with the real deal. Its resistance to issues like mold, water damage, and corrosion is especially valuable when it comes to your outdoor furniture. Knowing how to clean teak furniture the proper way makes a massive difference in how long your teak pieces last when faced with repeated exposure to the elements.
Cleaning teak patio furniture is relatively simple, and most routines only require a gentle wash with soap and water to keep your items looking great. Still, it never hurts to have a plan in place for as many potential cleaning disasters as possible.
From water rings to stains and mildew growth, we have everything you need to know about how to clean outdoor teak wood furniture here with a few little maintenance tips. To clean your patio pieces, gather your favorite cleaning agents, some elbow grease, and a little patience.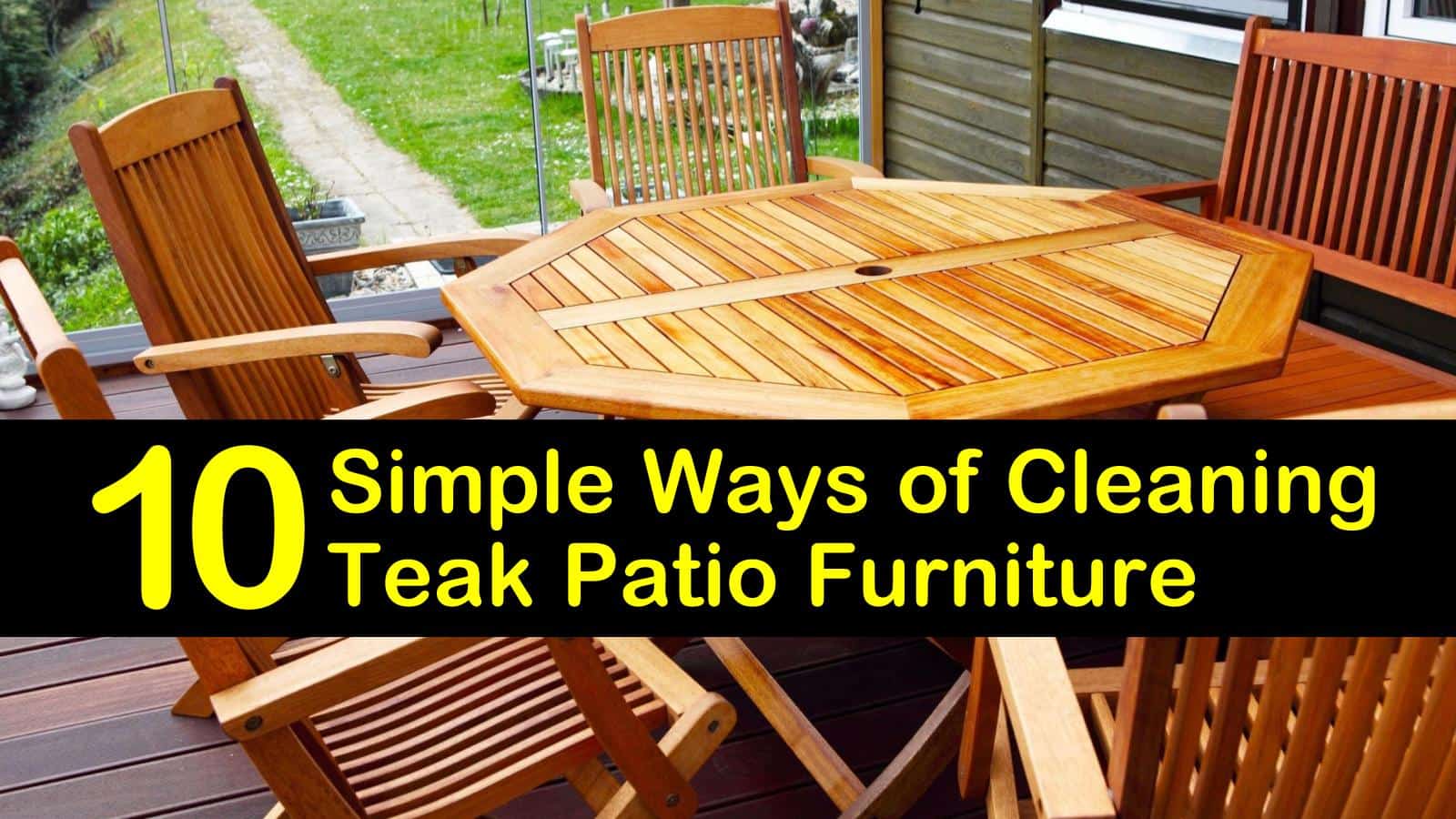 Simple Tips for Cleaning Teak Patio Furniture
Teak furniture is generally weather-resistant. However, that doesn't mean you won't notice the effects over time if you skip a few too many cleanings. One noticeable effect is the color.
New teak is golden-brown, where older, worn wood develops a silver-gray patina. Keeping it clean prevents this from happening, and cuts out all the extra steps of refinishing the wood.
Quick Way to Clean Teak Furniture Using Soap
When it comes to performing regular cleaning of your teak furniture, just like when you clean patio wicker furniture, start with the mildest cleaning solution first, as this is usually enough to get the job done.
If cleaned often enough, soap and water are all that's needed to clean a teak table or chair. Clean your patio furniture out of direct sunlight to prevent the cleaning agents from drying too quickly throughout the process and leaving water and soap spots on the furniture.
Start by mixing the water and dish soap in a small bucket. Dunk a soft bristle brush into the soapy water and scrub the surface of the wood. Scrub as much of the dirt and gunk away as possible.
Once finished, use a sprayer or garden hose to rinse off the soap and allow the wood piece to dry. It may take up to about 24 hours for the item to dry completely. If you still notice a few spots or stains after cleaning, repeat the process as necessary.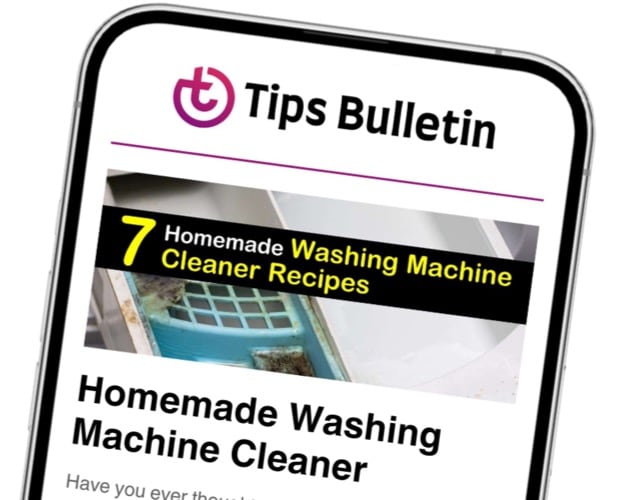 Finally, an email that Transforms Your Home.
Get the latest home and garden tips from our experts, delivered straight to your inbox.
Try a Vinegar Cleaning Solution
If soap and water don't do the trick, then the next ingredient to try is vinegar. White vinegar is a powerful, natural cleaning solution that is safe to use on teak furniture.
Not only does it blast through the dirt and grime trapped on your tables and chairs, but it also works as an antimicrobial to rid your furniture of nasty germs and bacteria. It even assists with removing moderate stains on the wood.
Using this mixture is similar to the process seen in the first step. To make this DIY teak cleaner, simply mix the vinegar and water, dip the brush in the solution, then run a brush or clean towel along with the wood.
After gently scrubbing all sides of the piece, including the cracks and crevices, rinse the furniture with clean water and let it dry for several hours. Use a small amount of teak oil afterward to nourish dry wood.
Cleaning Teak Patio Furniture with Bleach
Another fantastic way to clean teak furniture is by using a DIY deck cleaning product, complete with ingredients like bleach and dish soap. As with most cleaning strategies, start with the milder option before jumping into more powerful agents like bleach.
Because bleach whitens surfaces after prolonged use, and sometimes shortly after using, we recommend testing a small area of the wood furniture that is not noticeable first.
When using this recipe to deep clean wooden furniture, do so on a concrete surface or an area away from plants. Wear gloves and old clothes as the bleach will discolor clothes and be harsh on the hands.
The bleach, as well as vinegar from the previous option, kills plants on contact, putting you at risk of damaging areas of your yard when cleaning.
Otherwise, this solution works exceptionally well to remove mildew and oily stains from wood surfaces. Remove mold from wood with a little extra scrubbing. Once you finish washing the wood to eliminate stains and grime, rinse it off to avoid staining or bleaching the furniture.
Mildew Remover for Teak Outdoor Furniture
While your teak wood furniture is generally resistant to mold and mildew, you may still run into some issues in extreme cases. Knowing how to handle this requires no more than three ingredients.
The primary additive is trisodium phosphate, also known as TSP, which acts as a gentle abrasive to scrape away the top layer. Combined with other cleaning ingredients like oxygen bleach, the tag team easily lifts away unwanted stains and nasty buildup.
One way to apply the mixture is by using a spray bottle or sprayer. Be careful not to get the ingredients on your body and wear long sleeves to prevent any backsplash. When cleaning teak, use a bristle brush to work the rough particles of the TSP into the wood.
This form of light sanding is terrific for removing tough stains, mildew, and even lifting away the beginning signs of that gray patina. However, it should not act like a normal cleaning process, as it does more damage than good to the wood after repeated use.
How to Clean Outdoor Teak Wood Furniture
In some severe cases, you should call in the big guns to clean teak. Doing this includes using a commercial cleaner from a store instead of making one yourself at home. While this option is fine to use regularly, it is considered a much more aggressive agent than the other DIY alternatives.
As a result, hold off on using it straight off the bat until you've exhausted all other options. Some of the best brands to look for include Star Brite's Teak Cleaner and Iosso's teak cleaning products. One particular ingredient to look out for when choosing the right type of cleaner is oxalic acid.
This chemical also acts as a rust remover and is highly effective at removing stains from wood. When cleaning or rinsing, avoid using a pressure washer, as this may also damage the wood.
Preserve Gray Patina with Laundry Detergent
If your teak wood develops a gray patina, this occurs due to wear and tear from the elements over time. While this is generally something many homeowners try to prevent in their wood furniture, some do enjoy the look of the aged wood.
The next cleaning step revolves around preserving that patina while also washing the teak properly. One excellent cleaner that retains the silvery look to your teak is laundry detergent.
Detergents like Woolite work perfectly. Start by scrubbing the surface with the soap, then rinse thoroughly. Afterward, place the furniture in the sunlight to dry.
Cleaning a Teak Shower Bench
One of the primary issues for any furniture piece used around the pool is the buildup of mildew. Even for material like teak, which is durable and resistant to mildew, too much exposure to water eventually causes it to develop some sort of growth. This is especially true when the item is used as a shower bench or other such furniture around the pool.
The best way to counteract a mold problem is by using cleaning agents that are excellent mold and mildew killers. Rubbing alcohol and bleach are already wonderful solutions to get rid of mildew.
However, adding Murphy's Oil Soap allows you to remove several weeks' worth of growth that may have accumulated due to disuse. When you have pool items that don't get used for several months out of the year, this solution works best to restore the wood just in time for summer.
Remove Water Stains with Heat
Water stains are common in outdoor furniture. If you have teak tables, these spots appear in the form of water rings that develop on the surface over time. Luckily, removing rings from furniture is relatively simple when you apply a little heat to the situation.
The first solution involves using a hairdryer to dry out the excess moisture trapped inside the teak wood. When using this strategy, ensure that the hairdryer is on a low setting and does not directly blow over the surface of the furniture piece.
The second technique available requires the use of an iron. Since too much heat damages the wood, do not press the iron directly onto the furniture.
Instead, lay a soft cloth over the water ring first, then gently apply the iron over the top. Leave the iron over the towel for approximately five seconds at a time. Check beneath the cloth periodically to gauge the progress.
Resurface Outdoor Teak Furniture as Necessary
Sometimes ridding your outdoor pieces of the discoloration look of patina is not as simple as using a cleaning solution to do the job. In many cases, you need to use sandpaper to file down the top layer of the teak wood to find a bright, new portion of the furniture. Start this process by using one of the cleaning methods listed above to remove any unnecessary dirt and debris before sanding.
When you are ready for the sanding portion of the task, sand the surface of the wood lightly so as not to go too deep. Follow along the direction of the grain when sanding. Remove the excess dust with a clean, damp cloth, then apply a sealer to the wood to protect the newly exposed layer.
Add a Sealer for Protection
Whether you plan on adding a sealant as part of your routine or after sanding and refinishing furniture, using natural oils like linseed is your best option. Not only does linseed oil leave your furniture with a glossy sheen, but it also coats the surface of the wood with undeniable resilience.
Oiling your teak patio furniture is an essential part of protecting it from future damage.No matter what type of teak sealer you use, do not apply it until after 48 hours from the time you washed the wood has passed. Start by brushing the sealer over the surface, then letting it sit for approximately 15 minutes.
Once the appropriate amount of time passes, wipe the surface clean to remove any sticky residue. Wait about 12 hours before applying a second coat. Apply at least two or three coats for the best results.
By now, you have more than enough choices for cleaning teak patio furniture and indoor seating. These phenomenal recipes also cover some of the more difficult cleaning issues you may run into, like watermarks, mildew, and stains.
While your teak wood is generally resistant to these kinds of things, you are fully equipped to handle any problem that stands in your way.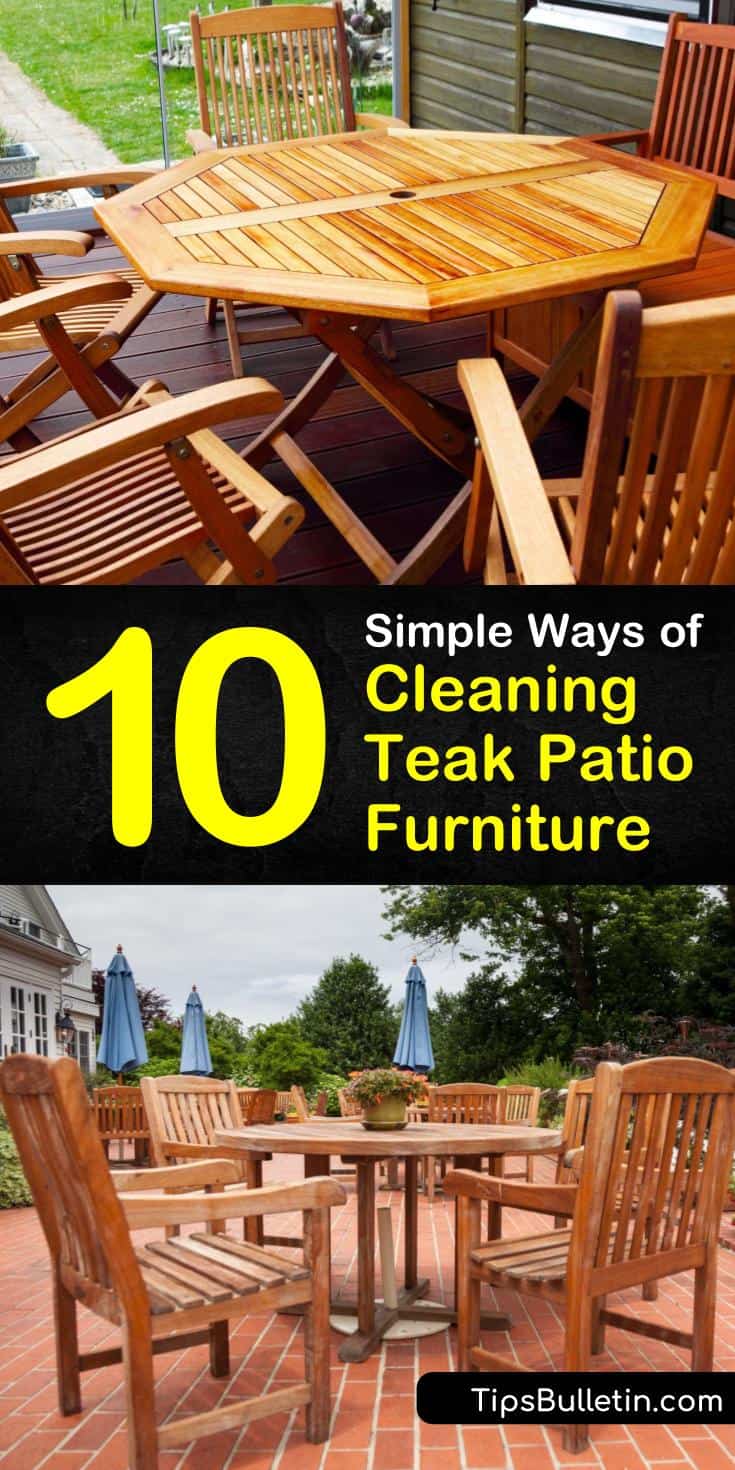 If you loved learning all there is to know about washing your teak pieces, then don't forget to share how to clean teak furniture with your friends and family on Facebook and Pinterest.