Suede is comfy and stylish, whether suede footwear or a suede jacket. Unfortunately, if you live in a northern region, it's not long before a pair of suede boots has rings of white stains from road and sidewalk salt residue. Learn how to clean salt off suede boots using safe cleaning solutions to restore their new appearance.
Salt and water stains are tough to remove, especially on suede material. However, leaving the stains is not an option since they are unsightly and worsen over time. While they are more challenging to remove, it's not impossible to clean salt rings off your suede shoes.
Many people find cleaning suede intimidating since it is a natural material. While it is not as durable as leather, it's relatively simple to care for suede and clean away scuff marks, dirt, and other tougher stains as long as you understand what to use and what not to use to treat the material.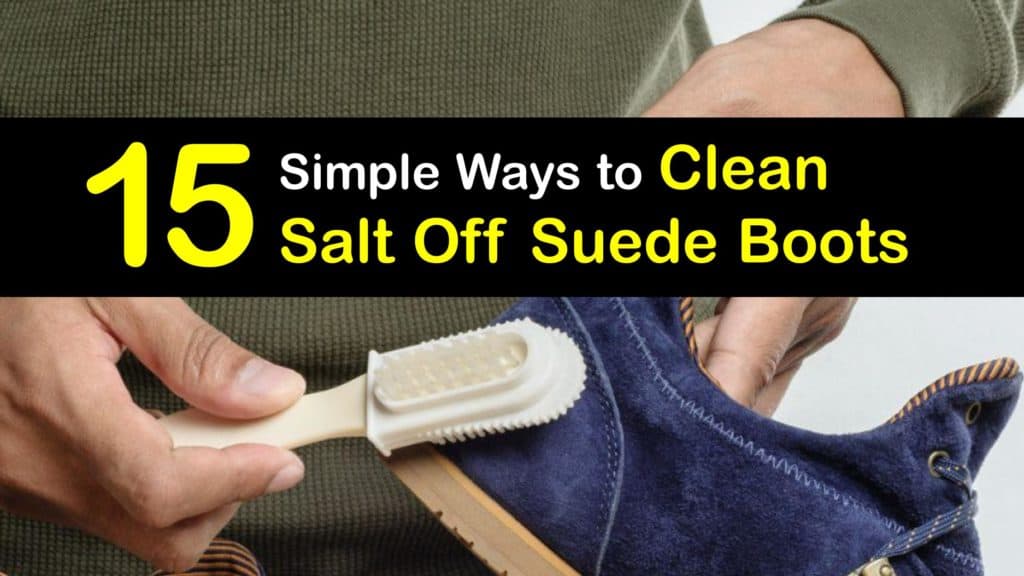 Ways to Clean Salt Off Suede Boots and Shoes
If only our footwear would stay as clean and good-looking as the day we bought them. After you take the time to break in suede boots, it is frustrating to acquire a stain. Unfortunately, everyday dirt and salt stain the suede surface, giving them a filthy, unattractive appearance. Luckily, there are many ways to clean your boots and shoes to keep them looking their best.
What is Suede, and are Suede Boots Easy to Maintain?
Footwear is made from various materials, from canvas, mesh, and cotton to leather and suede, and each material has benefits. Discover what suede is, how it differs from other fabrics, and the pros and cons of having suede boots.
Suede
Suede is a split leather from the innermost layer of animal hide. While leather has a smooth surface, suede has a soft and nappy surface, and it commonly comes from sheep, goats, calves, and deer. This high-quality material is more pliable than leather, but it's thinner and softer, making it more vulnerable to damage.
The luxurious surface of suede looks like densely packed hairs with a consistent grain and color when properly cleaned and brushed. Unfortunately, the nap is notorious for attracting oil, dirt, moisture, and salt, and special cleaning and care are necessary to maintain a suede boot.
Does Salt Ruin Suede Boots and Shoes?
Winter in the north is harsh, and it's impossible to avoid salt getting on your cars, footwear, and other items. It sticks to your boots, and you track it indoors, and over time you begin to notice white spots and rings on the surface of your footwear. So, does salt cause permanent damage to suede boots?
Salt Damage
Salt or sodium chloride is a common substance for de-icing roads in the winter. While it seems harmless enough, road salt ruins materials, including suede, eventually leaving your boots looking old and worn. If you notice that your boots have lines or layers of white residue, they are most likely salt stains.
Using Plain Water to Remove Salt Stains from Suede Boots
Sometimes the easiest way is the best when it comes to cleaning, and plain water will remove a fresh salt stain before it sets. Here is how to get salt stains out of suede shoes with some water and a soft cloth.
Place your boots on a flat surface with the salt stains facing you. Apply a small amount of warm water to a soft cloth and rub the stained areas to remove the salt. Avoid getting the fabric too wet, and continue to clean the boots until the white residue is gone.
Removing Salt from Suede Boots with Soapy Water
If plain water doesn't take care of removing salt from suede boots, adding a little bit of mild soap may do the trick. Clean your shoes to remove salt residue using soapy water and a microfiber cloth.
Place balled-up newspapers into your boot to hold its shape and set it on a flat surface. Combine liquid dish soap and water in a bowl and dab a microfiber cloth into the soapy water. After you make a simple suede shampoo alternative, be sure to only dampen the fabric before using it to remove the salt stain from the boot surface.
How to Get Salt Off Suede Boots with White Vinegar
With all of this liquid's benefits, white vinegar is a must-have for every home. It disinfects surfaces, preserves foods, and works wonders for removing tough stains. Find out how to get salt stains out of UggⓇ boots with a vinegar solution.
Cram newspaper into the toe of the boot to hold its shape while cleaning. Combine water and vinegar in a container and apply the cleaner to the salt stains with a cotton ball or use it to get tar stains off your boots. Rub the damp cotton over the white residue, using fresh cotton as needed, until all the salt is gone.
This simple cleaner will also remove mold from suede boots if you have a pair you haven't worn for a while suddenly sport ugly black mold spots.
How to Clean Salt Off Suede Boots with a Suede Brush
If you look closely at your suede boots, you'll notice that the surface has a texture, unlike the smoothness of a leather shoe. After removing salt from suede boots, it's vital to brush the boot surface to restore the nap and give your footwear a finished look.
A suede brush is ideal to restore black suede boots and shoes and make them look like new again.
Brushing Suede Boots
After your boots dry, set them on a towel and use a suede brush to brush the nap in one direction. Start at the boot's top and make your way down and around until the entire surface is clean and smooth.
Using a Toothbrush to Remove Salt Stains from Suede Footwear
A cleaning solution is not always necessary for removing salt from suede boots. If the dried salt is not excessive and rests on the nap surface, it's possible to clean it away easily with an old toothbrush.
Ball up a bunch of newspapers and insert them inside each boot to hold their shape and make the cleaning job more manageable.
Set them on a towel to collect salt debris, inspect the shoes, and use an old toothbrush to scrub away dry salt and residue gently. After that, give your boots a good whack against each other to shake away loosened salt and remove the newspapers.
How to Get Salt Off Suede Boots with a Pencil Eraser
A pencil's eraser is ideal for removing everything from shoe scuff marks to minor salt stains. It gently wipes away the stain without damaging the material, and it's perfect for a quick fix. Learn how to get salt off suede boots with an eraser.
Set your boots in a well-lit area and check them for salt marks. Gently rub the salt away from the suede surface with the pencil eraser and wipe them down with a soft cloth. Consider cleaning suede with a suede eraser if you'd rather use something more conventional.
What if the Suede Boots Have Other Road Stains?
Unfortunately, salt is not the only element that causes havoc on your suede or leather shoe during the winter months. Clean your suede boots to remove everyday stains from water, dirt, and mud.
To remove wet stains from mud, grease, or oil, set your boots on some newspapers and sprinkle cornstarch over the affected areas.
Set the boots aside for a few hours as the powder absorbs the excess stain, and then gently brush off the damp cornstarch. Finish by cleaning the spot with a suede cleaner and brushing your boots with a suede brush.
Protect Suede Footwear from Salt and Water Stains
Dealing with road salt is inevitable if you live in an area with seasonal snow, but there are steps to take to ensure your boots don't suffer from unnecessary salt stain damage. Protect your suede footwear from staining.
Set your boots on a towel or newspaper and apply a waterproof or protective spray by holding the can six inches away from the fabric. Use a circular motion as you make your way over the shoe without saturating the surface. Let the boots dry for about half an hour before wearing them. You can avoid cleaning smelly UggⓇ slippers by keeping them dry and avoiding water stains.
Ways to Freshen Suede Boots after Cleaning
If your boots become wet from snow and salt, there's a good chance they are damp on the inside, which leads to mildew growth and stinky shoes. Deodorize your leather or suede shoes and keep them smelling fresh.
Sprinkle baking powder, baby powder, or talcum powder inside each boot, let them sit overnight, and then dump out the excess powder in the morning. These powders absorb odors and moisture, keeping your shoes fresh.
Another way to freshen stinky suede boots is to place a fabric softener sheet inside each shoe whenever you're not wearing them.
Things to Avoid When Cleaning Suede Boots
Suede comes from the underside of animal hide, and it requires different cleaning methods than synthetic or man-made materials. Learn what to avoid when cleaning your suede boots to ensure they do not suffer damage and stand the test of time.
As much as the gentle cycle on your washing machine is tempting, never clean your suede boots in the washer since excess water is this material's worst enemy.
Instead, take them to your local dry cleaner or clean them with a damp cloth, mild soapy water, or a water-vinegar mixture. Never use bleach and other harsh cleaners to clean your shoes, which cause fabric fading, discoloration, and further damage.
Ways to Dry Suede Boots
If you're dealing with road salt while wearing your boots, you likely encounter snow and slush, which dampen the material. Dry suede footwear without ruining the fabric.
Start by using a dry clean cloth or towel to absorb as much moisture inside and outside your boots as possible, and stuff the insides with paper towels. Brush the nap back and forth with a soft-bristle brush.
Consider using a hair dryer on the lowest heat setting to speed up the drying process. Make sure to sweep the dryer back and forth over the boots while holding it at a safe distance. Finish by brushing the nap again to give the boot a velvety surface.
Kill Odor-Causing Bacteria Inside Suede Boots
It's vital to dry shoes as soon as possible to prevent mildew and bacterial growth. However, there are times when your footwear doesn't get dry, and they begin to emit a foul odor. Here is how to disinfect your boots to eliminate bad smells.
Fill a bottle sprayer with equal amounts of water and white vinegar and shake the container to mix. Set your boots on a towel, open them up to expose the insides, and lightly spray the liquid into each boot. Avoid getting the spray on the outside, and do not saturate them. Finish by setting them on a shoe rack to air dry.
Caring for Suede Boots and Shoes
Knowing how to remove salt and other stains from your boots goes a long way, but it's equally important to care for your suede shoes daily to keep them comfortable and looking their best. Follow smart shoe-care tips to keep your suede boots in tip-top shape.
Suede Boot Care
When storing your suede boots, avoid setting them in direct sunlight, which causes fading, and keep them away from a radiator and other heat sources. Instead, put them on a shoe rack or store them in shoe bags when not in use.
Clean your suede footwear as needed with a homemade vinegar-water solution or use saddle soap or suede cleaner. Brush the nap with a suede brush, soft-bristle brush, or nail brush to keep the nap smooth and remove dry dirt, and use shoe trees to keep the boot shape.
Suede and leather boots require special attention to remove a stubborn stain since some cleaners may damage the natural material. It's essential to understand which cleaners are safe and which ones to avoid when removing salt stains from your suede sneakers and other footwear.
Knowing how to clean salt off suede boots the right way is the difference between ugly and stylish shoes, so why not share our suede boot salt cleaners and methods with your family and friends on Pinterest and Facebook?